Vietnam - US Relations Boast Huge Potential for Stronger Development in New Fields
The two countries have great potential for stronger development in the ahead, including in new areas such as climate change adaptation and epidemic response.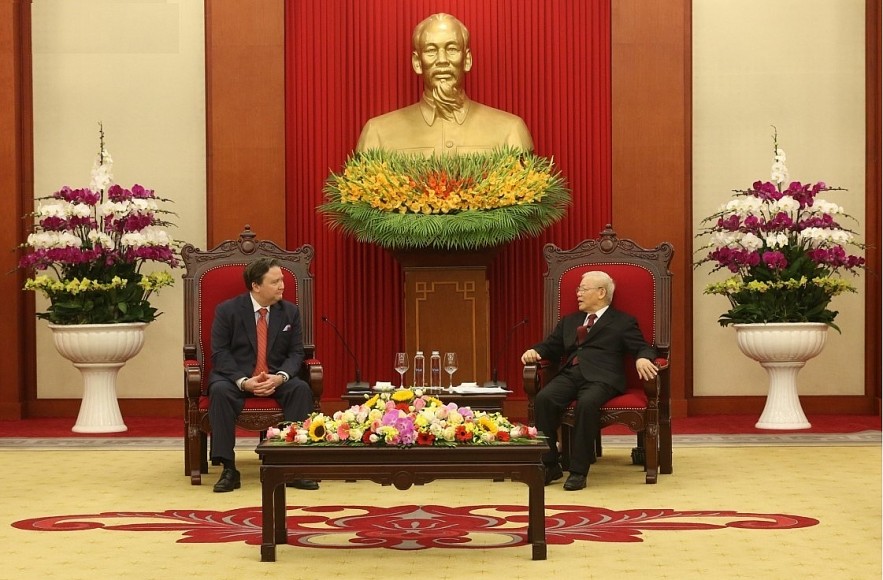 Party General Secretary Nguyen Phu Trong (R) hosts US Ambassador Marc E. Knapper. Photo VOV
Vietnamese Party General Secretary Nguyen Phu Trong highly valued the recent progress in the Vietnam - US relations while receiving new US Ambassador Marc E. Knapper in Hanoi on April 25.
US Ambassador Marc E. Knapper was speaking this during a reception given by Party General Secretary Nguyen Phu Trong in Hanoi on April 25.
During the reception for the US diplomat who paid a courtesy visit marking the start of his working term in Vietnam, General Secretary Nguyen Phu Trong congratulated the guest on taking on a new important task in the nation, while stating that Vietnam has never had potential, position and international prestige like today, first of all, thanks to its proper internal and external policies.
Knapper expressed his pleasure and honor to return to work as the US Ambassador to Vietnam, while affirming his nation's readiness to support a strong, independent and prosperous Vietnam and promote the two countries' relations on the basis of respecting each other's political institutions, according to the VOV.
He said he will make every effort to contribute to propelling US-Vietnam relations forward in the time to come.
General Secretary Trong congratulated Knapper on assuming his duty in Vietnam, saying that the fortune, strength, and international stature and prestige Vietnam has today are firstly attributed to its clear-sighted foreign policy.
He underlined the foreign policy of independence, self-reliance, peace, cooperation and development, and diversification and multilateralisation of foreign relations on the basis of mutual respect, for the sake of the two countries and for regional and global peace, friendship, and cooperation, reported the Nhandan.
Trong suggested Ambassador Knapper continue making positive contributions to the development of both countries' relations and wished him plenty of successes during his term of office in Vietnam.
VOV
Friendship
In Da Nang, the Vietnam-Laos Solidarity and Friendship Year 2022 was celebrated on July 2. Collectives and individuals of the Lao Women's Union were also awarded medals of Vietnam.