Ms. Pham Thu Ba - People and Culture Manager at Plan International Vietnam:
Seven issues we need supports
Ms. Pham Thu Ba - People and Culture Manager at Plan International Vietnam granted an interview to Vietnam Times newspaper during which she pointed out various issues her organization need VUFO and PACCOM support.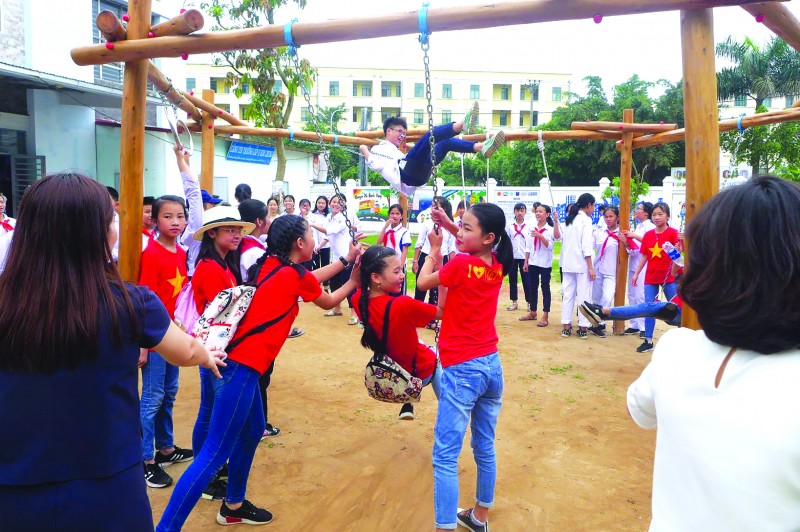 Children play at a Safe, inclusive and gender-responsive playground at Kim Chung secondary school, Kim Chung Commune, Dong Anh District, Hanoi.
By 2021, Plan International Vietnam aims to improve the lives of 2 million girls in Vietnam so they can learn, lead, decide, and thrive. To continue carrying out its mission, Plan International Vietnam asked the Vietnam Union of Friendship Organizations (VUFO) and the People Aid Coordination Committee (PACCOM) support and assist in seven different issues.
Thoi Dai (Vietnam Times) Newspaper had an interview with Ms. Pham Thu Ba - People and Culture Manager at Plan International Vietnam.
According to her, with more than 80 years working in 75 countries, Plan International is one of the world's largest child rights and humanitarian organisation. In Vietnam, Plan International was established in the northern and central regions of Vietnam in 1993 and focus on supporting marginalised children and youth, especially adolescent girls, to grow in a society that respects their rights and safety.
It can be said that Plan International Vietnam has achieved steady development and certain success thanks to the support of the VUFO and PACCOM from the early days when the organization decided to operate in Vietnam. Support and cooperation have never stopped, even quality is further increased over the past 25 years.
The VUFO and PACCOM supported Plan International Vietnam when the organization open the first project area in Vietnam in 1993 in Nam Ha (now Ha Nam and Nam Dinh), as a Vietnamese agency responsible for the work of international NGOs in Vietnam.
Since then, the VUFO and PACCOM work closely with Plan International Vietnam whenever the NGO opening a new project area.
We always believe that with the companionship of VUFO - PACCOM, Plan International always be able to choose areas requiring the organization's support the most.
We started the project area first in the Nam Ha valley, then Quang Tri, Bac Giang, Phu Tho, Quang Binh, Thai Nguyen and Quang Ngai provinces. After that, we implemented projects in upland provinces where the most marginalised and poorest ethnic groups are living such as Ha Giang, Lai Chau and Gia Lai, Kon Tum.
Plan International Vietnam proposed seven issues need the support of VUFO and PACCOM:
First, to assist Plan in persuading donors why Vietnam still need foreign NGOs and why foreign NGOs should continue its projects in Vietnam. It is important for international friends to know, in addition to the achievements that Vietnam has gained, there are still groups and communities in Vietnam where the Millennium Development Goals (MDGs) have not been achieved. More time is needed to accompany and help them. Vietnam still needs foreign aid, including capital, technology, knowledges to ensure that no one is left behind.
Second, to promote information sharing about local priorities so Plan can better tailor diverse needs and conditions of each locality as well as maximize resources.
Third, to help Plan International Vietnam connect and expand its ministerial-level partners network for broader programs and projects related to the implementation of children's rights, especially girls.
Fourth, to propose and support for policies allow NGOs operating in Vietnam raise their funds inside of Vietnam, for example, from Vietnamese businesses and individuals. Gradually developing budgetary autonomy as well as increasing the understanding and contributions of Vietnamese people in development projects.
Fifth, to continue accompaning and supporting NGOs to effectively implement policies and procedures, save costs and time for NGOs on administrative formalities related to regulation on employment, visa for staff or guests, registration and renewing licenses for international workshops, etc.
Sixth, to continue assisting NGOs share successful models and projects, helping develop broader longer-term strategies for NGOs in general and Plan International in Vietnam in particular.
Finally, regularly evaluate and acknowledge the contributions of NGOs, and providing feedback and suggestions to improve the quality of the program, more suitable and effective for the community and beneficiaries, especially children./.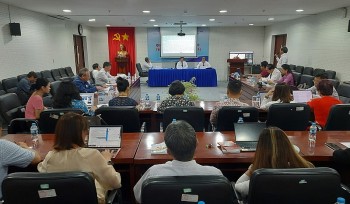 Friendship
The Vietnam - India Friendship Association's Ho Chi Minh City branch, the Ho Chi Minh City Union of Friendship Organizations (HUFO) and the Southern Institute of Social Sciences on March 21 held a scientific seminar themed "Vietnam - India relationship: tradition and present".