Sharing the Beauty of Vietnamese Culture in Mexico
The Vietnamese Embassy in Mexico held a cultural fair to introduce the history, cultural traditions, and many beautiful images of Vietnam and its people to international friends on December 3rd.
The Vietnam Culture Fair takes place on December 3 and 4 at Lincoln Park, in the heart of Mexico City. Representatives of the diplomatic corps, city authorities, and local people attended the event. This fair is part of a series of cultural exchange activities jointly organized by the local government and the diplomatic corps.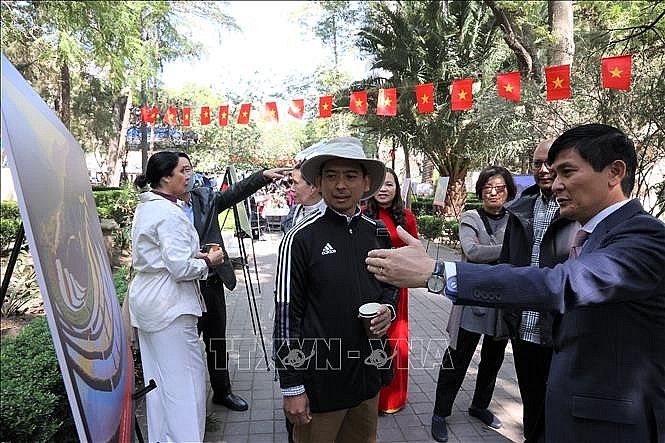 Vietnamese Ambassador to Mexico Nguyen Hoanh Nam introduces photo exhibition. Photo: TTXVN
At the opening ceremony of the fair, Vietnamese Ambassador to Mexico Nguyen Hoanh Nam highlighted the cohesion of Vietnam - Mexico relations in various fields, ranging from politics, economy to cultural exchange, and similarities in the history of the struggle for independence. Both countries share a long-standing culture imbued a distinct identity.
The Ambassador expressed his wish that through cultural exchange activities, Mexicans will know more about a peace-loving, dynamic and hospitable Vietnam. Thereby, contributing to tightening the already good relationship between the two countries.
On behalf of the city government, Lourdes Pozo Pietra Santa - Head of the External Relations Department of Miguel Hildango District, the central area of the capital where many headquarters of international diplomatic missions are located, upheld the significance of Vietnamese culture. . She affirmed that the local authorities and people are very happy to have the opportunity to participate in activities that reflect the unique beauty of Vietnamese culture such as this fair.
This event has left a strong impression on guests as well as local people. Aurora Sanchez, a 21-year-old student, said that she had previously planned to travel to Vietnam but could not do so because of the COVID-19 epidemic. After seeing the full-size photo at the fair about Ha Long Bay and terraced fields in Mu Cang Chai, she said that next holiday she will visit the Vietnamese Embassy to learn about the tourist visa procedure.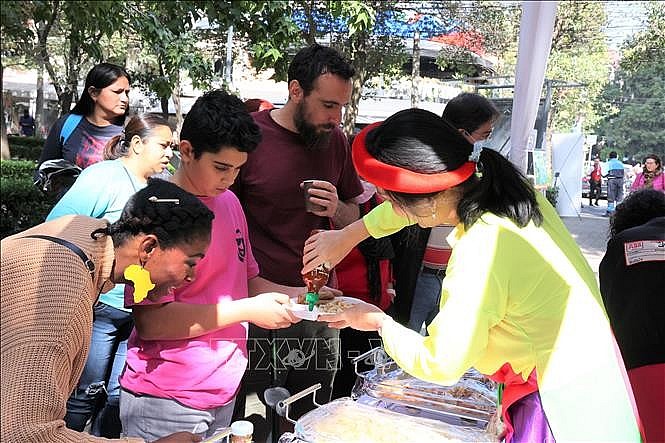 Mexican people enjoy Vietnamese cuisine. Photo: TTXVN
In addition to the traditional art performances, the Vietnamese Embassy also brought many paintings and photos to introduce the beautiful scenery of Vietnam. Not only that, the organizers have also prepared exquisite handicrafts and fine art products imbued with Vietnamese identity and soul. At this fair, guests and locals also have the opportunity to enjoy typical dishes such as fried spring rolls and salted vegetables.
Vietnam, Mexico Parties Strengthen Ties

Since the establishment of bilateral diplomatic ties in 1975, Vietnam and Mexico have strengthened their relationship in various areas and offered mutual support at regional ...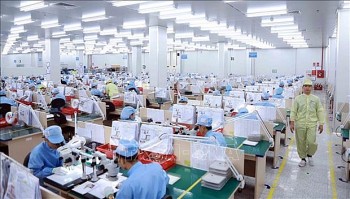 National
Vietnam News Today (Jan. 26): Vietnam - important partner of RoK; HCM City maintains growth momentum, reaps successes in 2022; Vietnam's tourism forecast to strongly rebound in five years; Many localities attract a large number of visitors during Tet.