Shining the light of righteousness
Shining the light of righteousness, the value of Vietnam and win the heart of international friends by sincerity is the massive resilient strength of people-to-people diplomacy, that's the opinion of Madame Nguyen Thi Binh, a senior diplomat, former Vice President of Vietnam.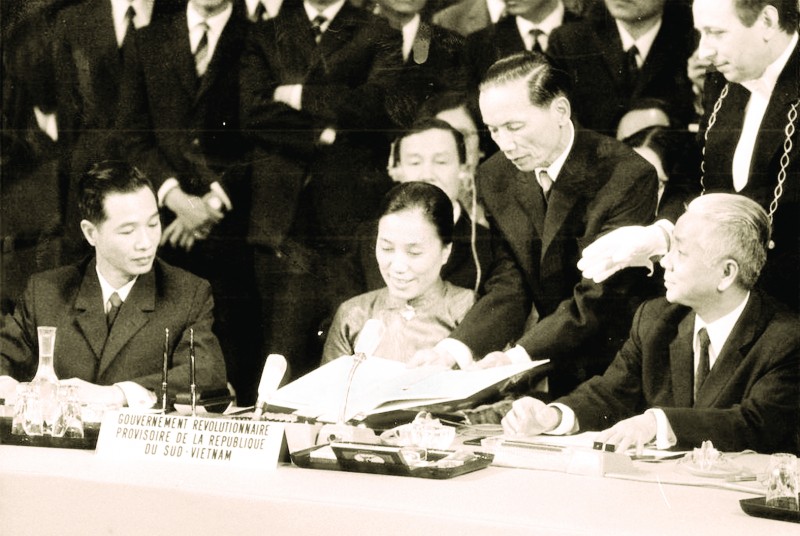 Madame Nguyen Thi Binh signed the Paris Accord on January 27, 1973
According to Madame Binh, people-to-people diplomacy plays an essential part in the Party's foreign policy. In every historic period of revolution, people-to-people diplomacy has been optimizing its distinctive strength and demonstrate its indispensable role in Vietnam's foreign affairs. In current context, with complicated changes in the global landscape, important pillar of traditional diplomacy is no longer available, therefore flexibility in diplomacy has become a need. 
This is the distinctive strength of people-to-people diplomacy. Moreover, with an open-minded foreign policy, Vietnam is willing to be friends of all countries. The motto of diplomacy which emphasizes multi-lateral approach and diversification helps broaden the scope of people-to-people diplomacy, facilitating the sector to make the best out of its advantage.
From your points of view, the most distinctive feature of people-to-people work nowadays, compared to the past?
First of all, people-to-people personnel must be the specialized team. Nowadays, all the people of Vietnam are working as people-to-people personnel. We have developed ties with other countries in almost every field, including social affairs to economics, culture and tourism, etc. 
Hence we need cooperation from our partners during the process, that's people-to-people diplomacy. Via these channels, each citizen should tries to mobilize the support from friend countries from Vietnam, to help them gain better understanding of our country. Therefore, it is of great significance for us to summon the force, providing training, equipping the people with adequate awareness and skills in people-to-people diplomacy.
According to you, what should we bear in mind to adapt to the new context?
I think VUFO since long time ago has contributed greatly to people-to-people diplomacy. However, in the new context, VUFO needs to be improve its activeness. In order to make it happen, I suggest VUFO to pay attention to two issues: firstly, it is the solidarity activities, friendship must be tied to the demands of peace, stability; national sovereignty, economics, culture, etc.
Secondly, it is the scope. In the past, our partners were comrades, traditional friends. Nowadays, we can cooperate with anyone with common interests without affecting our core value. What we need to do is to broaden our friend and partner networks.
Could you please share with us your most important lesson to build a vigorous and efficient people-to-people diplomacy?
The Vietnamese revolution under the Ho Chi Minh era has gone through different stages: country establishment, protection and development. During the first two periods, people-to-people diplomacy has has created numerous legendary achievements. The biggest lesson is the rightfulness of our revolutions and the bravery and tenacity of our people. This gains us the admiration and positive impression from international friends. It means that, the meaning of Vietnamese revolution, no matter it is national defence of national development, if it is rightful, It will receive the support from the whole world.
What is the biggest strength of people-to-people diplomacy today?
In international friends, our value is embodied in the determination to fight against poverty and undercivilization, demonstrating Vietnam's dynamism and effort to progress.
Secondly, we have expressed our love for peace, freedom and the willingness to establish friendly relation with all countries. All of the value of Vietnam have been proven by our position in international arena. We have established diplomatic ties with almost every country, actively, effectively participate in international and regional activities.
In your opinion, which is the biggest challenge to people-to-people diplomacy of Vietnam?
In the past, we have the socialist side, and international democratic organizations serving as the core team supporting our movement. Nowadays, we have to be independent, self-reliant, more active and flexible. In addition, people-to-people diplomacy task must be collectively accomplished by every people, not only the professional team like in the past. This is the potential but also is a great demand, challenge to the work of organizing and gathering forces.
Do you think that the mechanism, policies in the institutional system the difficulties and setbacks of people-to-people diplomacy?
At the moment, regarding the theory, policy, people-to-people diplomacy is taken into account. However, actually, this field has not received favorable conditions to work effectively. Two issues of biggest concern are staff training and budget.
What should we do to increase the strength of people-to-people diplomacy?
I think we have a relevant policy and concept, what we have to think about is realize them. VUFO and other people-to-people diplomacy needs to receive more specific instruction and guidance and receive more favorable condition. At the same time, these organizations and units must implement more drastic reformation.
The biggest thing that affecting people-to-people diplomacy in the time to come?
Nowadays, our partner network is broader than before, however, it also leads to more complication. Due to the change of the world's landscape, the world's stance in terms of foreign policies, many people and partners haven't really understand our advantages and disadvantages, and not fully understand our policies.
How people-to-people diplomacy can help the world understand Vietnam more, with more updated information? What are your advices to the next generation working in the field of people-to-people diplomacy?
Our team is still young, lack of experience. At the same time, the direction, especially direction in institutionalizing is still not adequate. Based on that, I proposed the Party to pay sufficient people-to-people diplomacy. The staff must be more professional and enthusiastic. After that, it must be the thoughtfulness and flexibility to mobilize the supports of international friends. Each staff has to see people-to-people diplomacy as the lifetime career.
Translated by P.Y