Show about a real crazy rich Vietnamese American family called "The Ho" is coming to HBO
HBO Max, the on-demand streaming service from HBO set to launch Spring of 2020, confirmed this week that it has ordered a docuseries inspired by the hit film "Crazy Rich Asians."
The new show, given the working title "The Ho's," centers on the real-life story of a Vietnamese family who moved to Houston and made themselves millionaires in a single generation through banking and real estate development, according to Variety.
The show will follow patriarch Binh Ho, wife Hue Ho, their children Judy and Washington, and extended family members as they navigate a lavish life and the rich Asian culture that binds them.
The Family
According to Deadline, seven members of the Ho family will be primarily featured:
Binh Ho, who is 71, is the very strict father who tends to control the aspects of his family's personal lives. He immigrated from Vietnam, worked hard and now owns a successful bank.
Hue Ho, 66, is Binh's wife. She takes great care to look perfect while treasuring her children, acting as the mediator between them and Binh's strict rules. She loves to cook authentic Vietnamese food every week for Sunday dinners.
Judy Ho, 39, is Binh and Hue's daughter and first-born child. She is revealed to be reliable and responsible, works as a lawyer, is a mother to three children and currently going through a porce.
Washington Ho, 38, is described as a "former" hard-partying playboy of the family. He is married to his wife Lesley and has two children, Roosevelt and Lincoln. He now works to step out of his father's shadow to become a changed man.
Lesley, 34, is Washington's outspoken Vietnamese American wife who works as a pharmacist. She comes from a small, middle-class Oklahoma town and has adjusted to the wealthy lifestyle of the Hos.
Aunt Tina, 58, is the younger sister of Binh who grew up in Vietnam and moved to the U.S. sometime after her brother. She is described as craving attention and being a life of the party.
Cousin Sammy, 29, is the free spirit relative who is described as living in the moment. She is close to Washington who has offered her a job as his head of marketing.
The series will run for eight episodes that are 30 minutes each and be executive produced by Katy Wallin and Stephanie Bloch Chambers from Wallin Chambers Entertainment in association with Lionsgate TV.
Jennifer O'Connell, executive vice president of original non-fiction and kids programming at HBO Max, described the docuseries as a feature of rich lifestyles and rich culture.
"Rarely do you come across a family that is so rich in so many ways – not just in wealth, but in heart, traditions and love for each other," she said. "There's great pride in being a Ho and they are ready to give the world a seat at their luxurious table."
VNF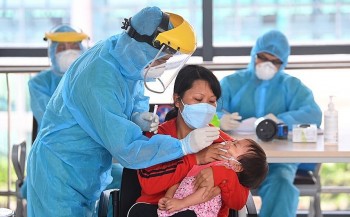 National
Nearly 72 million vaccine doses have been administered nationwide, with 20.7 million people getting their second shot.