South China Sea Code Of Conduct Negotiation Struggles As Tension Rises, Said Experts
"ASEAN members want to resume negotiations as a means of restraining China's assertiveness," South China Morning Post quoted an expert in its recent article.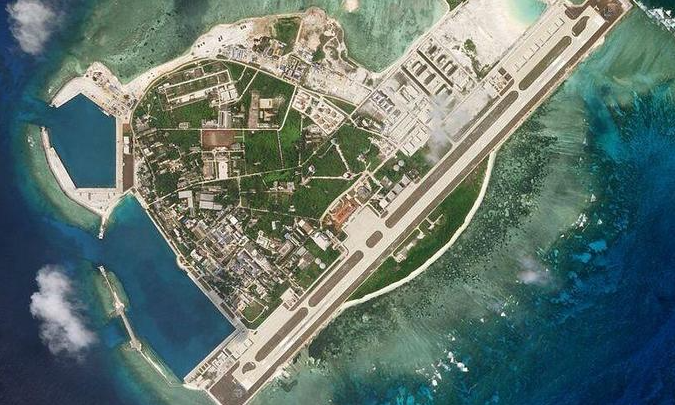 Satellite photo dated March 28, 2018 shows the Woody Island, part of Vietnam's Paracel Islands. Photo by Planet Labs Inc/Handout via Reuters.
Negotiations between Beijing and its neighbors for a code of conduct on activities in the South China Sea (Bien Dong Sea in Vietnamese) are facing more uncertainty as tensions rise over the contested waterway. South China Morning Post quoted one observer saying the process "could even end in a stalemate" in a July 17 article.
Diplomats from China and the 10-member Association of Southeast Asian Nations completed a first reading of the "draft negotiating text" of the code in July 2019, but no significant progress has been made since then – mostly because of the pandemic making it harder to hold face-to-face talks.
"The rise in China's hard power in the South China Sea has not led to a parallel rise in soft power," Wu Shicun, president of the National Institute for South China Sea Studies, a think tank in Hainan, said during a conference in Shanghai last week. "Also there is still this unease and hostility from littoral countries towards China's rise, so they're still apprehensive about whether China is seeking regional rule-making dominance through the code of conduct negotiations."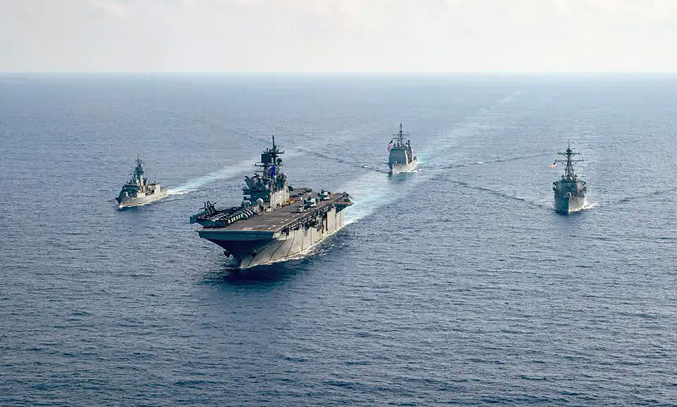 U.S. Navy and Royal Australian Navy team up in the South China Sea. Photo by Reuters.
The waterway has been at the center of intensifying rivalry between China and the US. On Monday – five years since the tribunal ruling – the People's Liberation Army warned a US warship to leave the vicinity of Paracel Islands (Hoang Sa), which belongs to Vietnam's territory.
Other actors appear to be getting more vocal in criticizing Beijing over the South China Sea, according to Carl Thayer, emeritus professor at the University of New South Wales, Canberra.
Philippine Foreign Secretary Teodoro Locsin saying in March that Manila would lodge diplomatic protests "every day" until hundreds of Chinese fishing vessels anchored in waters near Whitsun Reef in the disputed Spratly Islands were gone. Beijing claimed they were sheltering from bad weather.
Last week, an unreported stand-off between China and Malaysia was brought into the spotlight by the Asia Maritime Transparency Initiative, part of the Centre for Strategic and International Studies in Washington. Malaysia had scrambled jets to intercept 16 Chinese warplanes near its eastern coast.
Vietnamese Defence Minister Phan Van Giang told the 8th ASEAN Defense Ministers' Meeting Plus in June that all relevant parties should strictly abide by the principle of addressing disputes by peaceful means on the basis of international law, including the 1982 United Nations Convention on the Law of the Sea (UNCLOS), and soon finalize an effective and substantive Code of Conduct, according to VOV.
The USS Theodore Roosevelt docks in Da Nang, Vietnam, March 5, 2020. Photo by Reuters.
Earlier in July, Vietnam protested China's plan to send a research vessel to the Hoang Sa (Paracel) archipelago, asserting it was a violation of Vietnamese sovereignty, VN Express reported. "All survey and scientific research activities on the Paracel Islands without Vietnam's permission are a violation of Vietnam's sovereignty and relevant rights, illegal, and hold no value," said foreign ministry spokeswoman Le Thi Thu Hang.
Chinese and ASEAN foreign ministers committed to restarting negotiations on the code of conduct as soon as possible when they met last month while working groups exchanged views on the draft text during virtual meetings earlier this month – the first time they had met since October 2019.
Carl Thayer said formal negotiations between China and ASEAN were "highly likely" to resume, but there were still issues to be addressed.
"ASEAN members want to resume negotiations as a means of restraining China's assertiveness. But it is clear that ASEAN is in no rush to complete an agreement that is not binding," said the expert.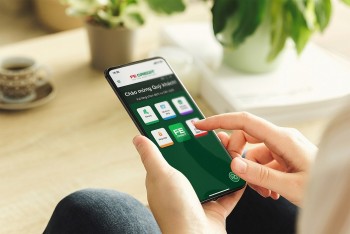 Economy
Besides official loan applications that operate openly and transparently, there have been many lending apps that turned out to be a form of black credit with cut-throat interest rates, which have unintended consequences and threaten social security.