South China Sea: Philippines pins hopes on new secret weapon – woman's voice
The Philippines hopes that a female voice would be its new secret weapon to deter intruders in the
South China Sea
(known as Bien Dong Sea in Vietnam).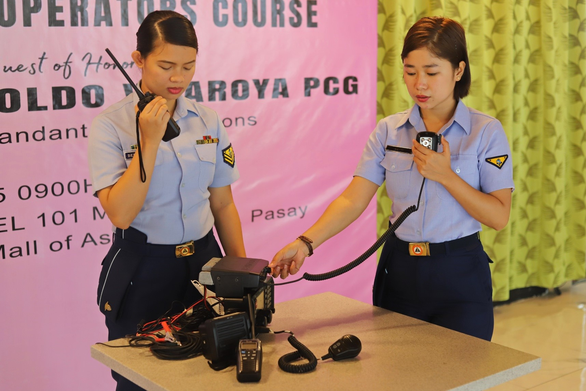 The Philippine Coast Guard (PCG) said it has recognized the 81 graduates of the first-ever national level all-female radio operators course at a ceremony last week. Photo: PCG
Coastguard officials are hoping that a new unit of 81 specially trained female radio operators – dubbed the "Angels of the Sea" – can deter wayward foreign vessels from entering its territory in the conflict-ridden waterway.
The Philippine Coast Guard (PCG) said it has recognized the 81 graduates of the first-ever national level all-female radio operators course at a ceremony last week.
To recall, after a brief district-level training in June 2018, "Angels of the Sea" was employed by the PCG along Basilan Strait and Sibutu Passage to temper seafarers' anxieties at the height of piracy and kidnapping in said areas at the country's south.
"The Command recognizes the evolving unique importance of having female radio operators aboard PCG vessels and shorebased units, especially in communicating with foreign ships, so as not to elevate tension. We want our "Angels of the Sea" to become the voice of peaceful and rules-based order at sea, especially in our country's sensitive maritime frontiers," Vice Admiral Leopoldo V Laroya said.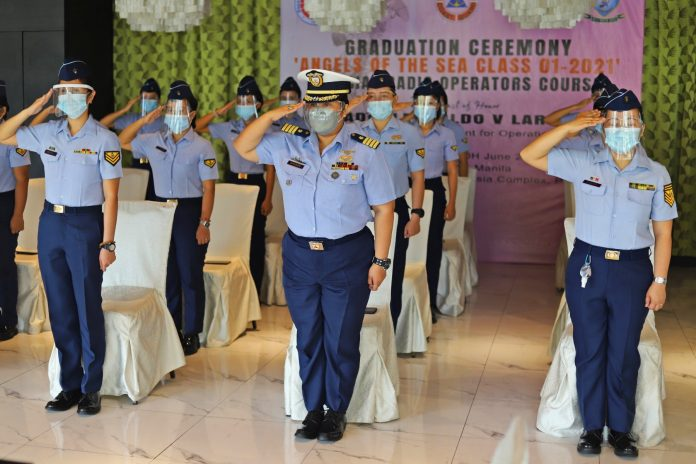 For the first time ever, an all-female class of radio operators aboard various Philippine Coast Guard (PCG) vessels and shorebased units graduated from a Special Radio Operators Course in Pasay City on Friday (June 25). Photo courtesy of Philippine Coast Guard
Furthermore, Laroya commended the graduates of the "Angels of the Sea" Class 01 – 2021 for accepting the challenge of honing their communication skills in preparation for their deployment aboard vessels and coastal stations to be instrumental in enhancing maritime law enforcement, maritime safety, and maritime security in the Philippine seas.
Some of members of the class are actually assigned aboard patrol ships participating in the PCG Task Force (TF) Pagsasanay which are on rotational training exercises at various Philippine maritime jurisdiction, including the West Philippine Sea - the term the Philippines uses for the portion of the South China Sea (known as Bien Dong Sea in Vietnam) it claims.
"To our graduates, know that you could be great influencers and convincers by raising your voices with less pressure to sway those who are listening, which will then lead to successful operations. Hence, I challenge you to continue exploring and learning, and not just holding on to the lessons you acquired from this course," Laroya exhorted.
The "Angels of the Sea" is one of the initiatives of the Command in providing equal opportunities to all members of the uniformed service so they could play their niche roles in securing the nation together as one at sea.
"Having good communication skills boosts one's self-esteem and confidence. It promotes understanding and is essential in having a successful career. We want all women in the Coast Guard service to be able to develop their sense of self-worth and give them their right to influence social change. We hope this course served its purpose of minimizing gender discrimination and highlighting the important role of women in public service," Laroya concluded.
Psychological advantage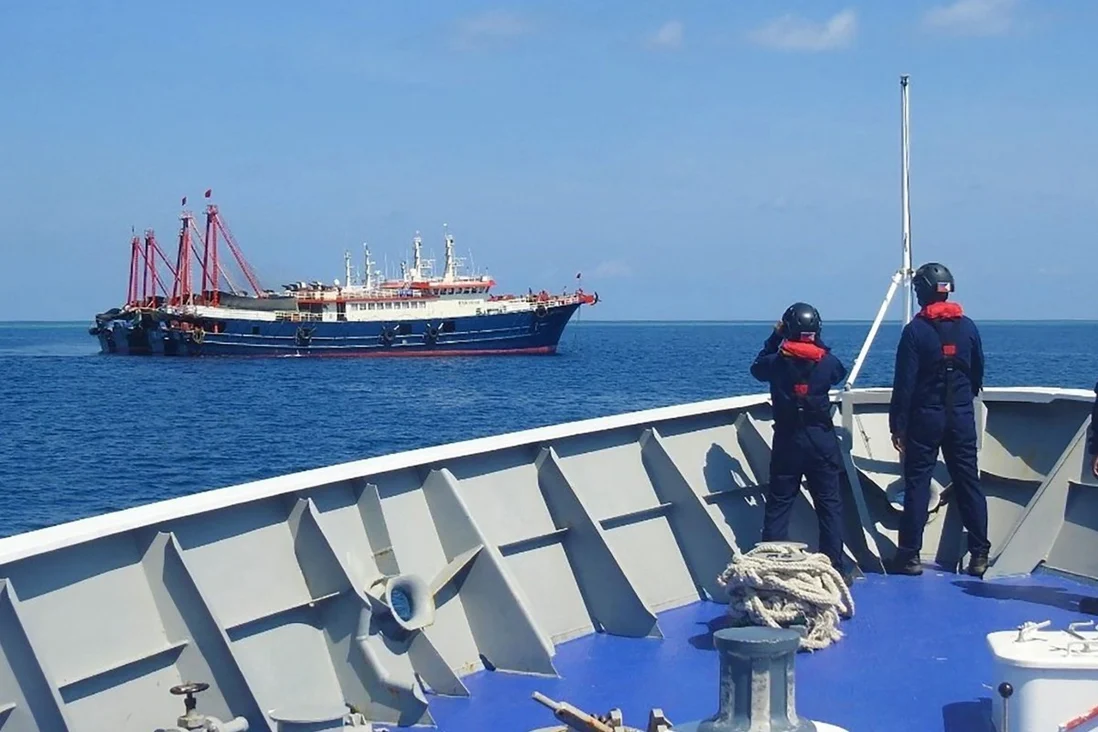 Philippine coastguard personnel aboard the BRP Cabra monitor Chinese vessels anchored at Sabina Shoal, a South China Sea outcrop claimed by both Manila and Beijing. Photo: AFP
South China Morning Post said mastermind of the operation believes that not only will the women's voices be more likely to ease tensions with foreign crews – who may resent a male operator barking commands at them – but they will also hold a psychological advantage over their opponents due to the matriarchal aspects of Asian societies.
The operation is understood to have been influenced by an incident in April in which the pre-recorded voice of a female coastguard operator appeared to drive off seven Chinese vessels caught loitering near a Philippine-claimed reef.
Rear Admiral Ronnie Gil Gavan, who thought up the "Angels of the Sea" operation, said its appeal was "maternal", as female voices evoked "the authority of wives or mothers that pervades the Asian culture".
The coastguard spokesman Commodore Armando Balilo said that even before the newly graduated all-female class, the coastguard had several women radio operators working in some of the toughest areas, including the Sibutu Passage, a deep channel between the Sulu Archipelago in the southern Philippines and Borneo that is notorious for piracy and kidnappings.
Balilo said that in the Sibutu Passage, "female radio operators serve as the reassuring voice of a mother to a child, or a girlfriend or wife to a loved one facing a perceived danger … to temper seafarers' anxieties at the height of piracy and kidnappings".
Damaged relations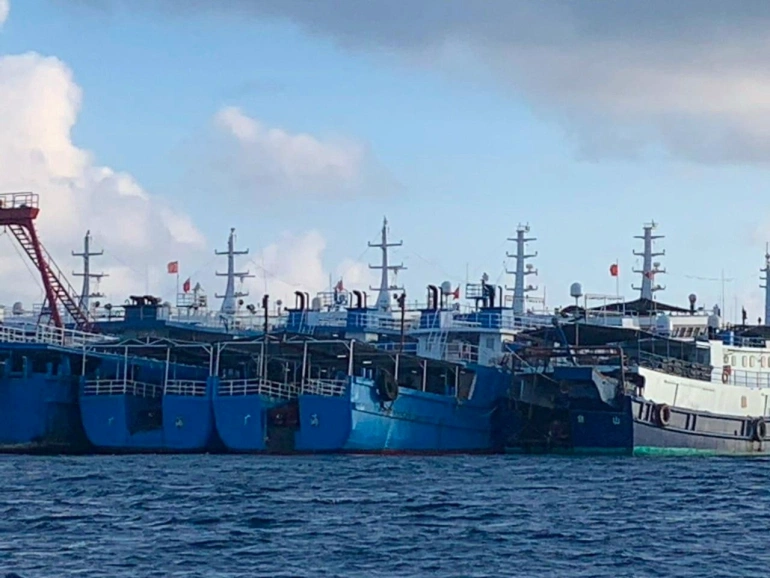 Chinese vessels, believed to be manned by Chinese maritime militia personnel, are seen in the Philippines' EEZ on March 27, 2021 [File: Philippine Coast Guard/National Task Force-West Philippine Sea/Handout via Reuters]
Relations between the two countries have been damaged by the months long presence of fishing boats and other ships in the Philippines' exclusive economic zone.
The Philippines' Ministry of Foreign Affairs said it had lodged a diplomatic protest "against the incessant deployment, prolonged presence, and illegal activities of Chinese maritime assets and fishing vessels" in the vicinity of Thitu or the Pag-asa Island, according to Al Jazeera.
It demanded that Beijing withdraw its vessels from the area, saying: "The Pag-asa Island is an integral part of the Philippines over which it has sovereignty and jurisdiction."
The latest petition was at least the 84th diplomatic protest the Philippines has filed against China since President Rodrigo Duterte took office in 2016.
It comes amid escalating tension over the presence of hundreds of Chinese boats in the Philippines' 200-mile Exclusive Economic Zone (EEZ). Manila says it believes the vessels were manned by militia, while Beijing has said they were fishing boats sheltering from bad weather.
An international tribunal in 2016 invalidated China's expansive claims in the South China Sea, but Beijing has ignored the decision, said Al Jazeera./.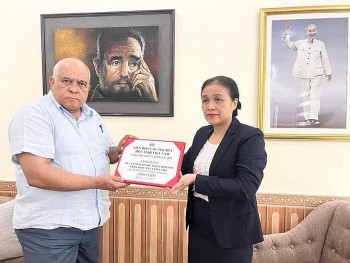 Focus
According to Cuba's News Agency Prensa Latina, on August 16, President of Vietnam Union of Friendship Organizations Nguyen Phuong Nga said that Vietnamese people will always stand by and support Cuba no matter what difficulties our friend is facing.