South Korean Expats Support Children in Vietnam's Remote Areas
Sharing the love for Vietnamese people, Sang Hyeon, Yoo Won, and Joon Hyuk carry out charity trips to help disadvantaged children in the country's remote areas.
A volunteer group led by three Korean males, Chi Joon Hyuk (29 years old), Kim Sang Hyeon (29 years old), and Do Yoo Won (31 years old) departed from Hanoi at 4 pm on March 27 to a school in Ta Ghenh village, Yen Bai. As soon as they got off the bus, the group quickly started cooking lunch and building a playground for students.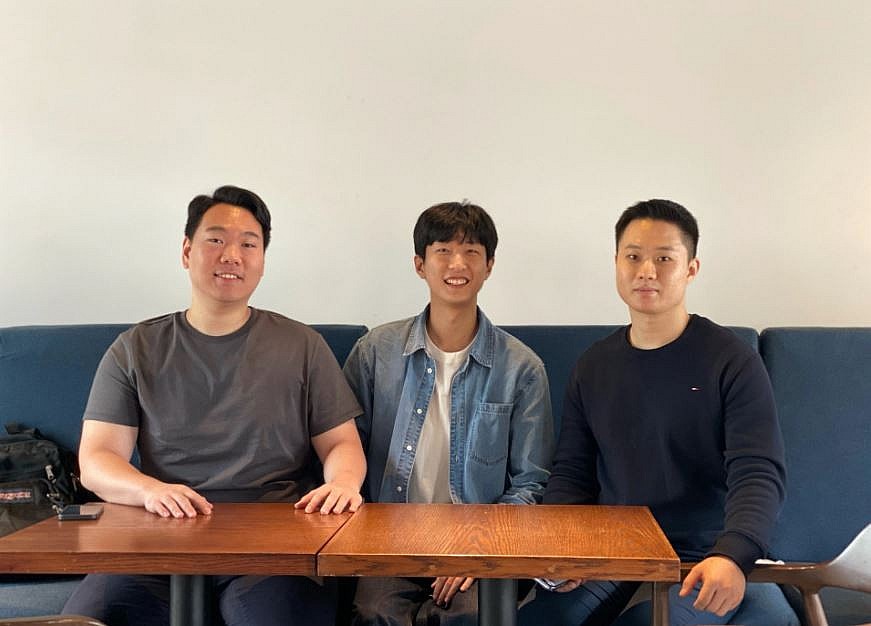 Chi Joon Hyuk, Kim Sang Hyeon, and Do Yoo Won (Photo: Zing)
A trip to remember
Nguyen Thom, an employee of Sang Hyeon's pastry shop, said the charity trip was planned two weeks ago. She was in charge of connecting the group with local schools.
"This school was only supported by another volunteer group to rebuild the classrooms and electricity network three months ago. Before that, teachers and students here had to live and study in poor conditions. They used candles to lit the classroom," Thom said.
In previous charity trips, Sang Hyeon's shop gave toys, blankets, warm clothes, or cash to needy students. On this trip, they built a playground with simple equipment. In addition to toys, the team asked for old tires from the garage to make swings.
"We have never done these things before. We just went online to look at photos and follow instructions. Fortunately, the results are quite satisfying," said Sang Hyeon.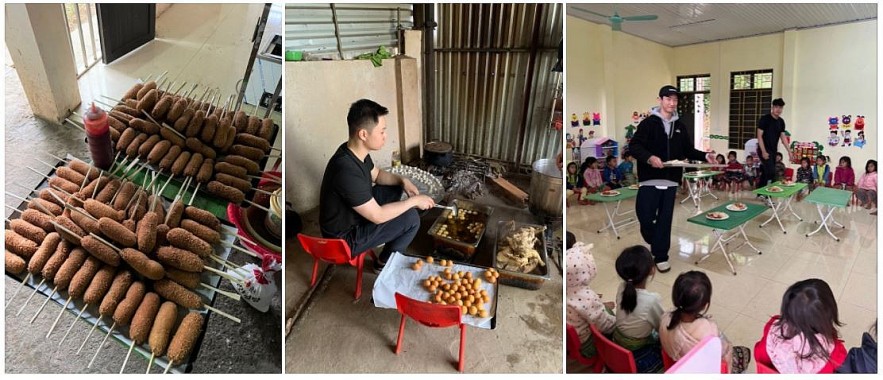 The group members cook for the children. (Photo: Zing)
Regarding food, the group learned from previous volunteering trip and changed the menus to better suit the children's tastes.
"In our Vinh Phuc trip last year, we made hamburgers, but the children couldn't eat much. Joon Hyuk used to make pizza but the children did not like it as much as they like stew chicken, which we are making this time," Sang Hyeon said.
After presenting them with their first slide, many children were afraid and shy at first. After a while, they got more natural with the new playground.
"Teachers at the school messaged us, saying children are more diligent in going to school. They even come early just to have fun at the playground and don't want to go home at the end of the day. Many students, though live really far, are now eager to go to school," Thom said.
As for Yoo Won, visiting a remote land for the first time is a surprising experience. Surrounded by the mountain and jungle, the man sympathies with the difficult situation of the students here.
"I saw these children bring their lunch to school, but they have nothing but plain rice. A fried egg is already a luxury for them. How poor!" he said.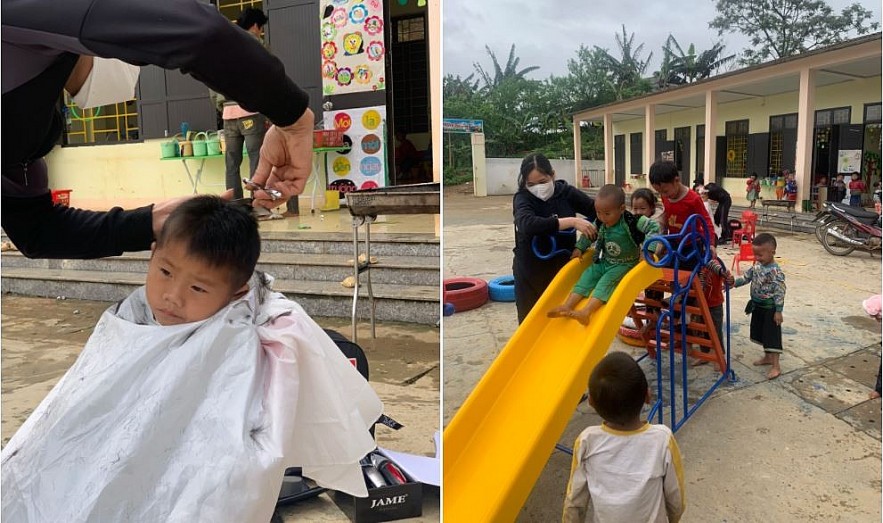 A new playground is built. (Photo: Zing)
Devotion to charity work in Vietnam
Yoo Won, Joon Hyuk, and Sang Hyeon work in the food and beverage business in Hanoi. Yoo Won owns a hotdog chain, Joon Hyuk runs the restaurant, and Sang Hyeon bakes.
Yoo Won came to Hanoi in 2014 as an exchange student, then stayed to work and opened his first store in 2017. Before joining the trip with Sang Hyeon, Yoo Won participated in many charity activities. In April 2020, when the pandemic broke out, he gave 400 hotdogs as a gift to frontline doctors.
Sang Hyeon has lived in Hanoi for 5 years and started Bread Factory 3 years ago. In 2020, stemming from his love for Vietnamese people and wanting to help those in need, he began to give cakes to orphanages and shelters on the outskirts of Hanoi every week.
Every 2-3 months, Sang Hyeon holds a volunteer trip to Vinh Phuc, Ha Giang to give children food, toys, and money. During each trip, in addition to volunteering purposes, Sang Hyeon learns about local agricultural products and tries to help farmers by buying their products. His shop buys Moc Chau strawberries, Ha Giang oranges, and sweet potatoes from Soc Son (Hanoi).
Joon Hyuk is married to a Vietnamese woman. "We all love the country and people of Vietnam. We also hope to contribute to the promotion and development of Vietnamese cuisine because Vietnamese food is delicious."
The group visits a school in Yen Bai. (Photo: Zing)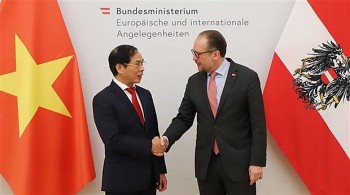 Overseas Vietnamese
Fifty years have passed since the establishment of the relationship, the two countries have enjoyed great strides in bilateral cooperation.