South Korean Archer's Short Hair Draws Anti-Feminist Sentiment, Women Showing Supports
South Korean archer, An San, who has won her gold medals at Olympics 2020, has been criticized and attacked for her short hair back at home.
The short haircut of South Korean archer An San, who has won two gold medals at the Tokyo Olympics, has attracted anti-feminist sentiment at home.
Online abuse, calling her hairstyle "feminist", comes against a backdrop of rising anti-feminist sentiment among South Korean young men.
The 20-year-old archer won South Korea's first gold on Saturday, then claimed another gold in the women's team event.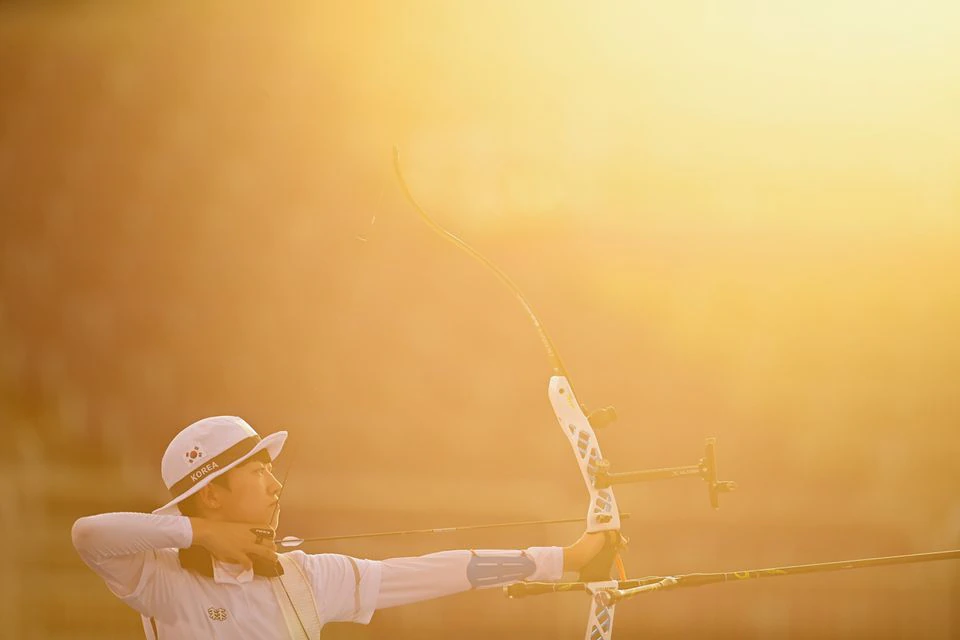 Tokyo 2020 Olympics - Archery - Women's Individual - 1/32 Finals - Yumenoshima Archery Field, Tokyo, Japan - July 29, 2021. An San of South Korea in action REUTERS/Clodagh Kilcoyne
After she won a matchplay in the 1/16 elimination round of the women's individual event on Thursday, her coach blocked reporters from asking "unnecessary" questions, apparently aware of the controversy.
An herself said she would answer only questions related to the Games, even before a reporter finished a question about the online hostility.
Growing animosity toward feminism and public policy to promote women's rights has become a hot topic in South Korea.
Some South Korean politicians and celebrities posted messages and their own short-hair photos to support An.
"With that firm look, please shoot through every prejudice in the world. We stand by your short-cut hair and support you," Sim Sang-jung, a lawmaker from a minority Justice Party, said in a tweet.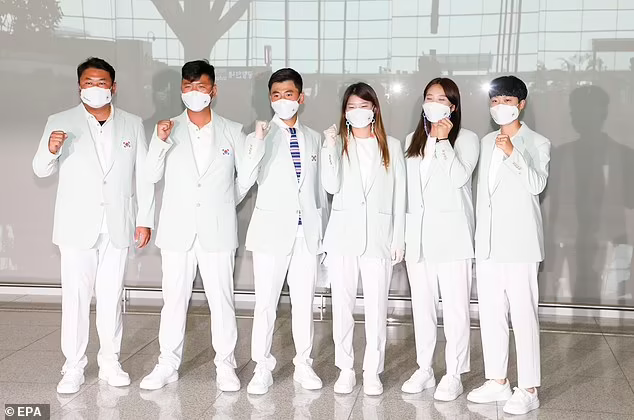 An San (far right) was criticized in her homeland for having short hair despite her successes in Tokyo. Photo: EPA
Another post urged people to call the Korea Archery Association to defend An from online hatred.
Online abuse, calling San's hairstyle 'feminist', comes against a backdrop of rising anti-feminist sentiment among South Korean young men.
Young women in South Korea have enjoyed unprecedented campaigning successes in recent years -- fighting to legalise abortion and organising a widespread #MeToo movement, while also taking action against spycam videos secretly filmed in public places, which led to the largest women's rights demonstrations in Korean history.
There have also been protests against the country's strict beauty standards -- with campaigners sharing viral videos of themselves cropping their hair short and smashing up their make-up products.
But it has also triggered a strong backlash in the country, and feminism is often framed as selfish, and anti-men.
South Korea's An San shoots an arrow during the final of the mixed archery team event at the Tokyo Olympics at Yumenoshima Park Archery Field in Tokyo, July 24. Yonhap
Women bracing to defend short-haired archer from anti-feminist criticisms
Women here are making a strong protest against groundless accusations that have labeled South Korean archer An San as a "feminist" simply because of her short hair, calling on others to join a campaign to defend the athlete.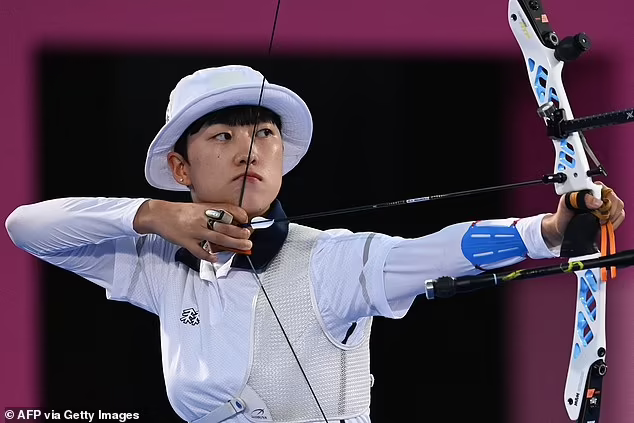 Many women back in South Korea have posted message of support towards San. Photo: AFP
Feminism in Korea has a somewhat different character than the feminist movements of much of North America and Europe, and recently, public discourse has degenerated into a battle of the sexes. Some celebrities have already been thrown into the line of fire by the public after being accused of being feminists by reactionary, male-dominated online groups, which claim that men, especially young ones, are being treated unfairly by so-called feminism-focused policies.
Since the 20-year-old athlete won two gold medals in the mixed team and women's team events at the Tokyo Olympics on July 24 and 25, she has been targeted by slander originating from such online groups.
Users in those groups have been calling into question An's short hair and the fact that she is currently enrolled at a women's university, labeling her as a feminist.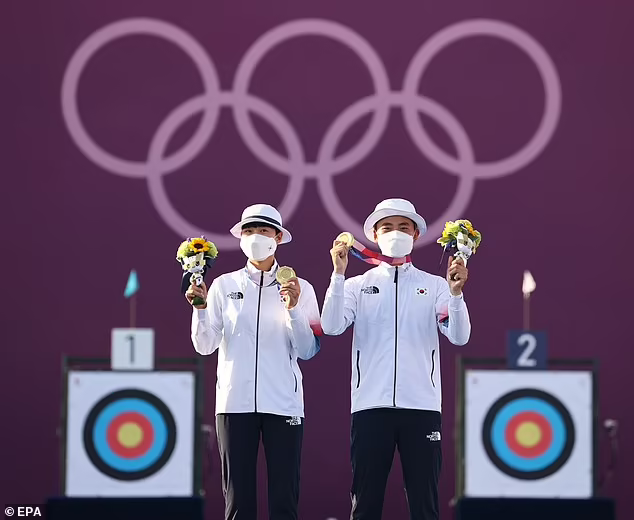 Archers An San (left) and her teammate Kim Je-deok (right) won South Korea's first gold medals. Photo: EPA
Online haters also called into question some expressions An previously used in Instagram posts, claiming that those expressions are commonly used by feminists here, deluging her account with offensive language.
She even answered a question by an online user who asked her on Instagram, "Why do you have short hair?" Her answer was, "Because it is convenient." But her answer could not stop the stream of malicious comments toward her.
As criticism against the archer has spread online, a campaign to defend her has also begun, with some online commentators creating a poster and sharing it via social media.
The poster calls on people to protect the archer by writing supportive messages for her on the website of the Korea Archery Association. It also calls on the association to protect the athlete and never make her feel that she has to apologize.
"An has been suffering from absurd slander simply because she has short hair," one commentator wrote on the association's website. "Having long or short hair is a choice and the right of any individual. The association should react strongly against those who insult others online."
Politicians and celebrities have also joined forces to defend the archer.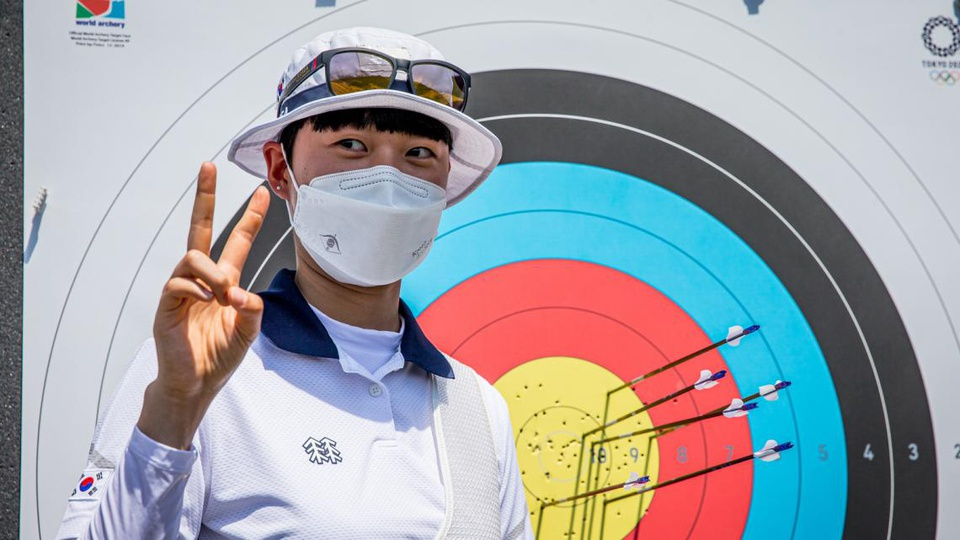 Photo: World Archery Sport
Rep. Ryu Ho-jeong of the progressive minor opposition Justice Party shared a past photograph of herself when she had shorter hair.
"Women get tired when the clothes of female politicians or the hairstyles of female athletes become controversial issues," Ryu wrote on Facebook, Wednesday. "These days, I let my hair grow long after having short hair for years, just because I want to. There is no such thing as a feminist appearance, because feminists live a life of their own choice. We don't ask others for permission."
The 28-year-old lawmaker herself has become a target of attack several times due to her dress code, such as when she wore a red dress to the National Assembly's plenary session last year, and when she appeared wearing temporary tattoos to support legalization of tattooing in June of this year.
Koo Hye-sun, the actress, movie director, scriptwriter and artist, also shared a photo on Instagram of herself with short hair in support of the archer.