Viet - Korean Couple Shares Useful Traveling Tips
Follow these surprisingly simple tips for traveling as a couple and make your next romantic vacation the best yet!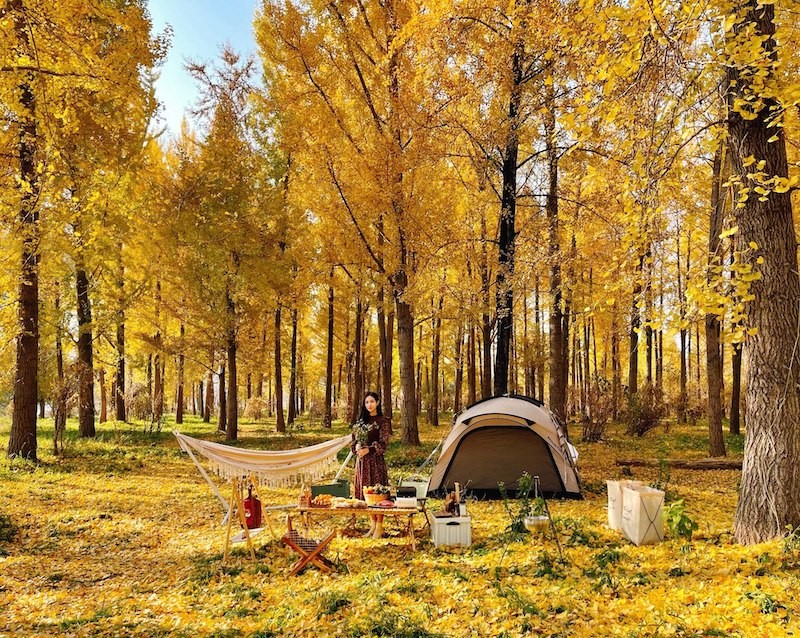 The romantic golden leaf season of almond trees in Goryeong City. Photo: VnExpress
In late November, Quyen (27 years old, Hai Phong, Vietnam) and Kyoung (40 years old, Daegu, South Korea) brought their twin sons on a camping trip in Goryeong City, about a 30-minute drive from their home.
Photos of the camping expedition are glowing in autumnal bliss, reminiscent of a trendy K-drama. Quyen's personal K-drama with Korean husband also reminds us that love conquers all differences!
The beautiful love story from Hai Phong to Daegu
Kyoung Kon, a regular Korean guy fell in love with a Vietnamese girl name Quyen in Hai Phong on his very first trip to Vietnam. When Quyen and her family was traveling with his friend in Cat Ba, she didn't notice Kyoung even for a minute, which made him impressed with the beautiful, somewhat haughty girl.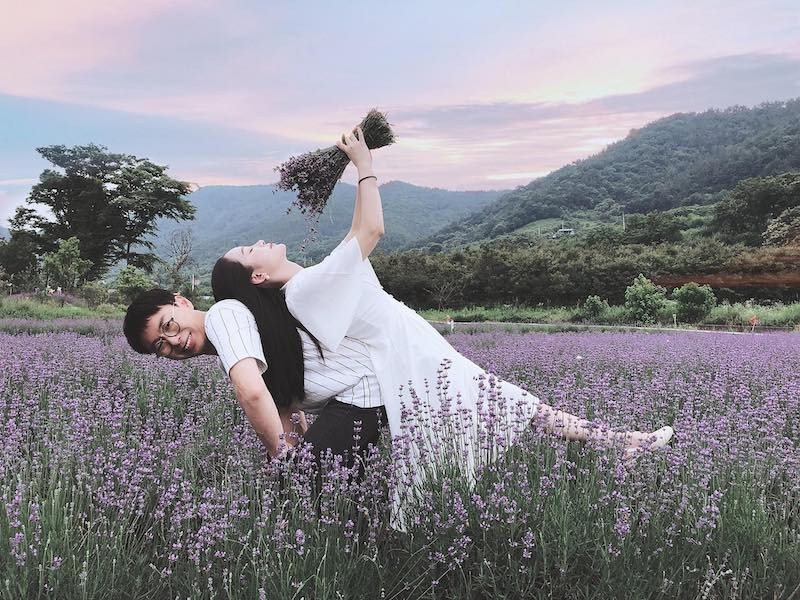 Their story has a happy ending. Photo: VnExpress
With the determination to spend the rest of his life with Quyenm Kyoung persistently pursued Quyen, and cared for her and her family for almost a year. He travelled to Vietnam once or twice a month just to be with her. Quyen was touched, so she agreed to date and then get married. Their story has a happy ending and now they had two adorable twin boys.
This special couple both love to travel. They had been on dozen of trips over the last 5 years. Whether you're going somewhere that's an hour away or traveling across the globe to a country you have never seen before, when you are with your soulmate, good times are sure to be had. Still, Quyen and Kyoung want to share some simple tips for you to have the best couple trips together with your family.
Five years worth of tips
A couple can love one another and still not be on a same page when it comes to traveling. Here are some recommendations from the Vietnam - Korea couple you should try with your partner:
1. The first trip should not be a camping trip
Although couples should try something new and want to say yes to everything, they would not recommend inexperienced travelers to go camping trip if you have not lived in the smallest space together for 24/7 before.
If you are not prepared for so much intimacy yet, you should better not make a road or camping trip.
2. Eat healthy food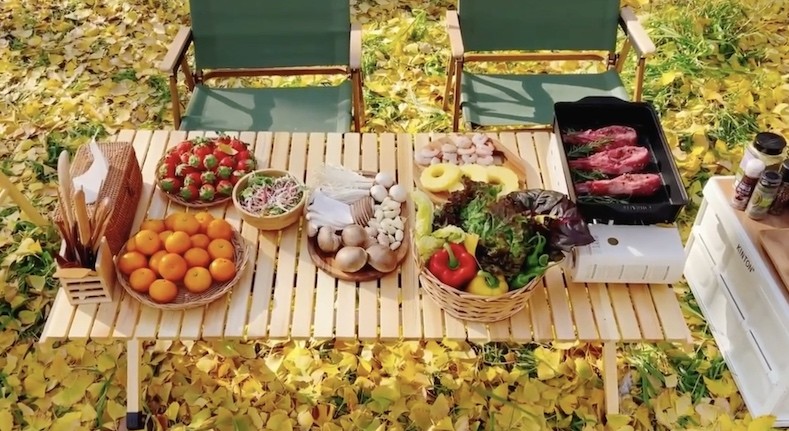 When traveling, Quyen makes sure fruits and vegetables would be on the plate. Photo: VnExpress
Quyen makes sure fruits and vegetables are always available when camping. Fortunately, Kyoung loves it. Together they watch what to eat, and since they have been a couple, they have been eating healthier.
If you only eat the greasy stuff or high-carb meals, you will become tired easily and less fit compared to eating healthy meals. Part of healthy nutrition is to eat as many regional and seasonal products as possible.
You should also try to eat healthier on your trip, not only yummy pizzas in Italy, or the wonderful steak in Argentinia.
3. Take as many pictures as possible from you and your adventures
You may probably know it: one of the partners takes all the pictures and the other one is shown on them. When you get back home, it seems as if the other one was not there at all.
Keep this in mind and alternate. You may even buy a selfie stick. Although those sticks are quite silly, they offer an opportunity to take pictures of both of you together. As an alternative, you could also buy a tripod and use the cable release or you ask people on the spot to take the picture. It's just important that you have the picture.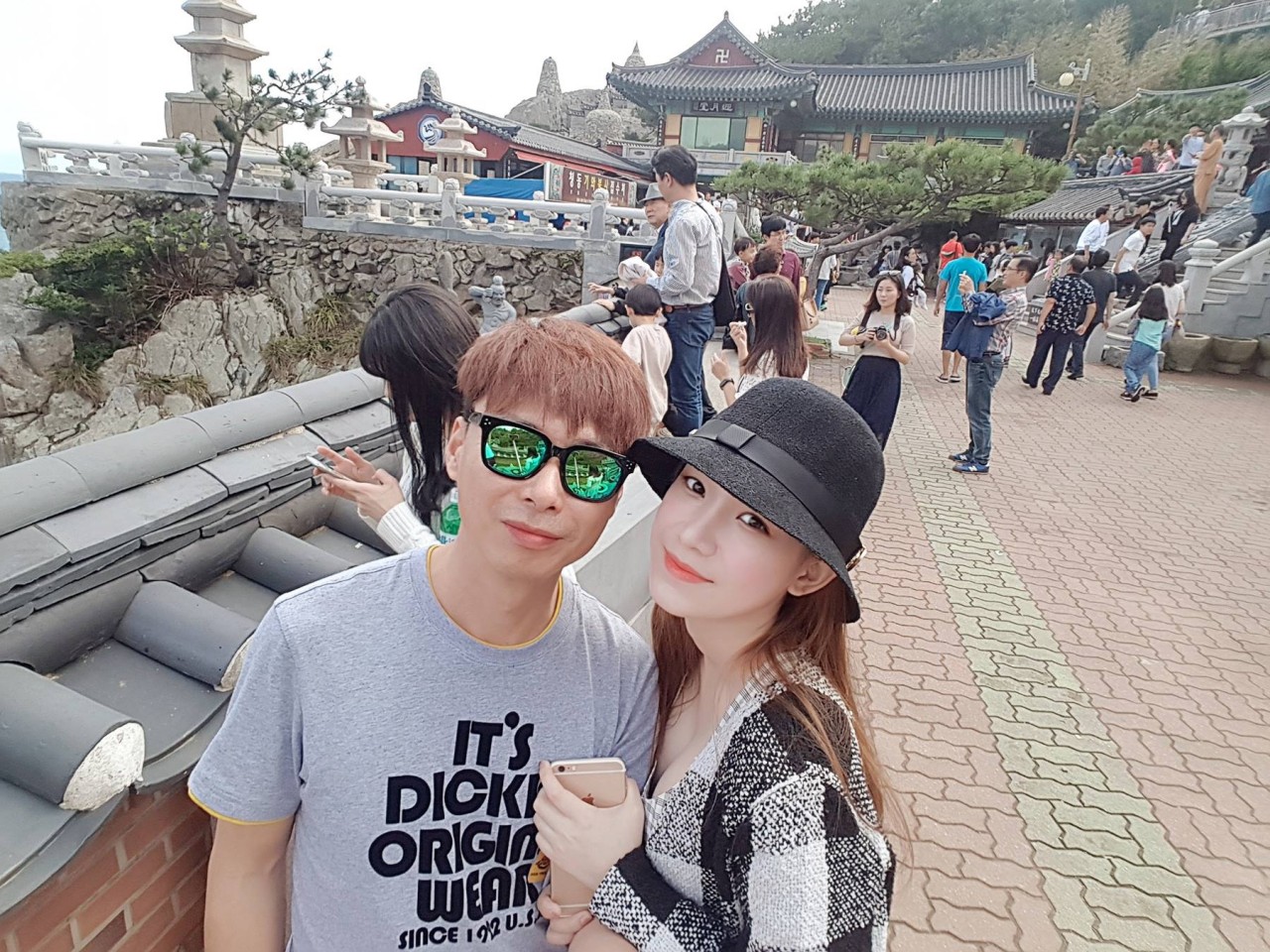 You could buy a tripod and use the cable release or you ask people on the spot to take the picture. Photo: VnExpress
4. Adversity can turn to opportunity
When she first came to Korea, Quyen was homesick, but the constant trips helped her get used to the new culture and cuisine faster. Especially on trips, her husband always takes on the role of photographer so that she can take the best photos. Knowing that her mother also loves to travel, Quyen and her husband welcomed her to the land of kimchi many times, to enjoy the rare beautiful scenery.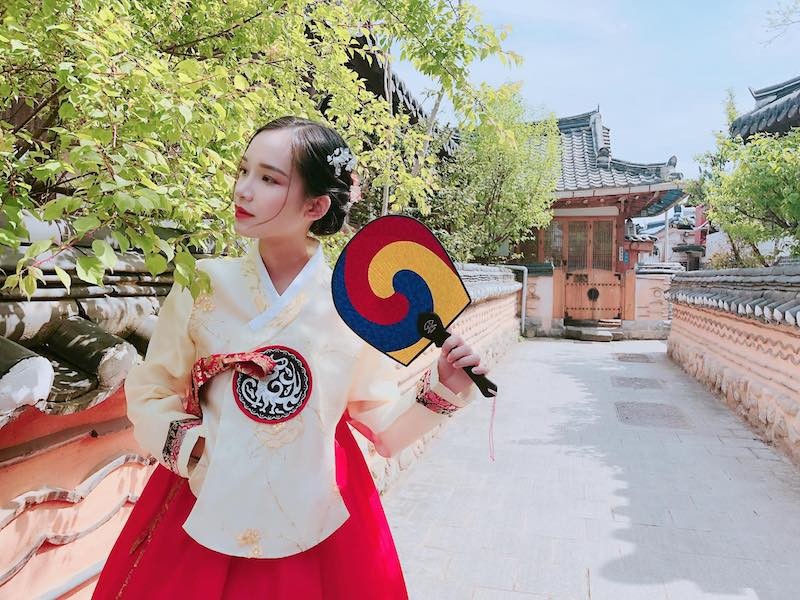 Quyen finally gets used to living in Korea with her husband thanks to traveling. Photo: VnExpress
5. Relax
Although all these tips are meant serious and we have learnt a lot from each other, at the end of the day, we are just we and have a lot of fun. It is a good idea to have a plan. But at the end of the day you should just be yourselves, relax and see what the evening is up to. In the end, everything will arise by itself!
Double the trouble, double the fun
After Quyen and her husband welcomed the birth of the twins, the schedule for the trip also needs to be more thoughtful, such as booking rooms, restaurants in advance, checking the weather forecast or the terrain of the destination if it is convenient to use a baby stroller. In addition, they bring a lot of items such as fever reducers, insect repellents, ready-to-eat children's foods...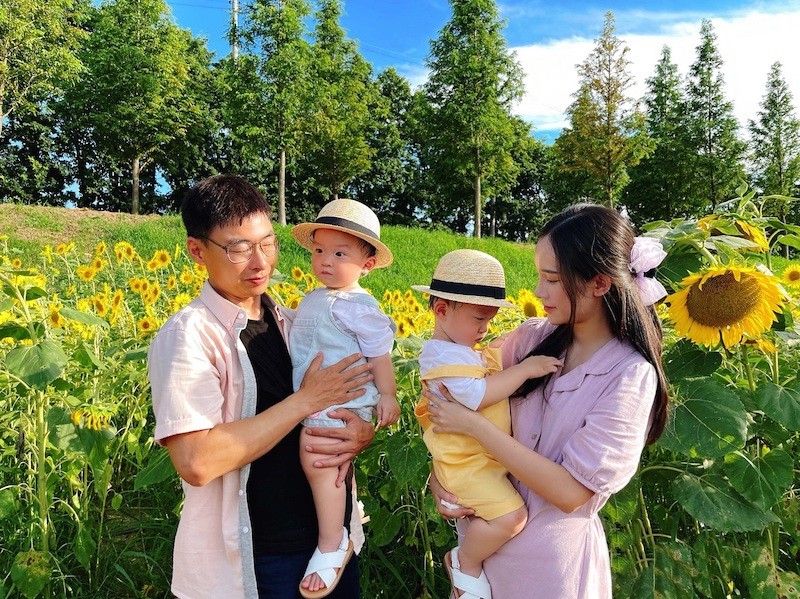 The couple loves traveling with their children. Photo: VnExpress
The couple shared that when traveling with their children, they do not have much time to experience and enjoy as before. However, when they see their children enjoying the natural landscape, not afraid to play in the sand and swim in the sea, they are very happy. Quyen also did not forget to post pictures of her trips on the Vietnam travel group, to share experiences and beautiful destinations in Korea for Vietnamese people. Most recently, the family's camping photos in the almond forest quickly attracted thousands of likes on social networks.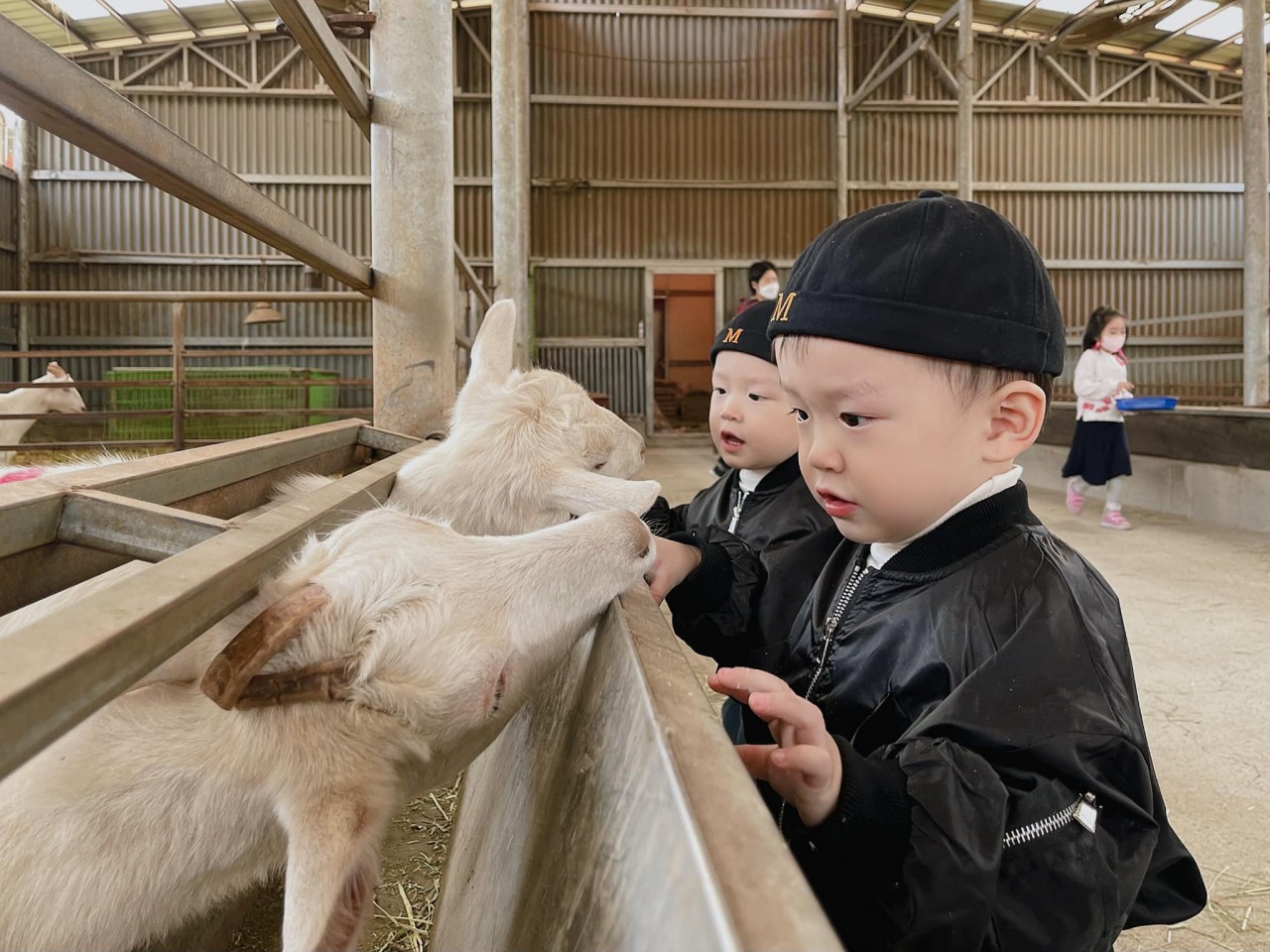 The twin boys. Photo: VnExpress
In the near future, when the Covid-19 epidemic is gradually controlled, they will continue to accompany on the roads. In particular, the two said that they will soon return to Vietnam to travel, visit sunny seas and eat delicious dishes that have not been enjoyed for a long time.
What are your best tips for couples traveling together?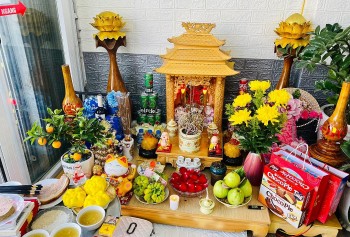 Handbook
Learn more about an ancient Vietnamese tradition that may bring you good fortune!