Special Collaborative Projects Mark 50 Years of Vietnam-France Diplomatic Ties
Giving his public remarks on the occasion of the 50th anniversary of the establishment of Vietnam-France diplomatic relations(1973-2023) and 10 years of strategic partnership (2013-2023), French Ambassador to Vietnam Nicolas Warnery reaffirmed that people-to-people exchange has a genuine deeply-rooted in international solidarity.
The Vietnamese community in France includes 300,000 people
According to French Ambassador to Vietnam Nicolas Warnery, people-to-people exchanges between the two countries are most evident during the Covid-19 pandemic. When France faced the Covid-19 wave, many aid and masks from Vietnamese partners and people were sent to the French Embassy while France donated 2 million doses of vaccine to Vietnam.
"The people's affection for the two countries has developed in a clear and vibrant way, which has contributed to increasing the warm affection, mutual understanding, and the friendship between Vietnamese and French people," said the Ambassador.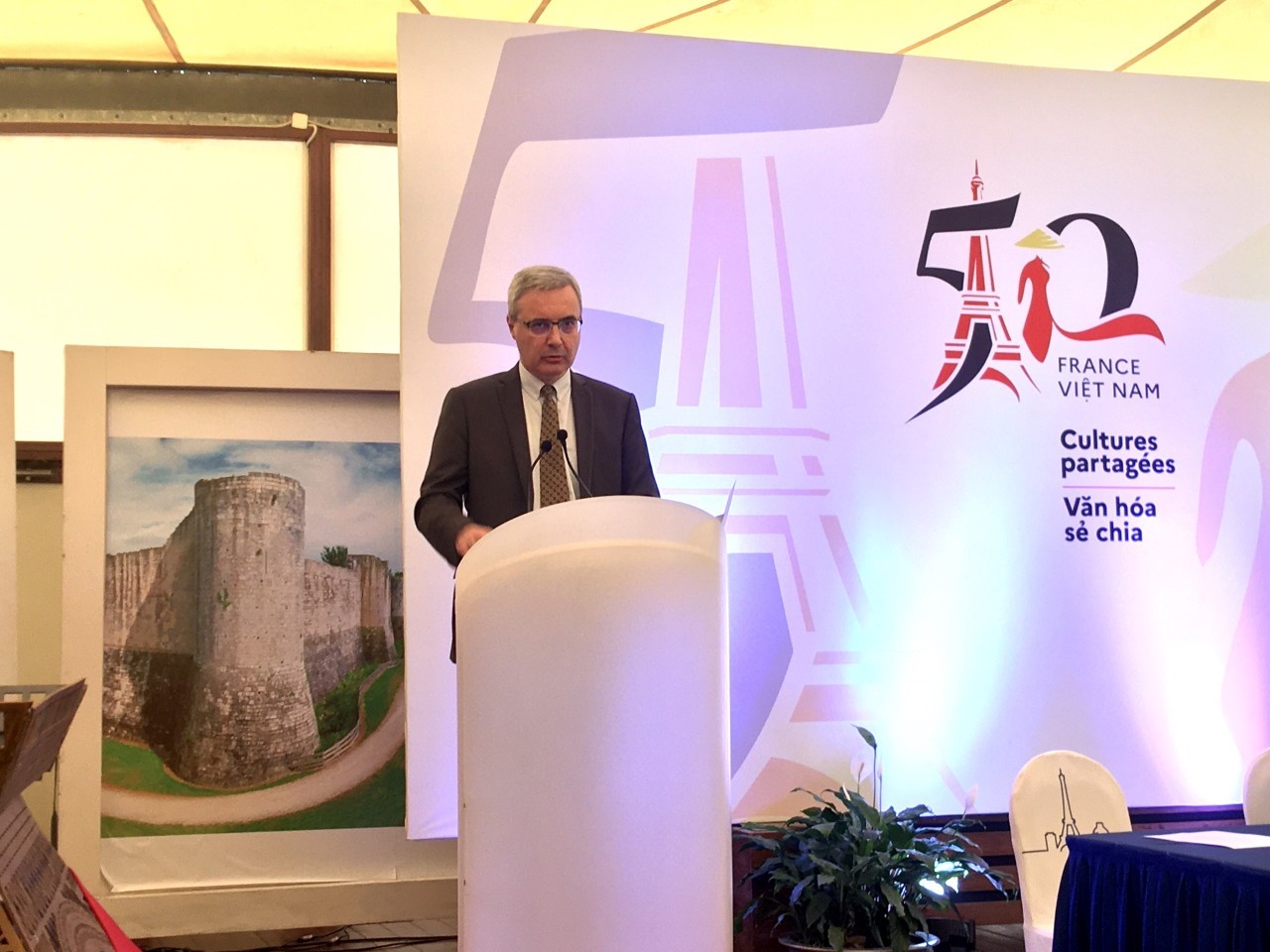 French Ambassador to Vietnam Nicolas Warnery spoke at the event (Photo: VNT).
The Vietnamese community in France has reached 300,000 in population, as reported by Counselor for French Cultural Cooperation and Activities, Sophie Maysonnave. There is also a big number of French people living, working, and starting families in Vietnam.
France has also provided support for Vietnam in all fields. Every year, France grants an amount of EUR 1.5 million on scholarships for Vietnamese students. Many French students also choose Vietnam as a destination for studying law. The famous mathematician, professor Ngo Bao Chau, received his studies in France and made great contribution to Vietnam, is also a good example.
France has helped Vietnam train 3,000 doctors and many French doctors have come to Vietnam to study and work. Many French NGOs are active in Vietnam in many fields.
At the 2024 Paris Olympic Games, 10 Vietnamese volunteers are expected to attend. In addition, there are many cultural authors and artists participating in exchanges to strengthen ties between the two countries.
A great Vietnam-France celebration to be held in 2023
Ambassador Nicolas Warnery also said that many activities will be held this year to celebrate the special occasions in Vietnam-France diplomatic relations.
Besides the high-level visits of the leaders, there are also programs and events taking place in many cities such as: the 12th Vietnam-France cooperation conference; the Temple of Literature, Food and Culture Festival, and the French culture exhibition. There are also the premiere of The Little Prince musical, fashion contests, university seminars to emphasize the importance of the relationship between the two countries, and a dazzling light show in Hue city.
"This year's celebration of the diplomatic relations between Vietnam and France will become a people's festival," stressed the Ambassador.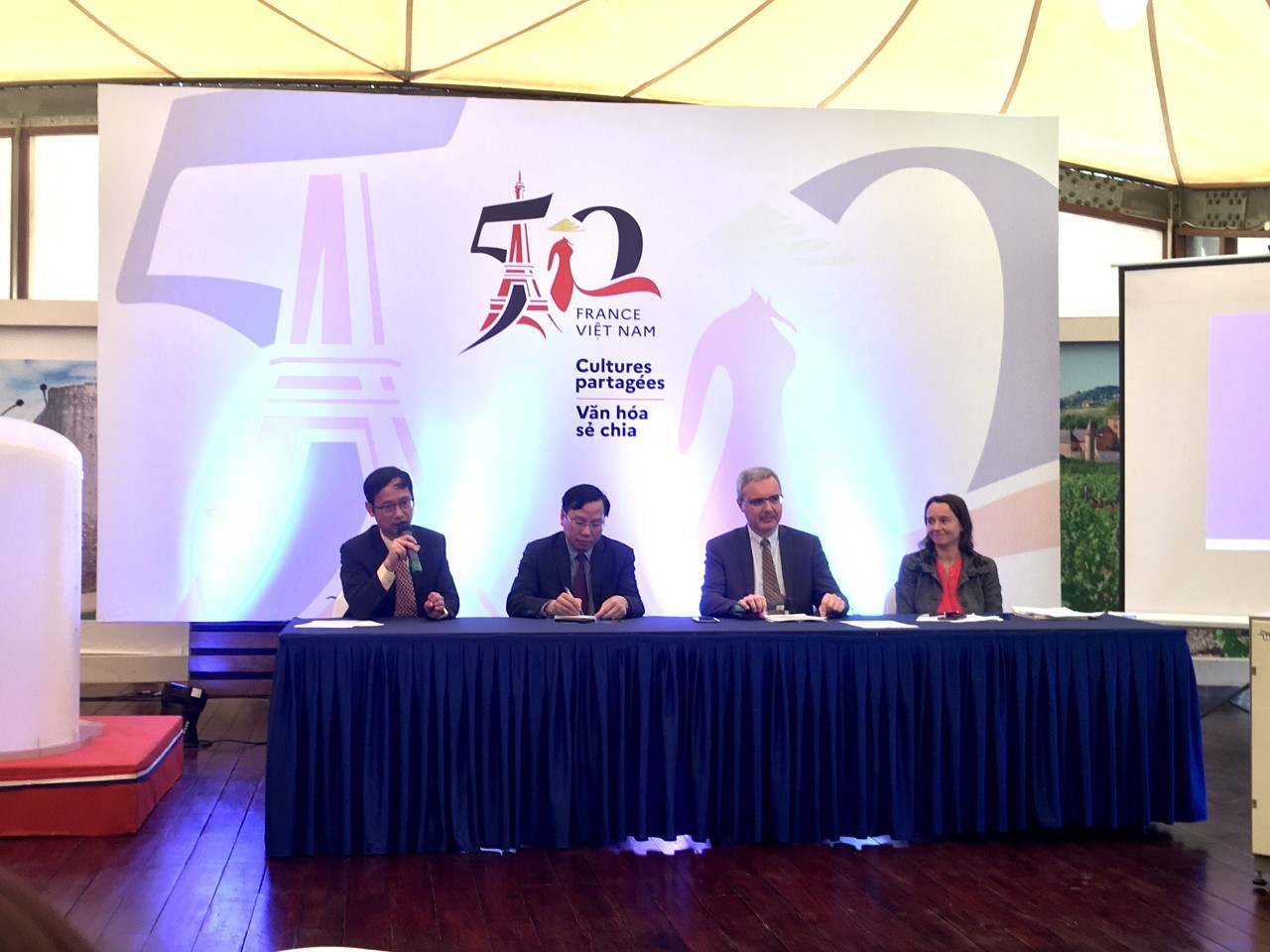 Speakers a public remarks on the occasion of the 50th anniversary of the establishment of Vietnam-France diplomatic relations(1973-2023) and 10 years of strategic partnership (2013-2023) (Photo: VNT).
In his remake, Deputy Director of the Department of Foreign Affairs of Hanoi Tran Nghia Hoa said about the 12th Vietnam-France Cooperation Conference will take place in Hanoi from April 13-15.
There are 4 sessions, including discussion about Opportunities and Challenges on Environment, Clean Water and Water Treatment; Smart and Digitized cities; Culture, Heritage and Tourism; Urban Sustainablility.
Many sideline activities will be held to further tighten solidarity and exchanges between localities and partners of the two countries. There will be the Local promotion space (with a scale of 100 - 120 booths) to promote and introduce tourist attractions,products of Vietnamese localities), Festival "Balade en France" (a cultural fairs to introduce to the world. the public on French agriculture, food technology and culinary arts). Another highlight is the Vietnam - France Economic Forum, where many meetings between government and government (G2G), government to business (G2B), business to business (B2B) will be held.
The conference will also include Hanoi tour, especially where visitors can go to the sites and projects of cooperation projects between Hanoi and France such as the Museum of Archeology, Imperial Citadel of Thang Long, Dien Hong Flower Garden, Conservation and Restoration project Old French villa 49 Tran Hung Dao.
The 12th Vietnam-France Cooperation Conference currently has 30 localities of Vietnam and 20 localities, organizations and universities of France registered to participate, said Deputy Director of Hanoi Department of Foreign Affairs.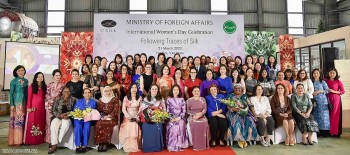 Friendship
Female ambassadors, representatives from diplomatic corps and international organizations, along with spouses of diplomats in Vietnam gathered together to find about more about silk weaving and silk products in Vietnam.