Vietnam - Japan Art Exchange in Ho Chi Minh City
The Fukushima - Vietnam Friendship Association has cooperated with Van Lang University to organize a cultural exchange program of Haiku Poetry and Shakuhachi Flute in Ho Chi Minh City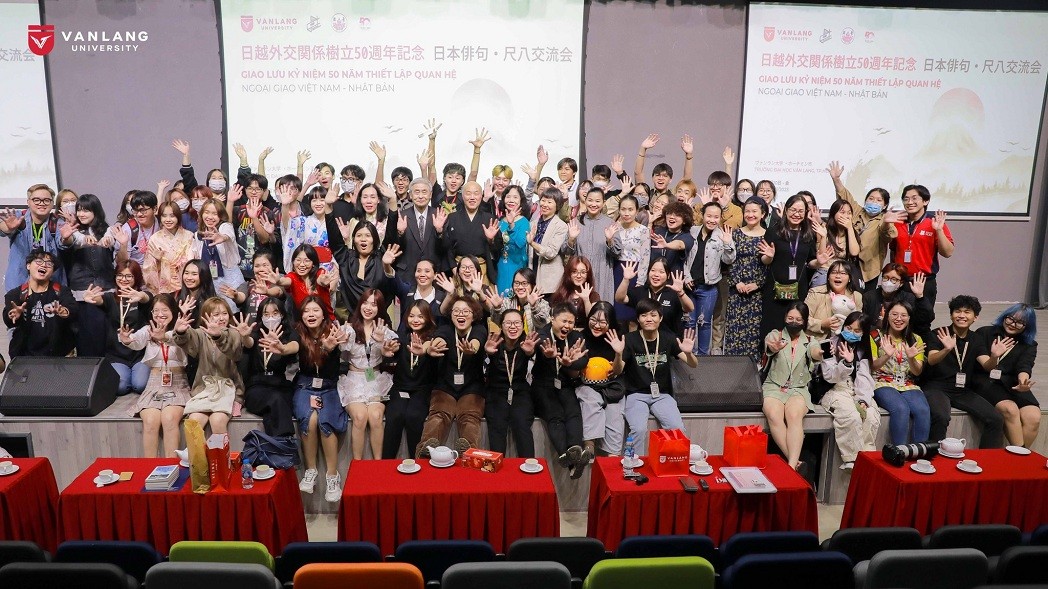 Students and delegates pose for a photo. Photo: Van Lang University
The Ho Chi Minh City-based Van Lang University recently cooperated with the Fukushima - Vietnam Friendship Association to organize the cultural exchange program of Haiku poetry and Shakuhachi (Japanese end-blown flute).
The program is part of a series of activities towards the 50th anniversary of the establishment of diplomatic relations between Vietnam and Japan (September 21, 1973 - 2023), with the presence of Hideyuki Shiraishi - Consulate General of Japan in Ho Chi Minh City, flute player Tachibana Ryomei, Chinao Teramoto - Education Research Specialist, Nguyen Thien Kim - Vice President of Vietnam - Japan Kamishibai Association.
The cultural exchange program of Haiku poetry and Shakuhachi flute is an opportunity for the audience to enjoy various types of Japanese literature and art from veteran artists. In the Japanese-Vietnamese haiku poetry exchange, the most prominent was the haiku poem Fukko no kizuna written about the witness and feelings after the historic disaster in Japan in 2011 by haiku poet Goto Shoson.
Haiku poems, through the voice of Chinao Teramoto - education research expert, member of the Fukushima - Vietnam Friendship Association, re-create the disaster scene and the remarkable revival spirit with connection. from the international community, including Vietnam.
The organizers also screened documentary films recording the terrible earthquake and tsunami disaster in Japan exactly 12 years ago (March 11, 2011), thereby letting the people of the two countries, especially the young generation feels the fierce destruction caused by natural disasters, in order to appreciate the peaceful days more, have more motivation to study and build the country.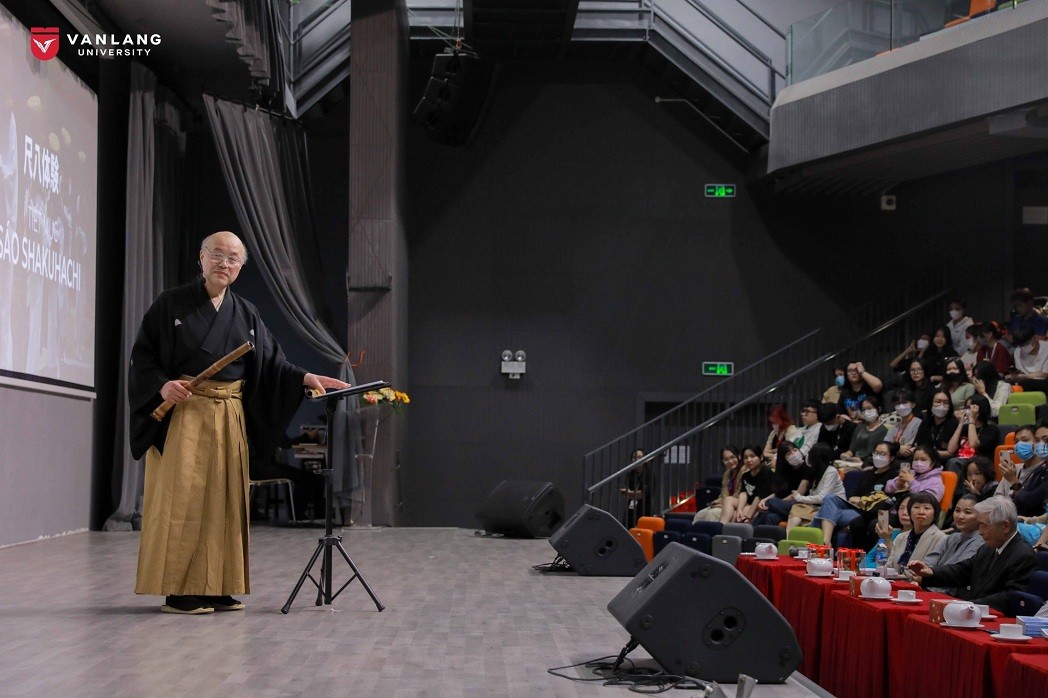 With only five holes, no reed, and no mouthpiece, Shakuhachi is technologically simple -- yet maddeningly challenging. It often takes months of study to produce a single note. Photo: Van Lang University
In the program, viewers are not only introduced to a Japanese national musical instrument, the Shakuhachi flute through familiar songs of the two countries such as Okinawa's Nada Soso, Diem Xua (a song of Trinh Cong Son, one of Vietnam's most famous and beloved songwriters), famous Vietnamese folk song "Trong Com" (Rice Drum), but also experience wearing traditional Japanese summer yukata and playing the flute with the artist.
Also at the night of the exchange, Nguyen Thien Kim - Vice President of Vietnam - Japan Kamishibai Association performed familiar Vietnamese - Japanese folk stories in Kamishibai style such as Rat's wedding; Children of Dragons, Grandchildren of Fairies, among others.
To bring viewers closer to Japanese art and culture, the program also exhibited famous Japanese manga and anime works in the form of statues and models for fans to enjoy.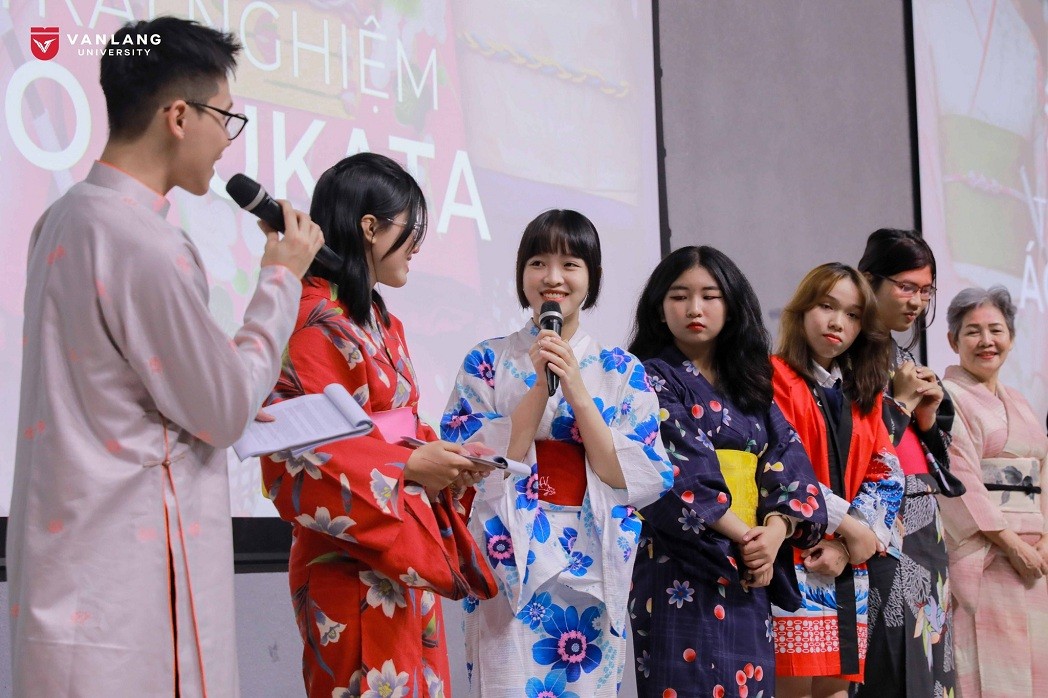 Students try on yukata. Photo: Van Lang University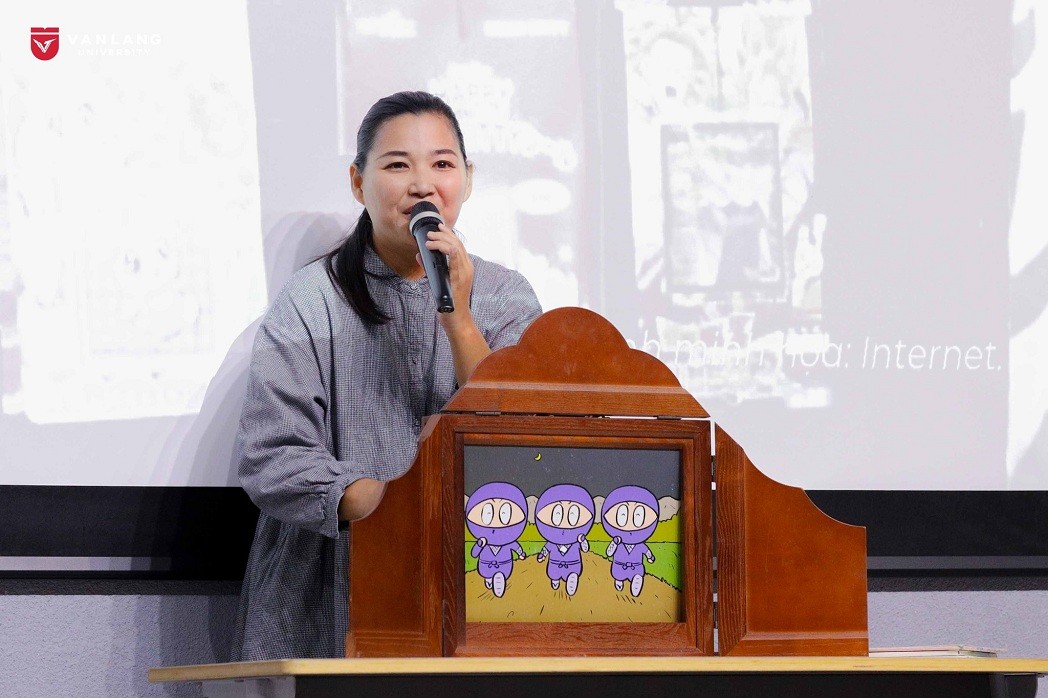 Kamishibai is a traditional form of Japanese storytelling that uses large pictures accompanied by a dramatic narration. Photo: Van Lang University
Kamishibai or "paper-theater," is said to have started in Japan in the late 1920s, but it is part of a long tradition of picture storytelling, beginning as early as the 9th or 10th centuries when priests used illustrated scrolls combined with narration to convey Buddhist doctrine to lay audiences. Later, etoki (picture-tellers) adopted these methods to tell more secular stories. Throughout the Edo period (1603-1867) and on into the Meiji period (1868-1912), a variety of street performance styles evolved, using pictures and narration.
There are Japanese kamishibai artists who have taken their art form to other parts of Asia (Vietnam, Laos, Cambodia, Thailand), where people are learning to make and perform their own stories in their own languages. Kamishibai has become a way to bridge cultural and linguistic barriers.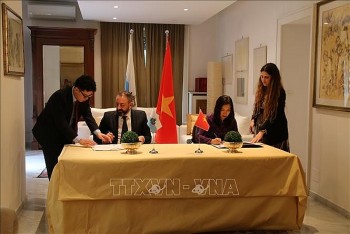 Friendship
The two countries will continue promoting cooperation to enhance growing ties between the two countries based on the good friendship since they established diplomatic relations in 2007.