Sport Festival Boosts Ties between Vietnamese Expats in RoK
The Community Sports Festival created a fun-filled environment while connecting Vietnamese expats in the Republic of Korea.
The tournament creates a playground for the sports movement in the community while promoting talented individuals in the field.
The Community Sports Festival event organized by the Association of Vietnamese Communities in the Republic of Korea (RoK) under the auspices of the Vietnamese Embassy took place on May 28 at Anyeong Sports Complex, Daejeon, South Chungcheong Province.
The sports festival brought together 16 male and 4 female teams representing typical regions across Korea. In addition to football, there are also other sports that attract the participation of many young people in the community such as athletics, arm wrestling, and tug of war.
Within the framework of the Community Sports Festival 2023 program, there are also interesting cultural exchange activities such as food stalls with typical Vietnamese dishes and lucky draw games.
Speaking at the opening event, Ambassador Nguyen Vu Tung believed that the sports festival will contribute to connecting and connecting the Vietnamese community in Korea, creating a movement of health training for members of the community members and create an annual useful playground for Vietnamese here, thereby contributing to helping the expat community maintain a healthy life.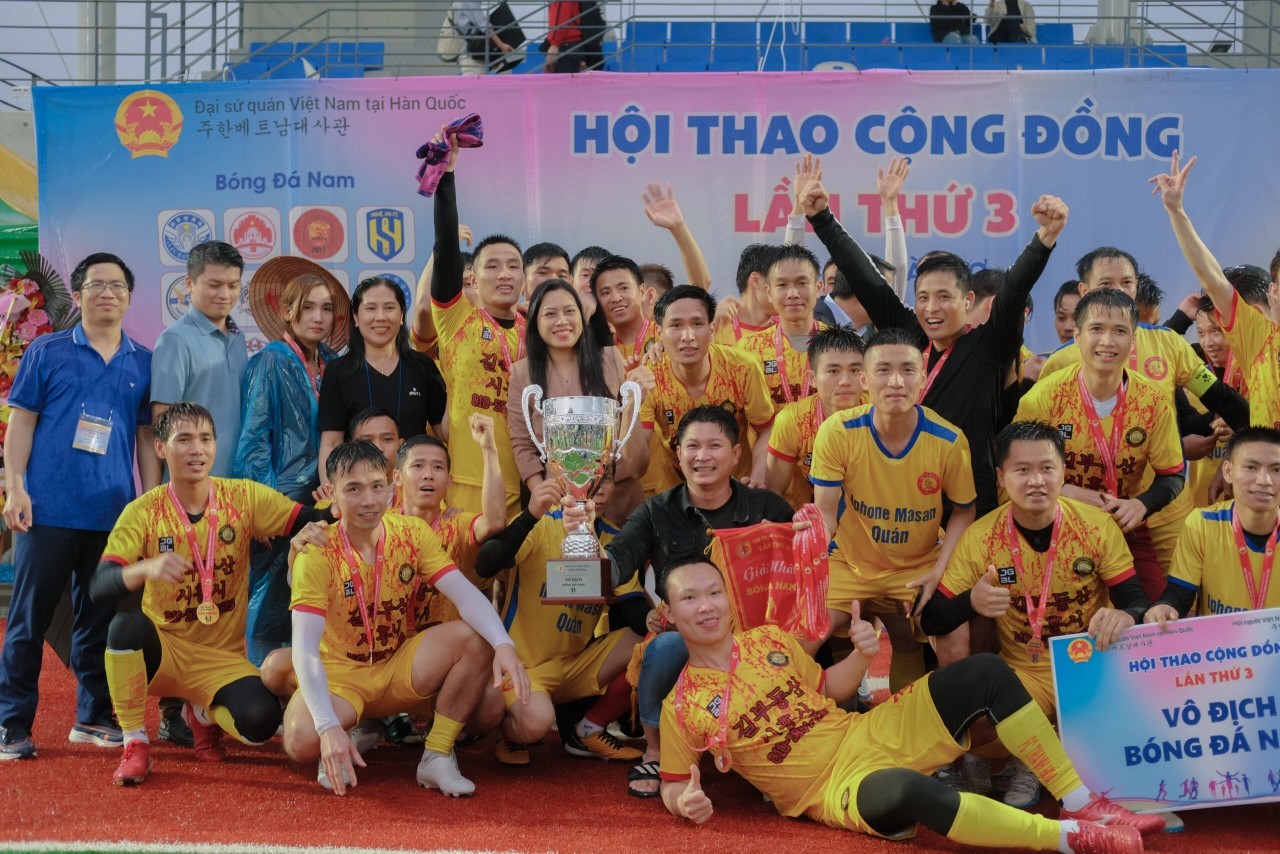 It was a chance to strengthen the solidarity among the Vietnamese community there.
In the end, the men's football championship belonged to the Woosong FC team and the women's championship belonged to the SNK FC team.
With six goals, the title of "top scorer" of men's football was awarded to player Le Kinh Minh from Yuseong FC, player Vo Thi Ngoc Nghia from FC Central Highlands and Ha Thi Mai from Nghe An FC with three goals won the women's title. The best goalkeeper award belongs to Le Duc Binh of Baran FC.
At the end of the day, a total of 111 goals were scored by all players.
In addition, the first prize in women's arm wrestling went to Ho Thi Thuy Men, the first place in men's athletics went to Nguyen Huu Duong, and Nguyen Thi Phuong won the first prize in women's athletics.
The Vietnamese community in the RoK had an exciting day when witnessing fiery matches and participating in activities on the sidelines of the sports festival at the Anyeong sports complex. This is also the clearest expression of solidarity among Vietnamese workers, international students, multicultural families living and studying in Korea.