Standard Chartered: Vietnam- Priority Destination among Emerging Economies
Standard Chartered Bank has regarded Vietnam as a priority destination among emerging economies thanks to its development potential and open-door policy.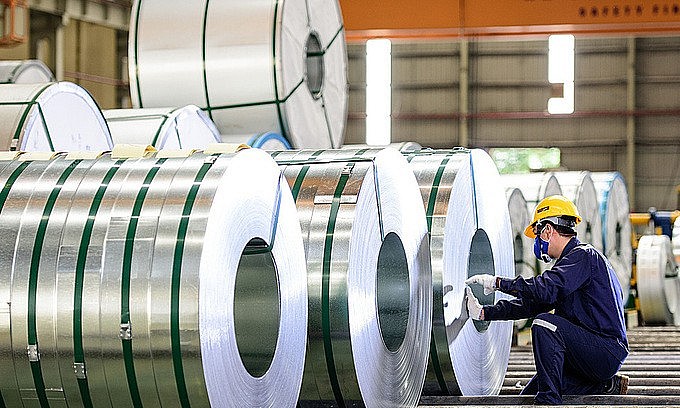 A steel factory run by the Hoa Sen Group. Photo: VnExpress
Jose Vinals, Group Chairman of Standard Chartered, made the statement during the course of a dialogue with Vietnamese Minister of Industry and Trade Nguyen Hong Dien within the framework of Prime Minister Pham Minh Chinh's recent trip to COP26 in Glasgow, the UK.
He highlighted the bank's investment ability to promote technology transfer whilst simultaneously contributing economic benefits to Vietnam.
There still remains opportunities for the nation to become one of the world's important factories, with the country able to participate intensively in the global value chain, he said, as cited by VOV.
Vinals went on to express his confidence that his bank's investment strategy is compatible with Vietnamese priority development areas.
For his part, Minister Dien said Vietnam will devise necessary institutions to promote the strength of the national economy and raise the competitiveness of Vietnamese enterprises. These institutions will thereby help businesses optimise free trade agreements (FTAs), particularly in exports whilst meeting the needs of the domestic market.
Production at Garment 10 Corporation. Photo: Nguyen Dangn via Nhan dan newspaper
Furthermore, the Vietnam Ministry of Industry and Trade will move to speed up digital transformation in all production fields and trade, whilst also pursuing a sustainable development model. Vietnamese industrial policy orientations include seeking cleaner, greener production and using energy in a more economical and efficient manner. This is in addition to the development of basic and supporting industries based on achievements of Industry 4.0.
Minister Dien incentivised investors to build projects in line with the nation's overall industrial development strategy.
Standard Chartered is one of the first five international banks to be present in Vietnam, officially operating a local branch back in 2009.
It was voted the best priority bank in Vietnam by International Finance Magazine in 2017 and 2018, the best e-retail bank in Vietnam in 2018 and 2019, and the best foreign retail bank in Vietnam in 2021.
In a survey released in July, Standard Chartered said Singapore, Thailand and Vietnam are the most attractive Southeast Asian destinations for companies to expand production and business, according to VnExpress.
The survey's results showed that most of enterprises in the ASEAN are focusing on business opportunities in the region, expecting strong growth in the next 12 months./.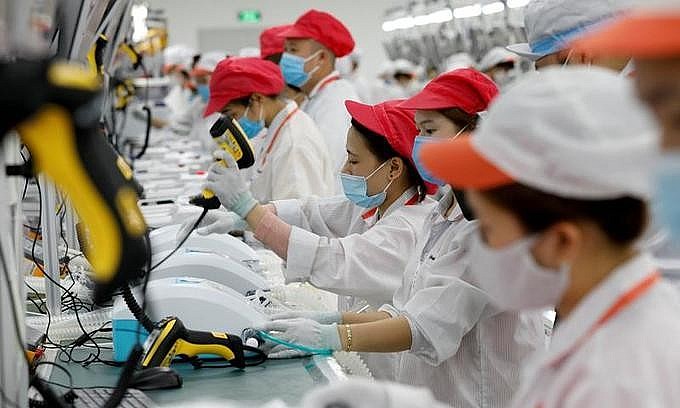 Laborers work at an assembly line to produce ventilators at Vsmart factory of conglomerate Vingroup outside Hanoi, August 3, 2020. Photo: Reuters
Vietnam's gross domestic product (GDP) expanded by 1.42% in the first nine months of 2021 from the same period last year, marking a great success of the country in the fight against the Covid-19 pandemic and maintaining production and business amid the prolonged period of social distancing in many provinces and cities, according to Nhan dan (People) newspaper.
The nine-month GDP growth was thanks to the agro-forestry-fishery sector with an expansion rate of 2.74%, contributing 23.52% to the overall growth; industry and construction with a growth rate of 3.57%, contributing 98.53%. Meanwhile, services were down 0.69%, pulling national growth down by 22.05%.
Agro-forestry-fisheries continued to play its role as a mainstay of the economy amid the pandemic. Specifically, agriculture grew by 3.32%, contributing 0.31 percentage point to the added value of the economy. Forestry and fisheries each added 0.02 percentage point thanks to their respective expansion rates of 3.3% and 0.66%.
Industry and construction, manufacturing and processing are driving forces of the economy with an expansion of 6.05%, contributing 1.53 percentage points to the added value of the entire economy.
Meanwhile, foreign investors poured USD23.74 billion in new projects, existing projects, and in contribution of capital and share purchases as of October 20, up 1.1% year-on-year, reported the Ministry of Planning and Investment.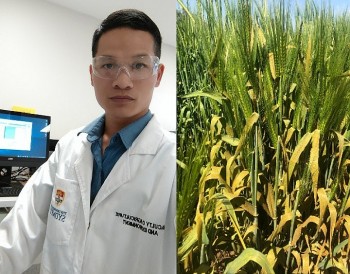 Overseas Vietnamese
The finding by Vietnamese PhD student Dinh Xuan Hoan is considered great advancement in the fight against rust disease, which decreases global food production by at least 10 percent.