State President Receives Governor of Japan's Niigata Prefecture
President Nguyen Xuan Phuc welcomes visiting Governor of Japan's Niigata prefecture Hanazumi Hideyo in Hanoi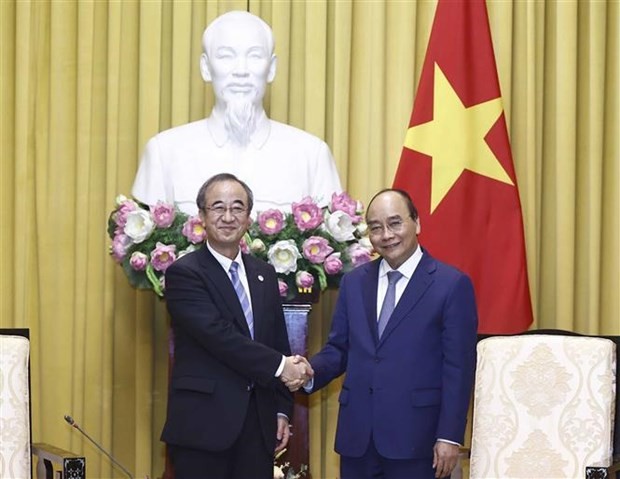 President Nguyen Xuan Phuc (R) receives Governor of Japan's Niigata prefecture Hanazumi Hideyo. Photo: VNA
President Nguyen Xuan Phuc hosted a reception in Hanoi on January 12 for Hanazumi Hideyo, Governor of Japan's Niigata prefecture, during which the Vietnamese leader suggested that Niigata foster partnership with Vietnamese localities, VNA reported.
Welcoming the first Japanese local leader to Vietnam in 2023, a special year as Vietnam and Japan celebrate the 50th anniversary of bilateral diplomatic relations, President Phuc said that the extensive strategic partnership between the two countries is developing strongly and substantially across all fields.
The President spoke highly of Niigata and the Governor's determination, efforts and initiatives to promote cooperation with Vietnam over the years, including the signing of collaboration deals with northern Hai Phong city and the Ministry of Planning and Investment, as well as cultural exchange activities such as the Vietnam Festival in Niigata in 2019.
He thanked Niigata and its leader for supporting the 3,600-strong Vietnamese community in the locality.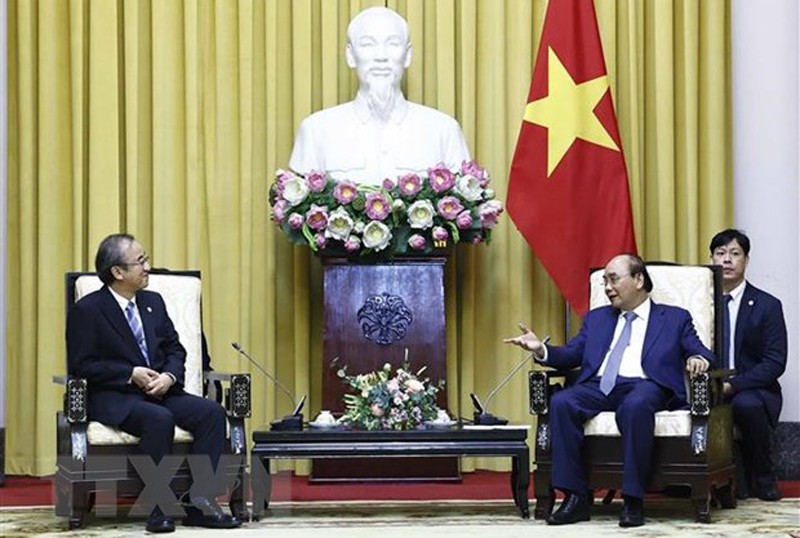 President Nguyen Xuan Phuc receives Governor of Japan's Niigata prefecture Hanazumi Hideyo. Photo: VNA
For his part, Hanazumi Hideyo highlighted the important role of cooperation among localities in the overall ties between Vietnam and Japan, affirming that Japanese localities are interested in promoting exchange with their Vietnamese peers, especially in economy, trade, and human resources training.
Localities of the two countries are enjoying effective cooperation in investment, he said, proposing that they should further bolster collaboration in trade of strong products of each side.
Agreeing with the Japanese Governor, President Phuc emphasised that Vietnam attaches great importance to ties with Japan and wishes to further boost trade ties among localities. He suggested that Niigata work with the Ministry of Planning and Investment to implement joint projects with Vietnam.
Niigata Prefecture is located on the main island of Japan, Honshu, to the north of Tokyo, stretching for nearly 250km along the coast of the Sea of Japan.
It is the fifth-largest prefecture of Japan by geographic area at 12,584.18 km2 with a population of 2,304,264.
The province's GDP is USD 90 billion, ranking 14th out of 47 provinces in Japan. The province has strengths in manufacturing industry, supporting industries, production of high-tech electronic components, construction, agriculture, forestry and fishery. Currently, there are more than 17 FDI projects of Niigata enterprises investing in Vietnam.
The President said he hopes Niigata will invest more in agriculture, manufacturing, supporting industries, electronic production and food processing in Vietnam, while continuing to implement agreements with Hai Phong city and Ba Ria-Vung Tau province. Vietnam is ready to create optimal conditions for businesses from Niigata to invest successfully in Vietnam.
He said the Japanese side should expand cooperation in education-training and the receipt of Vietnamese apprentice and labourers in manufacturing and agro-forestry-fisheries sectors, while strengthening connections among enterprises and universities of Niigata and vocational training facilities and universities of Vietnam.
At the same time, it is necessary to promote cultural, people-to-people exchange and tourism collaboration as well as activities to celebrate the 50th anniversary of bilateral diplomatic relations in 2023.
Hanazumi Hideyo pledged to continue encouraging local companies to invest more in Vietnam and receive more Vietnamese interns and workers.
On the occasion of the Lunar New Year, President Phuc extended best wishes to the Niigata Governor, showing his hope that Japanese localities will continue to effectively cooperate with Vietnamese localities, contributing to bolstering ties between the two countries.
On the same day, Deputy Minister Nguyen Thi Bich Ngoc highly appreciated the cooperation relationship between the two countries and expressed her wish that cooperation between Vietnam - Japan in general, Niigata and the Ministry of Planning and Investment in particular, will be deepened and effective, promoting stronger investment cooperation between businesses of the two countries.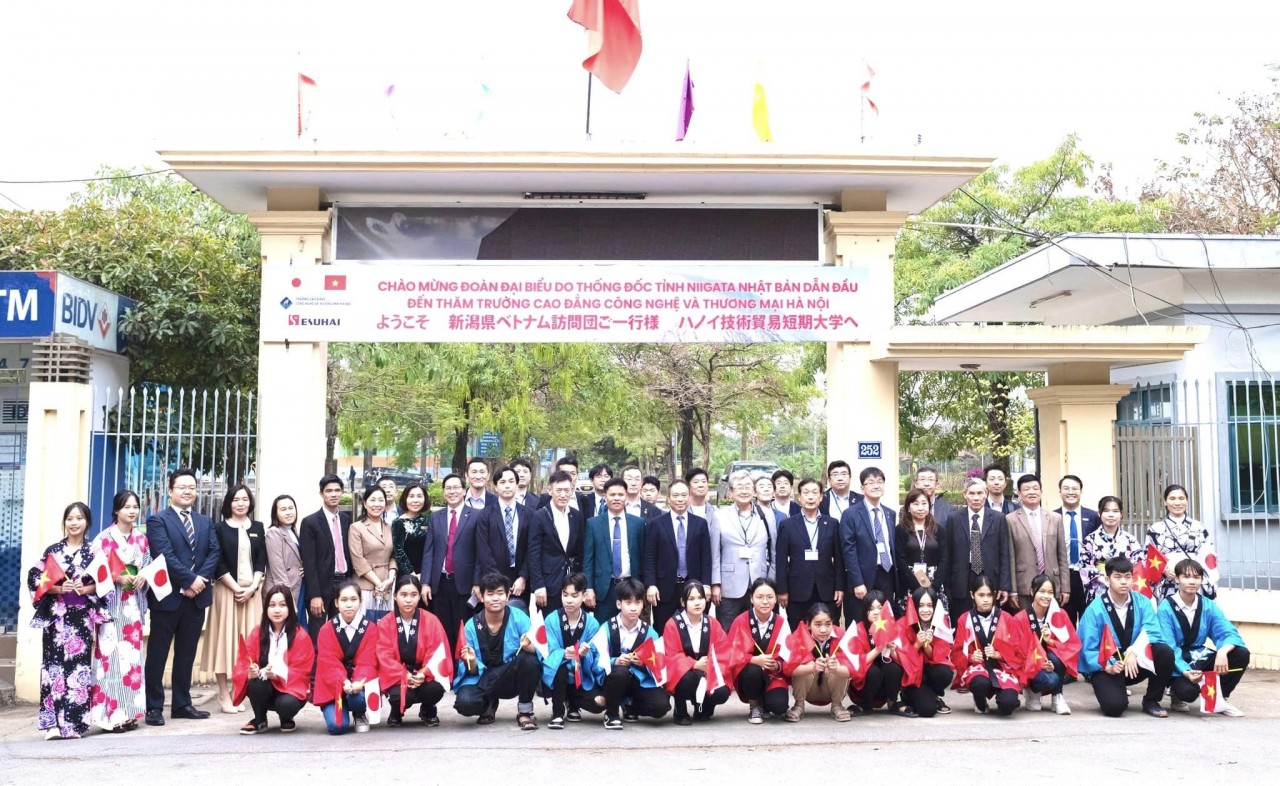 Delegates of two sides pose for photo at the College of Technology and Commerce in Hanoi.
The Governor of Niigata together with officials and representatives of more than 30 local businesses also visited and worked with the College of Technology and Commerce in Hanoi.