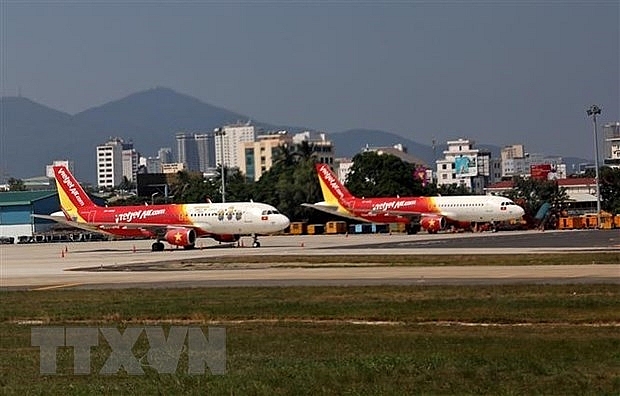 Aircraft of Vietjet Air at Da Nang airport. Photo: VNA
Storm Noul has forced the cancellation of several dozen flights as three airports in central Vietnam suspend their operations on September 18 when the storm is expected to make landfall in the region.
Lai Airport in Quang Nam province will close from 4 a.m. to 6 p.m. on the day, Da Nang Airport from 5 a.m. to 8 p.m. and Phu Bai Airport in Thua Thien-Hue province from 6 a.m. to 9 p.m., the Civil Aviation Authority of Vietnam said on September 17.
National flag carrier Vietnam Airlines said it has cancelled ten flights between Hanoi/HCMC and Da Nang, and delayed four others until after 8 p.m. on September 18. It has also cancelled 14 September 18 flights between Hanoi/HCMC and Hue city and eight to and from Chu Lai.
Three other flights between Hanoi/HCMC and Dong Hoi town in Quang Binh province would delay their arrival until after 7 p.m. on Septmeber 18. Flights from and to Buon Ma Thuot, Quy Nhon, Da Lat, Vinh and Thanh Hoa airports might also be rescheduled due to the storm, Vietnam Airlines said.
The national carrier would operate 22 flights to and from Da Nang, Hue and Chu Lai on September 19 to help evacuate passengers, VnExpress reported.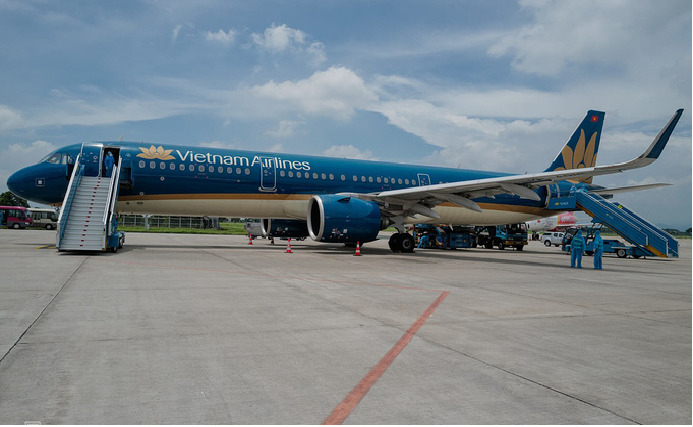 A Vietnam Airlines plane parks at the Da Nang Airport in August. Photo: VnExpress
Meanwhile, budget carrier Vietjet Air said it cancels six September 18 flights between HCMC and Chu Lai, eight between Hanoi/HCMC and Da Nang, and eight between Hanoi/HCMC and Hue.
Another budget carrier, Bamboo Airways, has cancelled four flights between Hanoi/HCMC and Da Nang, two between Hanoi and Da Lat, and two between Hanoi and Buon Ma Thuot.
Other domestic flights on September 18 might also be delayed due to the storm's impacts, the carriers said.
Passengers of cancelled flights will be transferred to other flights after the weather improves.
Localities brace for Storm Noul, 1.1 million people to be evacuated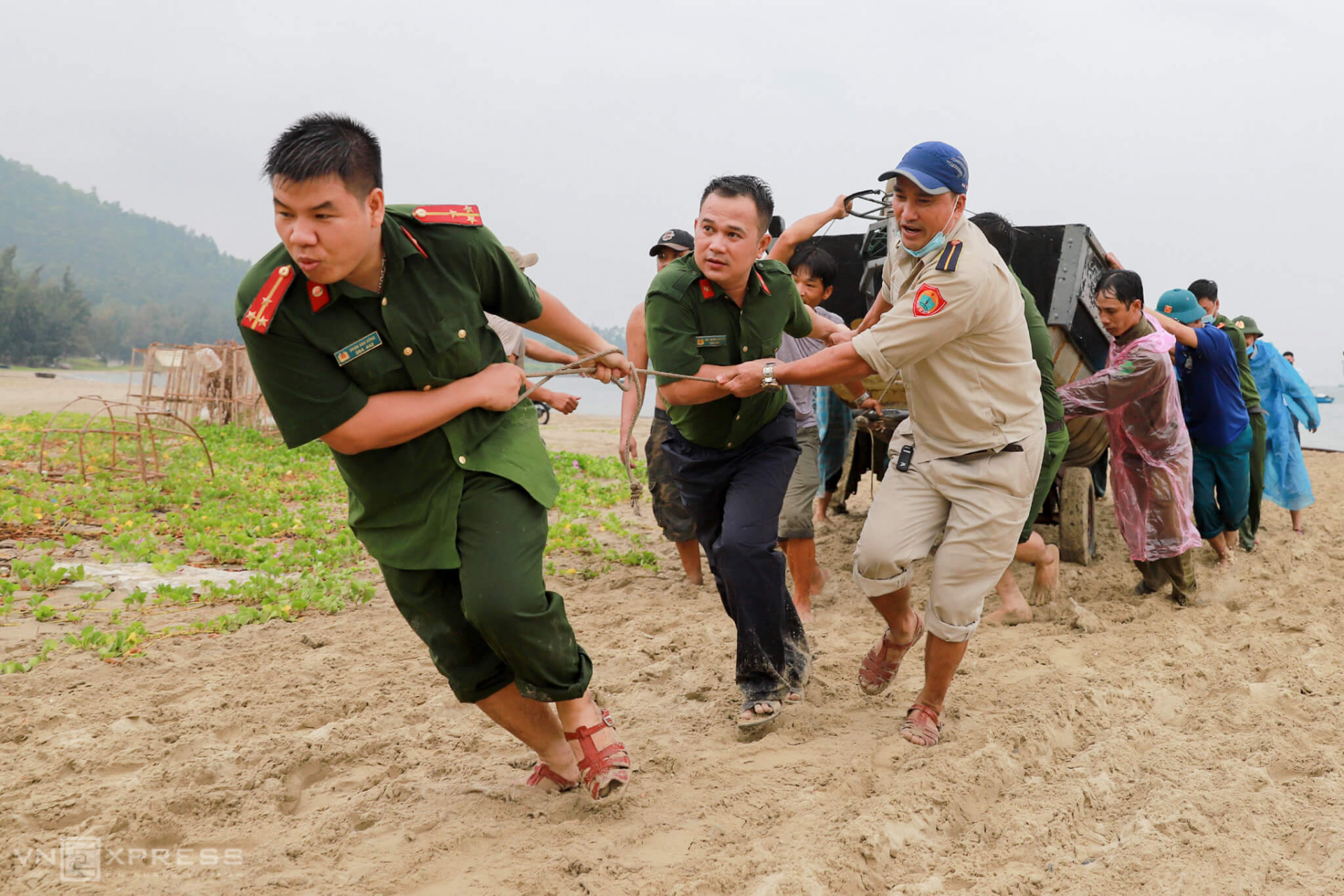 In Da Nang, police and border guards of Tho Quang Ward, Son Tra District help fishermen bring their boats ashore on Septemer 17 morning to prepare for the incoming storm. Photo: VnExpress
Central provinces to be hit by Storm Noul banned vessels from going out to sea on September 17.
Mai Van Khiem, Director of the National Centre for Hydrometeorological Forecasting, said the typhoon, the fifth to enter the East Sea this year, is moving very quickly at an estimated speed of 118 to 133km per hour, sometimes hitting up to 160km per hour on the seas and along coastal areas from Quang Binh to Quang Nam province.
Storm Noul will directly affect Quang Bih, Quang Tri, Thua Thien-Hue and Quang Nam provinces and Da Nang city with wind speeds of 90km to 117km per hour, sometimes up to 150km per hour.
Heavy rain is predicted on September 17 afternoon until September 18 night with alerts for floods in rivers, flash floods and landslides.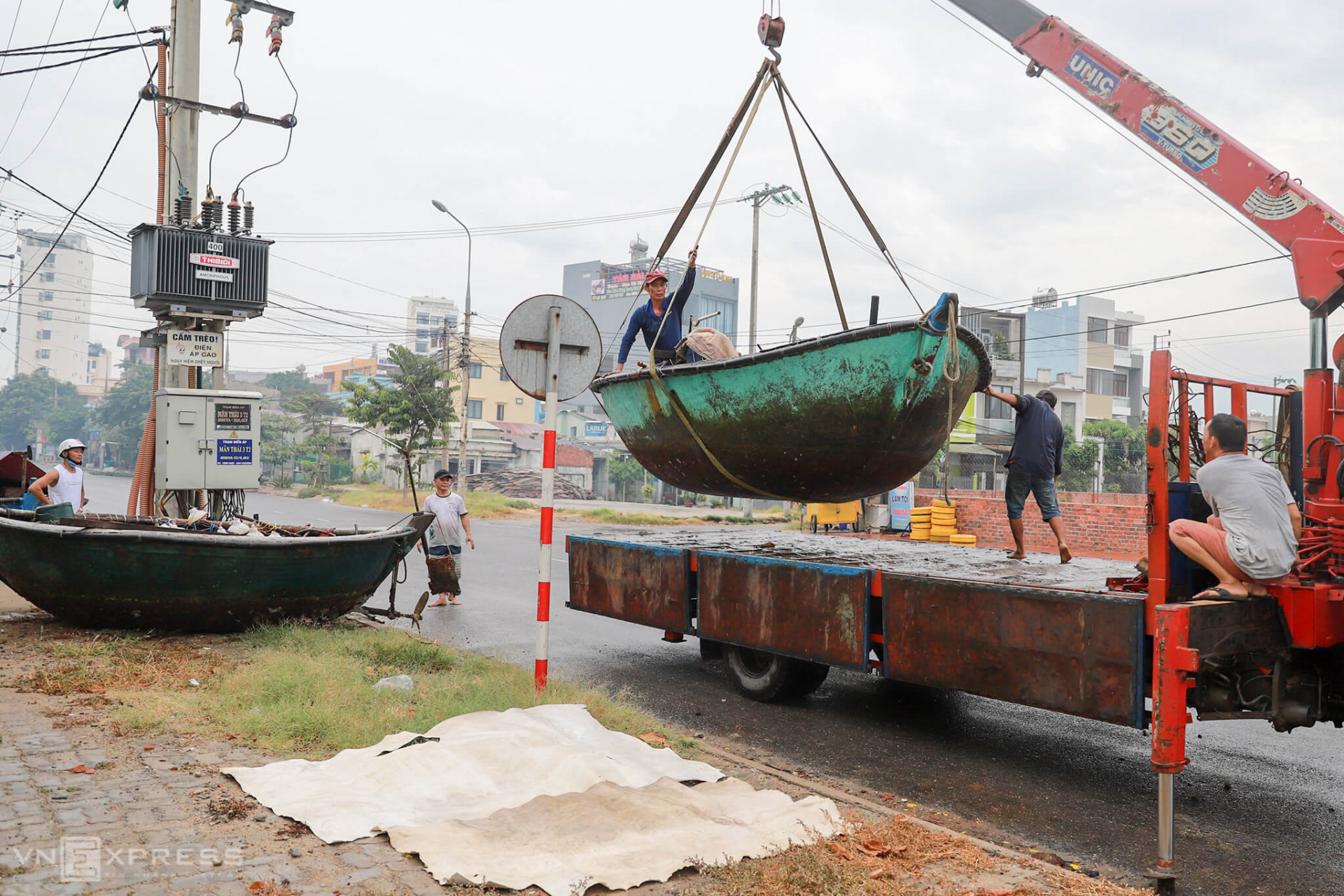 Some boats are hauled by cranes onto the sidewalk to avoid traffic congestion before the storm. Photo: VnExpress
Quang Binh, Quang Tri, Thua Thien-Hue provinces and Da Nang city plan to evacuate more than 1.1 million people of more than 295,000 households if necessary, Viet Nam News said.
Minister of Agriculture and Rural Development Nguyen Xuan Cuong on September 17 morning directed all 12 central provinces from Thanh Hoa to Khanh Hoa to be hit by the typhoon to strictly follow Prime Minister Nguyen Xuan Phuc's urgent notice.
The PM asked ministries, agencies and localities to keep a close eye on the development of the storm and prepare to be hit.
A boat is brought to shore in Man Quang Bay in Da Nang on Septemer 18. Photo: VnExpress
People's Committees of cities and provinces need to ensure the safety of activities at sea, work with concerned forces to guide vessels and encourage local residents to take preventive measures to protect crops, houses and other facilities.
Human resources and equipment should be ready for the evacuation of people in dangerous areas, with attention paid to COVID-19 prevention and control, according to the notice.
The PM has warned of flash floods and landslides in mountainous areas after heavy rains, saying measures are needed to ensure the safety of reservoirs.
Minister Cuong ordered the Border Guard Command, Directorate of Fisheries and localities to send notices to fishing vessels in risky areas to move to shelter.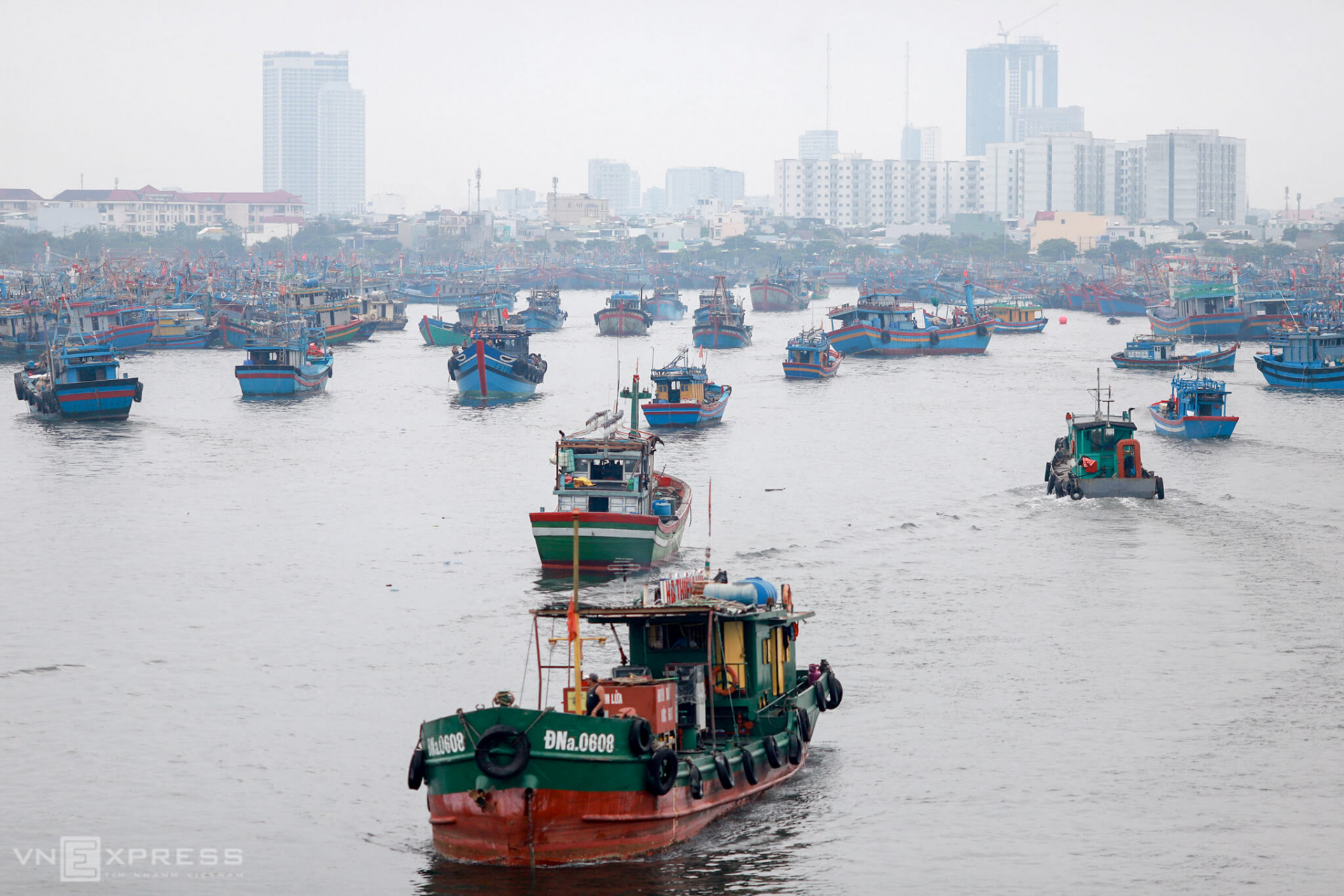 Hundreds of vessels shelter in Tho Quang to avoid Noul. Photo: VnExpress
According to the Central Steering Committee on Natural Disaster Prevention and Control, provinces from Thanh Hoa to Thua Thien-Hue have 49 dykes that need protection and 16 other coastal and river dykes under construction.
Students in Quang Nam province will take a day off on September 18 due to the typhoon.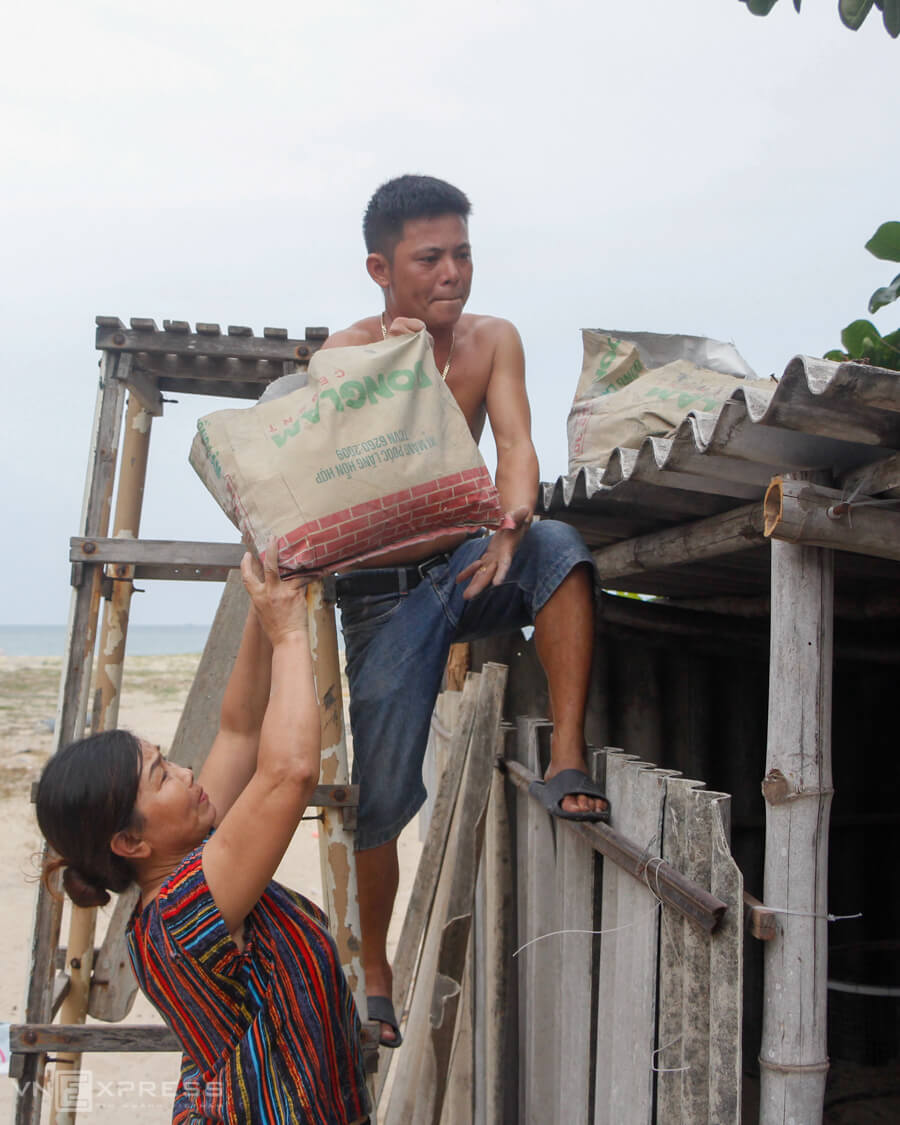 Residents of Thuan An load sand bags onto their roof in preparation for the incoming storm. Photo: VnExpress
As of 4 p.m. on September 17, the storm's eye was located on the southern sea regions of Vietnam's Hoang Sa (Paracel) Islands with a maximum wind speed of 100 kph.
It is forecast that by 1pm on September 18, the storm will strengthen with its eye on waters close to provinces from Quang Binh to Quang Nam. Winds at the eye will reach 90-115 km per hour or more.
After making landfall in central provinces from Quang Binh to Da Nang on September 18 afternoon or evening, the storm is forecast to weaken to become a tropical low pressure.
By about 1am on September 19, the heart of the tropical low-pressure system will be on the border area of Laos and Thailand with winds of 40-50 km per hour. /.
Storm Noul is the fifth formed this year in the South China Sea (Bien Dong Sea). The fourth storm, Higos, hit last month, making landfall in China.
Natural disasters like droughts, floods and landslides killed 133 people in Vietnam last year and caused losses worth around VND7 trillion (US$302.6 million), the Ministry of Agriculture and Rural Development said.
In the first half of this year they claimed 47 lives and caused losses worth VND3.3 trillion.
The South China Sea could see 11-13 storms and tropical depressions this year, half of them affecting the country, meteorologists have warned.