Strengthening International Solidarity in Africa
Living and working in Bambari, Major Nguyen Van Hien, a Vietnamese officer at the United Nations Multidimensional Integrated Stabilization Mission (MINUSCA) (Central African Republic) always feels the warm affection and international solidarity of colleagues from different countries and local people.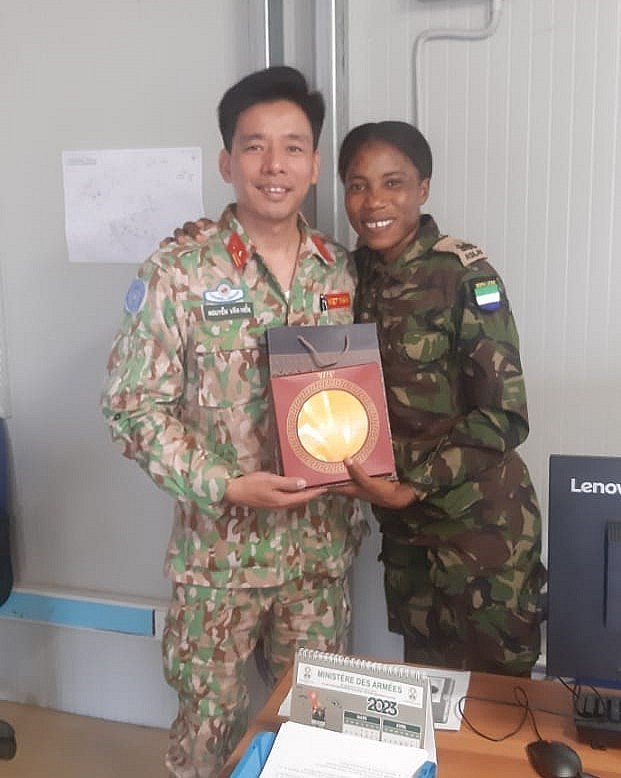 Major Nguyen Van Hien gives gifts on the occasion of International Women's Day March 8. Photo: WVR
The sincere support and sharing of international friends gave Major Nguyen Van Hien, Vietnamese officer in MINUSCA more motivation to overcome hardships in one of the poorest and most unstable countries in the world.
This helped him fulfill the tasks entrusted to him by the Vietnamese Party, State, and Army.
Sharing in times of trouble
Leaving his family to receive the peacekeeping mission in the Central African Republic, Major Nguyen Van Hien feels proud and worried at the same time.
As soon as he arrived in Bambari (the capital of Ouaka province), he was shocked by the difficulty of this place. Bambari has only red soil, gravel, and small houses, inhabited by dozens of people.
Traveling on the route located in the most central area of Ouaka province, Major Nguyen Van Hien was unable to recognize any signs of the health system, education, electricity, and clean water in this place.
Everything is beyond the imagination of the Vietnamese blue beret soldier. Difficulties piled up during the first two months in the Mission. Food, and essential goods transported by air from Vietnam cannot reach the Central African Republic due to the complicated security situation in this African country.
Meanwhile, local food sources are scarce. The MINUSCA minimized people leaving the barracks for purposes other than performing their duties because the rebel forces in the area often intermingled and pretended to be local people, posing a safety risk.
However, it was also during those difficult times that Major Nguyen Van Hien felt more clearly the warm affection and international solidarity from his colleagues.
Understanding the situation of Major Nguyen Van Hien, his colleagues in turn shared what they had.
For almost two months he could not receive food from Vietnam, his colleagues from different countries, cultures, and religions, such as Serbia, Pakistan, Nepal, Morocco, Sierra Leone, Cambodia, and Russia, prepared a little more lunch than usual to share with him at the office, considering it as a way to promote their national cuisine.
Efforts of "newbies" at Mission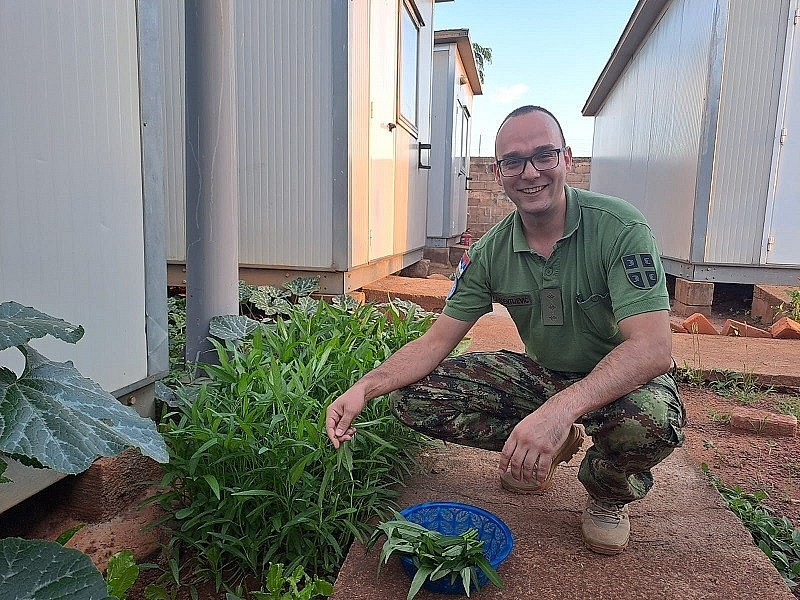 Ljubisav Vicentijevic, an officer of the peacekeeping force of the Republic of Serbia, harvests green vegetables from a Vietnamese vegetable garden.
After every working day, Major Nguyen Van Hien spends time growing green vegetables for friends and international colleagues, responding to their noble deeds in times of difficulty.
With 23 years of military experience, he made typical Vietnamese vegetables now an indispensable part of the meals of the officers of the Bambari group.
When receiving food shipped from Vietnam, he did not forget to share it with friends and colleagues. On their day off, he showed off his talent in cooking Vietnamese dishes for international friends so that they could enjoy and understand more about the cuisine of his homeland.
Whether Europeans, Americans, Africans, Asians, or Muslims, they all love Major Nguyen Van Hien's Vietnamese dishes.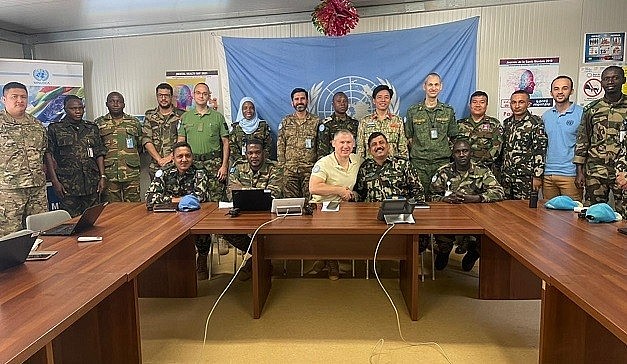 Take photos after meetings.
As a new soldier at the UN peacekeeping mission, working in a multinational and multicultural environment, Major Nguyen Van Hien could not avoid surprises when approaching work. However, he was surrounded by colleagues who were always willing to guide him.
With the spirit and persistent will of "Uncle Ho's soldier," and the help of his teammates, Major Nguyen Van Hien researched and learned from his colleagues. After only a short time, he showed his steadfastness in carrying out the UN mission, which is appreciated by his superiors, international friends, and colleagues.
With the job of advising, collecting, analyzing, and synthesizing information, Major Nguyen Van Hien often had the opportunity to survey, check and grasp the situation in the area.
In every land, every village he passed through, he is welcomed by the local people. They showed love for Vietnam, the country in their mind as a symbol of the desire for peace, independence, and self-reliance.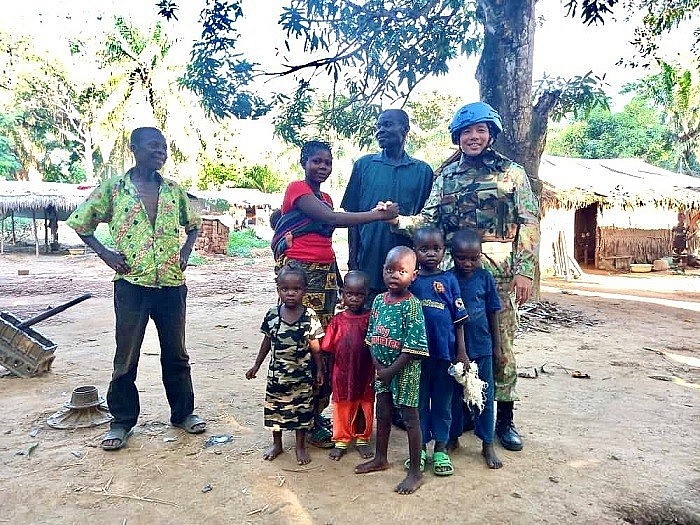 Tighten the international solidarity between the Vietnam peacekeeping force and local people during each survey trip.
Working in an area with underdeveloped telecommunications infrastructure and the time difference between the two countries, it is not always possible for Major Nguyen Van Hien to easily contact his family, friends, and leaders.
In order to dispel the fatigue after stressful working hours, ease the nostalgia for his homeland and family, and strengthen the spirit of solidarity, he participated in football, volleyball, and cultural exchanges with international colleagues and units stationed in the area.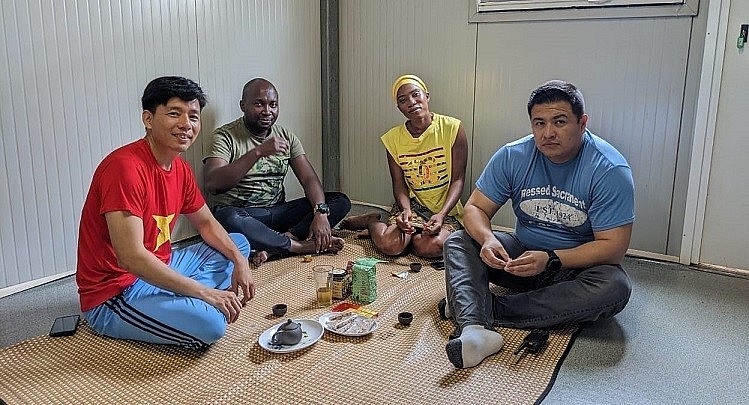 Major Nguyen Van Hien and international colleagues enjoy Vietnamese tea specialties.
Besides sports and cultural exchanges, every night, he and his colleagues enjoy tea and coffee together. They tell each other stories about their family, about culture, country, and people everywhere in the world.
These conversations help peacekeepers regardless of skin color, religion, or political views get closer together, and understand each other better.
They consider each other as family members, share joys and sorrows in life, and work together to perform well in their assigned tasks.
After half of the working term, the initial difficulties have passed. Remaining in Major Nguyen Van Hien's mind is the strong international solidarity of friends and colleagues from all over the world, of the local people, who have to live in poverty every day. Despite the poor situation, they always greeted Vietnam peacekeepers with friendly smile.