Strings of events for Liberation Day celebration underway at Hanoi's Old Quarter
The moments when Hanoi was liberated on October 10, 1954 are being revived through a programme entitled 'Memory of Hanoi – 65 Years', which started on October 5 in the capital's Old Quarter.
Photo: VOV
Various cultural activities will be held to recall the memories of the important date in the history of the capital city. On October 10, 1954, Hanoi was liberated from French colonial rule, beginning a new era for the country.
The programme commemorates the 65th anniversary of Liberation Day and 20 years since UNESCO recognised Hanoi as the City for Peace.
The Hanoi of 1954 will be reproduced along the murals of Phung Hung Street, according to Tran Thuy Lan, vice chairwoman of the Old Quarter Management Board.
"Through exhibitions, art performances and presentations, we hope that the public will learn more about the resistance war of Hanoians and the nation. People will understand the capital as a city of tradition, history, civilisation and pride."
The Old Quarter Management Board co-operated with Xua va Nay (Past and Present) Magazine and historian Duong Trung Quoc to decorate Phung Hung Street with flags, flowers and banners imitating the decorations on October 10, 1954.
Music and dances will take place on October 6.
As many as 200 members of the military band, artists from the Vietnam National Academy of Music and actors and students from Hanoi Academy of Theatre and Cinema will recreate the scene of the army heading to Hanoi, with citizens waving flags and flowers to welcome soldiers back from battle.
The art performance directed by People's Artist Nguyen Huu Phan will take place on October 10. Some historical witnesses including historian Quoc will take part and share their memories of Liberation Day.
Another highlight of the programme is a fashion show titled 'Colours of Hanoi Autumn' on October 5. Nine Hanoi-based designers will introduce their latest collections of ao dai (traditional long dress) and offer participants free consultations on hair and make-up.
The designers include Trinh Bich Thuy, Nguyen Phuong Thao and Do Mai Hoa.
An exhibition entitled Hanoi in Autumn will run from October 5 to October 15 at the Hanoi Old Quarter Culture Exchange Centre, 50 Dao Duy Tu Street. It showcases 37 paintings by 14 contemporary artists from the Hanoi Fine Arts Association. In different styles and materials, they reflect still-life, landscapes and Vietnamese people as well as the lifestyle of Hanoians.
A photo exhibition Hoai Niem (Memories) featuring photographer Le Bich will run until October 15 at Kim Ngan Temple, 42-44 Hang Bac street./.
VNF/VNA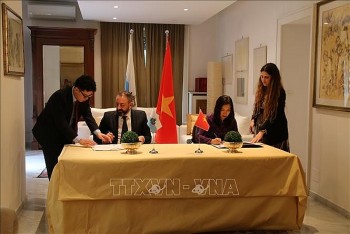 Friendship
The two countries will continue promoting cooperation to enhance growing ties between the two countries based on the good friendship since they established diplomatic relations in 2007.