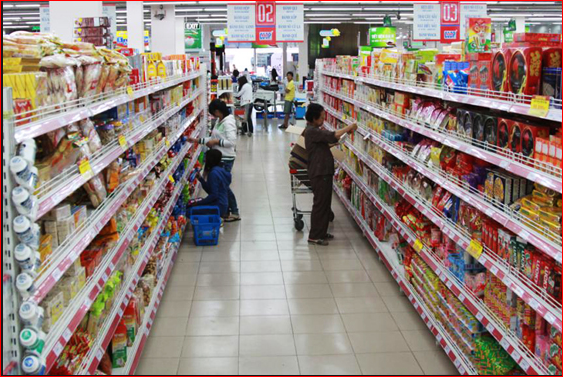 At a supermarket (Photo: Brands Vietnam)
Prices of vegetables and fruits today at AEON Mall plummeted. Red bell pepper costs only VND 10,000/pc (US$0.43); mushroom 150gr to 12,000 VND (US$0.51); Thai jackfruit costs 60,000 VND/kg (US$2.56); grapefruit reduced to VND 59,000/pc(US$2.52).
VinMart promotes a lot of fruit. Ambrosia apple from Canada 54,000 VND/kg (US$2.31); New Zealand royal gala apple reduced to VND 50,000/kg (US$2.13); guava costs 13,000 VND/kg (US$0.55); coconut 16,500 VND/kg (US$ 0.7)...
Farmers' Market system offers many discounts on imported fruits. Taiwan melon is only 99,000 VND/kg (US$4.23); Egyptian yellow orange decreased to 69,000 VND/kg (US$2.95); Egyptian tangerines cost 89,000 VND/kg (US$3.8); green pear from South Africa 79,000 VND/kg (US$3.37)...
Big C today offers discounts on a variety of fresh foods. Pig cutlet reduced to VND 125,000/kg (US$5.34); chicken drumstick costs VND 43,000/kg (US$1.84)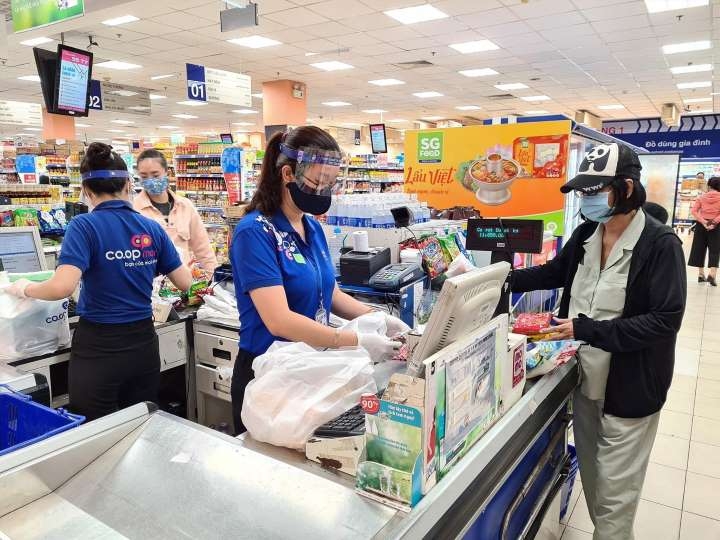 At the cashier (Photo: MSN)
Imported pork has good prices at La Maison system. Whole prime pork ribs from Spain cost 165,000 VND/kg (US$7.04); lean Spanish pork costs 152,000 VND/kg (US$6.49); American BBQ pork ribs costs 109,000 VND/kg(US$4.65); boneless Spanish pork reduced to 165,000 VND/kg (US$7.04)...
Co.opmart supermarket continues to implement pork promotion program. Marinated pork cutlets are reduced by up to 15% today.
Also Vissan has a promotion program to celebrate April 30 and International Labor Day 1/5, it offers discount up to 15% on processed foods until May 3.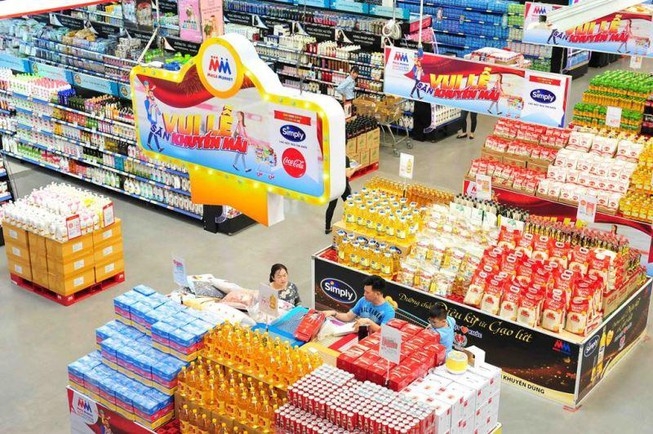 (Photo: Phap luat)
Kitchen utensils are being promoted by AEON Mall. BlueStone blender reduces to VND 599,000/item (US$25.57); juicer at VND 5,490,000/item (US$234); ice cream machine costs VND 1,990,000/item (US$84.96); yogurt making machine is also priced at VND 1,990,000/item (US$84.96).
All kinds of pots and pans are getting deep discount from Dien May Xanh. Non-stick bottom aluminum pan from 24 cm Sunhouse SHM24D to VND 160,000/item (US$6.83); non-stick bottom pot from 20cm Tefal H9104414 reduced to VND 320,000/item (US$13.66); Shika SK1705 silicone whisk priced at VND 33,000/pc (US$1.31), reportd by Thuong truong.
Co.opmart supermarket systems, Co.opXtra hypermarkets, and Co.op Food stores are running promotions to May 5. They will offer 15 to 20 per cent discount for many kinds of vegetables and fruits and create favorable conditions for customers shopping at stores or via phone, Zalo and Viber apps.
Meanwhile, fashion, accessories, household and food shops at Vincom shopping malls in HCM City are offering up to 50 per cent discount programmes to stimulate consumption.
Specifically, a series of big brands such as GAP, Super Dry, CC Double O, Banana Republic, Jelly Bunny, OVS, Cotton: On, Giordano, Canifa, Boo, John Henry, Furla, Geox, LYN, Parfois, Adidas, Lining, Shooz and Vascara are offering many promotions with 30-50 per cent discount. Buy 1-get 1 free is being offered by Robins Department Store, reported by Vietnam News.
Candy Lee