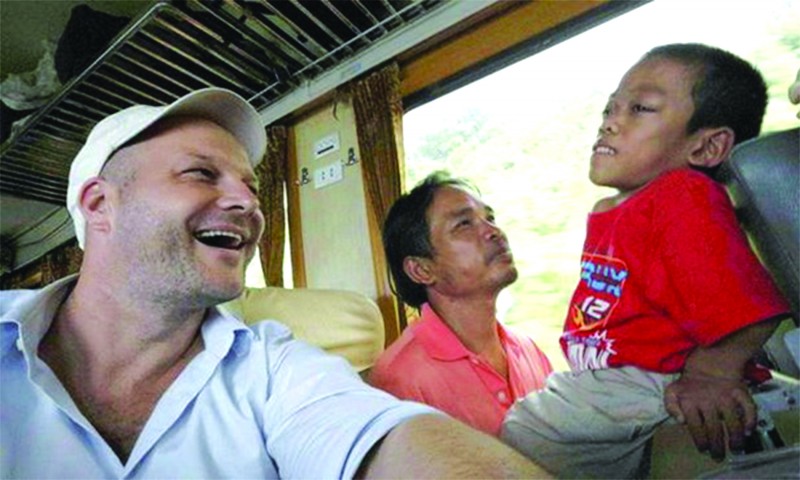 Philipp Abresch (German) and the character in a reportage about Agent Orange in Vietnam - 15-year-old Long Thanh. Photo: www.daserste.de
The statement said: "As representatives of many of over 500 foreign non-governmental organizations in Vietnam, we always try to help Vietnam to overcome the consequences of poverty and war in various form of development assistance. More than 40 years since the first time the herbicide was used in Vietnam, thousand and possibly millions of people are still affected by the toxins in their muscles, their body and environment around them.
Our non-governmental organizations have shown help in different ways. Some provide direct support for people with disabilities. Some seek to improve the environment devastated by the war. Meanwhile, other organizations through their education and exchange program bring information about the actual situation in Vietnam to the world. We all do it for the poor and disadvantaged in Vietnam, including victims of Agent Orange victims. We think that will play an important role in the development of this country."
Accordance with this statement, dozens of foreign NGOs cooperated with the People's Aid Coordinating Committee (under VUFO) to support Vietnamese Agent Orange victims.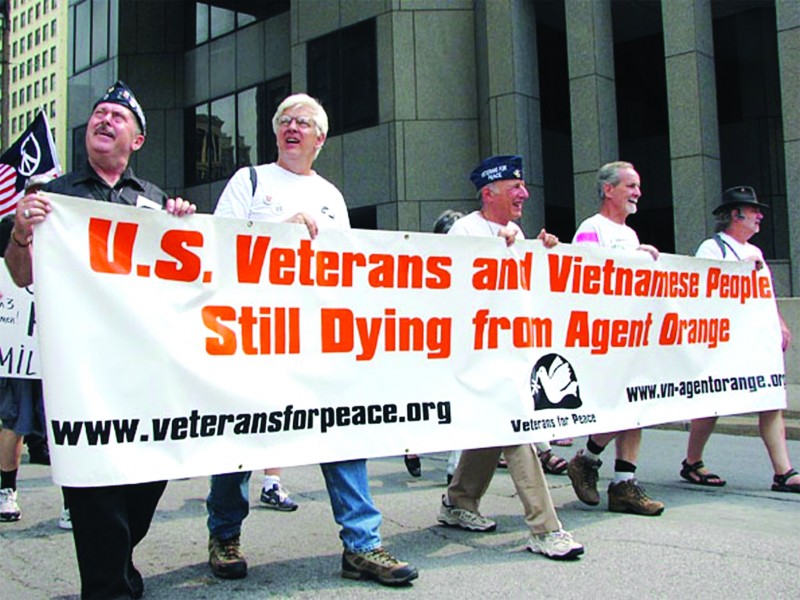 US veterans claim compensation for American and Vietnamese Agent Orange victims. Photo: Veterans for Peace
On March 26, 2019, the conference "Overcoming war legacies: the road to reconciliation and future cooperation between Vietnam and the US" was opened in Washington, US. According to the conference report: after more than 30 years of cooperation cooperation in settling war consequences in Vietnam, 40 hectares of land in Da Nang airport have been dioxin detoxified to hand over for the city for socio-economic development; tens of thousands of children have access to medicine, many centers are supported with machines to serve Agent Orange victims.
Besides, VUFO members (local unions, multilateral organizations) held hundreds of activities such as "Vietnam – Japan Friendship Music Night" or "Ho Chi Minh city Marathon 2019" to raise fund for victims of Agent Orange victims.
Not only mobilizing and assisting foreign NGOs to support Agent Orange victims, VUFO and the Friendship Organizations in Americas region also took on this mission by themselves. In particular, implementing the Resolution No. 36-NQ / TW of the Politburo on work for overseas Vietnamese, , through friendship exchange programs for Vietnamese expatriates, VUFO also enlist calling for support for victims of Agent Orange.
According to the Environment and Social Development Office, the US will continue to support Vietnam to carry out it $US50 million project for Agent Orange victims in seven Vietnamese provinces. Vietnam currently has about 8 million people with disabilities (accounting for nearly 8% of the population). Quang Tri, Thua Thien Hue, Quang Nam, and Binh Dinh Provinces in the central region and Dong Nai, Binh Phuoc and Tay Ninh in the south were intensively sprayed with the toxic defoliant, leaving more than 163,000 people with disabilities now.
Hai Binh (Translated by Ha Thuong)