Supports Given to Needy Students in Yen Bai, Da Nang
The aids are intended to encourage students to study well. It is hoped these will build good citizens in the future who are helpful to their families and society.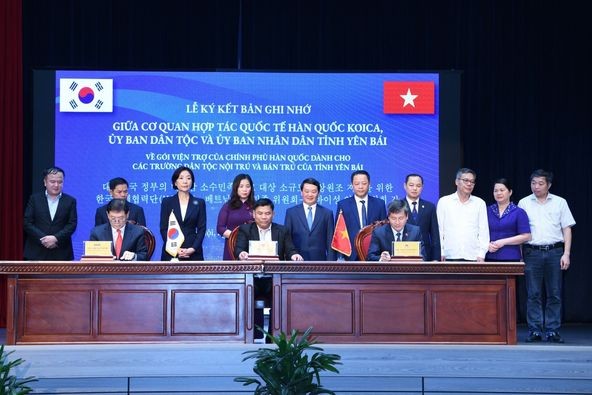 The signing ceremony of the MoU. Photo: Koica Vietnam
The Republic of Korea (RoK) will provide non-refundable aid worth USD 500,000 for ethnic minority boarding and semi-boarding schools in the northern mountainous province of Yen Bai under a Memorandum of Understanding signed in Hanoi on April 13, VNA reported Friday.
The document was inked by leading officials from the Government Committee for Ethnic Minority Affairs, Yen Bai province, and the Korea International Cooperation Agency (KOICA) in Vietnam.
The aid, offered by the RoK Government via KOICA, aims to improve the education quality of those schools in the locality.
Addressing the signing ceremony, Minister-Chairman of the Government Committee Hau A Lenh spoke highly of the aid which will help ethnic minority children access better conditions for studying and enrich their knowledge.
He thanked the Korean Embassy and KOICA for their assistance and contributions, expressing his hope that cooperation between his committee and the two entities will be further promoted in the coming time.
RoK Ambassador Oh Young-ju affirmed that making policies to promote inclusive social development so that no one is left behind is becoming one of the most important responsibilities of countries, including the RoK and Vietnam.
The project this time is expected by the Korean side to be a typical one showing support for the Vietnamese future generation's efforts for a better life.
According to Ngo Hanh Phuc, vice chairman of the Yen Bai Provincial People's Committee, over the past years, the province has always received attention from ministries, sectors and centrally-run agencies, as well as the coordination and assistance from other localities and especially the support of programs and projects sponsored by foreign organizations, including KOICA.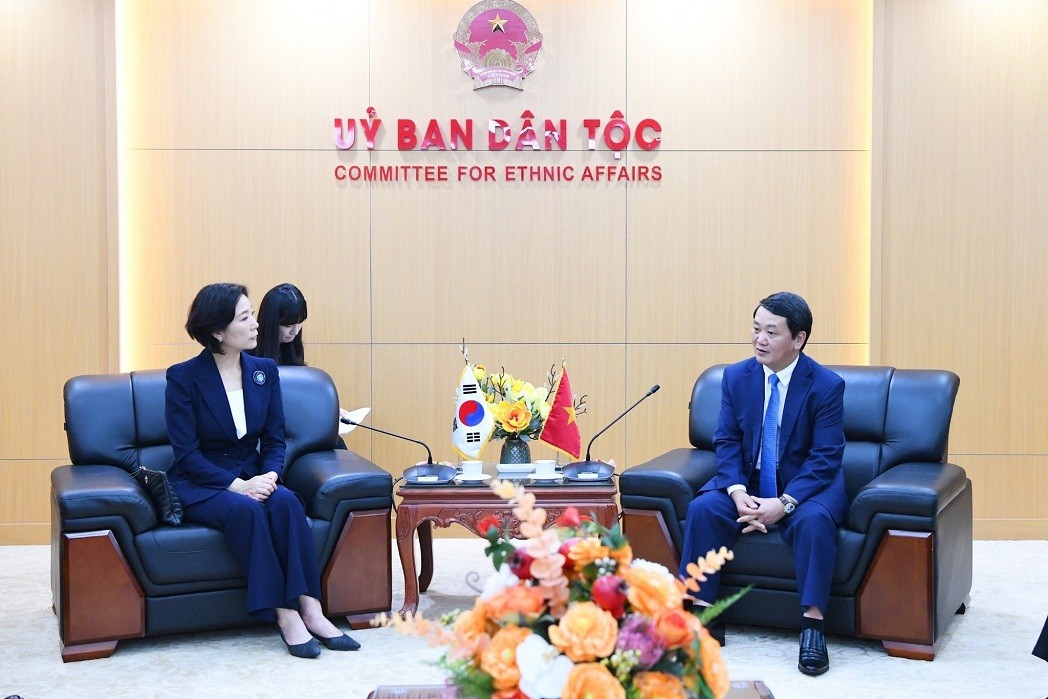 Minister, Chairman of the Standing Committee of the People's Committee Hau A Lenh receives Oh Young Ju, Korean Ambassador to Vietnam. Photo: Koica Vietnam
In 2018 - 2020, the Korean Government, through KOICA and Save the Children in Vietnam, implemented a project on improving school readiness and learning outcomes for ethnic minority children of 14 preschools and primary schools in Yen Bai's districts of Van Chan and Mu Cang Chai with a total cost of over VND 27 billion (USD 1.15 million).
The project was successfully carried out, bringing about high efficiency and contributing to improving the quality of education for the target schools.
In a related news, the People's Committee of Da Nang City recently issued Document No. 704/QD-UBND dated April 10 on the receipt of the program "Supporting scholarships to teach tutoring and life skills for students with difficult circumstances in Cam Le district in the period of 2023-2025" sponsored by Children of Vietnam organization, with a total value of more than VND 1 billion (USD 42.600).
The program is implemented with the goal of supporting materials, learning facilities, tutoring costs, and enhancing life skills for junior high school students, helping them to have solid skills and confidence to blend in well in society. In which, focusing on specific education and training, 75 disadvantaged middle school students are cared for, supported, and helped with their studies and in the community.
Thereby, contributing to raising awareness and sense of responsibility of agencies, organizations, families and the whole society in protecting and taking care of children, especially children in difficult circumstances; giving children the opportunity to have equal development and access to social welfare for children in localities with difficult economic conditions.
In particular, this program contributes to promoting the movement of all people to participate in the care, education and protection of children, contributing to building a safe and healthy living environment for children to develop comprehensively.
Laotian Students Celebrate Bunpimay in Vietnam

The Bunpimay Festival celebrating New Year in Lao's culture centers around acts of festive, leisure and entailing activities. The Laotian student communities across Vietnam organize ...