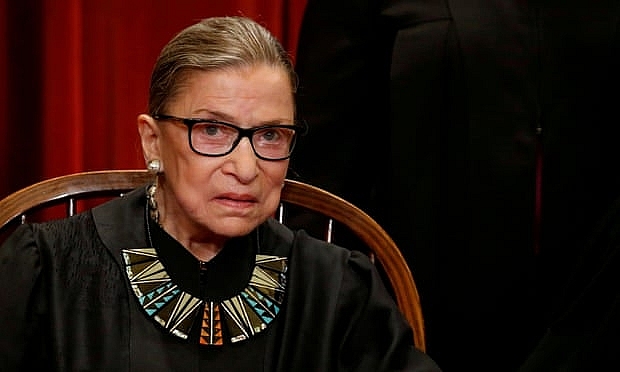 Photo: Jonathan Ernst/Reuters
Ginsburg had suffered from five bouts of cancer, most recently a recurrence in early 2020 when a biopsy revealed lesions on her liver. She had said that chemotherapy was yielding "positive results" and that she was able to maintain an active daily routine, reported by CNN
"I have often said I would remain a member of the Court as long as I can do the job full steam," she said in a statement in July 2020. "I remain fully able to do that."
She told an audience in 2019 that she liked to keep busy even when she was fighting cancer. "I found each time that when I'm active, I'm much better than if I'm just lying about and feeling sorry for myself," she said in New York at the Yale Club at an event hosted by Moment Magazine. Ginsburg told another audience that she thought she would serve until she was 90 years old.
Ginsburg passed away on the eve of the Jewish new year, was surrounded by her family at her home in Washington, DC, the court said. A private interment service will be held at Arlington National Cemetery.
Ginsburg was appointed in 1993 by President Bill Clinton and in recent years served as the most senior member of the court's liberal wing, consistently delivering progressive votes on the most divisive social issues of the day, including abortion rights, same-sex marriage, voting rights, immigration, health care and affirmative action.
She was the second woman appointed to the court in history and became a liberal icon for her sharp questioning of witnesses and intellectually rigorous defenses of civil liberties, reproductive rights, first amendment rights and equal protections under the law, the Guardian said.
"She led an amazing life. What else can you say?" President Donald Trump said in 18 Sep evening upon hearing about her death. "She was an amazing woman whether you agree or not she was an amazing woman who led an amazing life."
Video: NewsNOW from FOX
"She practiced the highest American ideals as a Justice. Equality and justice under the law. Ruth Bader Ginsburg stood for all of us." On nomination process: "The voters should pick the president and the president should pick the justice for the Senate to consider." Joe Biden shared.
Video: C-SPAN
Le Dang