Sustainable reintegration of returning women migrants
With 1 million USD (22.7 billion VND) in funding provided by the Republic of Korea (RoK) Government, the project "Strengthening Vietnamese Capacity for Sustainable Reintegration of Returning Women Migrants and their Households in Vietnam" was launched on August 23.
At the event. Photo: IOM
The kick-off was marked by a signing ceremony between IOM, the Korea International Cooperation Agency (KOICA) and the Vietnam's Womens Union (VWU) in Hanoi.
During its 30 months duration, this project is expected to deliver 4 pillar objectives to support returning women, including: Improvement of policy support environment, Recommendation for future policy and program development, Capacity empowerment of VWU staff and Establishment and operation of one-stop support offices. The activities will be deployed in the provinces of Hanoi, Hai Duong, Hai Phong, Can Tho and Hau Giang.
Addressing the audience, VWU Chairwoman Nguyen Thi Thu Ha commended the Project's sign-off as a testament of the cooperation efforts between the governments of Vietnam, Republic of Korea (RoK) and IOM in assisting returning female migrants and their families.
Stressing on the implication of the Project, Country Director of KOICA in Vietnam Kim Jin-oh insisted that the groups of vulnerable migrants are emerging in many areas across the globe and their problems are often overridden by other social issues. However, we can still recognize that they are in dire need of States support in reintegration and human right reservation.
Linking the Project to the commitment of Vietnam in the Global Compact for Migration (GCM), David Knight, Chief of Mission, IOM Vietnam said, "The Vietnam's government is now looking at a roadmap for what are the priorities of the 23 GCM objectives for Viet Nam. Globally, one of the key objectives is the return and reintegration of migrants. What I can see immediately is that this project has the potential to be a strategic and flagship project for Vietnam in relation to the reintegration of female migrants."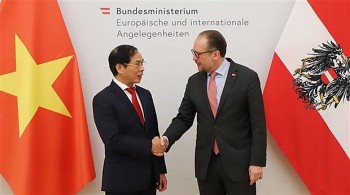 Overseas Vietnamese
Fifty years have passed since the establishment of the relationship, the two countries have enjoyed great strides in bilateral cooperation.