Suwon – festival center for Vietnamese people in Korea
VNF - The annual event "We are together 2019" will take place lace this month on April 28 - 29 in Suwon – "the city of filial piety", Korea.
This is the third edition of this festival which aims to bring various cultural experience for Vietnamese community in Korea.
While the previous events were held for one day, this year's festival will last for two days with a string of activities such as food stalls, Vietnamese – Korean folk games and talent competition.
The fashion show at "We are together 2018"
Notably, the 'ao dai' show of designer Lan Huong and colorful Hanbok show of designer Park Mi-yeon will be joined by famous singers from both Vietnam and Korea.
Sponsored by Korea's DB Insurance and Vietnam's PTI Post Office Insurance, "We are together" festival is an initiative to create a space for Vietnamese community in Korea to meet, interact and participate in cultural and artistic activities, therefor introducing Vietnamese culture to Korea. This year's festival will be hosted by Vietnam-Korea Economic and Cultural Association (KOVECA), supported by Insight Creative and Suwon city.
At the press conference on the afternoon of April 16, Mr. Kim Kang Wook from DB Insurance emphasized that the festival is a part to celebrate the 27th anniversary of diplomatic relations establishment between Vietnam and Korea and the 44th Vietnam's Liberation Day. Through the event, the Organizing Committee hopes that Vietnamese and Korean people will share culture, work and help each other in life together.
The event press conference
Statistics show that about 200,000 Vietnamese people live in Korea, mainly married immigrant women, workers and international students. Last year, the festival attracted about 1,000 attendees and this year the number is expected to increase much more as the event is held in Suwon.
VNF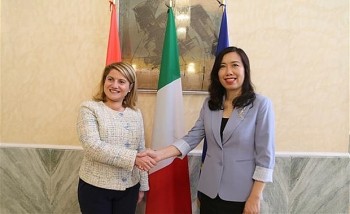 Friendship
The Vietnam - Italy political consultation is part of the occasion of the 50th anniversary of diplomatic ties and the 10th anniversary of the framework of the strategic partnership.