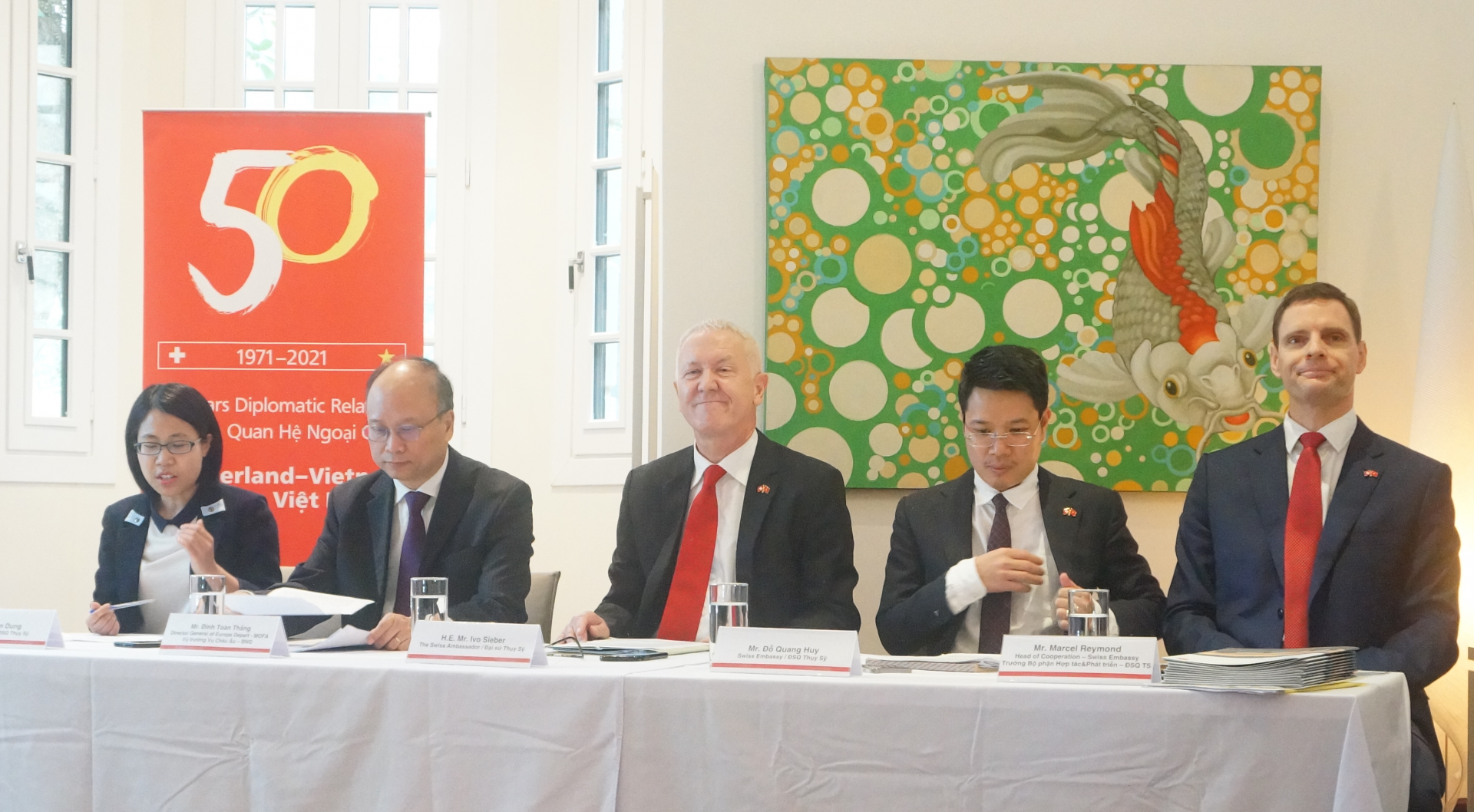 Vietnamese MOFA's Director General of Europe Department Dinh Toan Thang (second, left); Swiss Ambassador to Vietnam Ivo Sieber (middle); Swiss Head of Cooperation and Development Department Marcel Reymond (outside, right). Photo: ThuyHang, VNT
The event named "Launch of Commemorations to Celebrate the 50th Anniversary of Swiss-Vietnamese Diplomatic Ralations" was held on Thursday's morning of 25 March at the Embassy of Switzerland in Vietnam.
The event was participated by the Swiss Ambassador to Vietnam Ivo Sieber, Vietnamese MOFA's Director General of Europe Department Dinh Toan Thang, Swiss Head of Development Cooperation Department Marcel Reymond and many delagates from Vietnamese agents and press.
According to Swiss Ambassador Ivo Sieber, this event aims to launch commemorations in 2021 to celebrate the 50th anniversary - a half-century - of the Vietnam-Switzerland diplomatic relations that have reaped many successful and fruitful achievements.
The Swiss Ambassador shared that the relationship between Switzerland and Vietnam could be said to be established from the 19th century, when fostered by the best-known Swiss "Ambassador" to Vietnam Alexandre Yersin, a scientist, an explorer, an inventor and a humanitarian who lived and passed away in Nha Trang, Vietnam with his wish to be there forever.
"Of course, the big break-through in Swiss-Vietnamese relations happened in the fall of 1971, when Switzerland and Vietnam agreed to upgrade and formalize their bilateral ties", Ambassadoe Ivo Sieber said.
"As one of the very first Western countries to establish diplomatic relations with Vietnam, the ties between our two countries developed in a way that no one could imagine 50 years ago.
Vietnam's remarkable progress combined with Switzerland's long-term engagement resulted in a partnership that makes me proud to look back and confident for the future".
Vietnamese-Swiss relations developed strongly over the past 50 years. Especially over the course of the past 3 decades, the cooperation extended dynamically beyond the political and the multilateral sphere to technical and economic cooperation, trade and investment, research and science, culture, tourism and people to people contacts."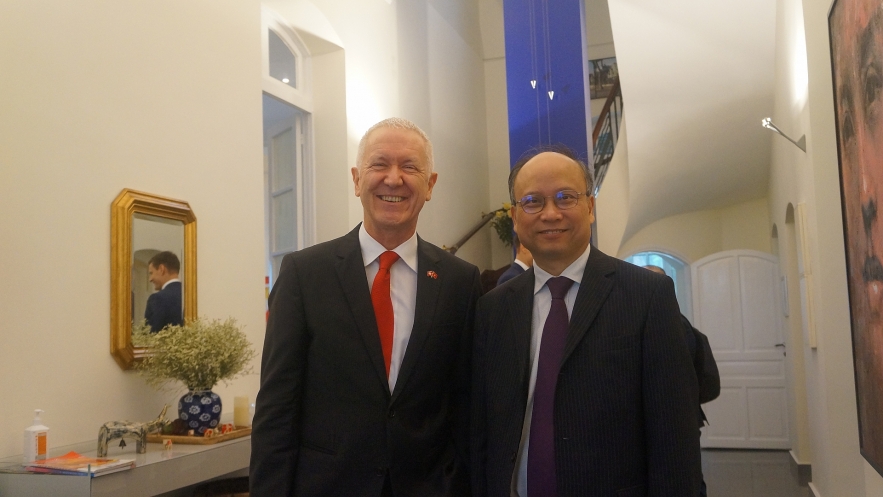 Swiss Ambassador to Vietnam Ivo Sieber (L) and Vietnamese MOFA's Director General of Europe Department Dinh Toan Thang (R). Photo: Thuy Hang VNT
Representing Vietnam's Ministry of Foreign Affairs to share about the relationship between Vietnam and Switzerland, Mr. Dinh Toan Thang said: Vietnam - Switzerland's friendly relationship has been lighted up since the years Switzerland was the host country contributed to the success of the Geneva Conference after the Dien Bien Phu victory in 1954 , so Switzerland country, despite far away in distance, very close to Vietnam. Today, thanks to the policy of national integration and the political, economic and cultural links, Vietnam and Switzerland are increasingly closely linked on the path of development to improve people's living standards.
The Vietnamese government and people always remember and highly appreciate Switzerland's precious support for its former struggle for national independence, national reunification and national defense and building as well as Vietnam's current economic development.
D.G Thang affirmed, the greatest achievement that Vietnam and Switzerland have achieved in the past of half century was the trust and mutual understanding in many fields, the sharing of common global and national values, especially the cohesion between the peoples of the two countries. The year 2021 is special milestone for Vietnam and Switzerland to look back and summarize the past overcomes, and at the same time define common goals towards the future.
According to Ambassador Ivo Sieber, the Embassy of Switzerland in Hanoi and the Consulate General of Switzerland in Ho Chi Minh City will host a series of events and activities in 2021 to celebrate a special milestone in the bilateral relationship.
Specifically, if the Covid-19 epidemic is well controlled, the high-level contacts between two countries also were undertaken with a regular frequency.
Another standout event is the inauguration ceremony of the Swiss-sponsored Geneva Conference Room at the Diplomatic Academy of Vietnam, which will take place at the end of the year. The year 2021 also marks 30 years of economic cooperation and technical assistance, with the announcement of the economic cooperation program for the period 2021-2024, scheduled to be held next June.
As for the Vietnamese Ministry of Foreign Affairs, Mr. Dinh Toan Thang also said that the two sides planned to exchange high-level delegations when the Covid-19 pandemic was controlled. In addition, the two sides would coordinate to organize round table activities, Vietnam - Switzerland Business Forum; events promoting education, training and Vietnam Week in Switzerland with unique cultural and artistic exchanges.
On this occasion, the Embassy of Swizerland in Vietnam also introduced to the press the logo of 50 years of Vietnam-Switzerland relations implemented by the Embassy of Switzerland in Vietnam in cooperation with the Vietnam Embassy in Switzerland.
Vietnam and Switzerland established diplomatic relations on October 11, 1971 and the first embassy opened in 1973 in an office at the Metropole Hotel in Hanoi.
The relationship between Vietnam and Switzerland has flourished over the past half century, not only in the fields of politics and multilateral cooperation, but also in economic cooperation and technical support, commercial and investment, research and science, culture, tourism, and people-to-people exchange between the two countries.
High-level exchanges between the two countries have created the premise for the ever-increasing trade and investment relationship. By 2020, the total direct investment capital of Switzerland in Vietnam has reach more than CHF 1.6 billion (over VND 40 trillion) with more than 100 Swiss enterprises are operating in Vietnam.
Participating in technical assistance and economic cooperation with Vietnam since 1991, the Swiss government has provided CHF 600 million (nearly VND 15 trillion) to Vietnam's socio-economic development. From 2020, through the National Science and Technology Development Fund of Vietnam, Switzerland and Vietnam, jointly sponsor to expand and promote research cooperation between the two countries.
Marcel Reymond, Head of Development Cooperation, Embassy of Switzerland in Vietnam, said: "This year is not only the 50th anniversary of diplomatic relations between Vietnam - Switzerland, but also marks a Switzerland's 30 years of economic cooperation and technical support for Vietnam. I can say that such 30 years of cooperation have seen a lot of prosperous results. "
Many dalegates attended the event held in the Embassy of Switzerland in Vietnam. Photo: ThuyHang VNT
Replying the question quoted by Vietnam Times reporter that: " People-to-people diplmacy is one of the three key pillars of Vietnam Diplomacy, please share the Swizeland's plan to promote the people-to-people relations between two countries in 2021?", Ambassador Ivo Sieber said:
" People-to-people diplomacy is peoples' relations, it is very very important for the national diplomacy. Due to the Covid-19, difficulties caused than usual affect directly to activities of promoting people-to-people relations. So we hope the situations will be controlled this year for direct contact of two peoples both in Vietnam and in Switzerland. So we try to overcome difficulties by working with both Swiss and Vietnamese sides and Vietnamese Embassy, also with Ministry of Foreign Affairs to promote for two countries' cooperation. We have planned for high level political delegations to visit each other next time, I hope that it will be opportunities for both leaders and peoples to contact directly. We also raise the image of Swizerland Year in Vietnam, Vietnam Year in Swizerland and under the Covid-19 well-controlled to enhance Vietnam - Swizerland's travelling and exchanging for peoples.
Tarah Nguyen