Tan Hiep Phat Group visits orphaned children supported by "Walking Forward With You" program
To join in the celebration of International Children's Day on June 1st , Mr. David Riddle, CEO of Tan Hiep Phat Group and staff members have visited households of children orphaned by COVID-19 pandemic in Ho Chi Minh City to offer encouragement and presents.
The visits to the orphans were full of sincere sentiments, commitment and love from Tan Hiep Phat Group's leadership and staff members. 49 orphans are sponsored by the Group until they reach 18 years of age via "Walking Forward With You", a program founded by Thanh Nien Newspaper since 2021. The Tan Hiep Phat commits to more than 13 billion VND of financial support for these 49 orphans.
Partnership with "Walking Forward With You" program is a commitment to provide sponsorship and practical support in helping thousands of children overcome deepest pains caused by the loss of their parents. The Group's participation provides the children with affection and care from the community to hopefully fill parts of the emotional voids and worries of these families.
Mr. David Riddle, CEO of Tan Hiep Phat Group shared: "The COVID-19 pandemic has affected children more than anyone else in society. Although no one can replace their parents, but with our best efforts, we believe that we can help to encourage these children to be more confident, to grow up with strong virtues, develop their talents and contribute to society".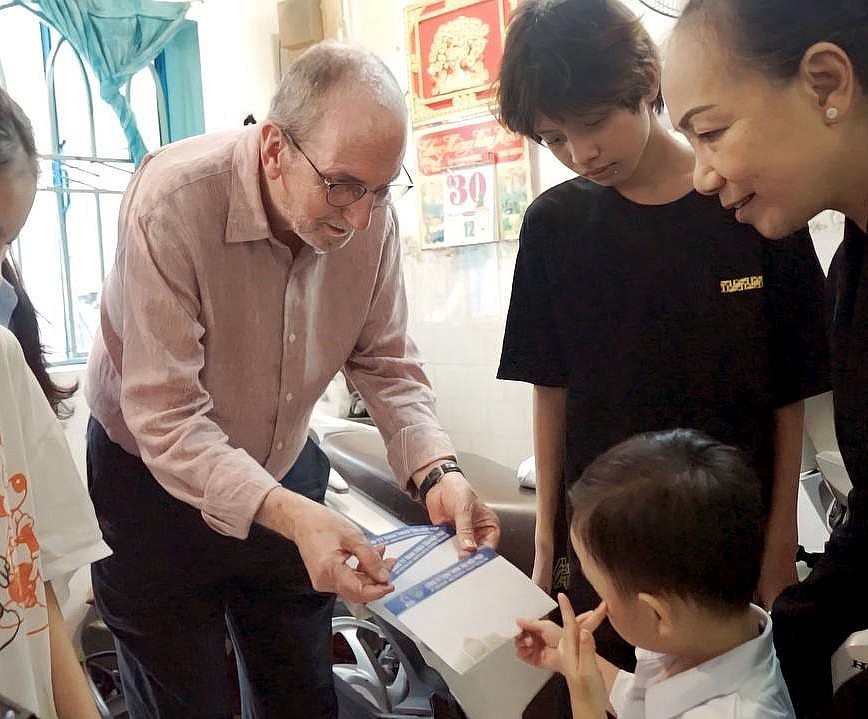 Mr. David Riddle (CEO of Tan Hiep Phat Group) have visited and given present for a family in District 3, Ho Chi Minh City
CEO David Riddle said: "Tan Hiep Phat Group not only provides material support to help children ensure their daily living and education. We also provide emotional support by organizing periodic gatherings with the children to help them feel the care and love of Tan Hiep Phat Group. From these gatherings, we can also keep updated on their current situations so we can provide timely advice and support."
"Tan Hiep Phat Group is committed to keep making every effort to continue supporting the children until adulthood, empowering them to push forward in their life paths and raise their dreams" CEO David Riddle said.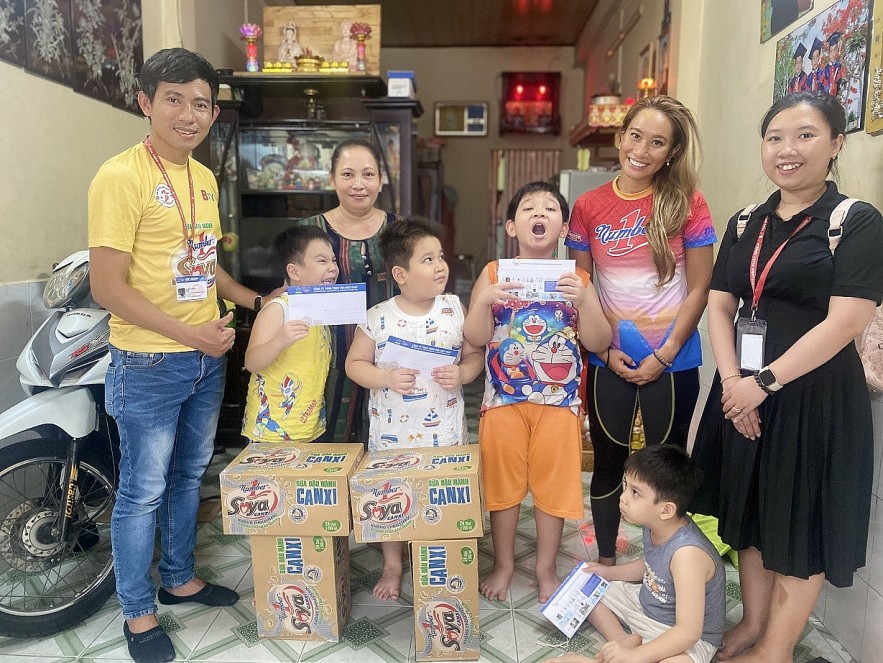 Staff members of Tan Hiep Phat Group have visited and encouraged children supported by "Walking Forward With You" program
Besides "Walking Forward With You", Tan Hiep Phat Group has partnered with many meaningful social initiatives throughout the country for many years, honouring its core value of being responsible and serving toward communities and society. Many programs have reached fruition and many are in implementation, such as "Connecting With Love", "Droplet of Gratitude", bridge infrastructures development among South-West disadvantaged communes, gifting breeding livestocks to impoverished households… These programs have contributed to building financial foundations and economic means for many in underprivileged areas. These initiatives continue to demonstrate Tan Hiep Phat's wholesome commitment to serving communities and society.
Women Empowerment in Tan Hiep Phat

With more than 35% of its leaders being women and both successors being the founder's daughters, Tan Hiep Phat confirms its viewpoint of no gender ...