"Teacher, Bad Wifi!": The Highs and Lows of Teaching Online in Vietnam
This Teacher's Day (November 20th), Vietnam's foreign teachers report how they and their students are faring with online learning, their struggles with Vietnam's poor internet, and the joys of teaching the next generation of Vietnamese citizens.
For the past year, teachers and students adapted extremely well to the unpredictable COVID pandemic. The rising cases and lack of vaccines made starting the new school year an impossibility for many localities across Vietnam. Nevertheless, many of Vietnam's teachers, both native and foreign, have dedicated their time and energy to creating entertaining lessons for online learning. Content was reworked, new games were made, and assignments were streamlined for a different format. While a hassle, Vietnam's foreign teachers continue to deliver quality lessons from the safety and comfort of their own homes.
"I'm a fairly adaptable person, so while I feel I did OK with transitioning online, it wasn't always easy nor what I would prefer," admits Kristina "Krissy" Kendrick, an American ESL teacher based in Hanoi. "Having to stare at a screen all day was not really my jam. I also am prone to migraines, so increased screen time brought along increased migraine episodes- which obviously makes my life harder. Since I've had time to get the hang of it, it's not so bad, and I will say I enjoy having more free time and being able to teach in my yoga pants."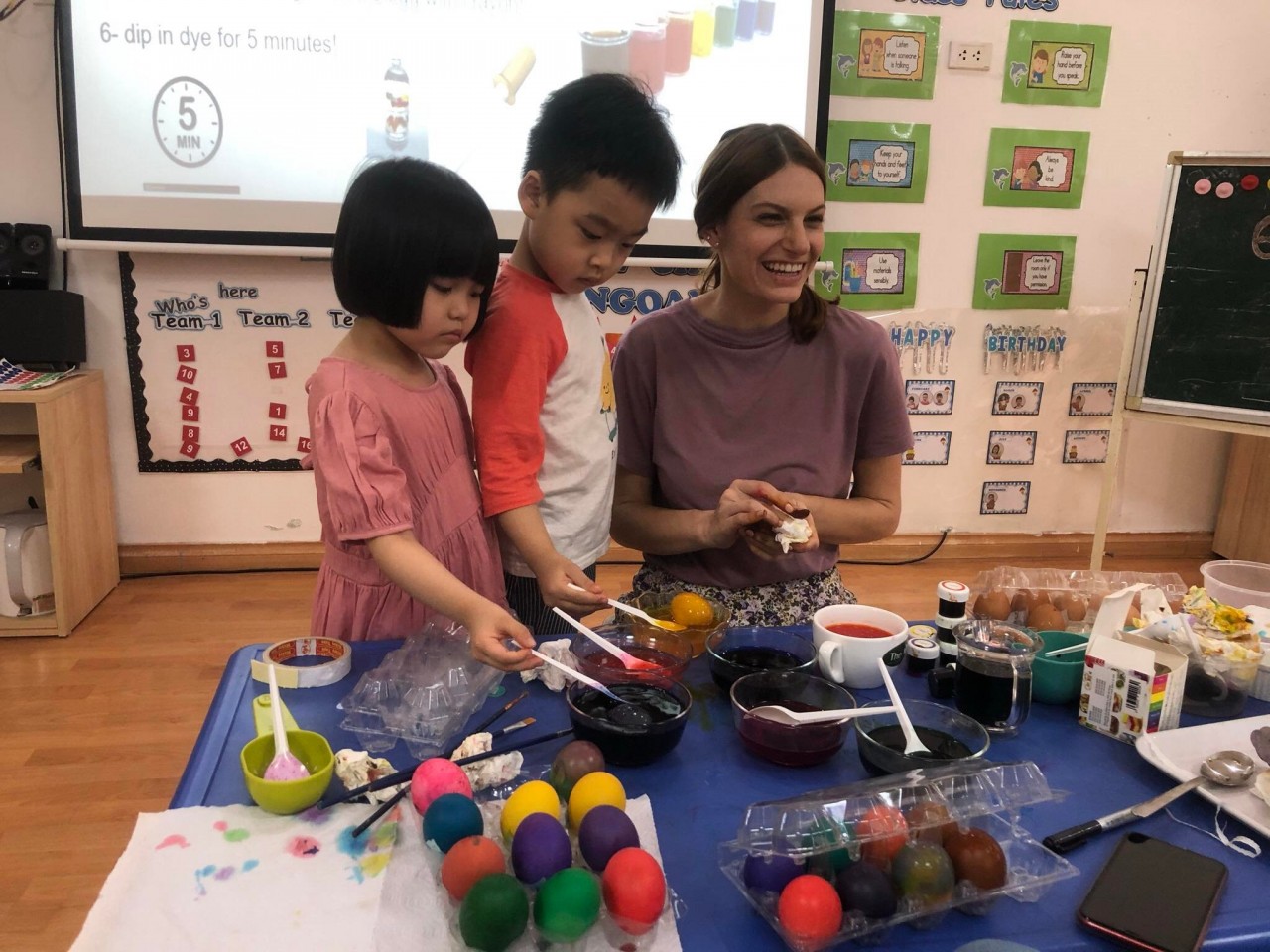 American ESL teacher Kristina Kendrick making crafts with her students before the pandemic shut down Vietnam's schools.
Online teaching may cause other health issues besides migraines. Since the nationwide switch to online teaching, many ESL teachers have noticed some of their bright and happy students have become distant and moody, a sign of waning mental health. Without a stimulating classroom environment or the presence of their peers, many Vietnamese students risk developing anxiety or depression. A study by the Overseas Development Institute reports that many Vietnamese teenagers have felt that their state of mind has been negatively affected because of the school closures. Additionally, even their parents are feeling these effects as well, causing tensions in many households.
Fortunately, this issue has not gone unnoticed by ESL teachers. In order make their lessons more engaging and to inspire an active mind, some teachers incorporate easy exercises and dance breaks into their lessons, helping children shake out the apathy and to reignite their excitement for learning.
While mental health crises are severe, the solutions don't have to be dire. Jessica Lyn Rumsey, an ESL teacher from South Africa, finds that simple acts of kindness goes a long way with her students.
"I like to spend a bit of time before class talking to my students about their lives at home, or update us on little crafts or projects they may be busy with," said Rumsey. "Silly 'challenges' are nice to throw into lessons, where it's just for fun and we can all laugh together. It's always something simple and fun like balancing on one leg with a book on your head, making silly war-cry rituals for phonics lessons, or singing motivating songs during a break. I try to always allow students to express when they are not having a good day, explain that there's nothing wrong with that, and that I sometimes feel that way, too."
Highly regarding their students mental health is key trait of a good teacher. This positive connection gives students an safe outlet to vent any problems they may be facing at home.
"My proudest moment is probably when an old student contacted me privately to talk about a rather serious, personal problem with which she had no one else to speak," said Rumsey. "I was touched that she trusted me with such delicate information."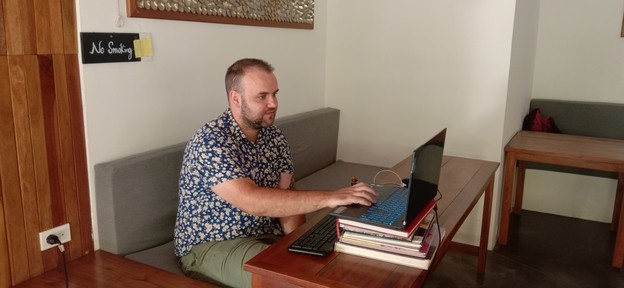 A foreign teacher struggles to get online in Phu Quoc, a common problem for many ESL teachers.
Another pressing issue for teachers is Vietnam's unstable wifi. As a result of the pandemic, the demand for remote work increased, putting a strain on the nation's already lagging Internet. Additionally, Vietnam's underwater Internet cables become routinely damaged, meaning they have to be repair often. During a pandemic, this dangerous expedition on the ocean floor is made even more difficult, much to the chagrin of foreign teachers.
"It's an absolute pain," sighs Rumsey, who compares teaching online in Vietnam to working with a broken blackboard with only scraps of dusty chalk. "It it dramatically impedes the learning potential of students. Online classes really aren't as fun as face-to-face classes, so we, as teachers, try our best to add whatever media we can think of to keep the lessons engaging, fun, and interesting, but the effort frequently falls on it's face when some students can't see your shared screen or can't watch a video properly as it lags too much. Some struggle to connect or might get 'kicked out' of the meeting, or can't communicate effectively."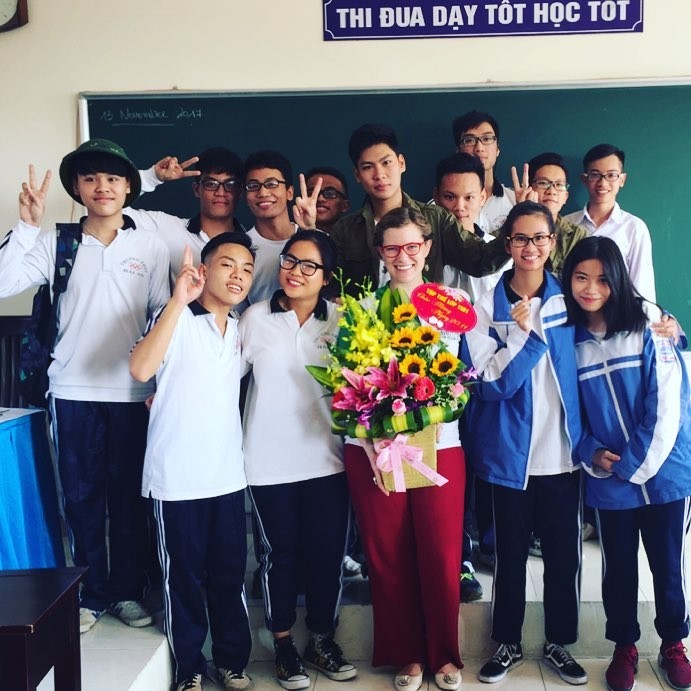 Now based in Hanoi, teacher Jessica Lyn Rumsey is still close with some of her students from Hai Phong.
"Thankfully, my wifi is decent, and I am lucky to have a landlord that tries to fix it when it's shoddy," said Kendrick. "However, it's still hit-or-miss whenever it's rainy, so I usually have to have data as a backup or I have to use it because I don't have enough bandwidth for Zoom and I can't see my students. Even when my wifi is 'good' I have to use a hotspot for larger classes, and a few times when I didn't have data available I was just teaching to black squares on screen- which is not ideal. It's a bit annoying to have to always go buy data, but at least it's not too expensive here. As someone with anxiety, it does add an extra worry for me though, that I don't really have to be concerned about when teaching in the classroom."
Despite the difficulties, there are still some shining moments when teaching online. For Kendrick, her recent Halloween lesson comes to mind.
"Teaching online isn't always super fun, but recently for my Grade 1 class, they all dressed up in their Halloween costumes and it was the cutest thing! They were excited to at least get to show off their outfits online, and they enjoyed playing games and listening to songs. I hope we can safely return to the classroom soon but I am not too hopeful it will be this semester. This may be my last year teaching in Vietnam, so I am hopeful we can return before I have to return to the States."
Teacher Krissy and her class of witches, ghosts, and other monstrous children on Halloween.
Like her colleagues, Rumsey desperately yearns to be back in the classroom. "I really hope that we can return to class in the second semester; the best parts about teaching are the relationships you form with your students, the quirks, and the hugs."
While teaching in the classroom in preferable, some teachers have taken advantage of the socially-distanced break to explore new areas across the country. These adventurous teachers make the Vietnam's open roads their virtual classroom. From the comfort of homestays, hostels, and peaceful resorts, foreign teachers are finding new, creative ways to keep themselves and their students happy.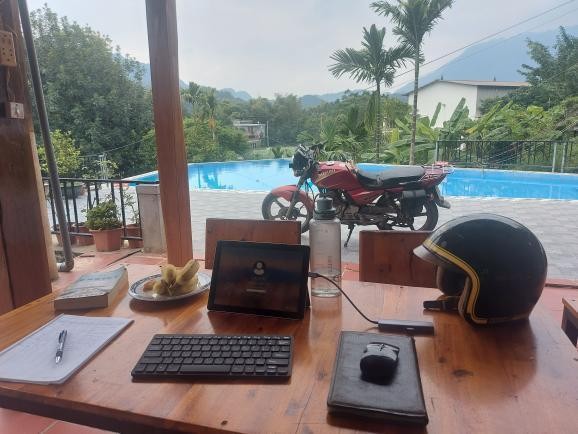 Teaching remotely in Mai Chau (and in style).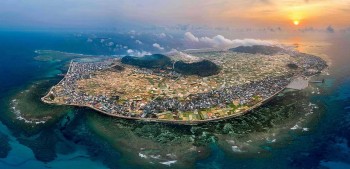 Viet's Home
Dozen of beautiful photos from the "Homeland View from the Sea" national photo contest will be featured in a 2022 calendar.