British Teacher Helps Clear Mines: "I Choose Hard Work"
Before coming to Quang Tri, Paul Eldred had held training courses in many other places. However, when teaching in Quang Tri, he fell in love with the Vietnamese province.
Paul Eldred and his students in a training course. (Photo: NPA/RENEW)
Leaving the British army after more than 23 years of service, Paul Eldred is thought to come to the suburbs of London and live a comfortable life. However, the 58-year-old man grabbed a backpack, got on a worldwide trip to help countries that are still heavily wounded by war. After his many travels, Eldred went to Quang Tri province to train mine clearance technicians.
'I choose hard work'
Once, a friend asked Paul Eldred: 'Would you choose a life of ease but boredom and a life of hard work but meaningfulness?' Eldred responded immediately: 'I choose hard work.' That answer later seemed to fit into his life. The busy lifestyle has is no doubt stressful but his smile never wavers.
Born in the suburbs of London, Eldred had a peaceful childhood with relatives and friends. He had dreamed to be a soldier from a very young age. The man joined the British army with the choice of 'a hard but meaningful life'.
Paul Eldred mainly worked in the field of mine clearance in his 23 years of serving in the military. He becomes familiar with many types of explosives and works needed to clear them, such as clearing the scene, un-detonating bombs, using dogs to search for explosives. Due to his expertise, the man is called 'enemy of bombs' by his teammates.
When Paul Eldred finally left the British army, many people thought that he would return to the idle life in his hometown. However, to everyone's surprise, the man had a new plan. He became a member of the United Nations, then different NGOs worldwide. Eldred has been to many countries such as Sudan, Thailand, Cambodia to help local people with his knowledge.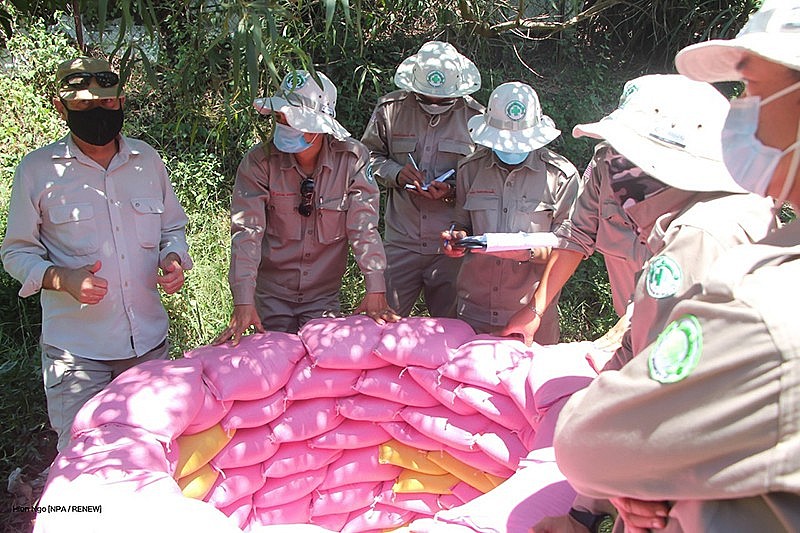 Paul Eldred shares his experiences with the students. (Photo: NPA/RENEW)
'Ten years ago, I was invited to work for NPA/RENEW. This job took me to many countries, including Vietnam. Before that, through many information channels, I learned about the land and people of Vietnam and was very sympathetic to this place. That's why I didn't need much time considering the invitation,' Eldred said.
Project RENEW's core team is made up of educated and highly committed Vietnamese staff who live in Quang Tri province, whose families have experienced the suffering of war, and who live with the threat of unexploded bombs and mines every day. The project partners Norwegian People's Aid (NPA) and several other international NGOs.
During his first days collaborating with NPA/RENEW, Eldred lived and worked in Hue but traveled to Quang Tri every week. Quang Tri, the province that bears destructive war consequences has ignited heartfelt passion for the retired soldier. Eldred was heartbroken to see the war victims, to know that mines and explosives were still harming people; concerned that the province still had a shortage of highly qualified demining technicians. From the bottom of his heart, he wished to help the government and people of Quang Tri. That dream came true when Eldred was invited for a training course in level 3 demining in the province.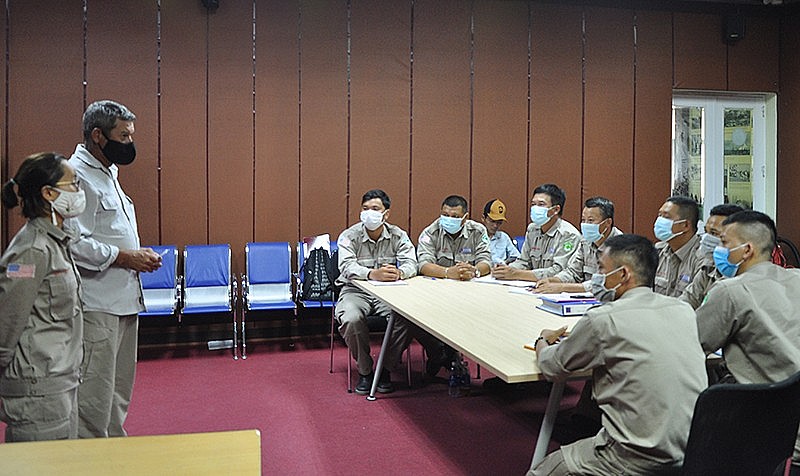 Paul Eldred during the closing session of the training course. (Photo: NPA/RENEW)
The teacher with no lecture hall
Before coming to Quang Tri, Eldred had held training courses in many other places. However, teaching in Quang Tri seems to be a good fit for Eldred.
"I have 8 students who are team leaders, supervisors, and managers of NPA Vietnam working in Quang Tri, Quang Binh, and Thua Thien Hue. The most experienced trainees had worked for NPA Vietnam since 2007. Before participating in the course, they passed a selection round and a thorough test. 'They call me teacher, not senior lecturer or expert like everyone else. I am happy. I know the word teacher means a lot to Vietnamese people,' Eldred said.
Every day in Quang Tri was a memorable page for Eldred. This land welcomed him on a very hot day. Even so, he and the students still diligently practiced the cases, the most difficult of which was climbing up burningly hot sand dunes to detonate real materials.
It was challenging, but the 18 days of the course passed quickly for both Paul Eldred and the students. After the intensive training, everyone's skin tone was darkened due to the hot weather. The teacher was pleased to see students quickly learn and practice the skills he taught.
He believed that the experience, knowledge, and skills that he shared would soon be spread among their organization so that the province would have more 'experts' in detecting and handling mines.
Besides those outcomes, Eldred treasured the training because it gave him his longest stay in Quang Binh, allowing the man to meet his colleagues, make friends with the friendly and hospitable local people, enjoy local cuisines, and learn more about the land's history. Paul Eldred said that every time he came to Quang Tri, the man felt like visiting a close friend's house, therefore, he always hoped to have opportunities to return to this dear land.