The Art of the Quiz: How ESL Teachers in Vietnam Entertain Themselves in Lockdown
To cure their boredom, Vietnam's ESL teachers routinely meet online for entertaining quizzes and fun times amidst the lengthening lockdown. Thanks to the kind actions of a few caring expats, the popular trend raised nearly $2,000USD for a local children's charity.
While lockdowns are effective at limiting the spread of Covid-19, long periods of isolation may negatively affect one's mental health, especially for those living alone. Hanoi's ESL teachers look out for each other by participating in online quizzes, encouraging teams to work together and solve obscure trivia.
Teacher Katie Tribe unveils her fun yet challenging quiz. Screenshot by Glen MacDonald.
The pub quizzes drew large crowds yet the rooms were silent for most of the game. As the questions were being presented, nothing could be heard except for a few whispered discussions and excited giggles. Once the correct answers were unveiled, triumphant cries and frustrated groans erupted from the expat crowd. With a beer or cocktail in hand, pub quizzes were a staple source of entertainment. Although pub quizzes are no longer possible due to Hanoi's intense lockdown, online quizzes continue to entertain the capital city's many foreign teachers.
Quizzes are quite popular in the expat community, especially among ESL teachers. In pre-lockdown days, popular expat bars hosted fun pub quizzes with a long range of topics. These quizzes would usually begin in the evening when many teachers finish their classes, providing them with the perfect opportunity to unwind after a stressful day. Funnily enough, a quiz is the perfect nightcap for a day of teaching.
This trend also benefits the most vulnerable members of the Vietnamese community. Irish expat David Nangle used his time at home to organize elaborate online quizzes, uniting bored expats across Hanoi and even some friends in distant countries. The weekly online quiz raises money for the Blue Dragon Children's Foundation, a well-known charity dedicated to helping at-risk Vietnamese children. With the help of Scottish expat Craig McBride, Nangle gives back to Vietnam while also cheering up his fellow expats.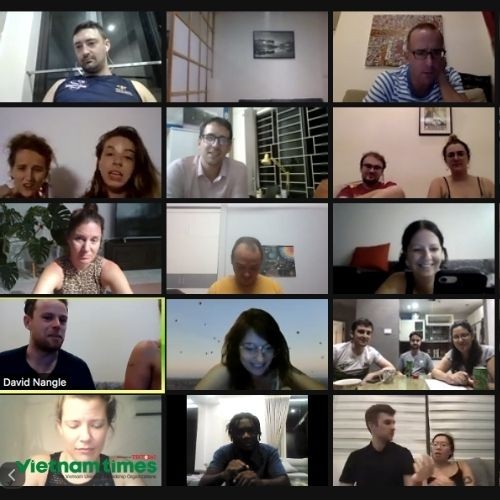 Hanoi's diverse expat community enjoying Nangle's quiz. Screenshot by Glen MacDonald.
Nangle's decision to work with Blue Dragon was a no-brainer. After personally delivering donated supplies to poor children, Nangle understood the powerful work done by the NGO. "When I delivered those donations, I got to witness the scale of what Blue Dragon is doing," said Nangle. "It is hard to comprehend the work that they are doing for children here in Vietnam until you see them first hand, learning and practicing life skills and just being happy in a safe environment. As well as seeing the amount of staff, working tirelessly be it teaching classes or the legal work that is involved in the human trafficking cases and so on."
Since then, Nangle continued to help Blue Dragon while supporting himself as an ESL teacher. Even in lockdown, Nangle is committed to helping Vietnamese children.
"I noticed Blue Dragon made an emergency appeal for donations due to many Vietnamese people struggling with the latest lockdowns," said Nangle. "I wanted to do something but due to recent events in Vietnam I hadn't been working so wasn't in much of a financial position to help on my own so I decided to hold a once off Zoom quiz, expecting to raise maybe $300 or $400."
However, Nangle underestimated the charitable spirit of the expat community. Yearning for social interaction, around 100 people joined for Nangle's inaugural quiz. The participants were not just expats. Some bilingual Vietnamese teachers also joined in on the fun even though it is an English quiz. So far, Nangle and his friends raised over $1,900 USD for Vietnamese kids in crisis.
Nangle, understandably, is happy with the results. "As ESL teachers in Hanoi we reap so many benefits living in this country especially over the last year when Vietnamese people have been so adversely affected by flooding and the pandemic, there is no better opportunity for any of us to give back than right now."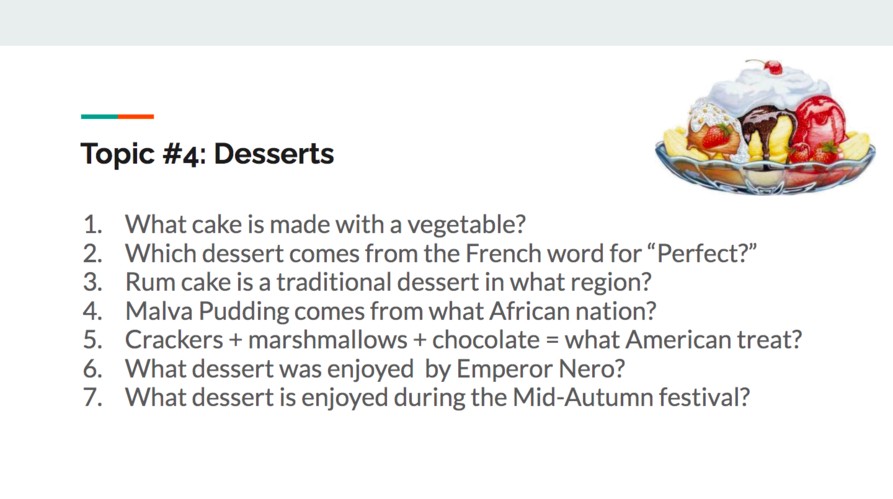 One quiz featured questions about different desserts. How many questions can you answer? Screenshot by David Nangle.
These philanthropic quizzes happen every Thursday will continue for as long as Hanoi remains under lockdown. Nangle encourages everyone to join future quizzes or to directly donate to the Blue Dragon Children's Charity. While it is fun to play, the competition becomes a bit serious at times. Fortunately, Nangle's teaching background comes in handy during these occasions.
"As an ESL teacher and as a quiz host, I feel like a lot of the games students and adults like to play are interchangeable," laughs Nangle. "Adults are more competitive than children, we just hide it better. Most games I play with my students in class can be tweaked slightly to become a completely acceptable game to play with adults and vice versa. Students and teachers are more similar than one might think when pride is on the line."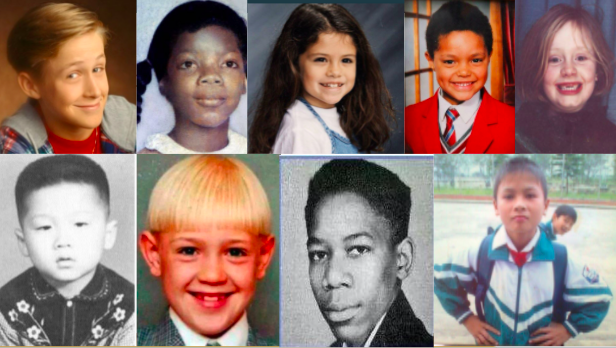 In one challenging round, participants had to identify celebrities by their childhood photos. How many can you recognize? Screenshot by David Nangle.
While competitive to play, quizzes aren't too challenging to make at home. Robert Packer, an American expat, ESL teacher, and fellow quizmaster, has been hard at work making new puzzlers since the beginning of lockdown. These quizzes give his friends something to look forward to; a bright spot in a boring week.
"I've dabbled in making quizzes in the past," said Packer, "but the lack of work and contact has given me the chance to sit down and expand upon what I've done in the past."
Packer was kind enough to explain the art of the quiz to VNT. Here are four suggestions to ensure a succesful online quiz.
1. Diversify. "One consideration I've tried to take into account is how diverse the backgrounds of people in Hanoi so I generally try to think of questions that touch different continents, sexes, and races when writing questions because it would be very easy to write a quiz from a purely American perspective," explains Packer. "With that in mind, I tend to come up with answers that I think are unique and diverse in each category before building a question around the answer. A lot of it is just searching around Wikipedia and YouTube. The most difficult part is knowing what other people will find difficult and what they won't and providing a nice mix. I often find teams struggling with things I meant to be easy and breezing through things I meant to be a challenge."
2. Predict Disputes. "The quizzes can get a little competitive at times. Most quizzes tend to come down to the players versus the host, though. People often want to argue answers or wording of questions so it's helpful just to be confident in the answers and predict what issues might arise with answers so you already have," said Packer. Sometimes, Packer had to use his 'classroom management' skills when certain answers cause contentions. "This will give you an idea of ​​what you think is acceptable or not. Settling the participants is the hardest part. I've had to hit a countdown a couple of times, but, generally, people who come to a quiz want to be there and hear the questions so it's not too rowdy."
3. Use Zoom. According to Packer, Zoom is the optimal platform for big groups of friends. "The breakout room feature is invaluable to team interaction."
4. Have Fun. "I'd just say to make the quiz you would want to take," said Packer. "I have a lot of fun making them because the content is usually stuff I'm interested in myself. Aside from that, I'd say know your friends and what they want out of a quiz. I've missed the mark a couple of times and people haven't really enjoyed hearing a list of questions about stuff they've never heard of."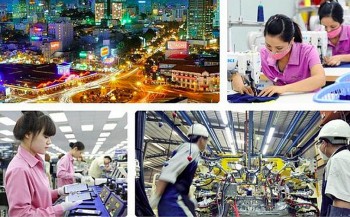 National
Vietnam News Today (Jan. 17): Vietnam records 15,643 new Covid cases; Northern region to turn severely cold from January 17; 'New normal' adaptation leads to positive forecast for Vietnamese economy in 2022; Vietnam-China clash tickets open for sale in two days.