Ten destinations to tempt frugal travellers in 2018
Here are some best value destinations according to Lonely Planet.
Here are some best value destinations according to Lonely Planet.
1. Tallinn, Estonia
Estonia's capital is compact, fashionable and terrific value. Explore one of Eastern Europe's loveliest old towns on foot for free, stay in good-value dorms, guesthouses or private homes, and take in Baltic Sea views and a superb panorama of the city from the flat roof of the vast Linnahall (one of Tallinn's best free things to do). Connected by budget flights from around Europe, the city isn't a secret – but if you want a taste of Tallinn to yourself then head to Kalamaja, a fast-changing neighbourhood home to Telliskivi Creative City. The food trucks here offer Instagrammable fill-ups that won't tax your wallet.
The Old Town in Tallinn has a medieval feel to it © GETTY IMAGES
2. Lanzarote, Canary Islands, Spain
Over the past decade, in-the-know independent travellers are increasingly heading to Lanzarote. Awaiting them is a well-developed infrastructure that makes it a doddle to find affordable lodgings, food and car rental. There's plenty of no-nonsense holiday fun, but Lanzarote also revels in its uniqueness. The moon-like scenery of Parque Nacional de Timanfaya, unspoilt beaches of Órzola and black-sand wineries of La Geria reward those who come here for more than a traditional seaside break. In one small package you can explore César Manrique's artistic and architectural footprint, follow stunning hiking trails, and enjoy unexpected and jaw-dropping views along many drives around Lanzarote.
Limestone rock formations near the beach of El Golfo on Lanzarote © Fernando Tatay / Shutterstock
3. Arizona, USA
For affordable and accessible adventures in Arizona, aim for simple roadside motels, then camp and hike. Visit Saguaro National Park on a day or overnight trip from Tucson. Over in Organ Pipe Cactus National Monument you'll find fewer fellow visitors to compete with for views. Shoulder season unlocks great value: visit the South Rim of the Grand Canyon from March to May and September to October for cooler temperatures and lighter crowds. For the less crowded North Rim, go in May or October. Aim for Scottsdale's spas and golf courses between June and August. Sure, it's hot by day – but there's always the poolside for those sizzling hours.
A meander of the mighty Colorado River carved Horseshoe Bend out of Arizona's soft sandstone © FilippoBacci / E+
4. La Paz, Bolivia
Spectacularly situated at 3660m, La Paz is one of South America's best value places to linger, whether you're keen on acclimatising, learning Spanish or simply enjoying the colourful street life and Andean setting. Budget-conscious travellers can get by on less than USD 30 a day, eating at unforgettable markets and taking hiking and biking trips. La Paz also has a fast-emerging yet affordable upscale scene, epitomised by superb dining at places such as Gustu, founded by Noma's Claus Meyer. Boutique hotels and hip coffee joints are popping up too, all at lower prices than their equivalents elsewhere. Move fast: La Paz is on the rise. Reach La Paz's El Alto International Airport – the world's highest, at 4061m – by flights from Miami and Washington DC.
La Paz is breathtaking in every sense © Matyas Rehak / Shutterstock
5. Poland
Poland somehow manages to remain affordable and relatively under-visited. Sure, Kraków grabs the crowds, but you can explore here for less than in Prague or Berlin. Beyond Kraków is a roll-call of Europe's least-appreciated highlights. In the north, explore Gdańsk's rebuilt old town and haunting coastal scenery. Elsewhere, Lublin, Toruń and Tarnów's historical beauty (free from large numbers of visitors) can form the basis of a wonderful week. If you have more time, consider exploring the mountain playground around budget-friendly Zakopane or bison-spotting in Białowieża National Park. Inexpensive train and bus connections, keenly priced food and beer, plus budget places to stay complete the picture.
Beautiful Kraków draws the crowds, but Poland has plenty more to offer © Mark_and_Anna_Wilson / Shutterstock
6. Essaouira, Morocco
Love Morocco? Been to Marrakesh? Us too. If you're seeking another, still affordable side of this safe slice of north Africa then Essaouira might just be the place for you. A popular day trip from Marrakesh itself, Essaouira can now be reached direct by low-cost flights from the UK and France. The walled city's narrow alleyways, traditional hammams and medina pile on the sensory delight. The breeze allows for superb wind and kitesurfing, as well as bracing beach strolls. Characterful riads are affordable, especially if you're travelling with family or a group. Best of all, the food is sensational even on a low budget, in particular the just-landed seafood.
A shipyard full of blue fishing boats in Essaouira © Matej Kastelic / 500px
7. United Kingdom
While the UK government busies itself with Brexit, travellers can reap the rewards. The immediate result of 2016's referendum on EU membership was the pound weakening against pretty much all currencies: good news for those of us planning a trip to London, not traditionally a paradise for frugal adventurers. Make the exchange rate work even harder by aiming for Devon, Cornwall and big-ticket cities such as Bath, York and Edinburgh (they're cheaper outside school holidays like Easter, July and August). Keep an eye on currency fluctuations, but the most likely scenario is that the UK stays affordable to international visitors – at least until a true picture of the post-Brexit landscape emerges.
The 18th-century Pulteney Bridge in historic Bath, just one of many tempting destinations in the UK for bargain-hunting travellers © bento42894 / Shutterstock
8. Baja California, Mexico
It's the world's second-longest peninsula; but for many, visiting Baja California still means a quick hop over the border into Tijuana or Tecate – meaning there's 1200km of less-explored territory. True, prices can be higher here than in other parts of Mexico due to the relative remoteness of Baja. But if you're coming from the US, you'll be saving money by travelling here. In the north, the wine route through the Valle de Guadalupe is like Napa but a lot cheaper. Meanwhile, towns such as Todos Santos, Loreto, San Ignacio, Mulegé and La Paz are authentically Mexican and feature great-value accommodation.
A surfer catching waves in laid-back Baja California © Javier Garcia / Shutterstock
9. Jacksonville, USA
Jax, as locals call it, hasn't drawn international praise like other destinations in Florida – despite 35km of beaches, surfing, art and live music. There are long stretches of the St Johns River, the Intracoastal Waterway and America's largest urban park system to explore on foot, by bike or, best of all, on a guided kayak tour. Barbecue joints and beachside cafes offer good-value and family-friendly dining, while a pint of craft beer at one of eight local breweries can be priced as low as USD 3.50. Not only is Jacksonville affordable for sleeping (with the lowest hotel rates in the state), but you can feel as if you're discovering somewhere new.
With fine beaches like Ponte Vedra just a few miles from downtown, Jacksonville is an affordable gateway to Florida's ever-popular coast © TraceRouda / iStockphoto / Getty Images
10. Hunan, China
Hunan's highlights come thick and fast. At Zhangjiajie, an amazing sandstone canyon with almost 250 bizarrely shaped peaks, the world's longest glass bridge opened in 2016. Another don't-miss is Fenghuang, a stunning historic town that quite literally hangs over the Tuo River. If you're not sold yet, the provincial capital Changsha happened to be Mao Zedong's home town. This being China, costs can be very low indeed: budget meals and accommodation are in the sub-USD 10 range, and even slap-up servings of fiery Hunan cuisine in the flashiest Changsha digs cost not much more than double that.
The mind-blowing scenery of Zhangjiajie Forest Park in Hunan, China © JekLi / Shutterstock
According to Lonely Planet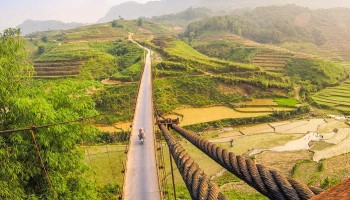 Travel
Visitors rate the 7 most amazing roads in Vietnam, weaving through mountains, jungles, and beaches, according to Lonely Planet magazine.