Tet is Coming, What Young People Choose to Gift their Family?
Nowadays, young people tend to choose natural gifts for Tet, such as a branch of peach, vegetables, herbal teas, or simply a pack of red envelopes.
Tet gifts in "flat world" era
During her short break in a TVC shoot, Thien An, a freelance content creator in Da Lat, scrolled up and down her screen. She smiled and talked to her colleague: "An has just ordered two bouquets of apricot flowers, ten portions of organic food and five boxes of Dr. Thanh herbal tea for my parents in Hue, so they have some early "Tet" atmosphere. The gifts will be delivered to my home in a few days."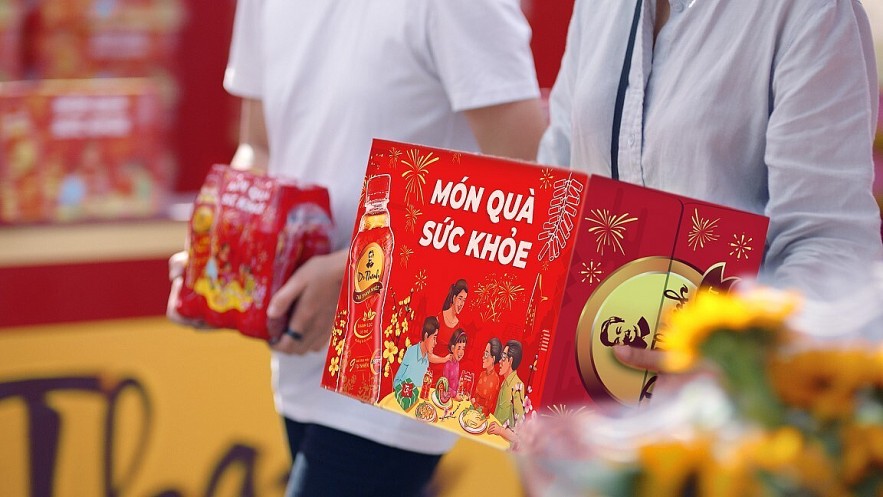 Dr. Thanh tea, a healthy gift, is chosen by many people on Tet holiday. (Photo: VTC)
From Oceania, Mai Khac Duy, an international student in Australia video called to her parents in Ha Nam. "I have ordered wild peaches, daisies, Dr. Thanh herbal tea, and Northwest dried buffalo meat for you to enjoy before Tet."
The era of "iEverything" and digital platforms has changed young people's habits of shopping and enjoying Tet. These days, they do not waste time going from store to store, choosing everything in person. Instead, with just a few touches on the phone's screen, Thien An, Khac Duy, and many other young people ordered Tet gifts for their parents. They are bringing Tet home earlier.
From toast habit...
This year's Tet comes just several weeks after Christmas. The festive atmosphere is coming close, although everyone is still busy and worried. While pressure causes "inside heat", young people are active with plans for cheerful gatherings with their friends and family for the upcoming Tet.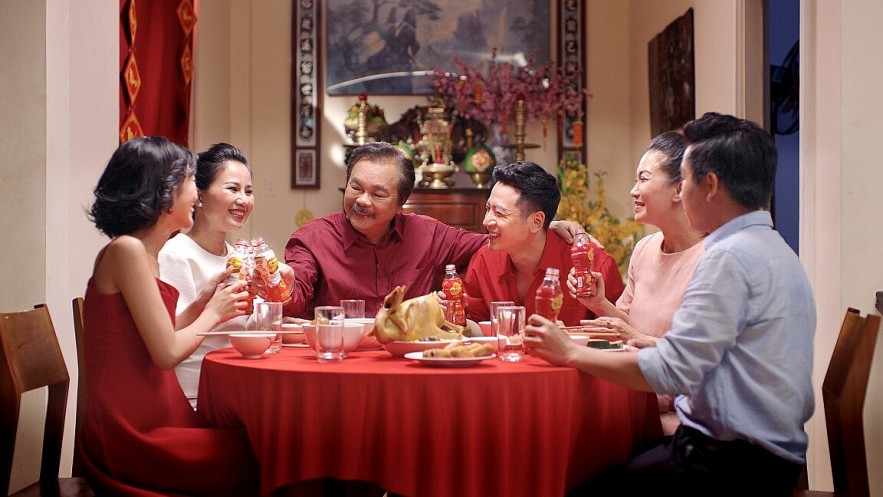 Diverse choices of beverage are coming to Tet dining tables (Photo: VTC)
As the petal blooms and festive music plays, the bustling atmosphere and exciting feeling come. Parties everywhere serve alcohol and fired, sauteed and spicy food, which results in "inside heat" that makes the body sluggish and tired.
A toast accompanied by meaningful wishes for Tet is a tradition of the Vietnamese people, yet the continuous consumption of over-nutritious food and alcohol at every gathering and party can badly affect health, turning joyful Tet into internal heat and fatigue.
...to the bloom of healthy gifts in young people's style
Huynh Lam Ngan, a Gen Z in Ho Chi Minh City said: "We always wish each other good health in Tet, yet we often drink too much. Therefore, I always prioritize healthy gifts for Tet, such as Dr. Thanh herbal tea, which helps my family to cool down the body heat and reduce our beer and wine intake during Tet."
Giving healthy gifts has become a major trend in the past few years. (Photo: VTC)
Lam Ngan's choice represents the major highlight in Gen Z's Tet gift selection. As the pandemic eased down, young people consider staying healthy a lifestyle, not just a trend like previous generations.
Quang Binh, born in 2002, said: "Do what you wish in Tet. If you wish someone health, give them healthy gifts. For example, give Dr. Thanh herbal tea for your parents, family, and friends to cool down their body heat before parties, so they can welcome spring with good health. That is the real meaningful and practical gift."
Healthy gifts for Tet is currently Google's hottest keyword with 12.2 million results in 0,37 seconds. According to TikTok's latest report, food and drink make up the majority of Vietnamese Tet gift baskets.
Among healthy gifts that young people choose for their parents, Dr. Thanh herbal tea meets the maximum need to cool down the body heat caused by eating habit during Tet.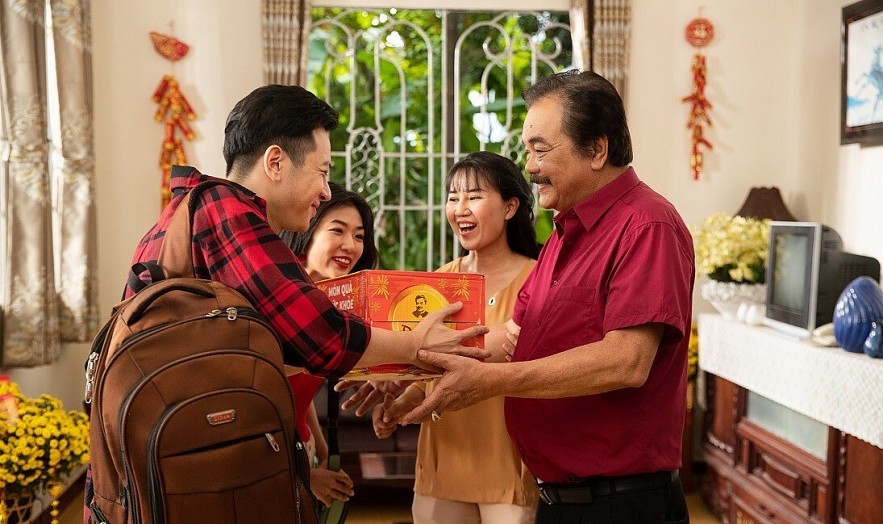 A scene in touching "Gift to Father" music video. (Photo: VTC)
By bringing healthy gifts to help cool off the Tet holiday, brands like Dr. Thanh show that they understand consumer needs and positively impact negative Tet practices, such as overdrinking, and eating too much fried and greasy food. Thereby, they help to keep Tet the most joyful and happiest time for Vietnamese people.
Historic Landmarks Of THP's Development

Founded in 1994, Tan Hiep Phat Beverage Group (THP) is Vietnam's largest FMCG (Fast-moving Consumer Goods) business. As a big beverage corporation in Vietnam, the ...