Thailand bans single-use plastic bags at major stores
Thailand began 2020 with a ban on single-use plastic bags at major stores.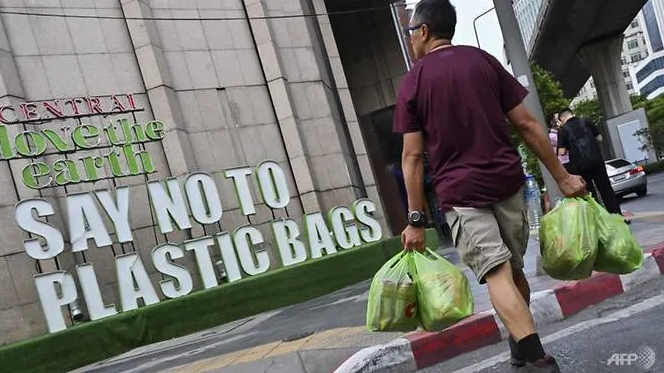 A man carrying goods in plastic bags crosses a street where a sign promoting a plastic bag-free shopping experience is displayed outside a department store in Bangkok on Aug 13, 2019. (Photo: AFP/Romeo Gacad)
According to Reuters, public awareness of the risk to animals and the environment from such waste was raised last year in a series of incidents where animals including a deer and a baby dugong were found dead with plastics in their digestive systems.
A baby dugong named Mariam washed up in shallow waters off southwestern Thailand months ago and photos of her nuzzling playfully next to rescuers quickly went viral.
The discovery soon after of another orphaned dugong brought the sea cows celebrity status, the attention of a Thai princess - who named the second one "Jamil" - and round-the-clock webcasts giving viewers a front-row seat to feedings and treatment.
But Mariam died just after midnight after going into shock and efforts to resuscitate her failed, Chaiyapruk Werawong, head of Trang province marine park, told AFP.
"She died from a blood infection and pus in her stomach," he said, adding they found small amounts of plastic waste in her intestinal tract.
An autopsy showed the plastic had caused obstructions in the animal's stomach, leading to inflammation and gas build-up, veterinarian Nantarika Chansue posted on Facebook.
The dugongs are the latest marine creatures to make headlines in Thailand, whose plastic-choked waters are also a threat to habitats.
Both the animals were found in southern Thailand, home to about 250 of the sea cows, which are closely related to the manatee and classified as vulnerable.
Jamil, whose name translates to "handsome sea prince", is being cared for separately in Phuket.
Months after, a 10-year-old deer was found dead in a national park in Nan province, around 630km north of capital Bangkok.
An autopsy discovered "plastic bags in the stomach, which is one of the causes of his death", said Kriangsak Thanompun, director of the protected region in the Khun Sathan National Park.
The bags contained coffee grounds, instant noodle packaging, garbage bags, towels and also underwear, according to photos provided by the national park.
Since then, several major retailers --including the operator of the ubiquitous 7-Eleven convenience stores - have pledged to stop handing out single-use plastic bags by January 2020.
Thailand is one of the world's largest consumers of plastic, with Thais using up to 3,000 single-use plastic bags each per year, whether for wrapping street food, takeaway coffee or packing groceries.
"During the past five months, we were down to 10th...thanks to the cooperation of the Thai people," Minister of Natural Resources and Environment Varawut Silpa-Archa told reporters on Jan 1 after handing out reusable bags to the public.
The ministry says the country reduced the use of plastic bags by 2 billion, or about 5,765 tonnes last year, in the first phase of campaign to encourage consumers' voluntarily refusal of plastic bags from stores.
"At first, I was not used to it (bringing shopping bags) because sometimes I just came bare hands and forgot about it. When I remember, I will carry it along," said one shopper, Supanee Burut-thong.
Varawut said the most challenging aspect would be the last 40 per cent of plastic bag used at fresh markets and in rural areas.
"It's not going to be easy to change the way of thinking and behaviour of those people," he said.
Plastic pollution is so widespread in the environment that you may be ingesting 5g a week, the equivalent of eating a credit card, a study commissioned by the environmental charity WWF International said in June 2019.
The study by Australia's University of Newcastle said the largest source of plastic ingestion was drinking water, but another major source was shellfish, which tended to be eaten whole so the plastic in their digestive system was consumed too.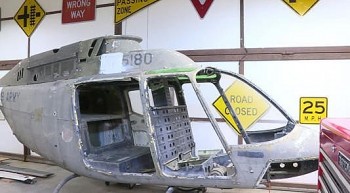 World
A piece of military history related to Vietnam is coming to life with a special project in a small Barton County townm in the US