The Australia-Vietnam Cao Lanh 'Friendship' Bridge: One year on
To celebrate the first anniversary of Cao Lanh Bridge, Australia's Ambassador to Vietnam, Craig Chittick, hosted a gather at his residence on May 27 in Hanoi.
Cao Lanh Bridge and Milky Way Galaxy by Nguyen Hoang Nam
A year ago, Cao Lanh Bridge opened in the Mekong Delta region, providing better access to markets and services to an expected 5 million people in the coming years. The bridge also pioneered new innovations, including climate resilience features and soft soil treatment, which have set a benchmark for infrastructure development in Vietnam and the region. Australia contributed 160 million AUD to build the bridge, making it the country's largest aid project in mainland Southeast Asia.
To celebrate the anniversary, Australia's Ambassador to Vietnam, Craig Chittick, hosted partners from the Ministry of Transport, the Asian Development Bank and the Korean Economic Development Cooperation Fund at his residence.
Vu Duc Cong received the Certificate of Merit from Vice Minister of Transport Nguyen Nhat. Photos provided Australian Embassy.
At the event, Vu Duc Cong, a long-serving Embassy staff member, Senior Infrastructure Manager on being awarded a Ministerial Certificate of Recognition presented by Vice Minister of Transport Nguyen Nhat.
The reward recognised Cong's 10 years of service supporting the delivery of the Cao Lanh Bridge project, Australia's largest aid investment in mainland Southeast Asia.
This was an important inpidual achievement, which reflected the essential role the Australian Embassy's locally-engaged staff play in supporting both the delivery of projects and the deepening of our bilateral ties.
Australian Ambassador Craig Chittick (second right), Dong Thap Party Secretary Le Minh Hoan (second left), First prize winner Nguyen Van Luan (first left) and Second-prize winner Nguyen Hoang Trong (first right) at the function.
Also, during the event, Ambassador Chittick also awarded prizes to the winners of the Cao Lanh Bridge Facebook competition. From a very competitive field, the winning photos selected by the Embassy were those that were both visually stunning and reflected the impact of the project on the people of Dong Thap and surrounding provinces./.
VNF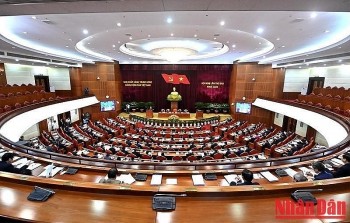 National
The 13th Party Central Committee discussed two important projects on October 4, the second working day of its 6th plenum.