The Best Convertibles For A Cold Winter's Drive
Convertibles are one of the most favorite types of cars to people who like to drive without a roof, and also stand out with a distinctive style. Here are some best convertibles for a cold winter's drive.
A convertible or cabriolet is a passenger car that can be driven with or without a roof in place. The methods of retracting and storing the roof vary between models. A convertible allows an open-air driving experience, with the ability to provide a roof when required. Potential drawbacks of convertibles are reduced structural rigidity (requiring significant engineering and modification to counteract the effects of removing a car's roof) and cargo space.
When you think of a convertible, it is often used in summer days, where the weather is warm with cool breeze, but it does not mean you can not drive one in the cold winter. Here are some of the best convertibles for a cold winter's drive.
1. BMW M4 Convertible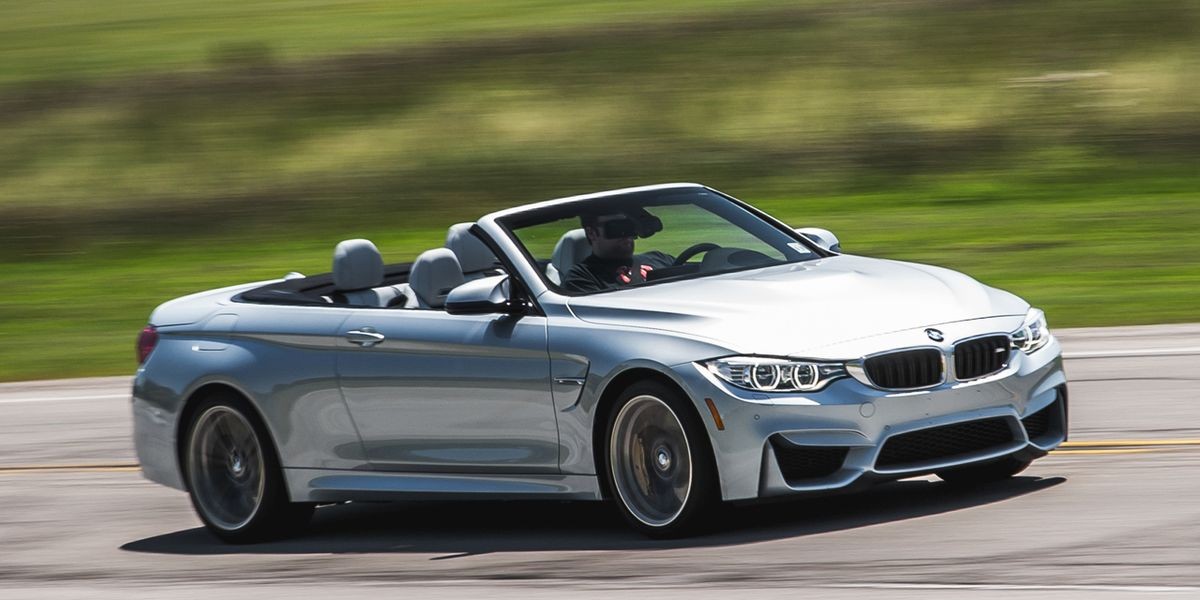 Photo: Car And Driver
The 2022 BMW M4 is just as exciting as its M3 sedan sibling, but only it's available as a coupe or soft-top convertible. The base hard-top model comes exclusively with rear-wheel drive, a satisfying manual transmission, and a thrilling 473-hp twin-turbo straight-six. The Competition variant gets an enhanced 503-hp engine, a snappy automatic gearbox, and unique chassis tuning that should culminate in quicker lap times at the local racetrack. Only the automatic M4 is available with all-wheel drive, and this slick system features a drift-worthy rear-drive mode. Regardless of the body style or power delivery, the M4 is a hoot to hoon, and its ride is remarkably civil when hunting apexes isn't part of the daily commute.
The big news for the 2022 M4 lineup is the return of a convertible model and the addition of all-wheel drive for the first time. Those opting for the new droptop model, which features a retractable fabric top instead of a hard top, can only get it with the Competition tune and BMW's xDrive all-wheel-drive system. While this combination is intriguing, it makes the M4 Competition convertible considerably more expensive than its coupe counterpart.
There are a number of good reasons to spend the extra coin on the M4 Competition, including the extra horsepower and torque as well as the eventual availability of all-wheel drive. However, we'd choose the regular M4 for one really good reason–it's the only one with a satisfying manual transmission.
Every M4 is outfitted with a slick-looking infotainment system that features a large 12.3-inch touchscreen. It has myriad control options that allow the user to adjust settings and navigate menus via voice commands, buttons on the steering wheel, and a large rotary controller and buttons on the center console. The M4's system comes standard with Apple CarPlay, Android Auto, and a Harman/Kardon audio system. Those who want even fancier features can choose from popular options such as gesture controls, a subscription-based Wi-Fi hotspot, and a wireless charging pad.
2. Audi TT Roadster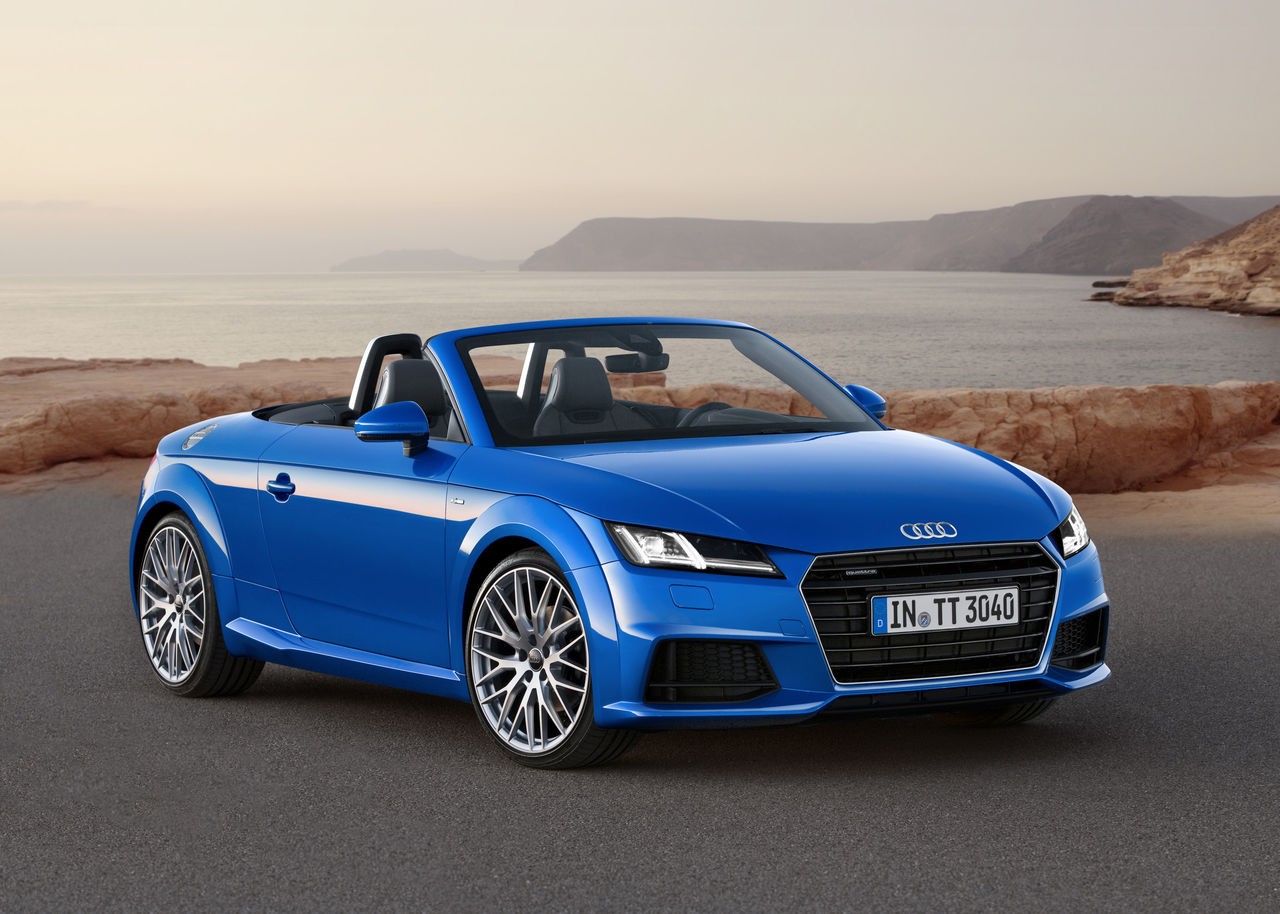 Photo: Audi MediaCenter
For a long time, the Audi TT Roadster wasn't considered a proper sports car, but this latest model proves it isn't just a car for those who fancy pottering around town with the roof down. It's now a genuinely sporty alternative to the likes of the new BMW Z4 and the ageing Mercedes SLC.
In standard Sport guise, the latest Audi TT Roadster comes in some new paint colours and with some chunkier side skirts than the old car. If that all seems a bit subtle, you should consider upgrading to an S-Line or Black Edition model to get some bigger alloy wheels and the same ground-hugging bumpers as the faster TTS Roadster with some neat contrasting air intakes.
Step inside, and spotting where this new Audi TT Roadster differs from the old car is even trickier. That's not necessarily a bad thing, though, because everything feels impeccably well-built and it's all dead easy to use – including the 12-inch digital driver's display which you get as standard.
Unlike the BMW Z4's cabin which looks very similar to that in many other BMWs, the Audi TT Roadster has its own distinct character so you won't ever feel like you're sitting in an A3 with its roof cut off.
3. Renault Wind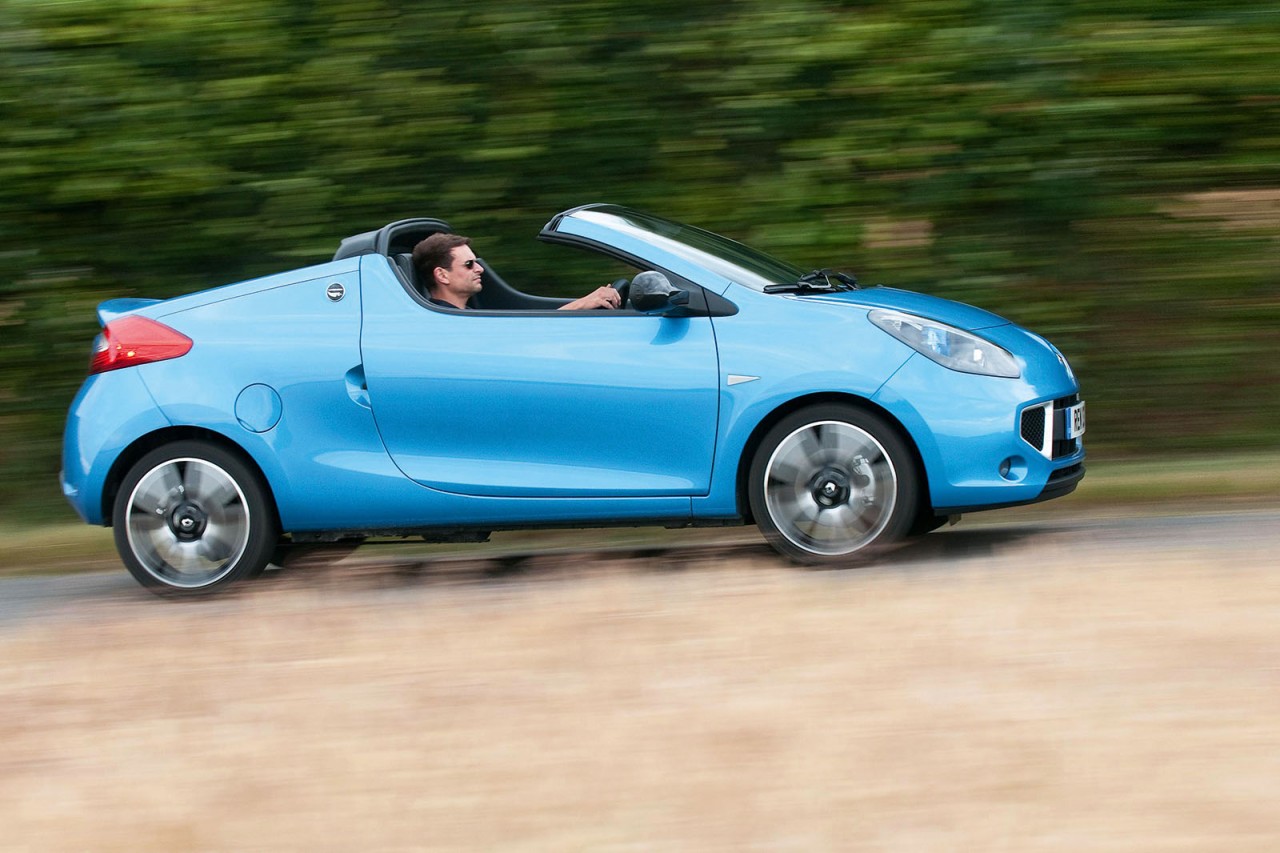 Photo: Autocar
The Renault Wind was a two-seater roadster by the French automobile manufacturer Renault. The Wind was originally a concept car unveiled in September 2004 at the Paris Motor Show as a 2+1 roadster. On February 2, 2010, Renault announced that the Wind would enter production. It was unveiled at the Geneva Motor Show on March 2, 2010.
The production version was a two-seater, as opposed to the 2+1 seating of the concept car. In February 2012, Renault retired the Wind, Espace, Kangoo, Modus, and Laguna lines in the United Kingdom. For Mainland Europe, the Wind remained available until June 2013. Renault bought the rights to the Ferrari Super America's roof, and used it on the Wind. The boot canopy was added later. The Gordini edition, No. 6 was the only Wind that featured a shark fin aerial.
The concept Wind's design is like other Renault vehicles such as the performance versions of the Clio and Mégane. The production Wind, however, is heavily based on the Twingo, evident in its overall size and stance, and also its semi-circular door handles exactly the same as those on the Twingo.
The steering wheel and pedal assemblies in the concept are adjustable and fold away automatically when the door is opened for easier access.
The Wind features a one piece metal roof which rotates 180° backwards (much like the Ferrari 575M Superamerica), instead of being made of several pieces like many other metal roof convertibles. Renault claims that it takes twelve seconds to fold the roof away, which is comparable to most other convertibles.
The Wind is equipped with an I4 petrol engine: either the 1.2 litre TCE, or a 1.6 litre.
4. Mazda MX-5 RF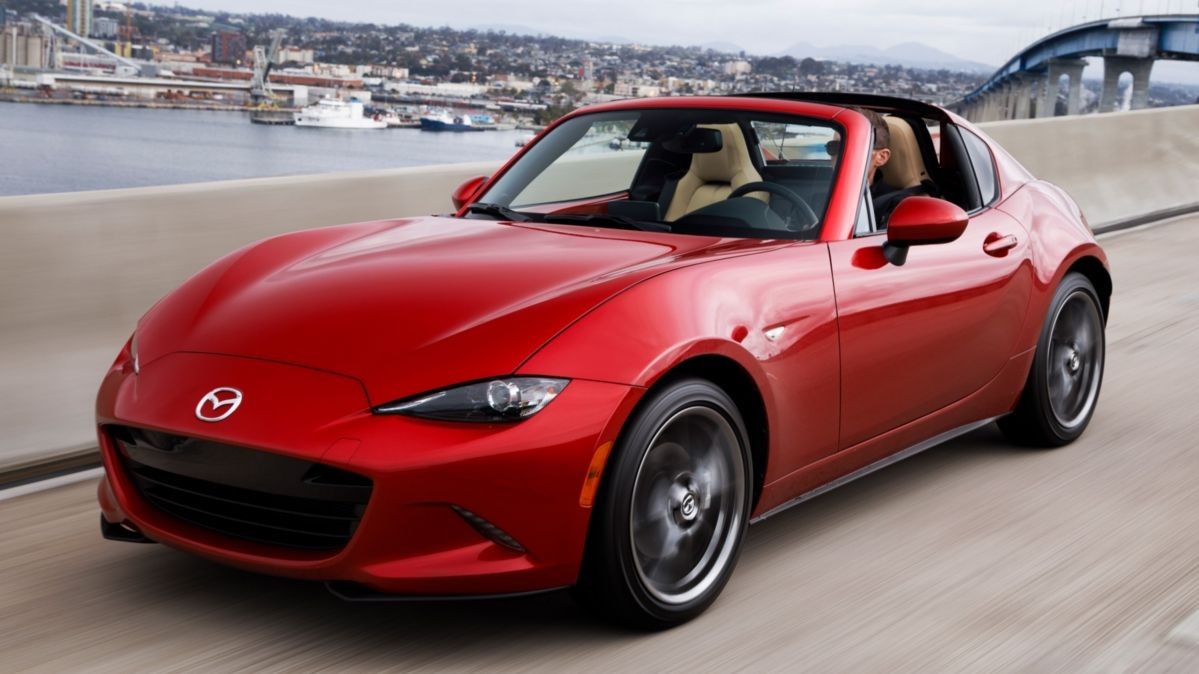 Photo: DriveMag
Few cars deliver driving thrills at an affordable price quite like the 2022 Mazda MX-5 Miata, and it's the only affordable sports car with a convertible top. A spunky four-cylinder primarily pairs with a satisfying six-speed manual, but an automatic transmission is offered, too. The Miata's handling is eager and playful, which makes encountering twisty roads a joyful experience. Most versions come with a manually-folding soft-top, but there's a more expensive RF model available with a power-folding Targa hardtop. With either roof, the Miata's interior is snug but nicely equipped, with infotainment features such as Apple CarPlay and Android Auto standard across all trims.
Mazda has eliminated the six-speed automatic transmission from most of the MX-5 Miata's trims for 2022, making it available only on the top-level Grand Touring trim where it is a $500 option on the convertible and a $550 option on the RF. Fine by us. We think ordering a Miata with an automatic is sacrilege. Elsewhere, Mazda has incorporated a new feature called Kinematic Posture Control that is said to sharpen handling by applying small amounts of brake pressure on the inner rear wheel during cornering. Mazda says this reduces body roll and improves stability. Platinum Quartz Metallic is a new color choice this year, as is a the richly colored Terracotta Nappa leather upholstery, which is available only on the Grand Touring trim. Going with the Club trim on the Miata RF automatically adds the Brembo BBS Recaro package that includes Brembo brakes, BBS wheels, and Recaro seats.
The mid-range Club trim strikes the best balance of features and performance here as it comes with 17-inch wheels, a limited-slip rear differential, heated seats, and a nine-speaker Bose stereo system. Although the Miata is available with an automatic transmission, we believe it's best equipped with the crisp and joyful six-speed manual, which is the sole offering on the Club trim.
5. Porsche 911 Cabriolet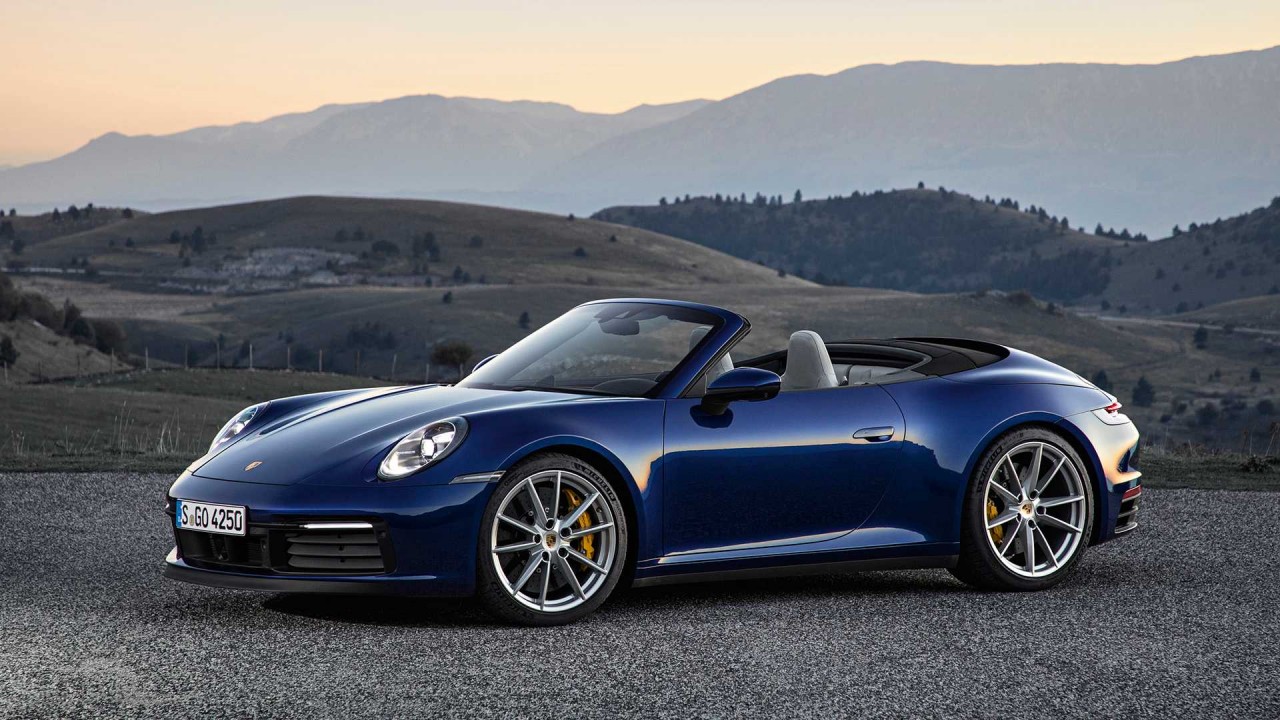 Photo: Autodaily
Porsche's 911 is a sports car that's renowned for its all-round ability, with many owners choosing to use their cars regardless of the weather. But if you want to use your 911 in the colder months, it's worth buying a model with all-wheel-drive – identifiable by a '4' in its name.
For those who prefer their sports cars served with a splash of fresh air, the Porsche 911 Cabriolet has long been a superb choice. Yet, while much of this success is down to the fact Porsche has never messed too much with the recipe, by the time every variant of this latest 911 is on sale, there will be some significant firsts for the car.
Perhaps the biggest news of all is that two plug-in hybrid models are planned. But don't for a second worry that Porsche is having its New Coke moment, according to WhatCar.
This just helps to provide greater security in bad weather, with the Carreras 4S Cabriolet being a particular highlight thanks to its fantastic 444bhp 3.0-litre six-cylinder engine letting the 911 reach 0-60mph in just 3.6 seconds. Granted, its £115,000 starting price is rather steep, but if you want the ultimate all-weather sports car, the 911 is hard to match.
6. BMW M8 Competition Convertible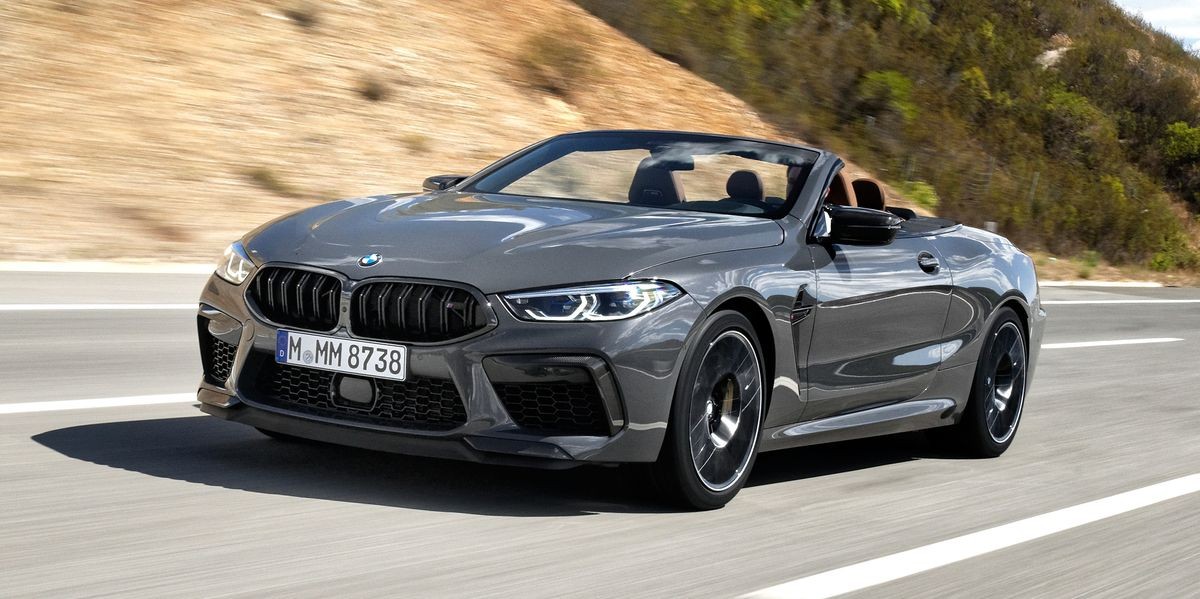 Photo: Car and Driver
The BMW M8 Competition is the first time BMW's M division has gone all out to build a proper luxury model and it hasn't held back, especially in the Convertible version. The 4.4-litre 625hp V8 is shared with the equally awesome M5 Competition and sounds even better with the roof down than it does in the Coupé version. And, although it's a tad heavier and softer, the Convertible is arguably more charismatic and fun, not least on a fresh winter's day. The fabric roof folds in just 15 seconds at speeds of up to 31mph, meaning you can grab opportunities when they come. M-specific all-wheel-drive securely handles slippery roads with a characteristically BMW rear-bias while true heroes can turn everything off and opt for a more macho rear-drive only mode. All the while the lush interior keeps you cosy on a cold day, with hot air down the back of your neck and heating for steering wheel, seats and even armrests, according to Good Wood.
7. Audi R8 Spyder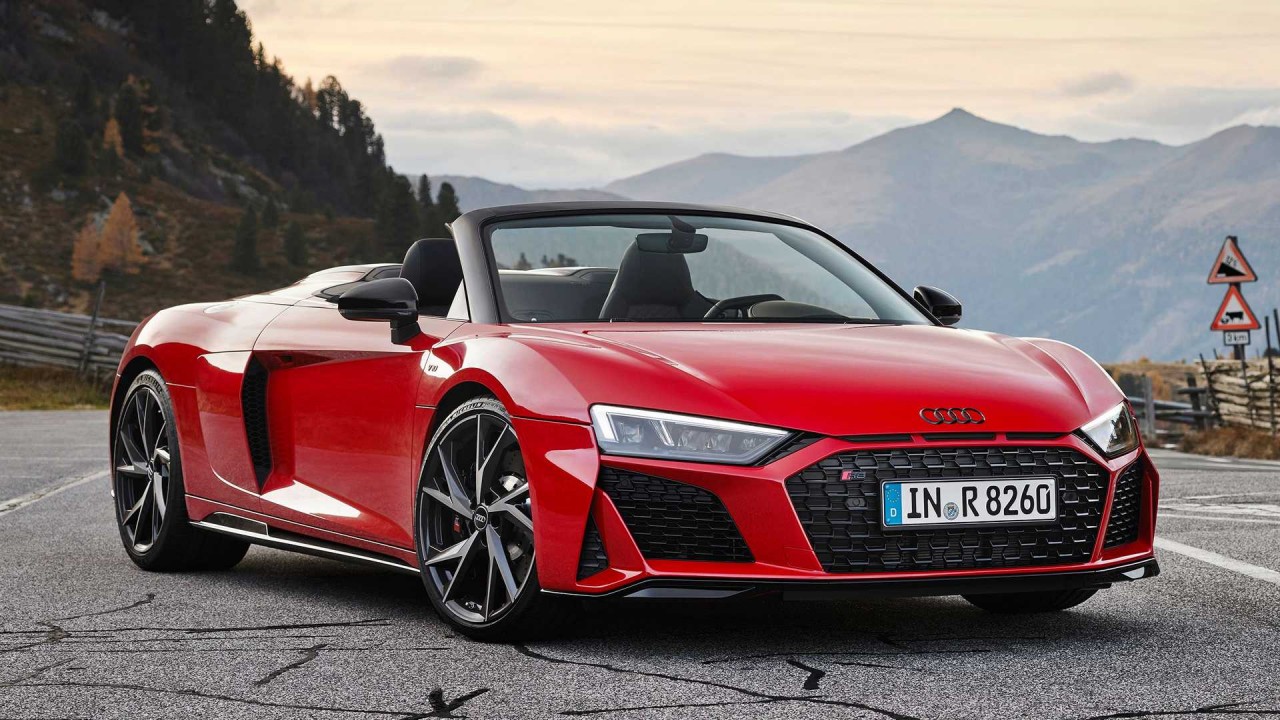 Photo: Motor1.com
Modern supercars are faster, more usable and more capable than ever. If there's a criticism it's that they too easily isolate you from your surroundings, leaving you frustrated at the lack of excitement at responsible road speeds. The answer? Removing the roof for a more invigorating taste of the power at your disposal. And one of the best for doing this is the Audi R8 Spyder, its four-wheel-drive meaning you can safely explore its performance on wintry roads while you enjoy the fabulous noise of its naturally-aspirated, high-revving V10 engine. In an age of dull turbocharged motors this powerplant is a stand-out feature on the R8, the ability to appreciate it to the full in the open air and delight in its unmistakably powerful V10 roar a rare treat. Arguably it makes for a more exciting R8 than the fixed-roof version, unleashing a sense of soul not present in the more clinical coupé, according to Good Wood.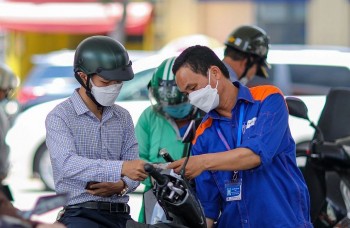 Economy
Vietnam Business & Weather Briefing (Oct 2): Binh Duong lures foreign investors with special care, the North and Central regions continue to have heavy rains, leading to the risk of flooding, flash floods, and landslides.