Top 10 Best – Handling Sports Cars In 2021
A sports car is about speed and style, and other spectacular characters that make it stand out from other car types. Here is top 10 best - handling sports cars in 2021.
When picturing a modern sports car, you might imagine anything from a lightweight track car or a modern hot hatchback to a mid-engined two-seater or a front-engined grand touring coupé.
A sports car is all about speed. And if you talk about the fastest sports cars in the market, they need to have one important feature. They have to be the best-handling sports cars, to lend the driver confidence that is needed at high speeds.
With the advance in technologies in 2021, there are plenty of best-handling sports cars to choose from. There's the all-American Ford and General Motors, the German automakers like Porsche and BMW, and finally the Japanese excellence of Mazda and Toyota to choose from.
1. Porsche 718 Cayman/Boxster GTS 4.0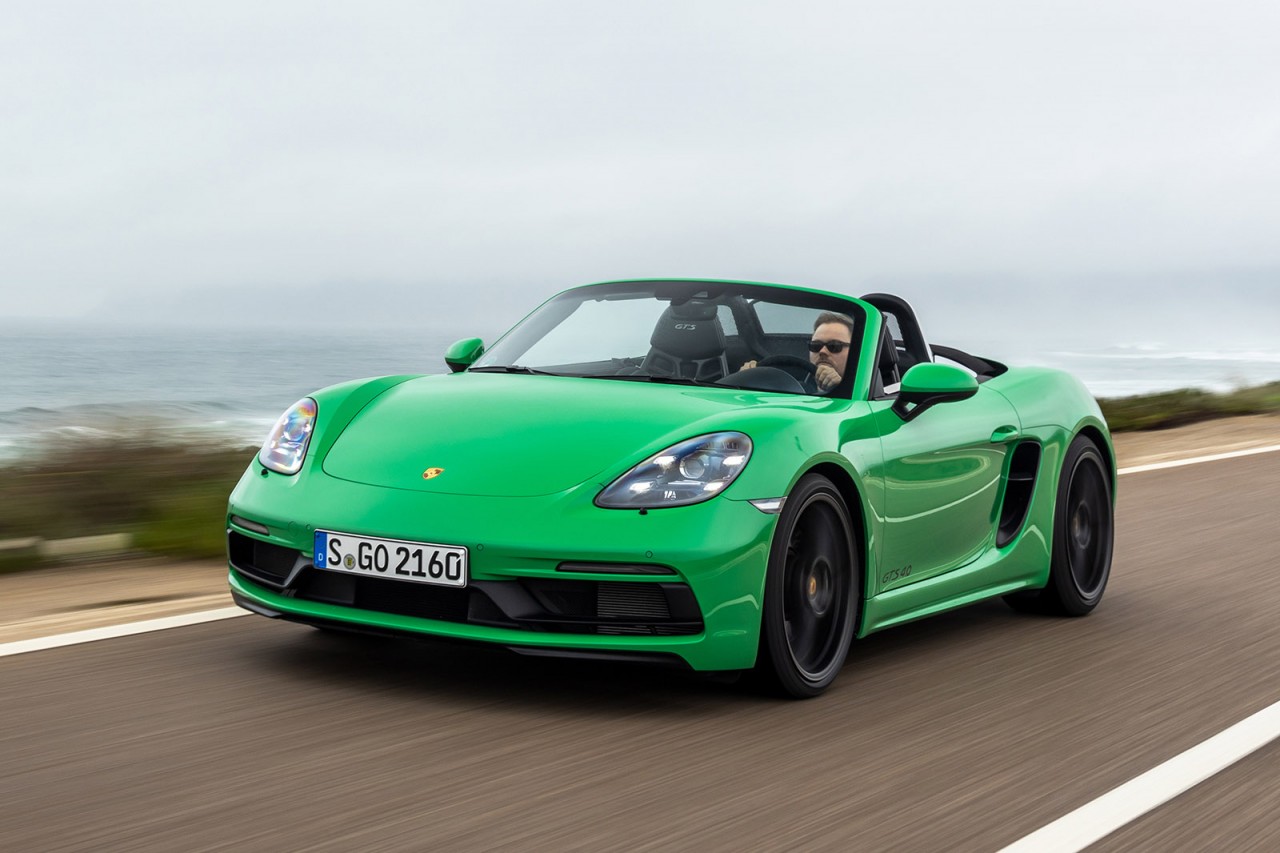 Photo: Posche
The GTS 4.0 is racier and more powerful than the four-cylinder 718 models yet less racy and less powerful than the Cayman GT4, which has 20 more horsepower. But it arguably rides better than all of them. With a base price of $88,150 (as tested: $100,990), it's not the best of any bargain, and yet, it's nearly perfect.
The big deal about the GTS 4.0 is the 4.0 part. Instead of the turbocharged flat-fours found in lesser Caymans, the GTS gets a 4.0-liter flat-six that breathes uncompressed air as nature intended. With so many turbo mills nowadays, the joys of a naturally aspirated powerplant are rare. But as with falling back in love with three pedals, it only takes a few seconds in the GTS 4.0 to remember what's good about unforced induction. This six-cylinder burbles like a happy baby on startup, and it giggles louder the more you stomp on the throttle. With 394 horsepower and 309 pound-feet of torque, this is not a Screaming Mimi of a car. It's a cheerful sweetie, no matter how much Porsche tries to imbue it with menace via a redesigned lower fascia and darkened exterior trim and wheels.
Just because it's friendly, though, doesn't mean it doesn't perform. The GTS is light on its feet, changing direction like a barrel-racing pony, and it's just as sure-footed. In our testing, the GTS's 20-inch Pirelli P Zero PZ4 summer tires helped it pull 1.04 g on the skidpad, which is almost enough to fling you from the saddle.
Complaints about the GTS are minimal. The six-speed's gearing is a bit tall—you could make a highway journey and never shift out of second gear—but that's only a negative because it's so fun to shift.
2. Mercedes-AMG GT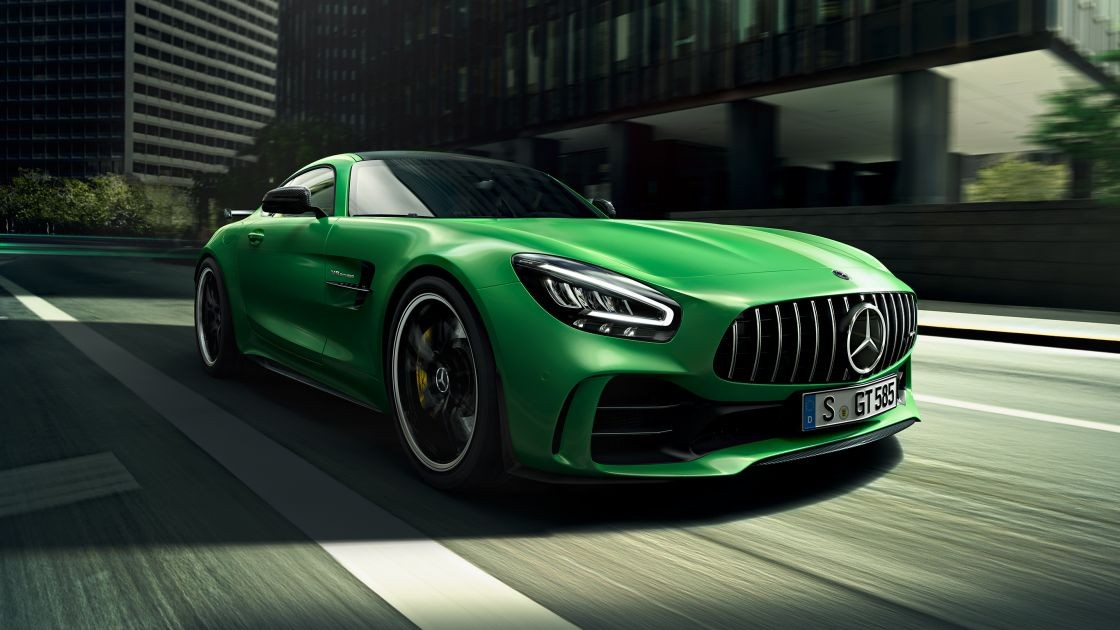 Photo: Mercedes
The absolutely stunning bodywork of the 2021 Mercedes-AMG GT will no doubt draw your eye, but it's more than just a pretty face. The low and wide GT is also an extremely capable high-performance sports car. This is Mercedes's front-engine answer to the rear-engine Porsche 911. Offered at various point points, the GT features a hand-built twin-turbo V-8. Although this AMG isn't as immersive to drive as its archrival from Porsche, it's still super athletic, and most models are surprisingly civil on streets that aren't racetrack smooth. Those who prefer a more refined grand tourer will appreciate the 523-hp GT and 550-hp GT C, and those with sportier desires will gravitate toward the 577-hp GT R and GT R Pro. Most models are available in coupe and softtop-roadster forms, but the track-focused Pro and almighty 720-hp Black Series are hardtop only.
For 2021, AMG gives the basic GT fresh standard features, more power, and a Stealth Edition. With an additional 54 horsepower and 29 pound-feet of torque, the GT's engine now makes 523 ponies and 494 pound-feet. Estimated acceleration times and top speeds also increase, with a claimed 60-mph time of 3.7 seconds (two-tenths quicker than before) and a top speed of 194 mph for the coupe and 193 mph for the roadster. Both body styles now come standard with a lithium-ion starter battery, a Race drive mode, the AMG Ride Control sport suspension with adaptive dampers, an electronic limited-slip rear differential, and a braking system with iron rotors and red-painted aluminum calipers. The Stealth Edition gives the GT a sinister look, with blacked-out elements on the inside and outside of the car.
3. BMW Z4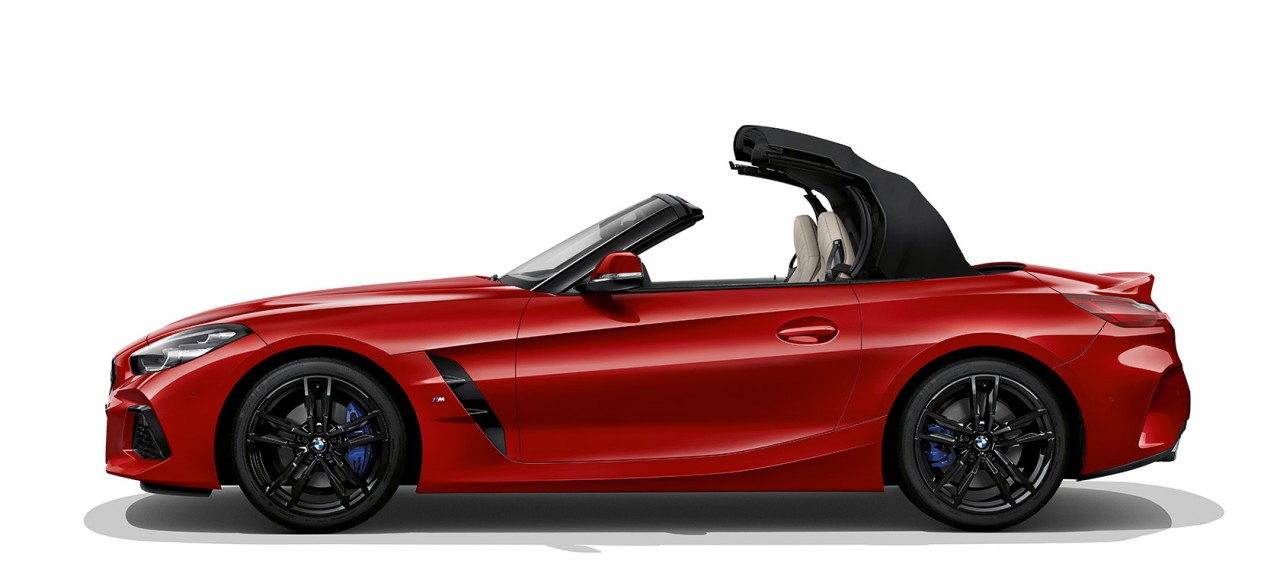 Photo: BMW
The BMW Z4 has brought stability to its maker's sports car offering. For more than a decade before it arrived, Munich seemed only to be experimenting with various executions of two-seat good-time cars.
The Z1, Z3 and Z8 had plenty of novelty value, but none won enough commercial success to survive beyond one model generation (although that latter fact seems a bit bonkers when you think that secondhand values of Z8s have now risen well north of £200,000).
he Z4, on the other hand, has been successful enough to convince BMW to directly replace it not once but twice. The latest, third-generation version drops the folding metal hard-top of the second, but it's still slightly longer, wider and heavier than its immediate predecessor.
Chunkier or otherwise, though, BMW will tell you that this is an attempt to reverse the move made by its predecessor away from uncompromising driver appeal – to represent BMW's traditional sporting DNA as best a modern front-engined, rear-wheel-drive roadster can and maybe even give owners of the four-cylinder Porsche 718 Boxster S greater pause for a silken six-pot reverie than it has managed before.
This is the car Munich has been developing in tandem with industry giant Toyota since 2013, of course – the platform sibling of the incoming Supra. That fact, more than anything, might be the reason why Munich hasn't shrunk it down or changed it around too much, because doing so would only have made engineering the car on a common platform harder.
4. Jaguar F-Type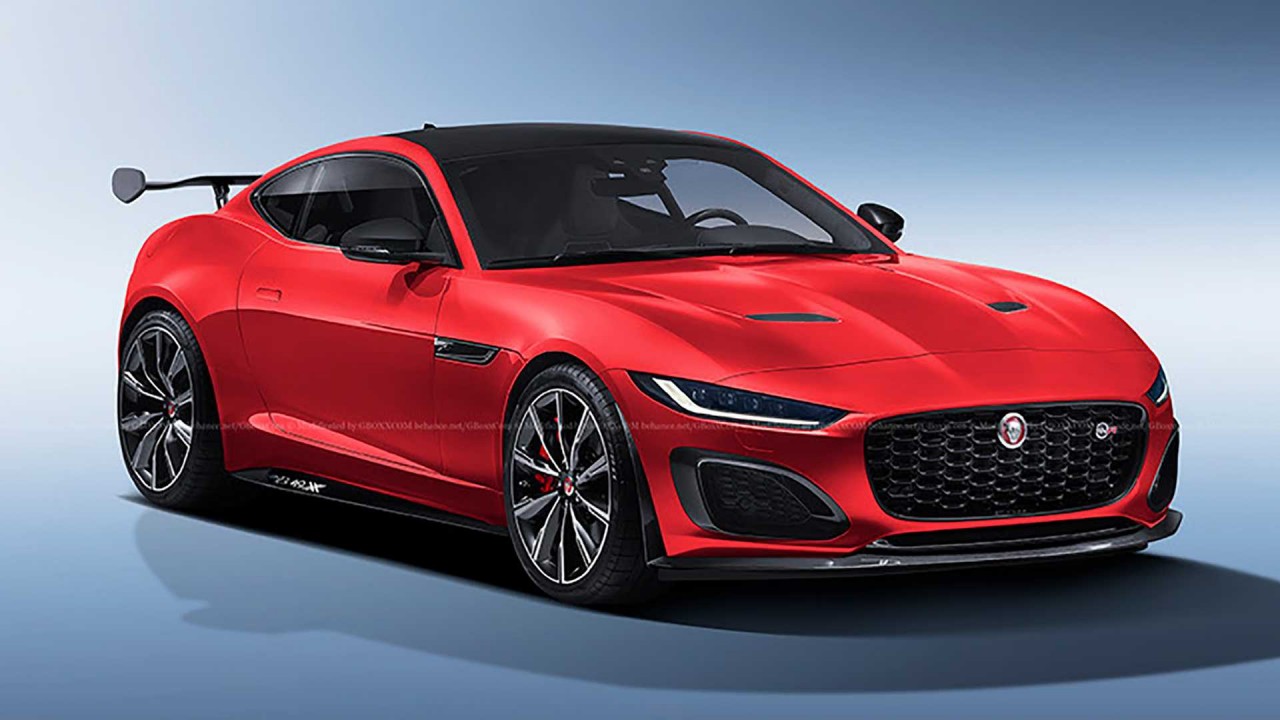 Photo: Motor1
With a classically beautiful body and V-8-only engine options, the 2022 Jaguar F-type is a throwback sports car of sorts. Unlike the Chevy Corvette or the Porsche 718 Boxster and 718 Cayman, the Jaguar's powerplant resides in front of the driver rather than behind them. This gives the F-type dramatic proportions and an altogether different driving experience. The thrilling sound of its supercharged 5.0-liter V-8, making between 444 and 575 horses, is another distinction. While the Jag doesn't stop, go, and grip as short, quick, and strong as its peers, both the coupe and convertible will still excite the senses. Unfortunately, its upscale cabin is claustrophobic and drop-top models have smaller storage space than the already cramped coupes. The 2022 F-type also has a higher starting price than its classmates, but perhaps its elegance and old-school charm are enough to offset that disparity.
The F-type is now only available with a V-8 engine under the hood. For 2022, Jaguar drops the previously standard turbo four as well as the optional supercharged V-6. That means the least powerful F-type­–the newly christened P450­–features a 444-hp supercharged 5.0-liter. It's a detuned version of the 575-hp V-8 that motivates the higher-performance R variant, which continues to only be offered with all-wheel drive. The new P450 comes standard with rear-wheel drive, 20-inch wheels, larger rear brakes, and an active exhaust system. The P450 R-Dynamic adds all-wheel drive, black exterior trim, and a different set of wheels.
5. Chevy Camaro ZL1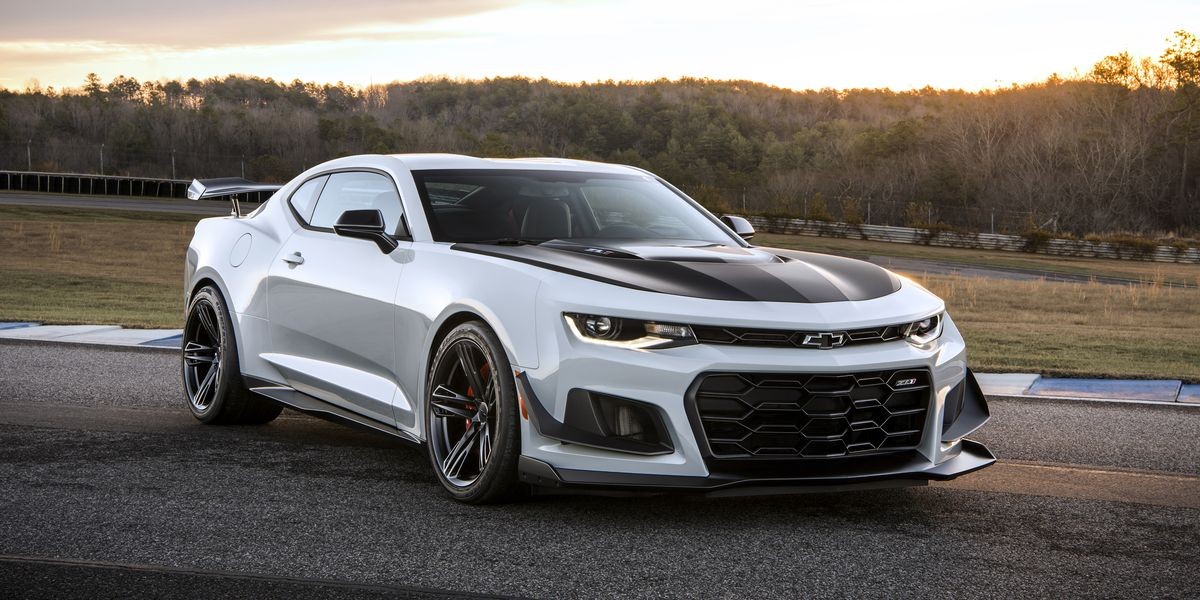 Photo: Chevrolet
With a fire-breathing 650-hp supercharged V-8 and ferocious track capabilities, the 2021 Chevy Camaro ZL1 is the king of monster muscle cars. Sure, the Dodge Challenger SRT Hellcat and Ford Mustang Shelby GT500 have horsepower ratings that start with seven, but the bow-tie beast delivers similar thrills for fewer green bills. In fact, if the mid-engine Corvette didn't exist, the ZL1 could perhaps be called the world's greatest performance value, which is why it's an Editors' Choice winner. Regardless, the Camaro perfects the front-engine, rear-drive formula inherent to muscle cars. While both the coupe and convertible have a remarkable chassis that's more clairvoyant than Miss Cleo, unleashing the ultimate Camaro requires the transformative 1LE track package, but beware that it makes the suspension very stiff. If you can overlook the Chevy's flawed interior, the 2021 Camaro ZL1 can be more exciting than a roller coaster, and it'll regularly reward thrill-seekers and track rats alike.
The Camaro's supercharged 6.2-liter V-8 is a well-behaved and tractable beast that makes power all over the rev range and leaves black streaks all over the road. As you'd expect, when stirred up, it leaves the sound of thunder echoing in its wake. Whether paired with the standard six-speed manual transmission or the available 10-speed automatic, the supercharged small-block V-8 lays down stupidly incredible performance figures. The fast-shifting automatic results in quicker acceleration times than the stick, but either way, this Chevy is a demon at the drag strip.
6. Toyota Supra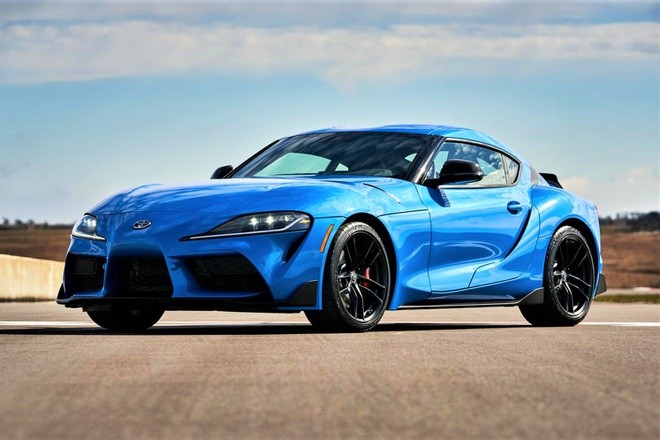 Photo: Toyota
It's been a few years since the Supra rejoined the Toyota lineup after a long hiatus, but despite our growing familiarity, the 2022 Supra remains one of our favorite sports cars. Although it was developed and is built alongside the BMW Z4 convertible, the Supra coupe offers a personality that's unique from its Bavarian brother, even though the two cars share the same powertrains. The latter include two turbocharged engines, a standard 255-hp 2.0-liter four-cylinder and an optional 382-hp 3.0-liter inline-six. Both feed the rear wheels via a snappy eight-speed automatic transmission. The Toyota's cabin is snug and surprisingly premium, largely because it pulls from the BMW parts bin. The 2022 Supra also packs plenty of infotainment features and safety tech, too.
Toyota has introduced a new limited-edition trim for 2022 called A91-CF, which stands for Carbon Fiber. Only 600 will be built and all of them come with a carbon-fiber body kit, a rear spoiler, matte black 19-inch wheels, and red and black interior upholstery. The A91-CF Edition is offered in three exterior colors: Phantom (matte gray), Absolute Zero White, and Nitro Yellow. Elsewhere, the Supra gains standard heated seats in 3.0 models, a new red interior scheme for the 3.0 Premium, and full-screen Apple CarPlay for those equipped with the optional JBL stereo system.
Although there's little driving emotion lost with the four-cylinder Supra 2.0, we think the zippier acceleration of the six-cylinder 3.0 is worth the added cost for most buyers. We'd skip the Driver Assist package, which adds adaptive cruise control, blind-spot monitoring, and lane-keeping assist that's more annoying than useful. Every Supra comes with a one-year membership to the National Auto Sport Association and a complimentary day at a high-performance driving event. The money saved by not purchasing the Driver's Assist package can be spent on additional track time and spare tires.
7. Mazda MX-5 Miata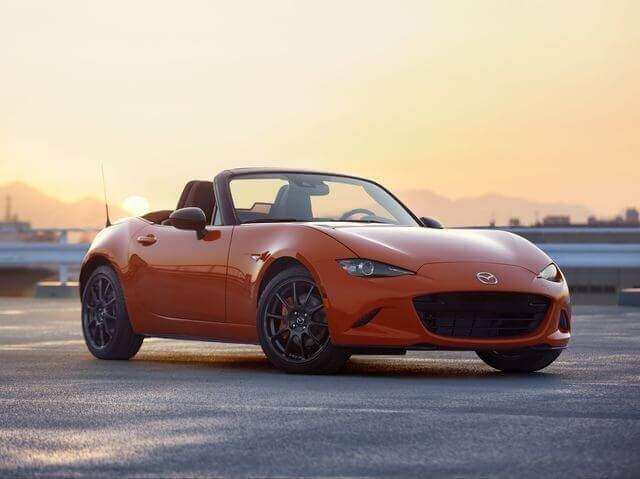 Photo: Mazda
Calling the 2021 Mazda MX-5 Miata an automotive icon is no overstatement, as its heritage stretches back more than 30 years and its cheerful driving demeanor has always been its strongest character attribute. The Miata's four-cylinder engine delivers just enough power to make it feel spunky and its chassis is delightfully balanced—perfect for zipping through curvy sections of road. Both a soft-top convertible model and a power-folding hard-top called the RF are offered, so with either one buyers are treated to fun in the sun. The Miata's cabin is tight for two and cargo space is limited, but it wasn't made for road trips; it's designed for spirited sunny-drenched drives and track days. The fact that it remains one of the cheapest ways to get into a convertible sports car only adds to its appeal and makes it an Editors' Choice selection.
Apple CarPlay and Android Auto are newly standard for 2021 and Mazda has introduced an optional white nappa leather upholstery option which pairs nicely with the new Deep Crystal Blue exterior color.
The mid-range Club trim strikes the best balance of features and performance here as it comes with 17-inch wheels, a limited-slip rear differential, heated seats, and a nine-speaker Bose stereo system. Although the Miata is available with an automatic transmission, we believe it's best equipped with the crisp and joyful six-speed manual. As for the debate between the convertible and the hardtop RF model, we're an office divided so that decision is best left to you.
8. Chevy Corvette C8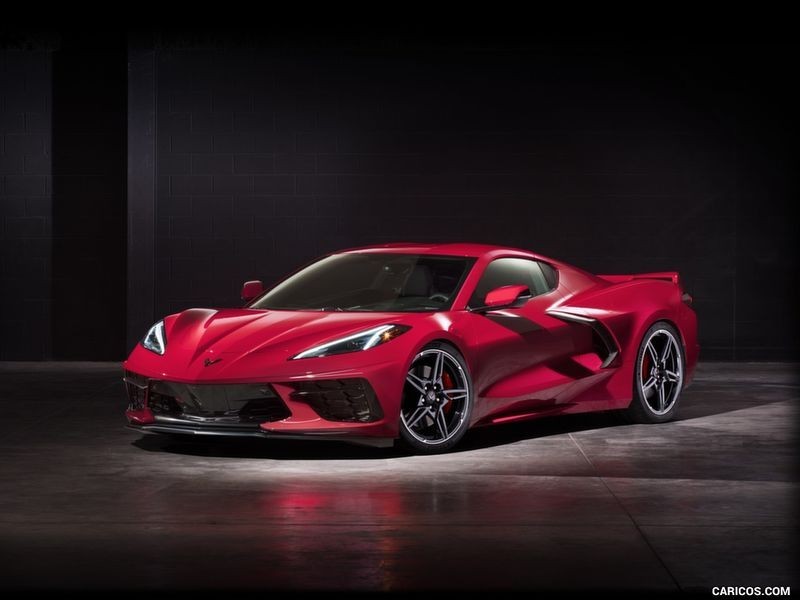 Photo: Carmudi
The 2022 Chevrolet Corvette claims the top spot in the luxury sports car class, thanks to its value proposition, lightning-quick acceleration, precise handling, comfortable and well-trimmed interior, and intuitive tech features.
The 2022 Chevrolet Corvette is a terrific sports car in just about every measure. The Corvette accelerates ferociously and carves corners with exceptional poise and athleticism while still managing to soak up bumps and dips in the road. The interior is handsome, comfortable, and outfitted with sleek tech features, and there's a surprising amount of cargo space split between front and rear trunks. The kicker is the Corvette's value. This midengine V8 sports car has a roughly $61,000 starting price.
The 2022 Chevrolet Corvette is a must-see if you're shopping for a luxury sports car. It can do just about everything that the Porsche 911, Mercedes-AMG GT, and Acura NSX can but at a fraction of the price. Just don't expect to find a manual transmission. The 'Vette is currently automatic-only.
9. Porsche 911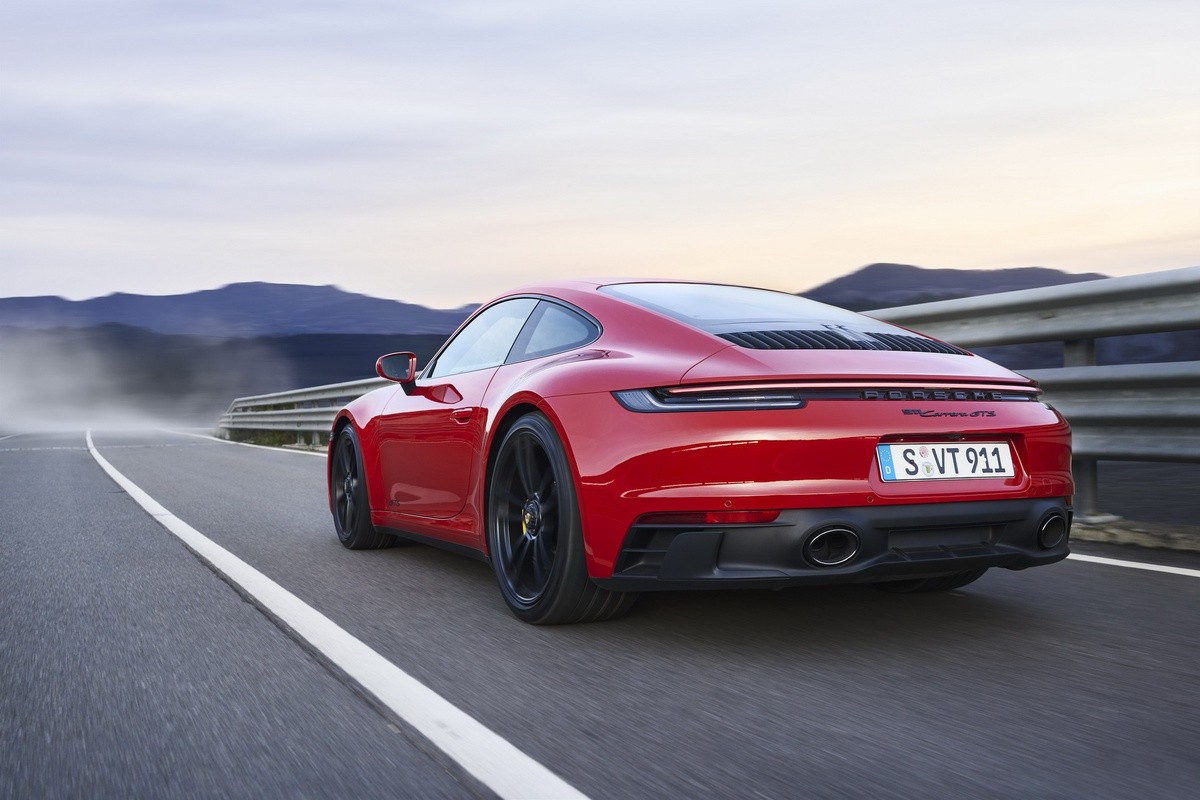 Photo: Posche
With transcendent driving traits and terrific twin-turbo flat-six engines, the 2022 Porsche 911 is a nearly flawless sports car. Apart from being too expensive for most enthusiasts, Porsche's iconic two-plus-two-seater is as immersive as it is versatile. Along with the aforementioned flat-six which produces a distinctive snarl and makes between 379 and 473 horsepower­­–we review the higher-powered GT3 and Turbo variants separately­–the lineup offers a quick-shifting dual-clutch automatic or a manual transmission and rear- or all-wheel drive. The latter ensures its incredible performance can be enjoyed in all four seasons. The 911 comes in coupe, cabriolet (read: convertible), or quasi-convertible Targa body styles. The beauty of the 911 is that its athleticism doesn't diminish its livability. Its ride is surprisingly civil considering its cornering limits and race car-like steering feel. Its interior is roomy up front and can be lavishly appointed. And its driver is treated to a satisfyingly low seating position but also excellent outward visibility.
10. Ford Mustang Shelby GT500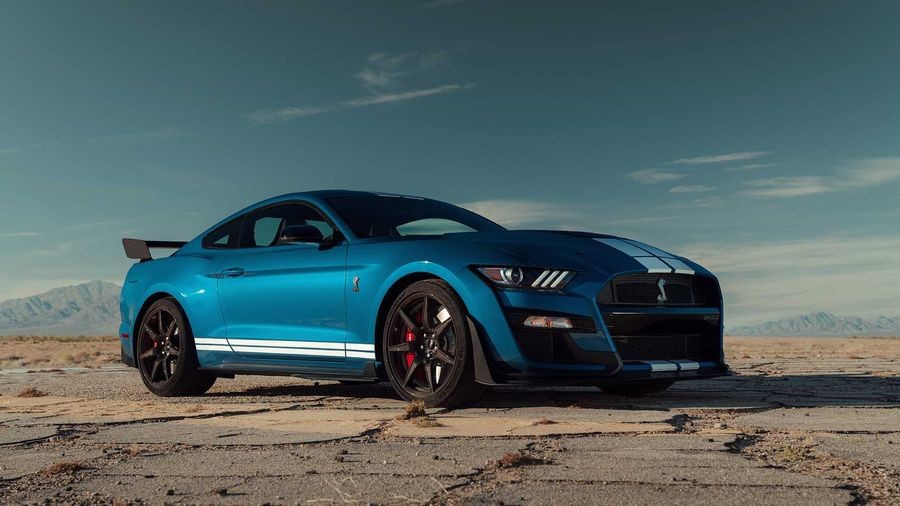 Photo: Ford
A rear-wheel drive, seven-speed DSG Mustang with MagneRide active suspension and a great deal of know-how wound into it, powered by the 'Predator' 5.2-litre V8 wearing a 2.65-litre Roots-type supercharger as a hat. A supercharger that, at full chat, takes 90bhp just to get it going. Together, they produce 750bhp and 625lb ft or thereabouts, maxing out at 7,500rpm. It takes just three-and-a-half seconds to reach 62mph and has a top end of 180mph, managing those acceleration figures while still tipping the scales at nearly 1,900kg - and there's a slight feeling that it weighs a bit more than that. Still. Quite the thing.
The shade you see here is called 'Grabber Green' and it's as much an assault on your eyeballs as the rest of the car is on your other senses, seeing as this is one of the loudest roadgoing production cars Top Gear has ever tested. Even the 'Quiet Mode' on the switchable exhaust isn't, and the irony of having a 'Track Mode' which is unsuitable (as in, too loud) for actual tracks isn't lost on us. There's a seven-speed paddleshift - there is no manual option - and various modes. It's probably fair to say that this is not the 'enthusiast's choice' - that would likely be the 8,500rpm-revving, flat-plane crank (GT500 is cross-planed), manual GT350 - but in terms of out-and-out theatre, the GT500 is the boss.
This is where it gets awkward. The GT500 is basically national jealousy in car form. Mainly because in the US, a 'standard' GT500 will cost just $72,900 (or just over fifty two thousand pounds at current exchange rates). That's ridiculous value given the capability and drama-slash-fun on offer. There's an optional $18,500 'Carbon Pack' for it that makes it even more singular, doing away with back seats and adding a bigger rear spoiler and weight-saving carbon wheels, plus replacing the stock Michelin Pilot Sport 4S with super-sticky Cup2 tyres. But even that can't dent the bang-for-buck on offer. Don't forget though that importing one to the UK will never be a case of bringing one over for the same money plus a bit of travel costs; it'll cost a wedge more in VAT and import taxes. Remember: US fuel is still relatively cheap, and superchargers of this size are not particularly frugal. You'll get 18mpg if you're very, very careful on a run; on track we averaged 3.6. It won't be produced for right-hand drive markets, either, so that's worth taking into consideration, because no matter how comfortable you are with LHD, it can be a little bit annoying.
Top 10 Most Beautiful European Cars

Europe has always been at the forefront of beautiful car design. The European car market has always been a space of great thrills and enticing ...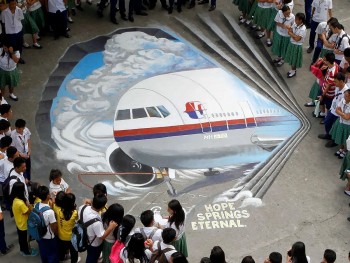 World
The world might never know what really happend when these planes went off the radar. Let's take a look at some of the unsolved mysteries of aircraft disappearances.