The Best Vietnamese Restaurants In The United States
Vietnamese cuisine and culinary has been famous all over the world, and there are many excellent restaurants that introduce the best dishes ever in the United States.
Representing a population of over 2 million, Vietnamese America is anything but a monolith. Across the United States, there is a myriad of world-class restaurants that reflect its ever-changing tastes and preferences.
For instance, in Houston, you can find Viet-Cajun spots that have fused Vietnamese ingredients like lemongrass with Cajun-style boiled crawfish. On the other hand, in Southern California, where most Vietnamese Americans reside, there are traditional restaurants that celebrate the richness of Vietnamese and French cooking and also more contemporary joints like a trendy speakeasy tucked away in a fancy New American cuisine establishment, according to Vietcetera.
Forty-four years after the fall of Saigon resulted in thousands of refugees resettling in America, the popularity and demand for Vietnamese food is at an all time high. Pho has joined chicken noodle as a quintessential comfort food. Banh mi shops rank among the best sandwich joints in the country. Dishes like shaking beef and bun bo hue have gone from rare specialty dishes to mainstays in a few short decades. Here are the best Vietnamese restaurants in the United States.
1. Au Lac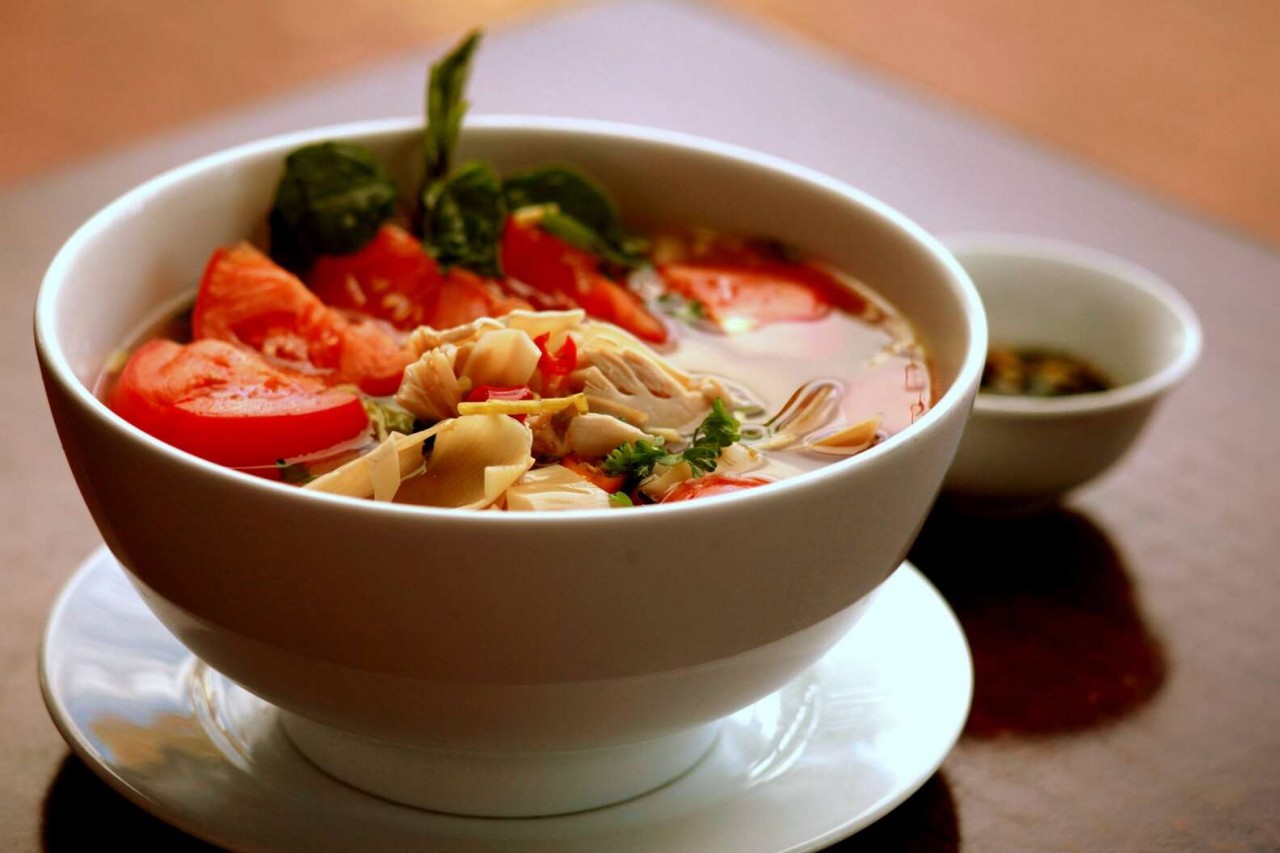 Photo: Au Lac Vegan Cuisine
Fountain Valley & Los Angeles, California
When Au Lac was founded in 1996, raw and vegan diets weren't nearly as popular as they are today. Mai Nguyen opened the restaurant because switching to a wholly plant-based diet helped her recover from a serious illness, and she wanted to pay it forward by sharing the diet that saved her with the world. Twenty-three years later, Au Lac isn't just legendary within Orange County -- it is one of the oldest and best vegan restaurants in the region, where vegan and raw have been fully embraced. Now expanded to downtown LA and helmed by Chef Ito -- who took a vow of silence, which somehow makes the food even more expressive -- the menu's foundation consists of organic produce, natural ingredients, and water purified by reverse osmosis. Those are the building blocks for some of the most delicious plant-based Vietnamese cuisine in the country, from bun bo hue (royal noodle soup), to bo luc lac (faux beef with watercress), to the famous ca nuong trui, a dish of grilled soy "fish" and rice paper wraps prepared so beautifully, it's hard to believe the ingredients weren't previously swimming. It's transcendent.
2. Banh Cuon Thien Thanh
Photo: BreastFoodFeed
Houston, Texas
This Chinatown strip-mall gem doesn't have pho or banh mi. Rather, it's famous for its Bahn Cuon — thinly wrapped rice flour crepes packed with ground, seasoned pork and sprinkled with crispy fried shallots. Since opening in 2004 in Houston, Texas, Thien Thanh Banh Cuon has been serving Northern dishes that can't be found at your typical Vietnamese venue like Bánh bột lọc (dumplings with shrimp) and Bún ốc (snail vermicelli soup), and ca thanh long (turmeric-marinated fish fillets). Cash-only and low key, this spot opens at 8:30 AM since it serves items that are typical for Vietnamese breakfast and brunch.
3. Brodard Restaurant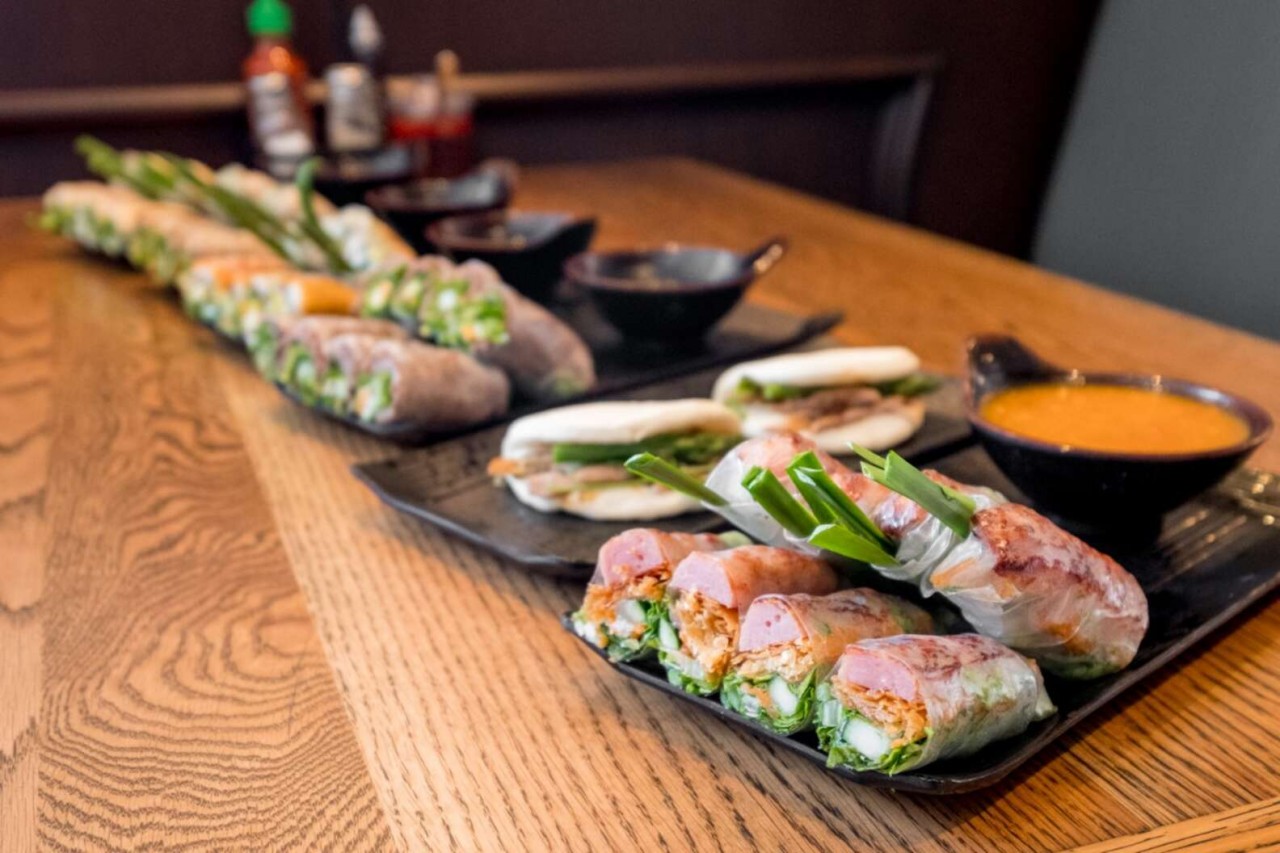 Photo: Brodard Restaurant
Fountain Valley, California
Named "one of the most successful independently owned restaurant franchises in Orange County by KCET, Brodard is a cornerstone of Orange County's flourishing Little Saigon community and a paradigm for family-owned establishments. The Dang family has been in the restaurant business for over six decades. After moving to Long Beach, California in 1989, they took over a tiny restaurant in Asian Garden mall and later in 1996, founded Brodard Restaurant in Westminster Avenue. The Dang family now operates multiple establishments across southern California. At their gigantic, 7,500 square-feet location in the Mall of Fortune, crowds gather to get an order of their Brodard Nem Nuong spring rolls.
Like David Chang's Momofuku pork belly buns, the dish has spawned countless imitators since it was first introduced almost two decades ago, but no one can touch Brodard's original recipe spring roll. It's a masterpiece of layering: garlic-spiked grilled Vietnamese sausage, a crisp wonton stick, fresh lettuce, herbs, and pickled carrots are rolled in rice paper with one long spring of green onion, served with the closely guarded secret recipe "mom's sauce" dip. The full menu is loaded with great soups and rice dishes too, but you'd be forgiven for ordering a pile of those spring rolls and calling it a day.
4. Bolero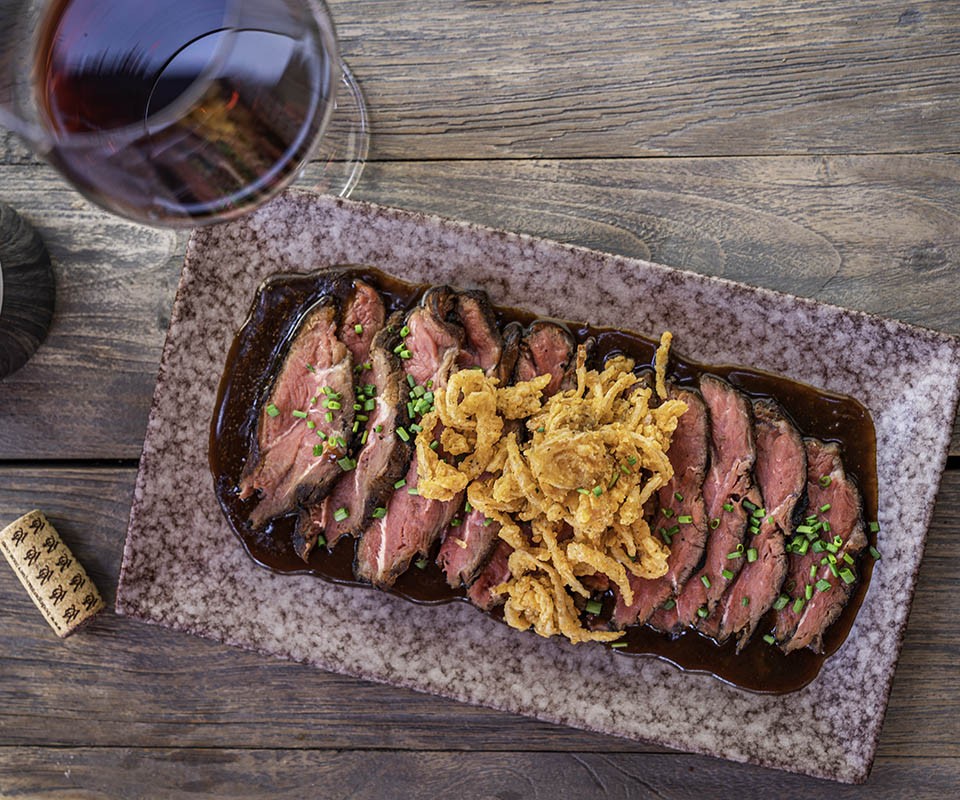 Photo: Europa Village
Brooklyn, New York
Named after a dance that gained popularity in 1950s Vietnam, Bolero is a Brooklyn fine-dining take on Vietnamese classics. Chef Matt Le-Khac has rendered his restaurant into an homage to his diaspora upbringing. There's a tiny shop where you can find all your favorite Vietnamese products such as condensed milk, fish sauce, and spring-roll wrappers and occasionally, fresh herbs straight from the chef's father's West Chester, Pennsylvania farm. Adding to the homey feel, patrons can eat in a backyard adjacent to an herb garden. Come for the Bun Bo Hue (a signature soup from Hue), con ngheu hap (clams steamed in a delicious beer broth), and the banh nam (rice dumplings with shrimp and pork and wrapped with banana leaves). Notably, you can have herbs that are hard to find elsewhere like culantro, betel leaves, and Vietnamese coriander.
5. Di An Di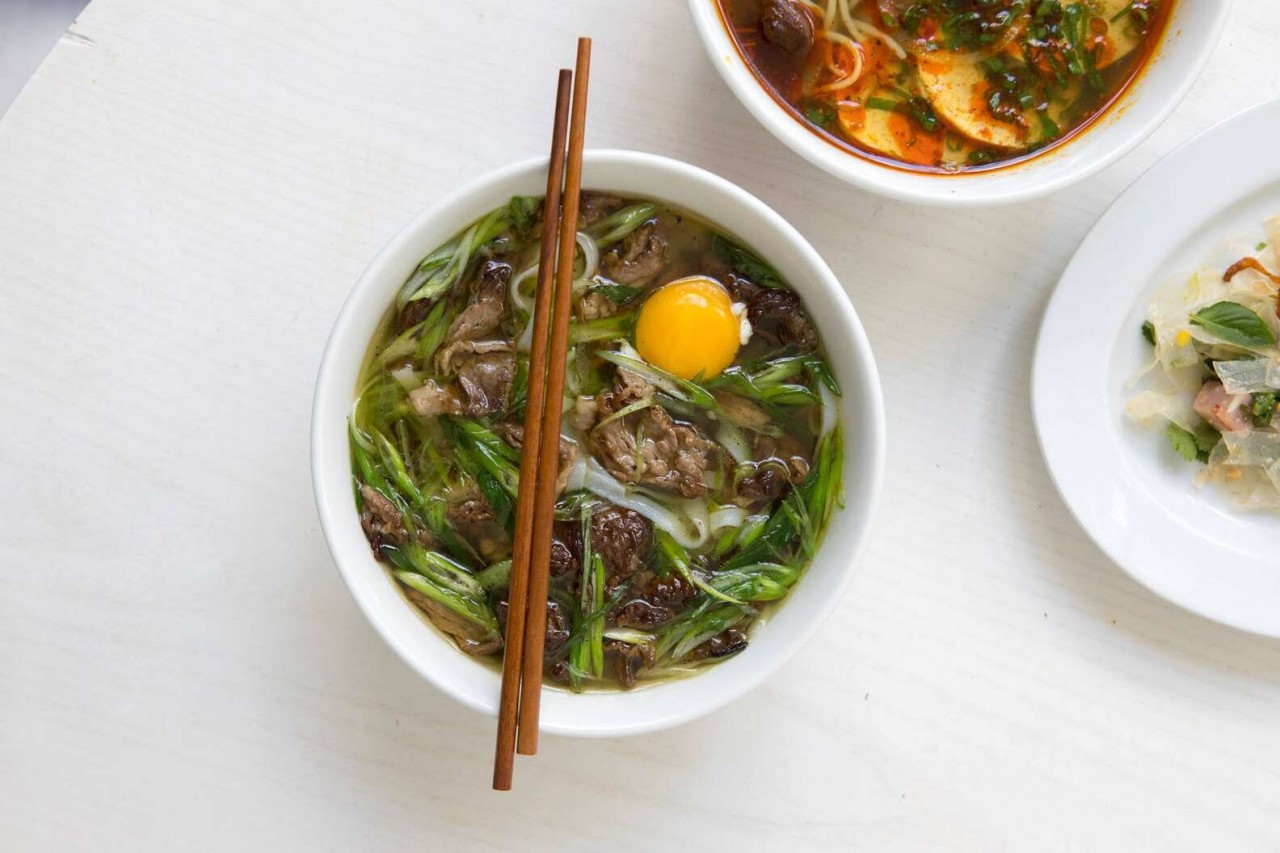 Photo: Di An Di
Brooklyn, New York
Winner of Eater NY's 2018 Design of the Year award, this hip, stylish restaurant in NYC's Greenpoint area amassed fans literally from the moment it opened. And while the design is definitely a highlight (think tropical vibes with hanging plants channeling Vietnam's famed resort city of Dalat), this is top-notch food that would shine even if it was served up in a Motel 6. This is not the classic food of the early Vietnamese immigrant wave, but cheffed up Vietnamese-American fare. You'll revel in bowls of Hanoi-style beef pho teeming with scallions and punctuated by one perfectly round orange egg yolk, and be delighted with creations like the Vietnamese "pizza" made with grilled rice paper and topped with shrimp floss, egg, ground pork, and pickled chilis. The restaurant name, translated, says it all: "Let's go eat!"
6. Garlic and Chives
Garden Grove, California
Based in Little's Saigon's Mall of Fortune, Garlic and Chives has accrued numerous accolades. Notably, in 2015, it's pomelo salad was included in the late Jonathan Gold's top 10 best dishes of the year. Beneath a sparking chandelier, guests enjoy a myriad of tasty, garlic-packed specialties like lau (a hot-pot dish that's packed with a range of seafood, meat, and vegetables),roasted crab, and baked crispy catfish.
7. HaVL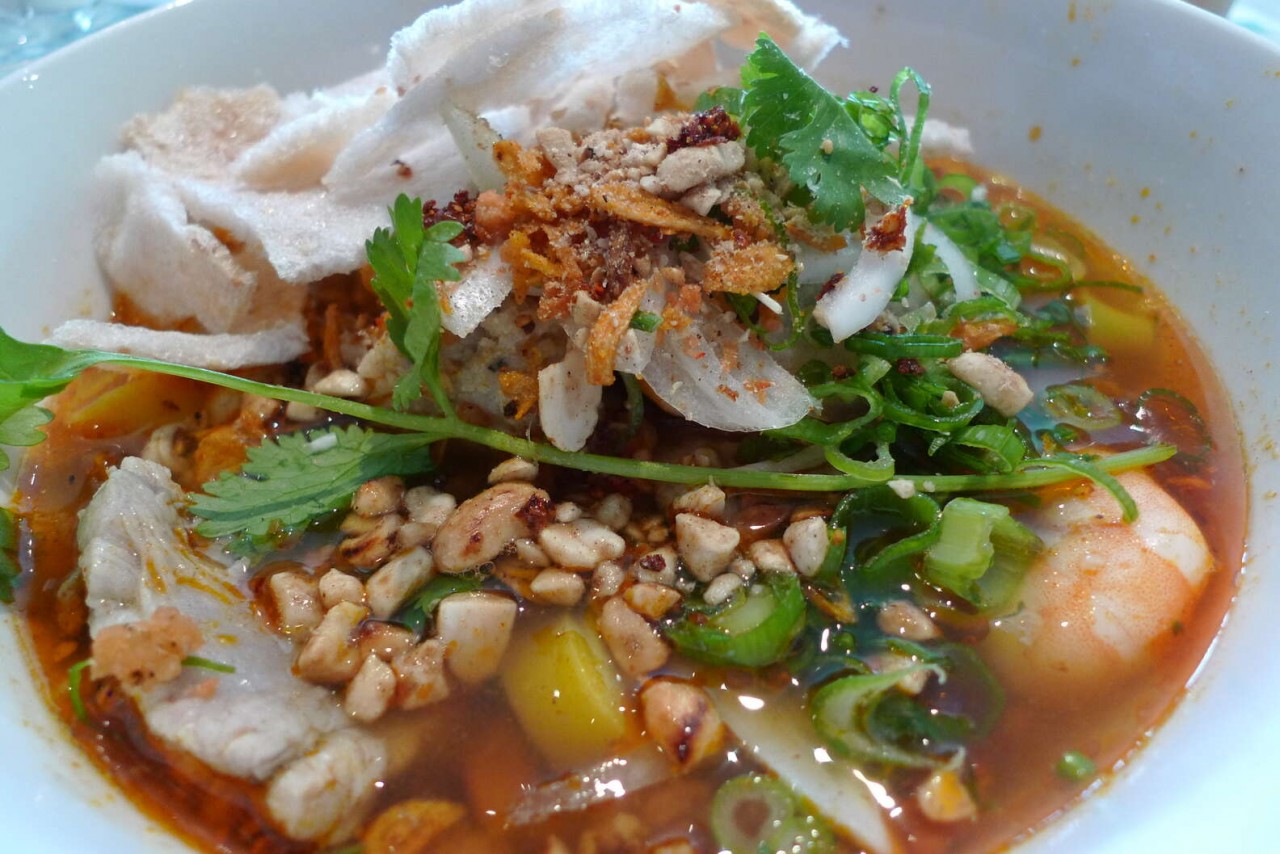 Mì quảng at HaVL | Ron Dollete/Flickr
Portland, Oregon
This cultishly beloved Vietnamese noodle shop is the kind of spot that Anthony Bourdain would have championed: hidden in a strip mall, no-frills, and offering endlessly complex flavors in slurppable form. A mom & pop shop opened by Christina Ha Luu in 2006, HaVL started out as simple cafe selling banh mi. Needing to bolster the revenue, Luu added a noodle soup, which sold out almost immediately. So she added another, and another. As of 2018, HaVL -- which now has a spinoff, Rose VL Deli -- no longer sells banh mi, focusing instead on the noodle soups that have made them famous and earned them nominations to the James Beard Awards for the last three consecutive years. The soups are prepared fresh daily, each one is distinct and delicious, and you have to come on specific days if you have a preference or a craving. You have to come early, too, because they sell out around noon. Thursdays feature the soulful bun cha oc, a Northern Vietnamese rice vermicelli soup made with snail meatballs. Saturdays, the most coveted bowl is the rich, lemongrass-fragranced spicy beef noodle soup known as bun bo hue. And if you're in any doubt about the magnificence of the soups, head to HaVL on Sundays and get the mi quang, a turmeric noodle soup with a scant pork broth, shrimp, and rice crackers -- the secret recipe yields the kind of heady broth that inspires undying devotion.
8. Kau Ba Kitchen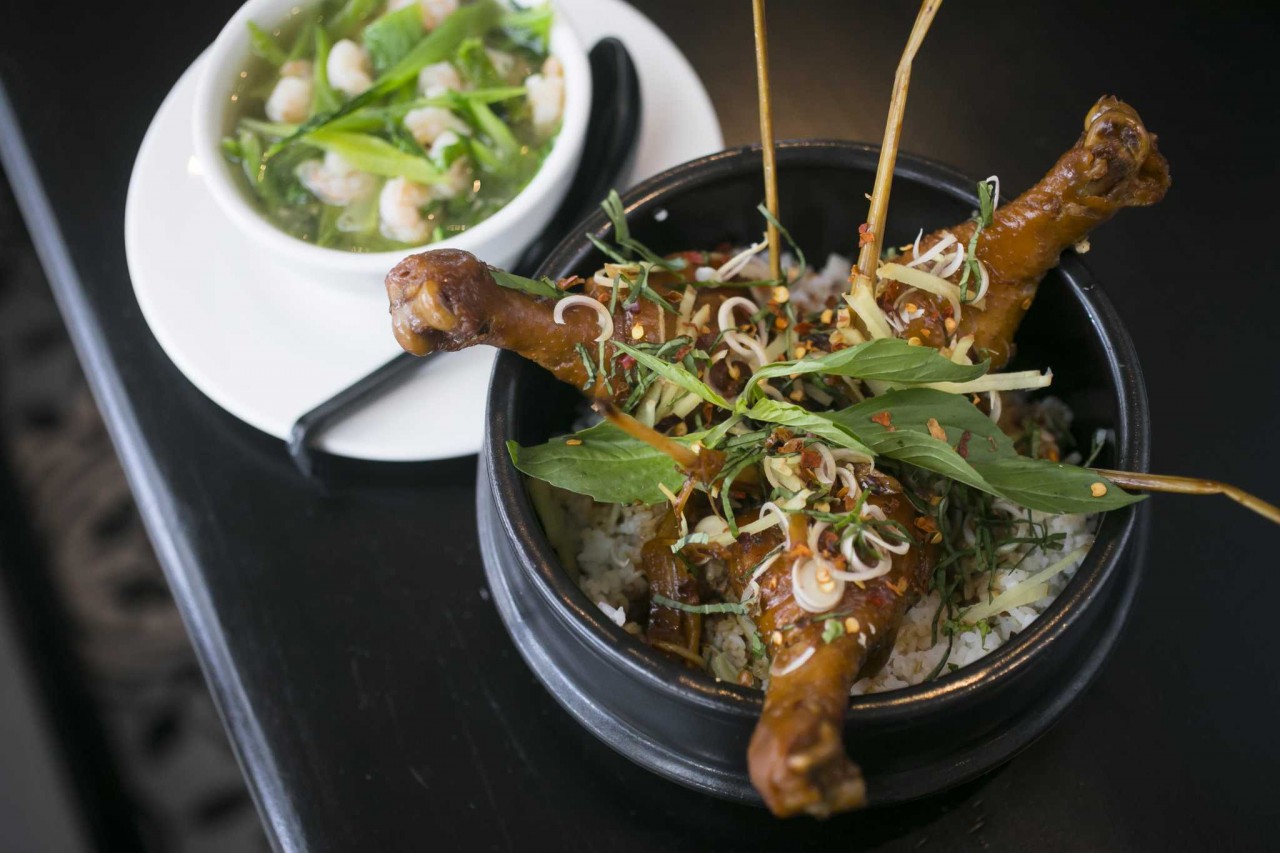 Photo: Houston Chronicle
Houston, Texas
Cultures absorb different influences back upon themselves, and Kâu Ba is Chef Nikki Tran's voice from the opposite side of the world. Nikki reimagines Vietnamese cuisine by adding a Cajun twist, bringing back forgotten dishes, and introducing new ones to Houston's modern food scene. Kâu Ba is where fresh, artisanal flavors balance a French and Vietnamese curated bar program. It's humble dining with an edge.
Celebrity chef Nikki Tran, known as Kâu Ba in her native Saigon, considers Houston her second home. It's here that she opened her fourth restaurant in 2018, reviving the last recipes of pre-war Vietnam and fusing them with the vibrant flavors of Cajun cuisine.
Nikki has childhood memories of being invited to her neighbors' table to share a good meal. It sparked something within her, and now Nikki dedicates her life to bringing people together through food. She makes every dish with intention, as though she was serving her own family, taking care to select only the freshest, organic ingredients from trusted, local sources.
9. Luc Lac Vietnamese Kitchen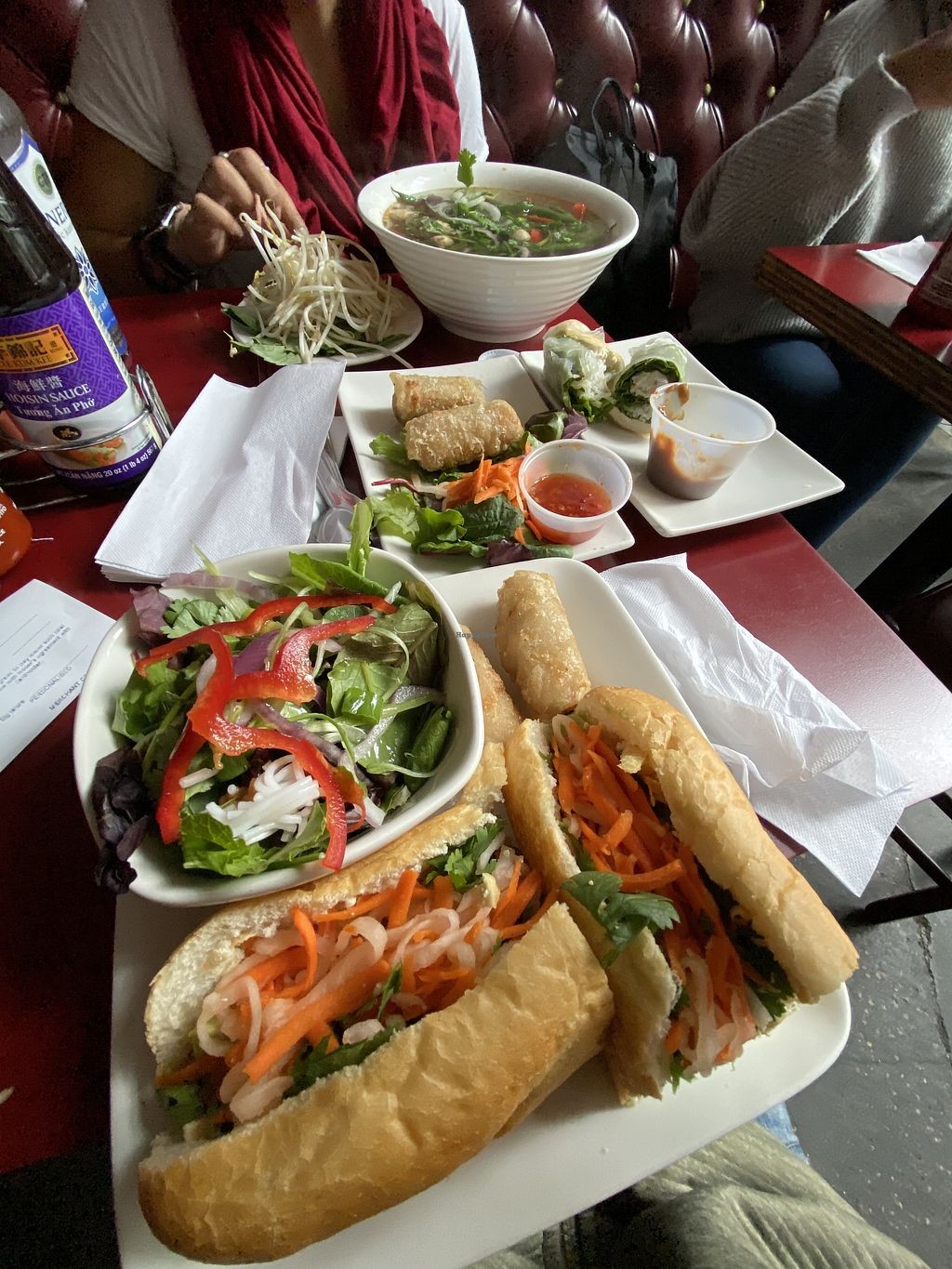 Photo: HappyCow
Portland, Oregon
Brothers Adam and Alan Ho tapped into potential of the late-night downtown Portland scene with their breakaway hit, Luc Lac. A counter-service concept, Luc Lac specializes in pho, crazy-flavorful small plates -- think the pork tenderloin skewers, sausage-packed vermicelli bowls, and grilled pork banh mi -- and creative cocktail. The restaurant's popularity and affordability (most of the menu is still in the sub-$10 range) means there's usually a line out the door, and not just because it's a rare late-night option in notoriously early bird Portland: The place is a legit contender in a city offering a wealth of great Vietnamese options. Place your order, get a number, and get seated when a table is free. While you're waiting, try a cocktail like the Luc Lac Lush, in which Drambuie scotch liqueur gets tropical spin thanks to the addition of jackfruit, coconut, mung bean and lychee jelly. For provisions, the namesake luc lac (shaking beef seared in Hennessy) is obligatory, as is their "train" pho. Or get both.