The Chula Road: A Path to Beauty in Memory of Artist Diego Chula
The Chula Road represents the art lovers' gratitude to Diego Chula - the Spanish artist who has made many contributions to Vietnamese creative urban culture for the past 20 years.
December 1, 2021 marked the opening of Chula Road. The host of the opening event - Phuc Tan Artists Group dedicated "Chula Road" to Artist Diego Chula to celebrate the life of the prolific Spanish artist.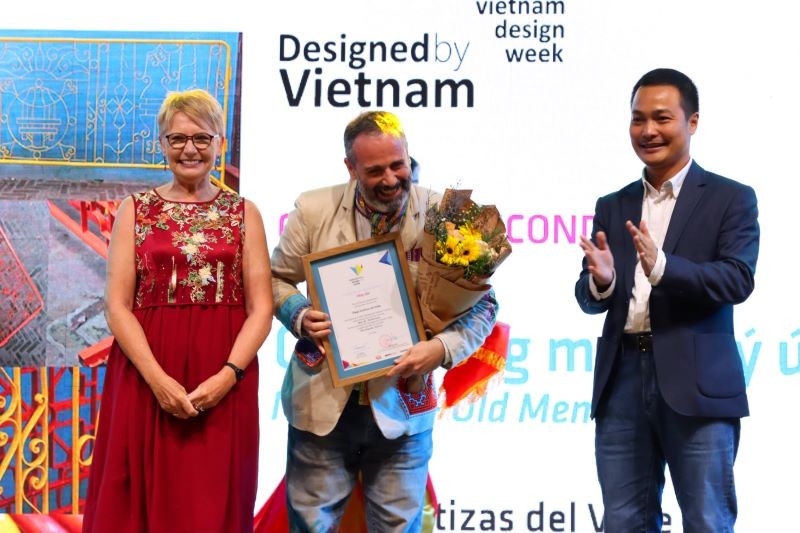 Fashion designer Diego Chula (center) receives flowers from Vietnam Design Week's Organizing Committee. Photo: VOV VN
The Chula Road represent the art lovers' gratitude to the beloved artist, architect and designer who have made many contributions to Vietnamese creative urban culture for the past 20 years.
The host of the opening event - Phuc Tan Artists Group. Photo: Nguoi Do Thi
Diego Chula's legacy
Diego Chula is no stranger to Vietnamese art lovers. He is a Hanoi-based artist, designer, architect, founder of the fashion brand Chula.
Vietnamese features are present in every single piece of Diego's creations: his architecture and fashion designs, his songs, poems, and even his paintings. In his song "Book me a ride", Diego talks about some of the highlights of Hanoi – the Red River, sidewalk bun cha (grilled pork served with rice noodle), lemon tea, and scooter taxis. It seems that all the elements of Vietnamese life are celebrated and preserved by Diego in his creations.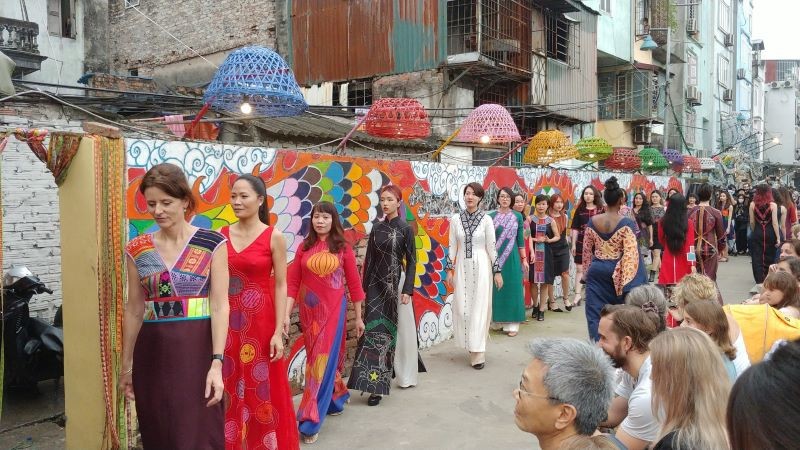 Chula's ao dai collection inspired by Hanoi culture and Long Bien bridge was gracefully and emotionally performed by amateur models who are residents of Phuc Tan Ward, Hoan Kiem District, Hanoi. Photo: Thoi trang tre
Diego Chula once shared his dream of bringing Chula to other parts of the world as a "Made in Vietnam" brand. His love for Vietnam can be seen in the smallest details of each piece: a small window, a birdcage, or autumn leaves.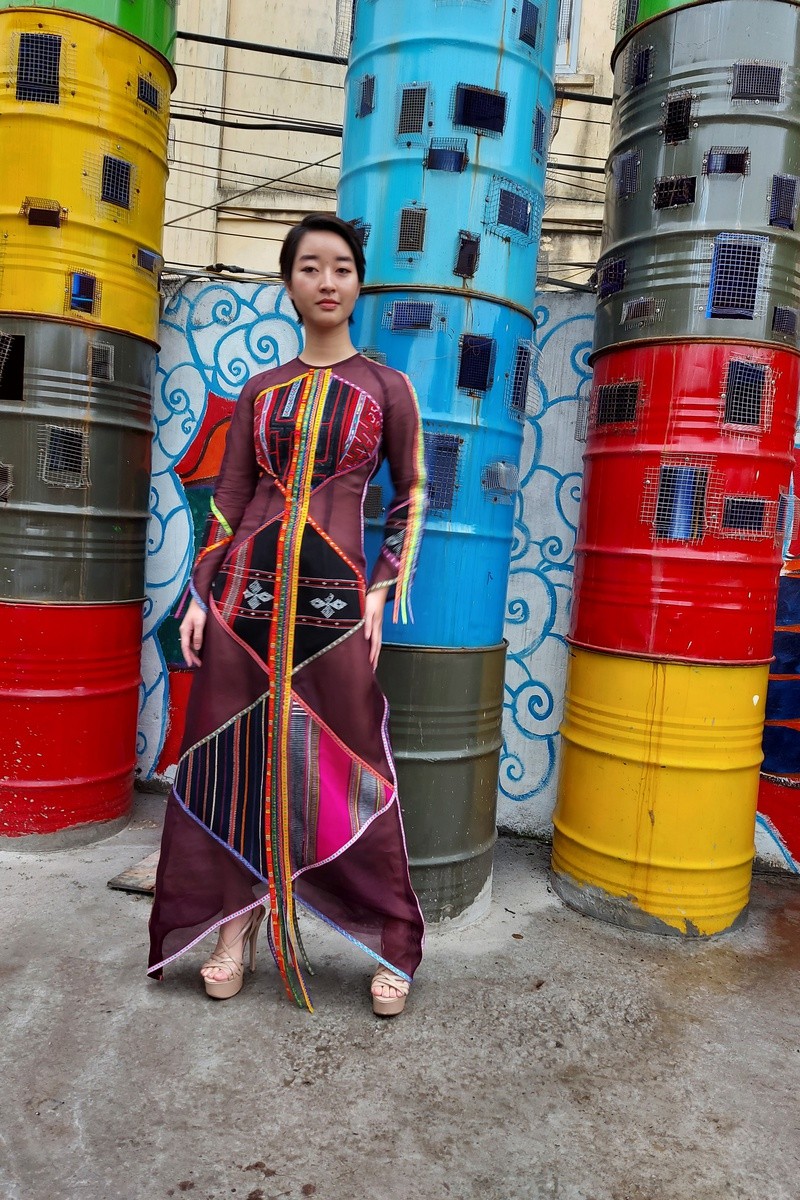 "Phuc Tan Public Art" project organized a special ao dai fashion show of the designer Diego Chula on Mar. 20 2021. Photo: Thoi trang tre
The late artist's gentle soul and his dedication to support his hearing impaired and visual impaired staff won the love of the public. Diego considered them part of his family and gave them stable employment. He said it was an honor to work with people with disabilities and he believed everyone has a potential and he was here to spread love.
Vu Thi Thu Thuy, who worked at Chula from day one, said that Diego was kind, friendly and always encouraged other people to be positive and develop their abilities.
"He inspired us to try new things and feel free to express ourselves for which I'm very grateful. He was a great leader and a passionate inspirer who motivated us to do our job the best we could," she said.
Diego Chula participated in many community activities in Hanoi, such as this year's Phuc Tan art project on the bank of the Red River with his mural paintings, or decorating Long Bien market with lampshades made from bamboo chicken cages.
Diego's style was always influenced by architecture, with striking and impressive color choices, emitting the messages of optimism, love of peace, and sharing. In 2020, Diego successfully organized a brocade fashion show with the theme of Forest Perfume and Mountains in the framework of the Vietnam Brocade Cultural Festival in Dak Nong.
The renowned designer who won the heart of fashion lovers in Vietnam passed away on Oct. 13 2021 at the age of 49, of a heart stroke. The heartbreaking news shocked and saddened his family and friends, as well as a number of Vietnamese fashionistas.
May he be with us in spirit
The Chula Road is a special expansion of the art project " What do you remember" led by artist Tran Hau Yen The. Starting in 2010, the 36 street signs in memories of 36 Hanoi streets represent the image of Hanoi Old Quarters like Hang Ma, Hang Buom, Hang Be, Hang Can, Hang Hom, etc.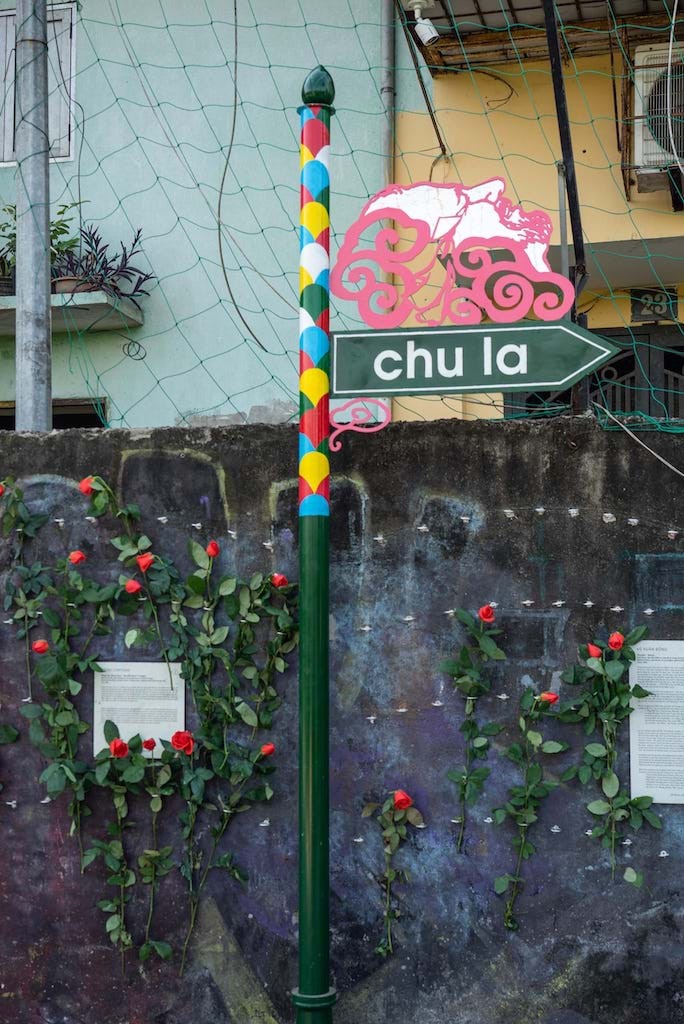 The Chula Road. Photo: Nguoi Do Thi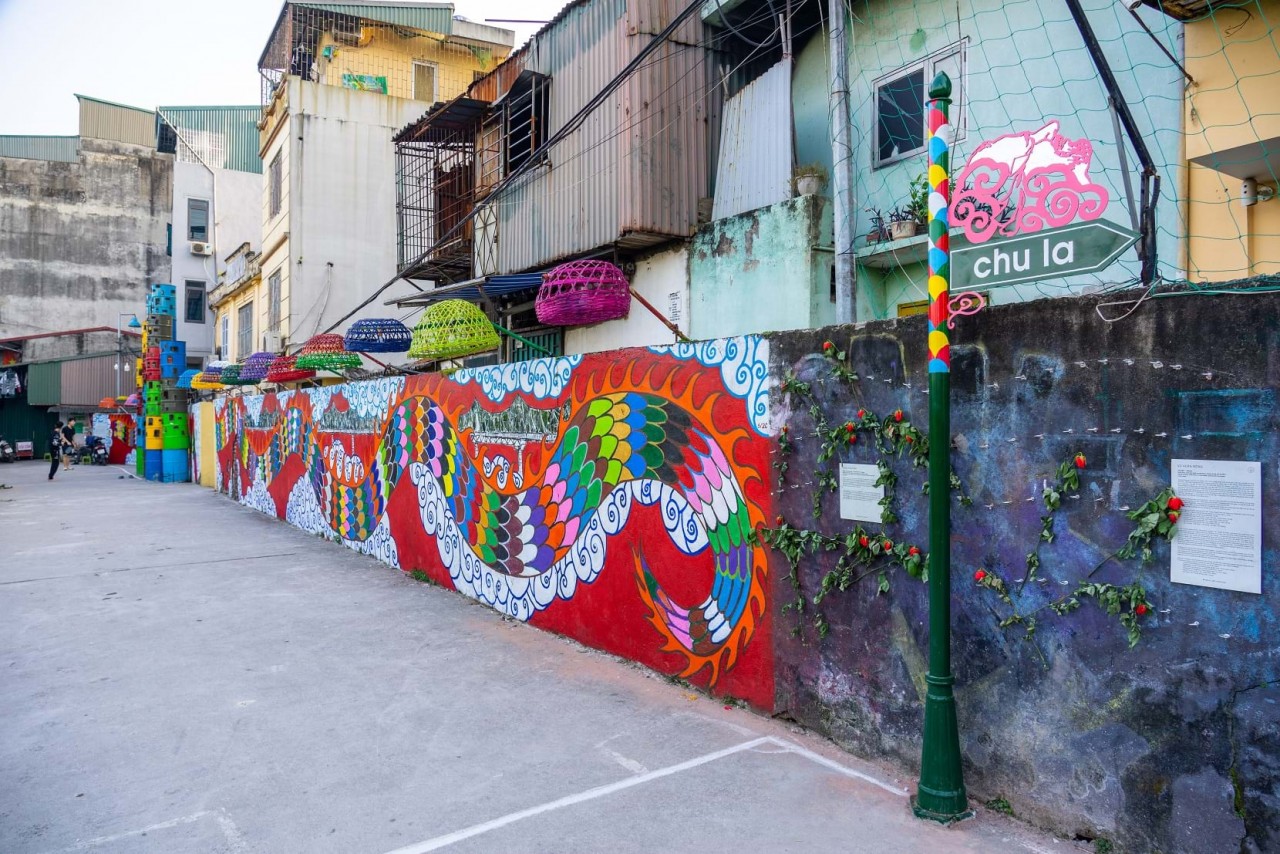 The art work is done on painted CNC-cut iron, mirror stainless steel. Photo: Nguoi Do Thi
The symbolic street is the 37th Hanoi street, named after a Westerner with the heart of Vietnam is now presented to the public, on the exact 49th day anniversary of Chula's passing.
Artist group Phuc Tan wrote: "The work of Chula Road has the form of a road sign, a sign of culture. We will remember Diego Chula who is full of humanity, and a precious artist soul whose heart belongs to Hanoi."
Diego passed away leaving many projects unfinished, including a brocade collection scheduled to release on December 30. His legacy to Vietnamese fashion will continue and Diego Chula will be long remembered as a Spanish designer with a great love for Vietnam.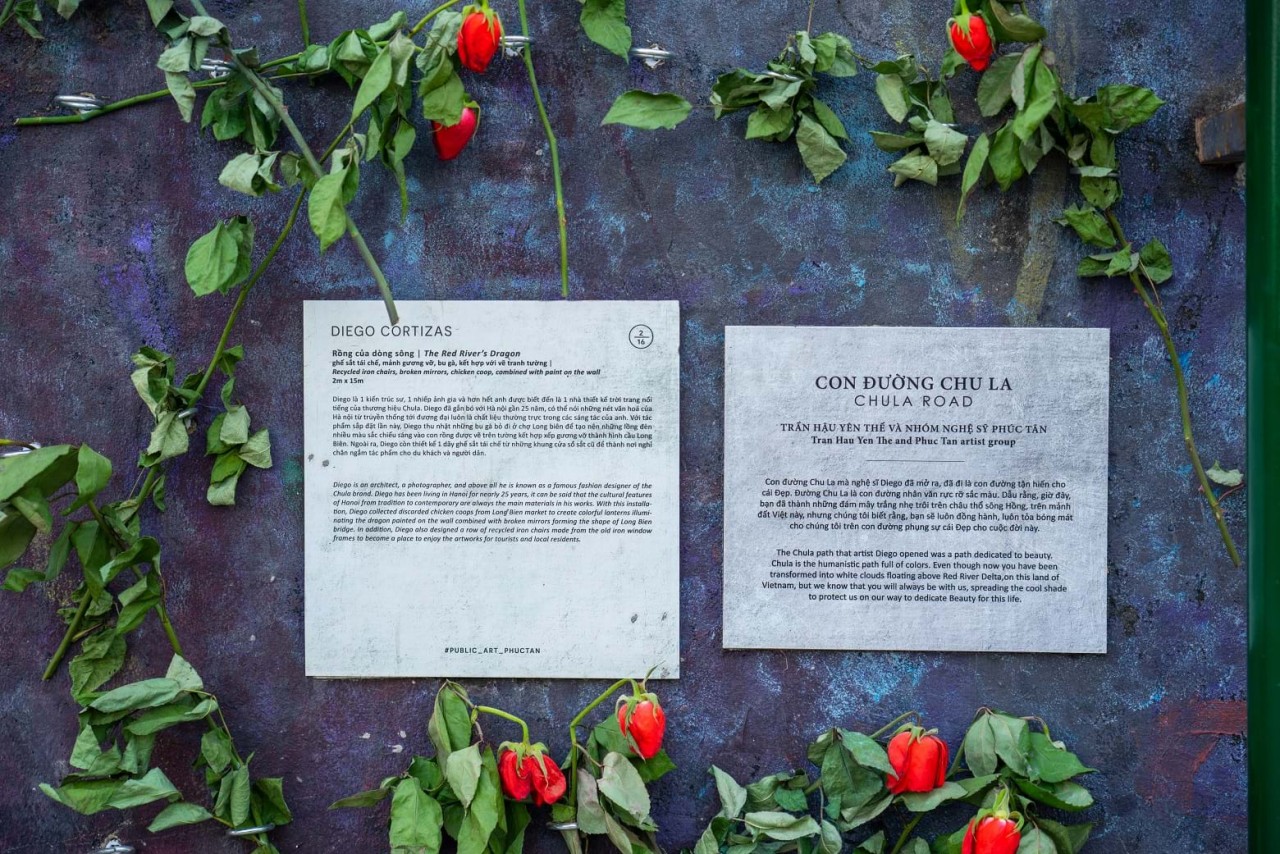 Memorial Plaque of Diego Chula at Chula Road. Photo: Nguoi Do Thi
The Chula Road will be a symbol to remember the artist by. Farewell, Diego! May you be with us in spirit.
Artist Diego Chula (1972 – 2021)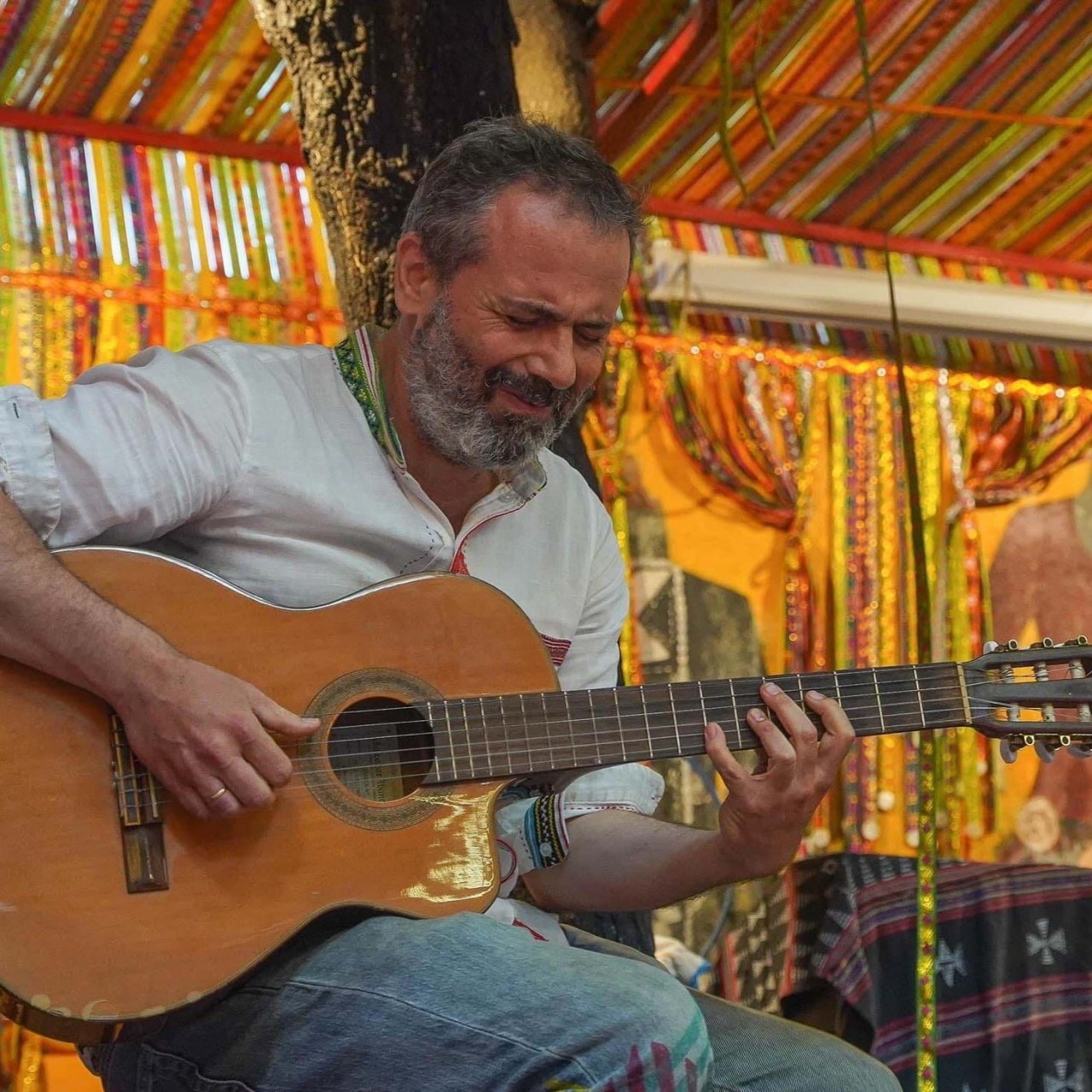 Diego Chula. Photo: Nguoi Do Thi
- Diego Chula's real name is Diego Del Valle Cortizas, born September 16, 1972 in Madrid, Spain.
- When he first started out in Hanoi in 2004, Diego was in furniture design and then switched to fashion design.
- Diego's collections have been featured at Vietnam Fashion Week since the early 2010s.
- He was awarded Bui Xuan Phai Award 2020 - For the Love to Hanoi by Vietnam Sports and Culture Newspaper .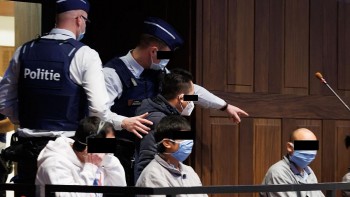 Overseas Vietnamese
Belgian court sentenced smuggler organization over 39 Vietnamese victims found dead in sealed lorry container in Essex.