The Most Charming Lakes For An Autumn Camping Trip Near Hanoi
As the end of the year comes, nothing is more perfect than putting your work aside and spending one day visiting and exploring some of the most beautiful lakes just right in the heart of Hanoi.
After a hard-working and tiring year, we will crave some relaxing time away from the bustling and crowded streets. Camping is one of the most unique and best choices for Hanoians, as it is cheap and convenient without having to travel too far or plan too much. There are many interesting and beautiful destinations that you can find just within the city, and lakes are one of them. Coming here, you will not only have a chance to enjoy the stunning natural scenery but can also create fun activities with your friends or family.
Chom Nui Lake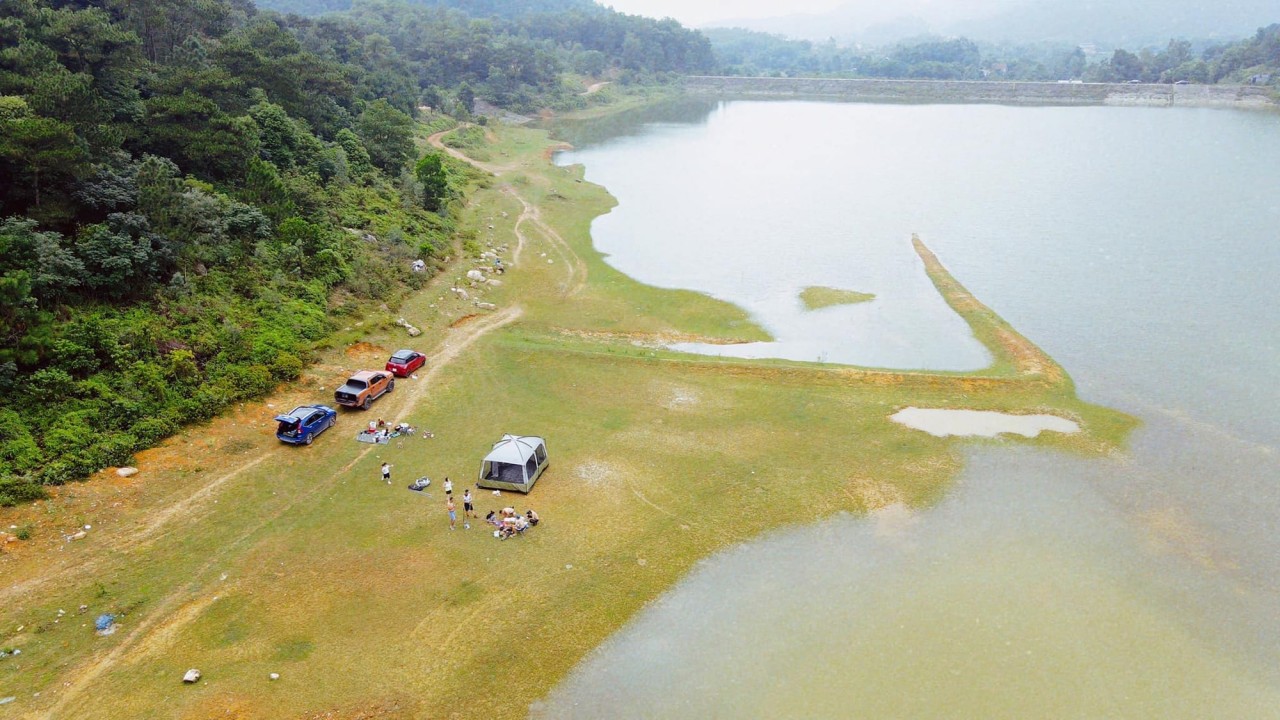 Photo: @ToanVu
Chom Nui lake, also known as Hoa Son lake, is a picnic spot near Hanoi that has become more famous in recent times after young people took many stunning pictures of the lake and shared them on social media.
Located in Nam Son Commune, Soc Son District, just about 40 km from Hanoi, this is a natural lake that has a charming landscape with a large area that attracts a lot of young people looking for an Instagram check-in spot, especially during this autumn season.
Compared to other lakes in Hanoi, Chom Nui is well-known for its tranquil and gentle beauty, with the shadows of the trees and hills reflecting on the surface of the water creating an alluring painting of nature. The wilderness of this place makes people feel like they are in harmony with heaven and earth, and enjoy the fresh atmosphere surrounding them. Indeed, Chom Nui lake is considered a rare gem that is given to Hanoi by Mother Nature.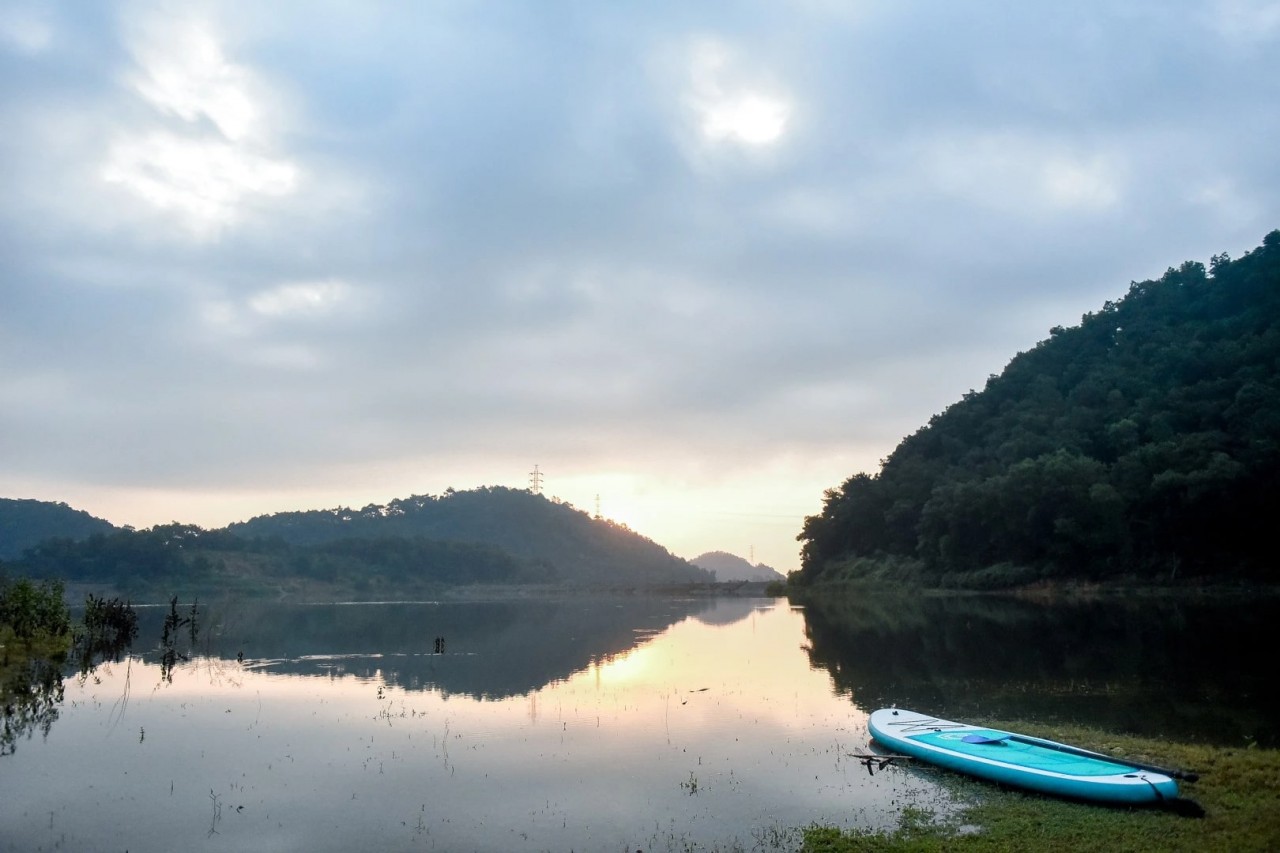 Photo: @cofvideos
It is not too difficult finding your way to Chom Nui, and you can arrive here using any kind of vehicle or public transportation. However, this is a newly discovered place, so there are no direction signs on the way to the lake. It is best to use your Google map or an app to look up the direction, in order not to get lost.
Chom Nui lake is not a tourist attraction, so it is a totally free picnic spot. You can also find some grocery stores about 1 km away from the place. However, you still need to prepare the necessary items for camping and cooking, since there will be no renting services around here.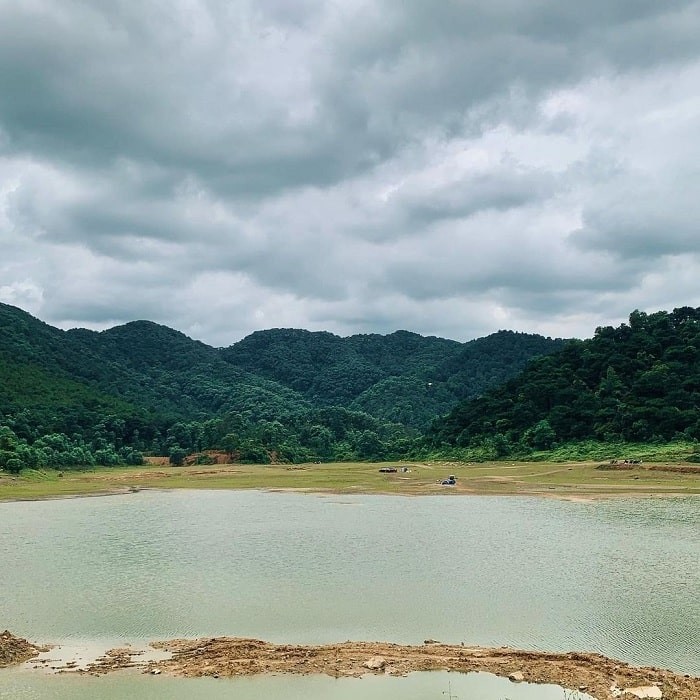 Photo: @cofvideos
Being away from the noisy and crowded streets of the city, you will find yourself stepping into a totally different world with natural beauty and tranquility. Nothing is better than putting all your worries aside and comfortably enjoying your camping time with your loved ones, participating in energetic activities, and check-in in with the gorgeous background of Chom Nui Lake.
Quan Son Lake
Considered as "Small Ha Long on land", Quan Son lake is a charming and beautiful lake that is located in the suburban of Hanoi. Only about 50km from the center of the city, Quan Son lake belongs to My Duc district (Hanoi), and a small part of the lake belongs to Hoa Binh province.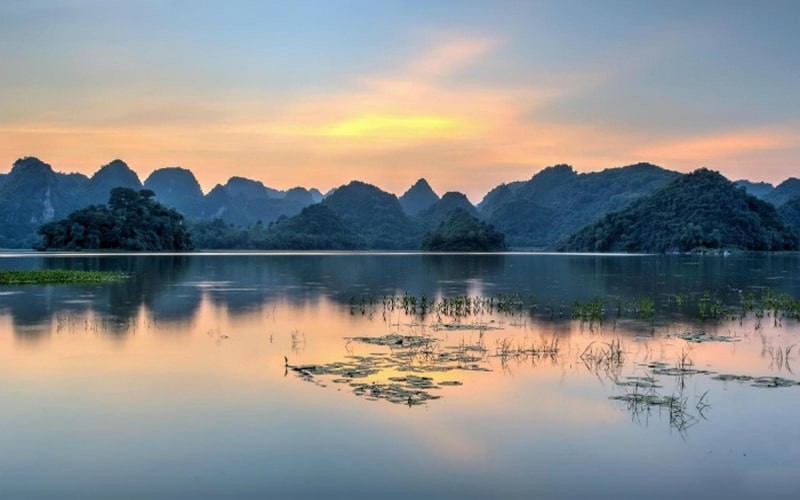 Photo: @q.tranphot
The lake possesses a pristine natural beauty with green trees, flowers, and more than 20 large and small limestone mountains surrounding the lake. During this time of the year, this place attracts many young people coming here to check in, explore, or camp.
Quan Son lake is not only famous for its wilderness and extraordinary beauty, but it also appears with a peaceful image of a Northern Delta region with houses, riverbanks, fields, and the blooming season of lotus and rice flowers.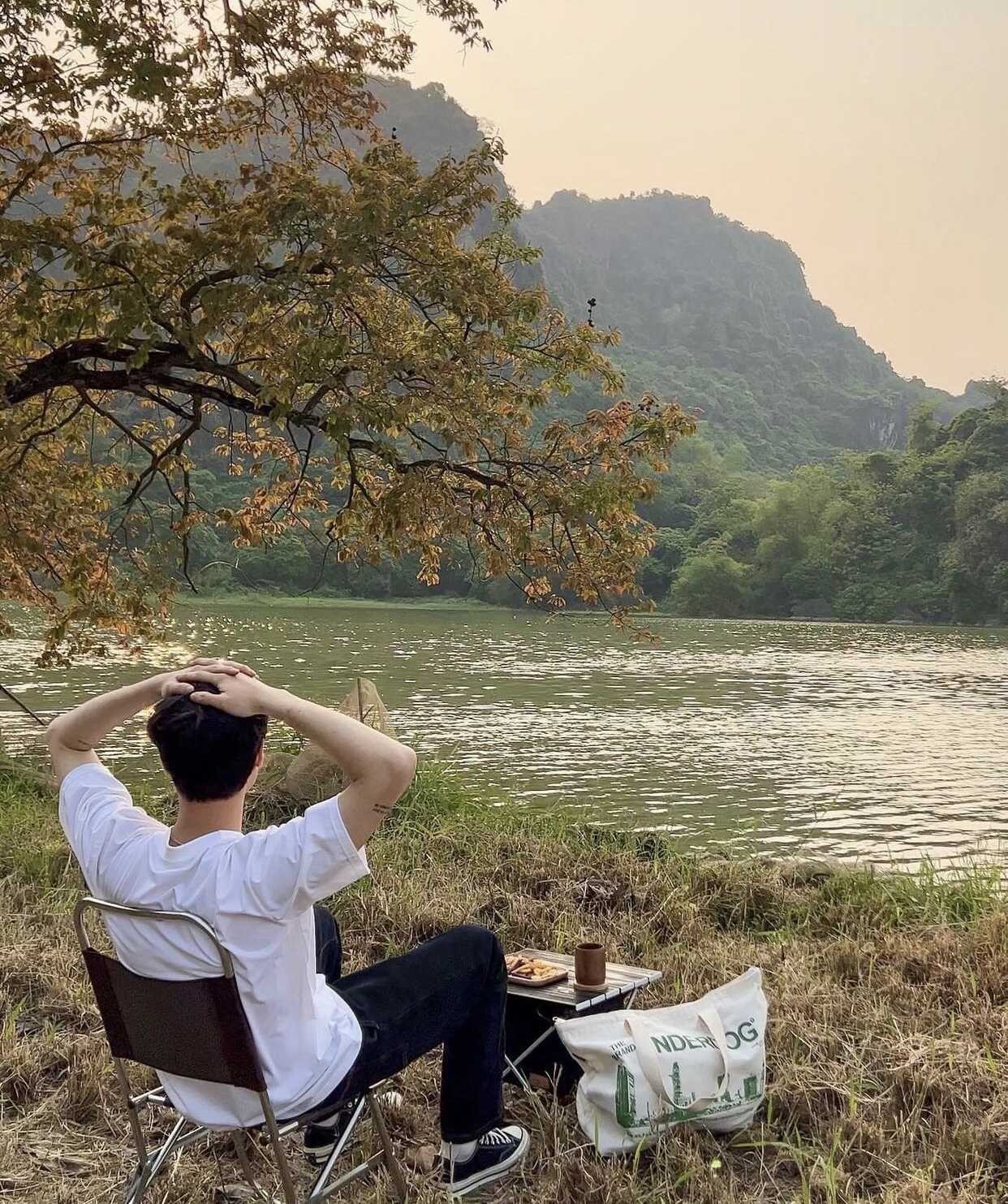 Photo: @vedugx
With the comfortable, cozy atmosphere that is far from the smells of gasoline and dust in the city, the lake has become the most ideal destination to enjoy the wonderful fresh air to chill and boost your inner energy.
It is not difficult to find the way to Quan Son lake, and tourists can go by motorbike or car. However, the road can be bumpy and winding, so visitors are also advised to drive carefully.
As a destination chosen by many people for short-term travel, the cost to visit Quan Son is quite cheap. Here is the list:
Entrance ticket: 15,000 VND (US$0.61) / ticket
Motorbike parking: 5,000 (US$0.20) VND / car
Corrugated iron boat rental: 140,000 VND (US$5.75) / 1 boat for 4 people for 2-3 hours.
Dong Chanh Lake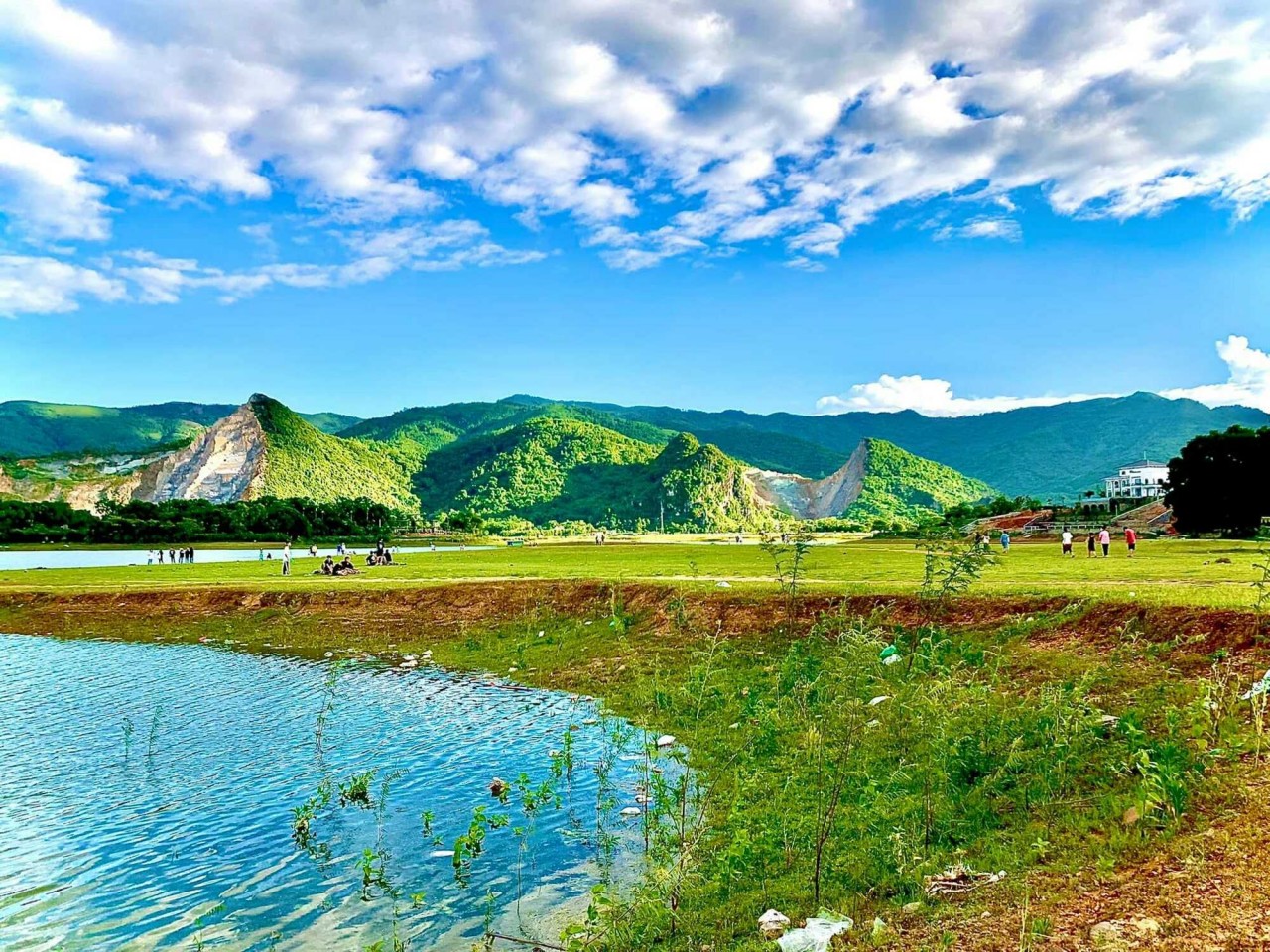 Photo: @thegioicombo
Located about 40 km from the center of Hanoi, Dong Chanh Lake is nestled in Nhuan Trach Commune, Luong Son District, Hoa Binh. This is a new destination that attracts many people coming here to experience and explore.
The lake will make you fall in love at the first sight with its vast and jade-green appearance, surrounded by majestic mountains on both sides. This overwhelming
Nestled just under the blue sky, with tall mountains and thick, floating clouds. The scenery here will make you feel like you are stepping into a surreal and colorful painting of nature. Dong Chanh Lake also possesses a spacious and relatively flat terrain, which is very suitable for camping and fun activities such as flying kites, or taking beautiful check-in pictures with stunning backgrounds.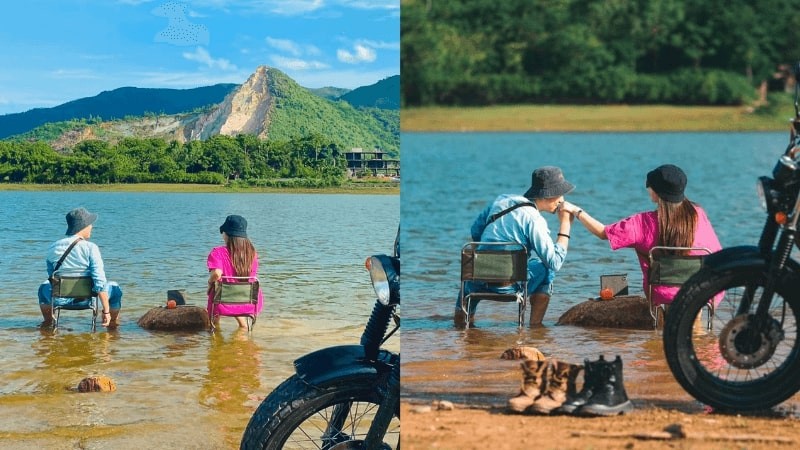 Photo: @NguyenAnhDung
Visitors will not have to pay for entrance tickets when they come here, but one minus point is that this place has no trees, so it will be very hot in the afternoon and cold in the evening. Remember to fully prepare clothes, food, and necessary items, so that you will have a great camping experience.