The Most Marvelous Islands In The World
Con Dao in Vietnam and other islands are known as the most wonderful islands in the world, and attract many tourists to marvel at their picturesque landscape, turquoise sea water, and white sand.
Islands conjure dreams of paradise: an escape from the rat race and a perfect patch of sand where you can relax under rustling palms and gaze at a serene blue sea. There's nothing like an island getaway to achieve some much-needed R&R, quality time with a partner or family, and to fall in love with another part of the world—or return to a beloved locale. Take a look at these wonderful and marvelous islands in the world that you can visit, including the petit Con Dao Island in Vietnam.
Top 7 most marvelous islands in the world
1. Palawan, Philippines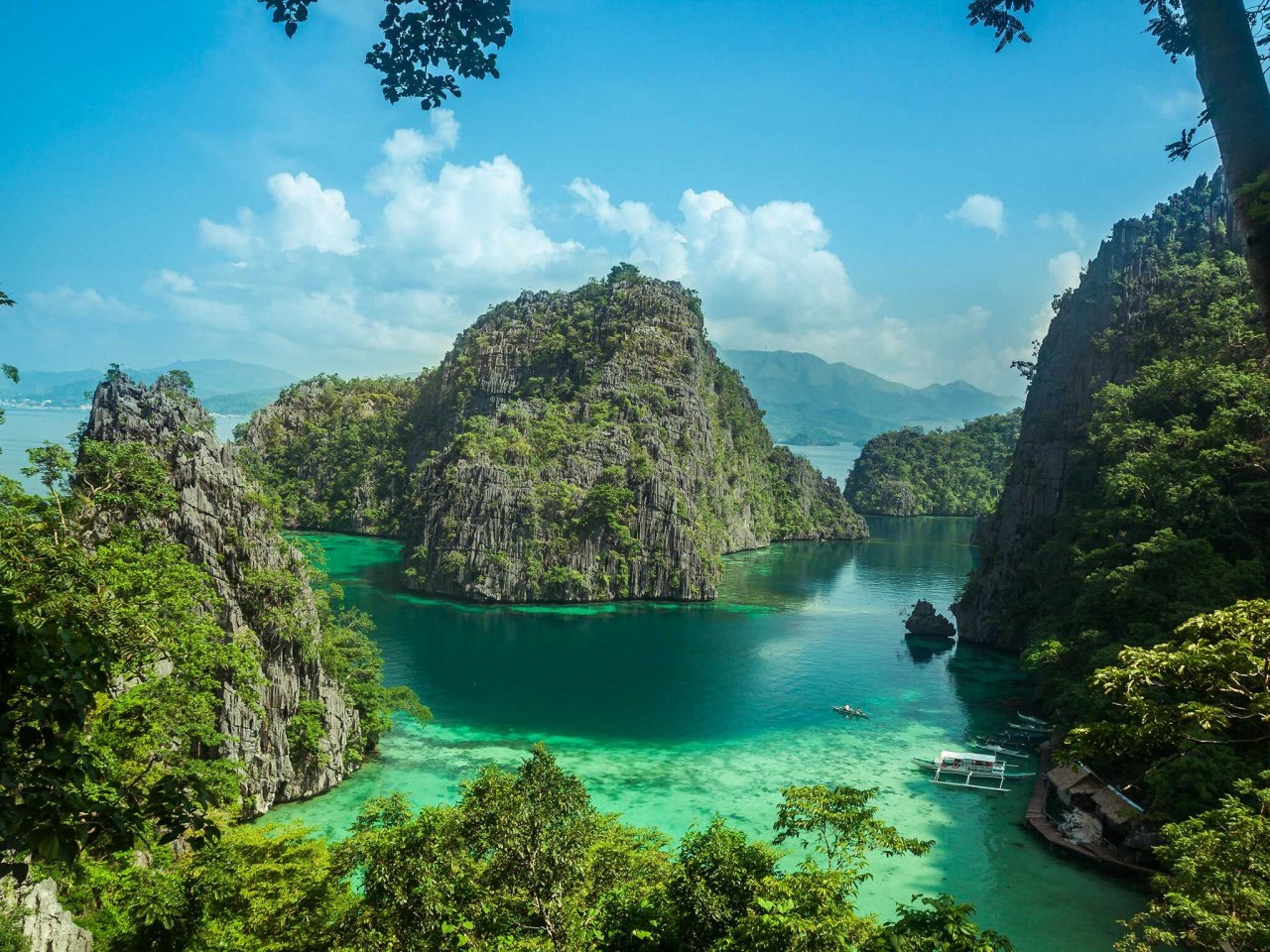 Photo: CNTraveler
Palawan is the Philippines' answer to paradise. This island province stretches southwest to Borneo, with lush limestone peaks rising from a jewel-like sea so clear, that you can almost see the expressions on the fish from above the surface.
Slivers of gleaming white-sand beaches fringed with rustling palms rim many of these jungle-clad islands, while under the water, coral reefs teem with an impressive diversity of tropical fish, offering some of the best diving in the world.
Other attractions include the islands' unique wildlife, emerald lakes, and quaint fishing villages. Coron is home to plush resorts, and El Nido drips with natural beauty and is one of the most alluring islands in the chain. From here, you can island hop around the spectacular Bacuit archipelago.
One of Palawan's top attractions is the World Heritage-listed Puerto Princesa Subterranean River National Park, an impressive limestone cave system with a long underground river.
2. Espiritu Santo, Vanuatu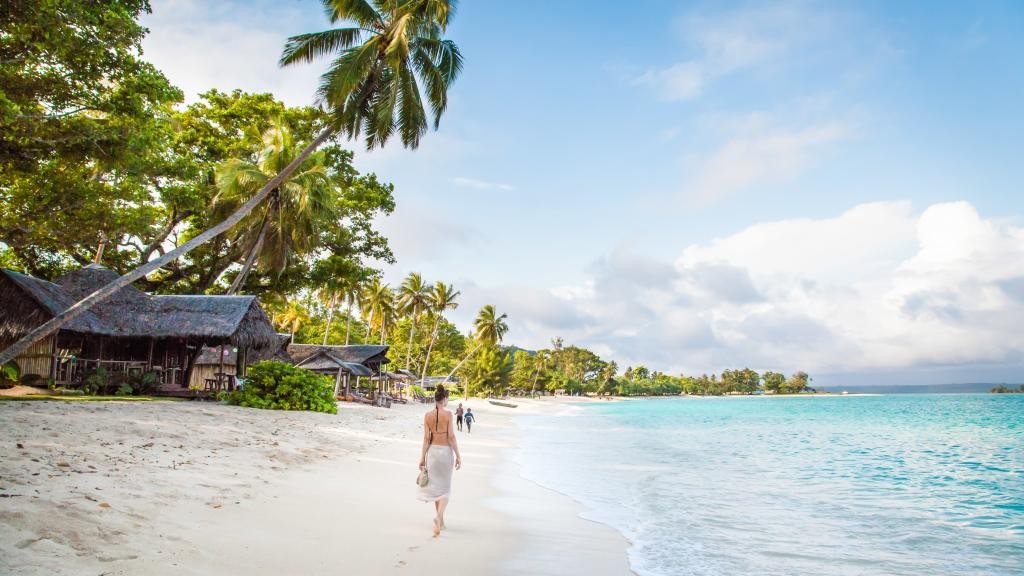 Photo: Travel Online
Better known simply as Santo, this is Vanuatu's largest island and one of its most enjoyable. It doesn't have quite the activities and infrastructure of Port Vila, but it does have world-class diving, some excellent upmarket island resorts, and some of the most jaw-droppingly beautiful beaches in the archipelago.
Espiritu Santo hides many of its secrets away from its small capital, Luganville, but there are plenty of tour operators to help get you to every corner of the island. Big attractions include the Millennium Cave, snorkeling or diving over dumped WWII memorabilia, the stunning east coast beaches, and inviting blue holes. If you scuba dive, don't miss the SS President Coolidge, one of the world's most accessible wrecks.
Fanafo, north of Luganville, was where, in 1963, charismatic Jimmy Stevens formed the Nagriamel movement. Then, on 27 May 1980, eight weeks before national independence, he and his supporters staged a coup known as the Coconut Rebellion. Armed mainly with bows and arrows, they occupied Luganville and proclaimed Santo's independence, calling their new country Vemarana. However, the new nation collapsed with Stevens' arrest on 1 September.
Inland, villages are isolated and the locals totally self-sufficient. Southwest Santo has Vanuatu's highest mountains: Mt Tabwemasana (1879m), Mt Kotamtam (1747m), Mt Tawaloala (1742m), and Santo Peak (1704m), all of which can be climbed with local guides, according to Lonely Planet.
3. Santorini, Greece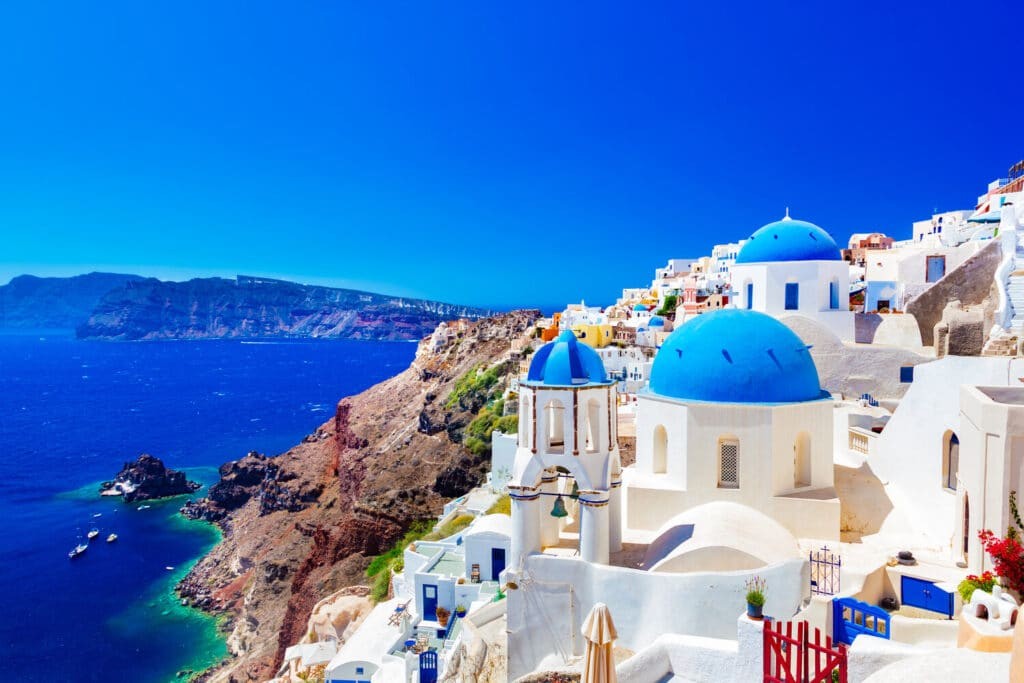 Photo: Digital Normad World
Crescent-shaped Santorini (or Thira), the precious gem of the Aegean, is actually a group of islands consisting of Thira, Thirassia, Aspronissi, Palea, and Nea Kameni in the southernmost part of Cyclades.
Did you know that the whole complex of the Santorini islands is still an active volcano (the same as Methana, Mílos and Nisiros) and probably the only volcano in the world whose crater is in the sea? The islands that form Santorini came into existence as a result of intensive volcanic activity; twelve huge eruptions occurred, one every 20,000 years approximately, and each violent eruption caused the collapse of the volcano's central part creating a large crater (caldera). The volcano, however, managed to recreate itself over and over again.
Santorini is considered to be the most sought-after place for a romantic getaway in Greece since there are not many places in the world where you can enjoy exquisitely clear waters while perched on the rim of a massive active volcano in the middle of the sea! The island has a growing reputation as a "wedding destination" for couples not only from Greece but from all over the world. A trip to Santorini with the other half is a dream for anyone who has seen at least one photo of the island's famous Caldera and exchanging kisses beneath Santorini's famous sunset is the ultimate romantic experience!
4. Con Dao Islands, Vietnam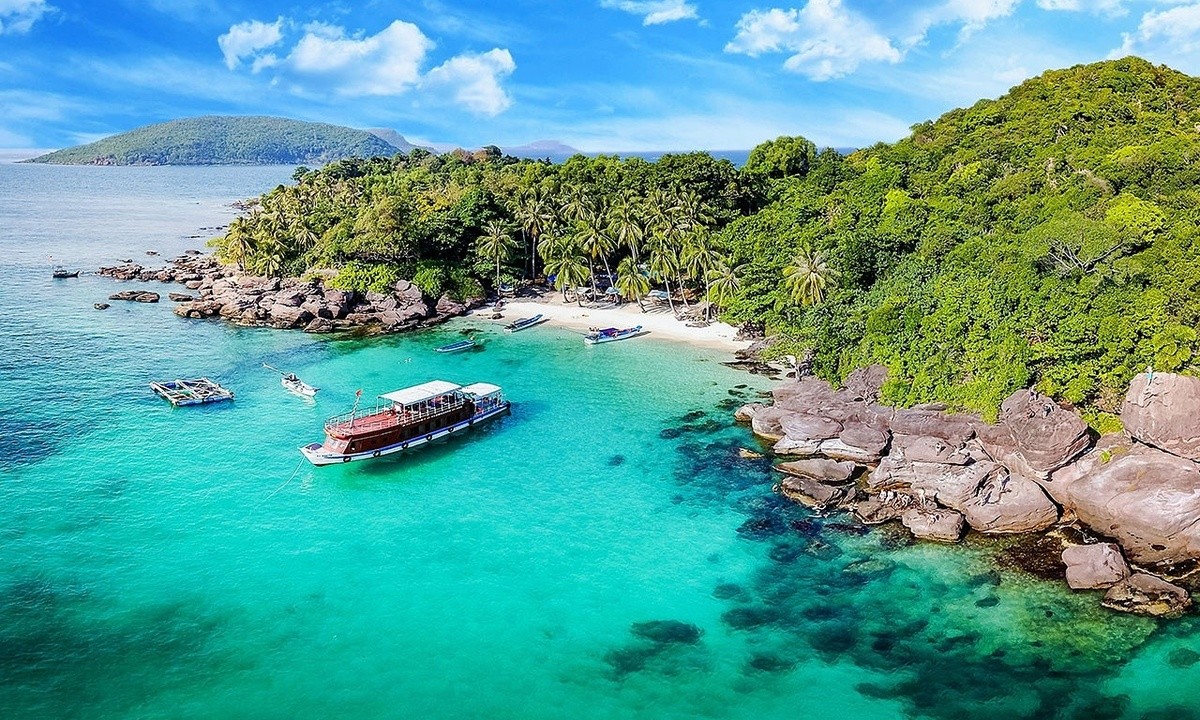 Photo: VnExpress
Con Dao Islands, also known as Con Dao National park, is an archipelago of 16 mostly uninhabited islets just off the southern coast of Vietnam, each of which offering expansive beaches shaded with evergreen trees. Great for savvy travelers looking to escape bustling city life, the main island also boasts miles of coastal roads, hiking trails, and a wide range of outdoor activities.
The main (and only inhabited) island, Con Son was once the site of French-run prisons for Vietnamese involved in the independence movement. Most of the derelict prisons are located in Con Son Town, where you can visit the prison cells and infamous tiger cages. Many locals visit Con Son to pay their respects to revolutionaries such as Vo Thi Sau, the first woman on the island to have been executed by the French.
Aside from this rather bleak part of Con Son, the island has plenty of unspoiled beaches where you can enjoy a day of sunbathing, swimming, and dining on fresh seafood. Closest to the town is Bai An Hai Beach, which connects Ben Dam Harbour to several beachfront resorts and fishing villages. If you prefer privacy, rent a motorbike and make your way south towards Mui Ca Map (Shark Cape) and Nhat Beach to enjoy fine white sands and breathtaking views of the ocean.
Island-hopping and diving are popular activities on Con Dao Islands, where you can explore most of the uninhabited islets and spot various wildlife such as stingrays, barracudas, moray eels, and dugongs. Due to its status as a national park, you need to arrange your trip with Con Dao National Park Headquarters (29 Vo Thi Sau, Con Dao District, Ba Ria - Vung Tau Province). Hon Bay Canh Island is renowned for its turtle breeding grounds, so if you're visiting between June and September, you may even get a chance to watch turtles laying their eggs.
5. Bali, Indonesia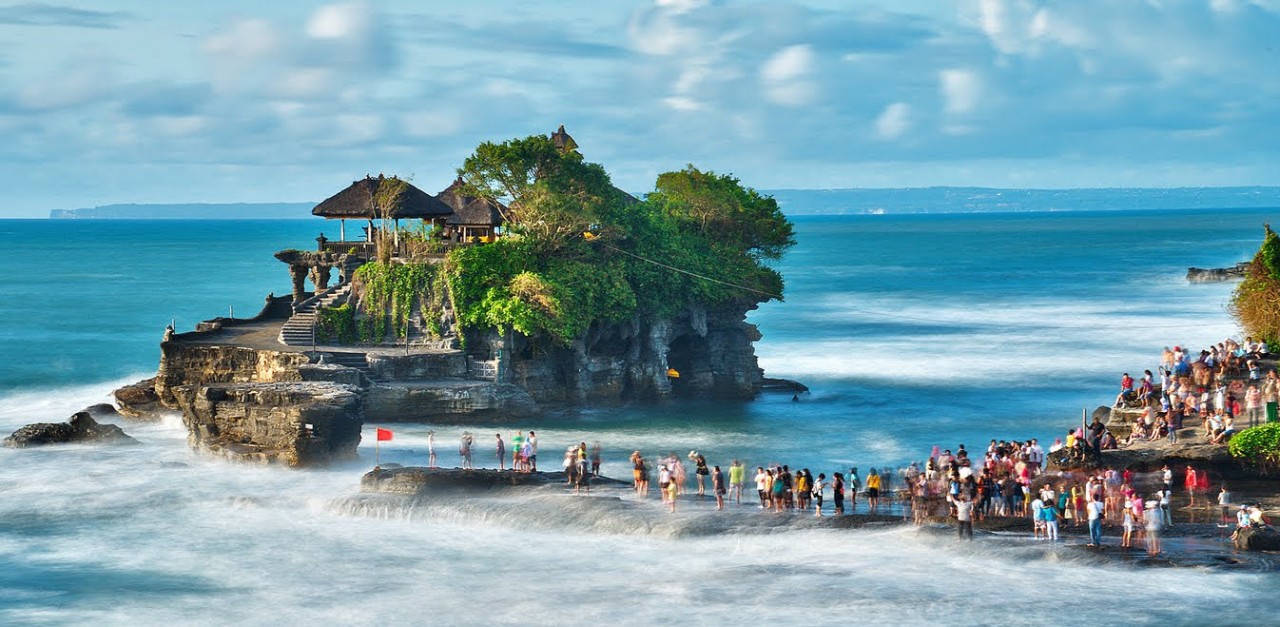 Photo: Hoidulich
Bali is the most popular island holiday destination in the Indonesian archipelago. It's home to an ancient culture that's known for its warm hospitality as well as exotic temples and palaces set against stunning natural backdrops. Dining in Bali presents endless choices of exotic, local cuisine. After sunset, famous nightspots come to life offering exciting clubbing and packed dance floors.
Inland, towering volcanoes and pristine jungles offer plenty to see and do, but you won't want to stay away from the coastline for long. Popular beach resorts include Kuta, Seminyak and Jimbaran where many of the finest hotels and villas look over world-class surf spots. For tranquil seascapes and sunrises, Sanur, Nusa Dua and remote Candidasa are your best bets. Bali's lesser-traveled eastern and northern regions also offer wonderful diving spots in calm bays, with coral gardens teeming with colorful marine biodiversity.
When it comes to things to do in Bali, your holiday can be filled with culture, nature, art, and the spiritual. The spectacular beaches of Kuta, Nusa Dua, and Seminyak offer hours of swimming, surfing and sunbathing, while the cultural area of Ubud is known for its picturesque rice terraces. Get away from the crowds by visiting the northern and eastern coasts, where hidden waterfalls wait to be discovered.
Bali's west coast has tapering ranges of mountains covered in lush forests, rice fields, and bountiful vegetation. The island also has hundreds of historical sites that have stood the test of time. From royal palaces to holy temples, you get to see a different glimpse of Bali at these exotic spots.
6. The Dalmatian Islands, Croatia
Photo: Travel + Leisure
In the Adriatic sea off the coast of Croatia, the Dalmatian Islands are an enchanting mix of relaxed charm and rich history. Quaint villages and boutique hotels and restaurants dot these gorgeous isles, which are surrounded by sparkling seas and some of Croatia's best beaches.
Top on the list is Brac with the famous beach strip of Zlatni Rat (Golden Horn). Hvar is also beautiful with its Gothic churches, car-free old town, and picturesque fishing harbor. From here, you can zip across to the beautiful Pakleni Islands, known for their crystal-clear water and secluded coves.
Other must-see Dalmatian islands include Korcula, with its red-roofed, white-washed buildings; Mljet with its two inland saltwater lakes; and relatively uncrowded Vis.
7. Capri, Italy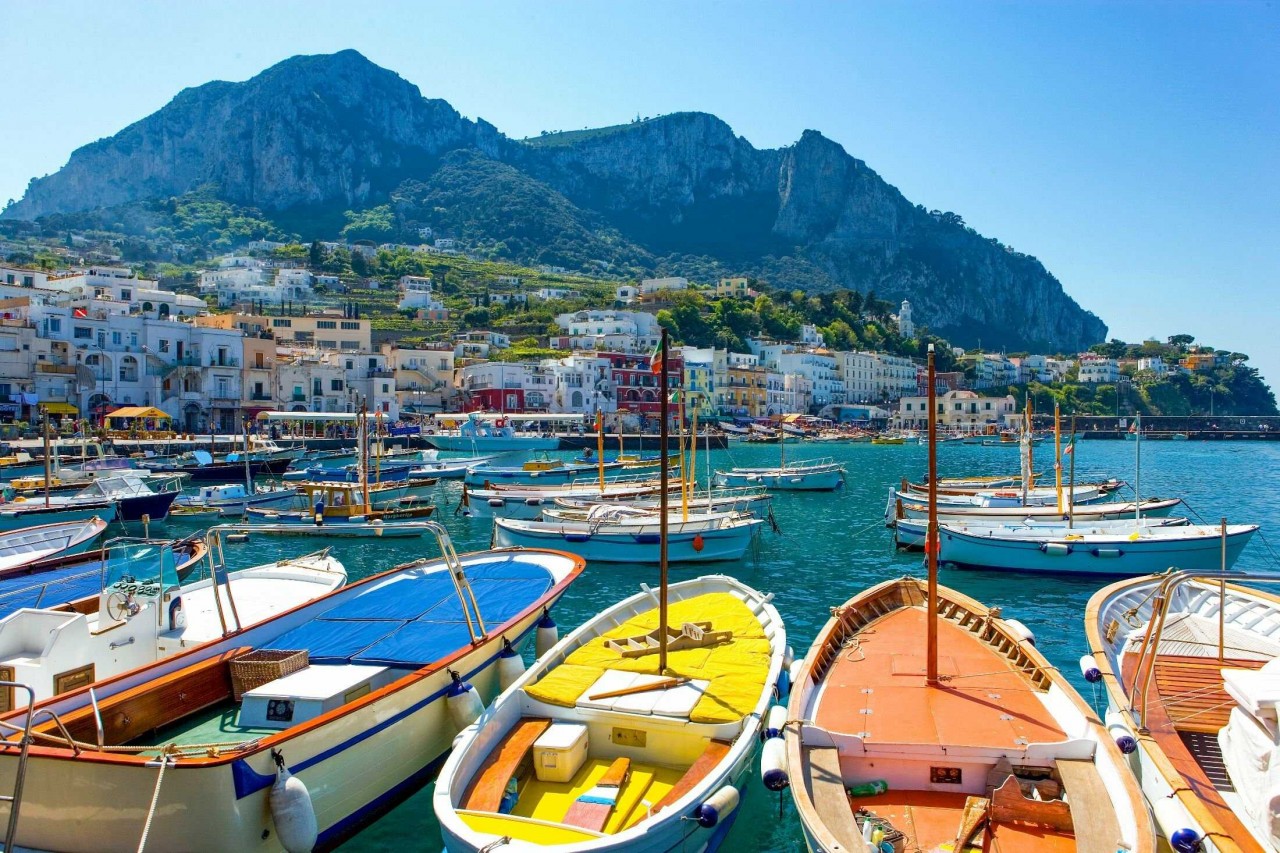 Photo: Daily Sabah
Glamorous Capri, about 20 kilometers off the Amalfi Coast, lives up to all the hype. Sea stacks and soaring cliffs rise from the teal-hued Tyrrhenian Sea, framed by sprays of colorful flowers.
One of its most popular tourist attractions is the blue grotto, a glowing sea cave, where locals row tourists in on tiny boats and sing operas to demonstrate the acoustics.
Once you arrive at the port of Marina Grande, catch the funicular up to the main town of Capri, which feels like a movie set. The piazza here buzzes with impeccably dressed locals and tourists toting shopping bags filled with designer clothes and the island's perfumes.
While you're here, be sure to also visit the highest town, Anacapri, and take the chair lift up to Monte Solaro for spectacular views across the island and sea.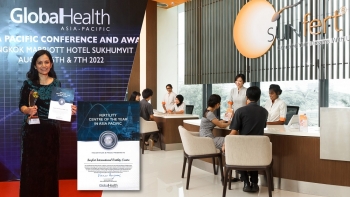 Economy
Sunfert International Fertility Centre (Sunfert) garnered the 'Fertility Centre of the Year in Asia Pacific title at the recent GlobalHealth Asia-Pacific Awards 2022.