Explore The Unusually And Uniquely Shaped Islands In The World
Nature has its own way, and these islands, which were recently discovered, have the most unique and unusual shapes in the world.
Islands are always mysterious and alluring places to discover, and some of them that were never known until now. It wasn't until the era of space travel, satellites, and drones that people began discovering that a surprisingly high number of islands are shaped like well-known objects, such as hearts and fish. And they attract many tourists in the world coming to see these lovely and unique islands.
1. Isabela Island, Galapagos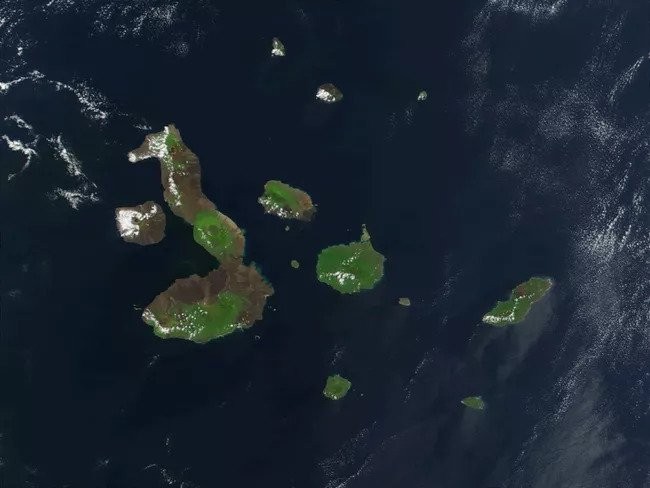 Jacques Descloitres, MODIS Rapid Response Project at NASA/GSFC / Wikimedia Commons
Isabela Island is the largest island of the Galápagos with an area of 4,586 square kilometres (1,771 sq mi) and length of 100 kilometres (62 mi), almost four times larger than Santa Cruz, the second largest of the archipelago. Isabela Island is larger than every other island in the Galápagos combined. It was named after Queen Isabella I of Castile. The island straddles the equator. This island was originally named Albemarle Island for the Duke of Albemarle by Ambrose Cowley, one of the first Europeans to set foot on the islands, in 1684.
Isabela is also interesting for its flora and fauna. The young island does not follow the vegetation zones of the other islands. The relatively new lava fields and surrounding soils have not developed the sufficient nutrients required to support the varied life zones found on other islands. Another obvious difference occurs on Volcan Wolf and Cerro Azul; these volcanoes loft above the cloud cover and are arid on top.
Isabela's rich bird, animal, and marine life are beyond compare. Isabela is home to more wild tortoises than all the other islands. Isabela's large size and notable topography created barriers for the slow-moving tortoises; apparently, the creatures were unable to cross lava flows and other obstacles, causing several different sub-species of tortoise to develop. Today, tortoises roam free in the calderas of Alcedo, Wolf, Cerro Azul, Darwin, and Sierra Negra.
2. Gaz Island, Brijuni Islands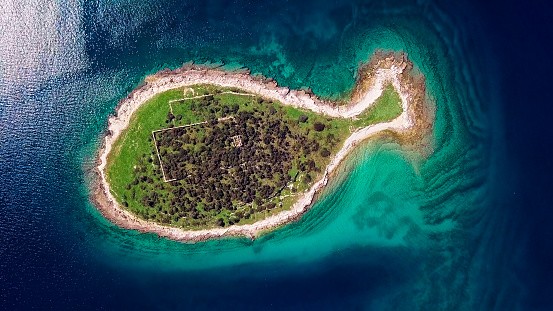 Photo: iStock
Gaz Island is one of the 14 small islands that make up the Brijuni Islands in the Adriatic Sea off the coast of Croatia. One of the smallest and westernmost landmasses in Brijuni, Gaz Island looks like a fish when seen from above. It does not resemble any particular species, but it is shaped very much like a Goldfish cracker.
One of southeastern Europe's most interesting destinations, Brijuni features ancient Roman and Byzantine ruins and 200 ancient imprints that are thought to be dinosaur footprints. In addition to beaches and warm water, the islands' submerged archeological sites and marine life draw snorkelers and divers.
3. Molokini, Hawaii
Photo: Go Hawaii
Molokini is a small, crescent moon-shaped island located just 3 miles from Maui's southwestern coast, The island stretches over 18 acres and rises 160 feet above reef-filled waters, offering visitors snorkeling and diving among a kaleidoscope of coral and more than 250 species of tropical fish.
When the United States entered World War II, the military used Molokini Crater for bombing practice. Years of protests and lobbying led the US government to deem Molokini Crater and the surrounding 77 acres a Marine Life Conservation District and Bird Sanctuary. The reef has restored its health and the fish have returned. Now the island is used primarily as a tourist destination for snorkeling and scuba diving.
Tours are available from nearby Maalaea Harbor and Lahaina. Early morning is the best time to explore this pristine reserve, and whale watching is a bonus during the winter months. If you're a scuba or snorkeling enthusiast, a visit to Molokini is a Maui must.
4. Hear shaped island, Vietnam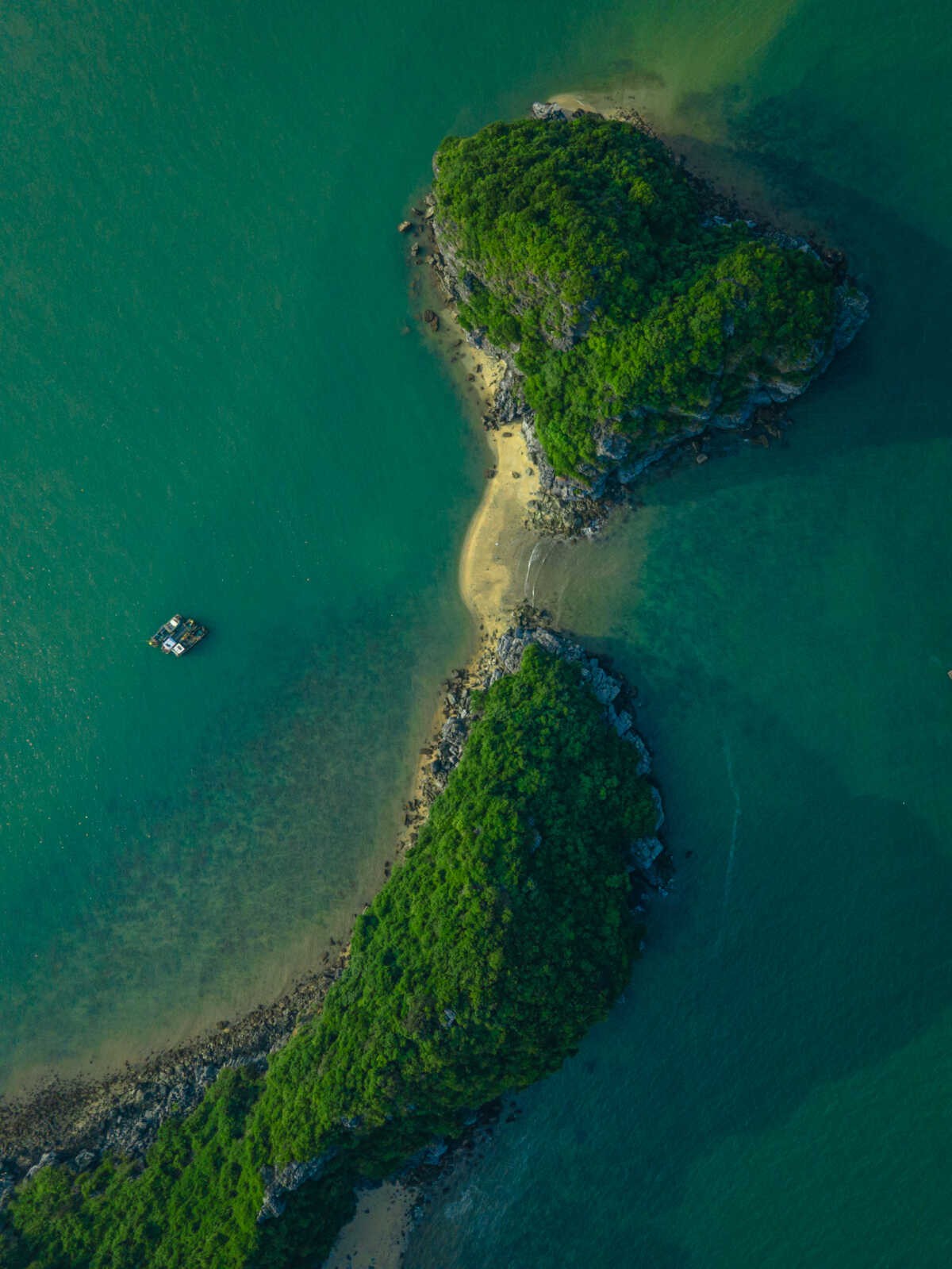 Photo: VnExpress
During a trip to Lan Ha bay in Cat Ba, Hai Phong in early December 2020, travel blogger Quy Coc Tu (Ngo Tran Hai An) accidentally discovered a very unique heart-shaped island. It is an island formed from a block of rock covered with green trees in a heart shape, about 160 meters wide, 110 meters in length, with the highest peak of about 16 meters from the sea surface.
Just below the tail of the island is a sandy beach with a width of about 10 m, about 50 m long, connecting to another island. Quy Coc Tu shared that this island has similarities to the Diep Son waterways in Khanh Hoa that he introduced a few years ago.
In addition to discovering the heart-shaped island, during this trip to Lan Ha Bay, blogger Quy Coc Tu continued to work on his personal photo project named "Vietnam from above view" to capture and share beautiful pictures across the country. He did the project by shooting with a drone, sometimes from rooftops, or helicopter flights.
5. Gallo Lungo, Li Galli Islands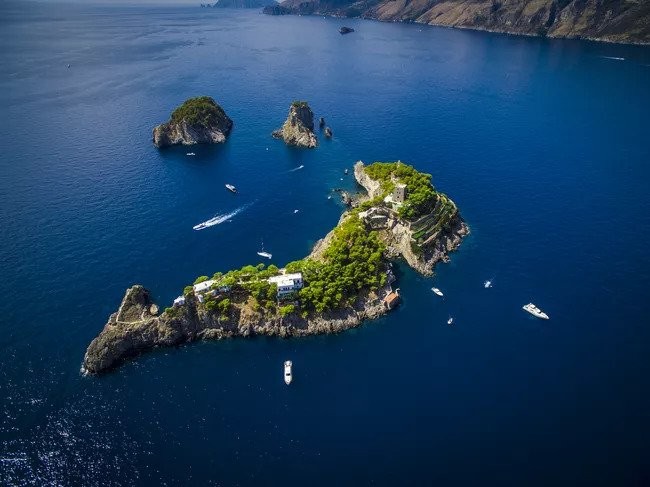 Photo: Getty Images
Between Capri and Positano, there is an archipelago of three islands known as Li Galli; privately owned, they can be admired on a boat tour, and, who knows, if you listen closely, you may still hear the call of sirens…
According to legend, the three islands forming the archipelago, Gallo Lungo, La Castelluccia, and La Rotonda, were once home to sirens; in fact, Li Galli is also known as Le Sirenuse (from 'sirena' in Italian). In Greek mythology, sirens represented the obstacles and dangers of sailing and they were depicted as half women and half birds (not fish). The strong currents in this stretch of the sea often caused boats to crash against the rocks of the islands (although legend attributed the wrecks to the sirens' singing distracting the sailors). The sirens of Le Sirenuse are mentioned as early as the 1st century BC by Greek geographer Strabo.
Originally the site of an ancient Roman anchorage, in the Middle Ages the islands became medieval fiefdoms of emperor Frederick II.
In 1919, the Russian choreographer and dancer Leonide Massine purchased Gallo Lungo; he converted the old Aragonese Tower into a residence with a dance studio and an open-air theater. His architect friend Le Corbusier helped him build a villa on the site of the original Roman structure. After Massine's death, the islands were purchased in 1988 by Russian dancer Rudolf Nureyev, who spent the last years of his life there. After Nureyev's death, the islands were purchased by Giovanni Russo, a Sorrento hotelier who rents the seven-suite villa only for three weeks each season, from May through October. Through the years, many celebrities have checked into this exclusive retreat.
The property has been on and off the market for years; the most recent public listing of the three islands dates from 2011 and the asking price was €195M.
6. Chicken Island, Thailand
Photo: TripAdvisor
Koh Kai (sometimes spelled Koh Gai or Koh Khai and meaning 'Chicken Island' in Thai), is also called Koh Hua Khawan or Koh Poda Nok. It is a small island belonging to the Poda group of islands located about eight kilometers from Ao Nang in the province of Krabi. Koh Kai takes its name from the chicken-shaped rock forming its southern tip. Most island-hopping tours from Krabi and Phuket make a short stop at this picturesque limestone chicken, giving visitors a cool photo opportunity.
Another peculiarity of Koh Kai is that it is linked to Koh Tap and Koh Mor by a sandbar, which is only visible at low tide, offering visitors the opportunity to walk from one island to the other, surrounded by crystal clear waters. This land bridge forms into one of Koh Kai's two beaches, with the other situated next to the chicken-shaped rock. The waters surrounding the island hosts superb coral reefs, providing visitors with great snorkeling and scuba diving opportunities. Note that apart from a small shack selling snacks and drinks, there's no infrastructure built on Koh Kai.
7. Turtle Island, Philippines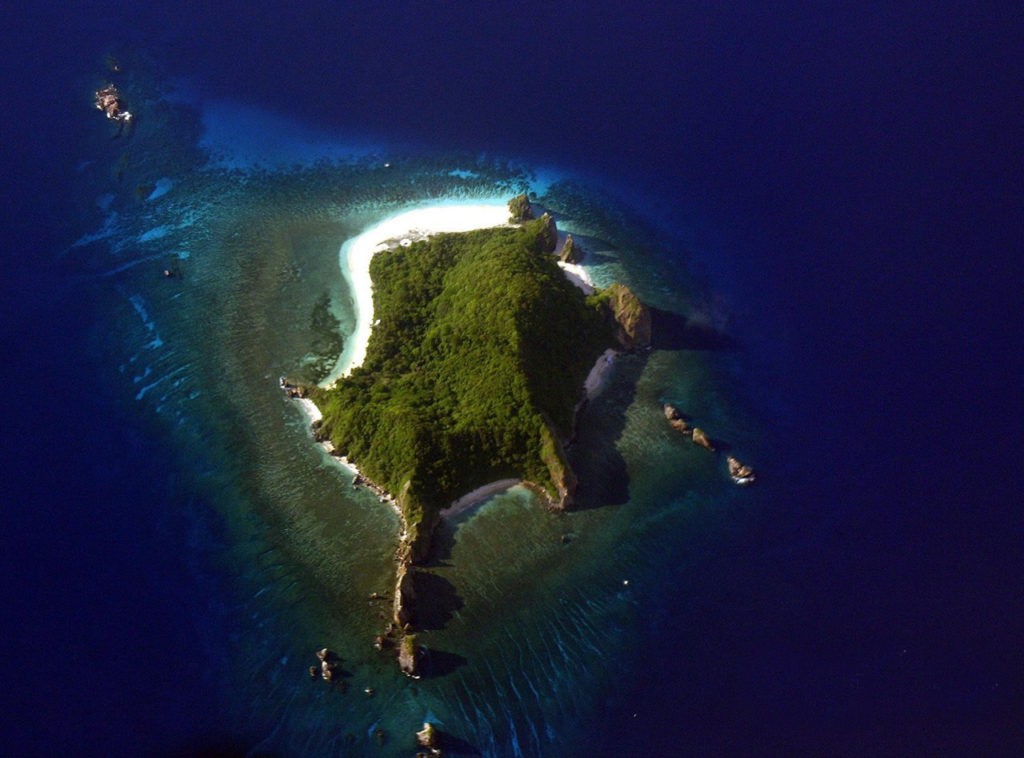 Photo: Palawan Islands and Beach Lots for Sale
Turtle Islands, officially the Municipality of Turtle Islands, is a 5th class municipality in the province of Tawi-Tawi, Philippines. According to the 2020 census, it has a population of 5,683 people.
It is also known as Philippine Turtle Islands to distinguish it from its Malaysian counterpart; while locals call it Taganak.
Access to the Turtle Islands is difficult, as there are no regular means of transportation to the area. This has kept the islands protected from turtle egg poachers. A station for park rangers is also present on the islands. The island municipality and its surrounding waters form part of the Turtle Islands Wildlife Sanctuary.
Turtle Island, shaped like its namesake animal, is part of a larger archipelago of limestone landmasses in Pangasinan, a province on the west coast of Luzon that features a variety of different-shaped islands. One is said to resemble a crocodile, while others look like mushrooms or umbrellas. When Turtle Island is viewed from the right angle, it takes very little imagination to see a sea turtle floating on the top of the water.
This is a popular destination, thanks not only to the whimsical tree-covered limestone formations but also its wildlife, swimming, and snorkeling opportunities. There are plenty of easily accessible caves to explore as well.
Top 8 Most Mesmerizing Beaches In Caribbean

The vast Caribbean Islands include the Caribbean Sea and beautiful islands with breathtaking and gorgeous beaches. Warm waters, swaying palm trees and an endless supply ...