The Safest Airlines In The World For 2022
The AirlinesRating website has listed a list of 20 safest airlines in the world that you can travel this year, with Air New Zealand coming on top and Etihad Airways on the second.
The past year has proved to be yet another incredibly difficult one for airlines as the slump in air travel continued throughout 2021 due to the impact of the ongoing pandemic.
This year, Air New Zealand has come out on top on the annual safety table, which monitors 385 carriers from across the globe, measuring factors such as the airlines' crash and serious incident records, the age of their aircraft, as well as Covid-19 protocols and operational innovation.
The flag carrier airline for New Zealand was awarded first place "due to its excellent incident record, number of cockpit innovations, pilot training and very low fleet age," according to Geoffrey Thomas, editor-in-chief of the Australian-based website. Etihad Airways took second place, while Qatar Airways came in third, with Singapore Airlines and TAP Portugal achieving fourth and fifth place respectively.
Noticeably missing from the top five is Qantas, which held the title of world's safest airline from 2014 to 2017, as well as 2019 to 2021 (no clear winner could be found in 2018). Australia's flag carrier takes seventh place this time due to a "slight increase in incidents coupled with the fleet age." In October 2021, a Qantas Boeing traveling from the Australian city of Perth to Adelaide in Western Australia was diverted due to a fuel imbalance, in an occurrence classified as a "serious incident."
"The last two years have been extremely difficult for airlines with Covid-19 slashing travel and Airline Ratings editors have particularly focused on the lengths airlines are undertaking to retrain pilots ahead of a return to service," explains Thomas. "Air New Zealand is a leader in this field with comprehensive retraining.", according to CNN.
1. Air New Zealand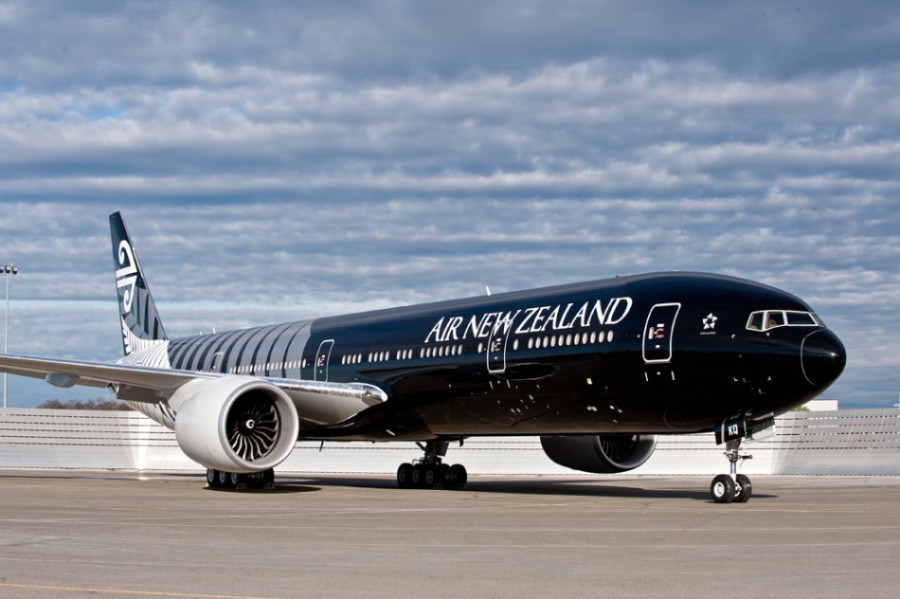 Photo: Air Cargo Week
Air New Zealand Limited is the flag carrier airline of New Zealand. Based in Auckland, the airline operates scheduled passenger flights to 20 domestic and 31 international destinations in 20 countries, primarily around and within the Pacific Rim. The airline has been a member of the Star Alliance since 1999.
Air New Zealand originated in 1940 as Tasman Empire Airways Limited (TEAL), a company operating trans-Tasman flights between New Zealand and Australia. TEAL became wholly owned by the New Zealand Government in 1965, whereupon it was renamed Air New Zealand. The airline served only international routes until 1978, when the government merged it and the domestic New Zealand National Airways Corporation (NAC) into a single airline under the Air New Zealand name. Air New Zealand was privatised in 1989, but returned to majority government ownership in 2001 after near bankruptcy due to a failed tie up with Australian carrier Ansett Australia. In the 2017 financial year to June, Air New Zealand carried 15.95 million passengers.
Air New Zealand's route network focuses on Australasia and the South Pacific, with long-haul flight services to eastern Asia, the Americas and the United Kingdom. It was the last airline to circumnavigate the world with flights to London Heathrow via both Los Angeles and Hong Kong. The latter ended in March 2013 when Air New Zealand stopped Hong Kong – London flights, in favour of a codeshare agreement with Cathay Pacific. The airline's main hub is Auckland Airport, located near Mangere in the southern part of the Auckland urban area. Air New Zealand is headquartered in a building called "The Hub", located 20 km (12 mi) from Auckland Airport, in Auckland's Wynyard Quarter.
2. Etihad Airways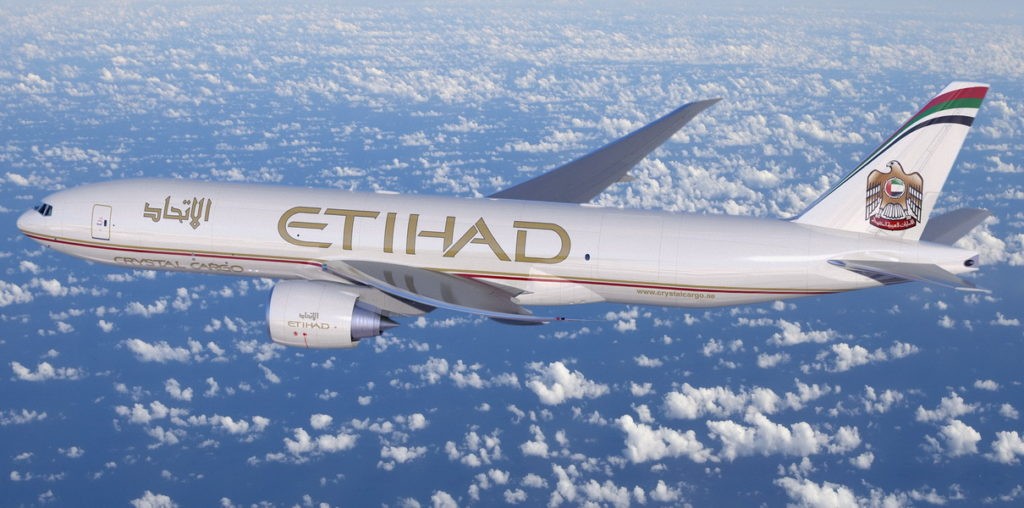 Photo: Travel Daily
Etihad Airways is the second flag carrier of the United Arab Emirates. Its head office is in Khalifa City, Abu Dhabi, near Abu Dhabi International Airport. Etihad commenced operations in November 2003. It is the second-largest airline in the UAE after Emirates.
The airline operates more than 1,000 flights per week to over 120 passenger and cargo destinations in the Middle East, Africa, Europe, Asia, Australia, and North America, with a fleet of 102 Airbus and Boeing aircraft as of February 2020. In 2015, Etihad carried 14.8 million passengers, a 22.3% increase from the previous year, delivering revenues of US$9.02 billion and net profits of US$103 million. Its main base is Abu Dhabi International Airport.
In addition to its core activity of passenger transportation, Etihad also operates Etihad Holidays and Etihad Cargo. Etihad established its airline alliance, Etihad Airways Partners, in October 2015 which was disbanded in 2018 after several of its members fell into financial difficulties. Etihad Airways holds minority equity investments in the participating airlines, as well as having had a stake in Virgin Australia, until its insolvency in April 2020 with no return on investment. Booking for these airlines was consolidated under one network.
3. Qatar Airways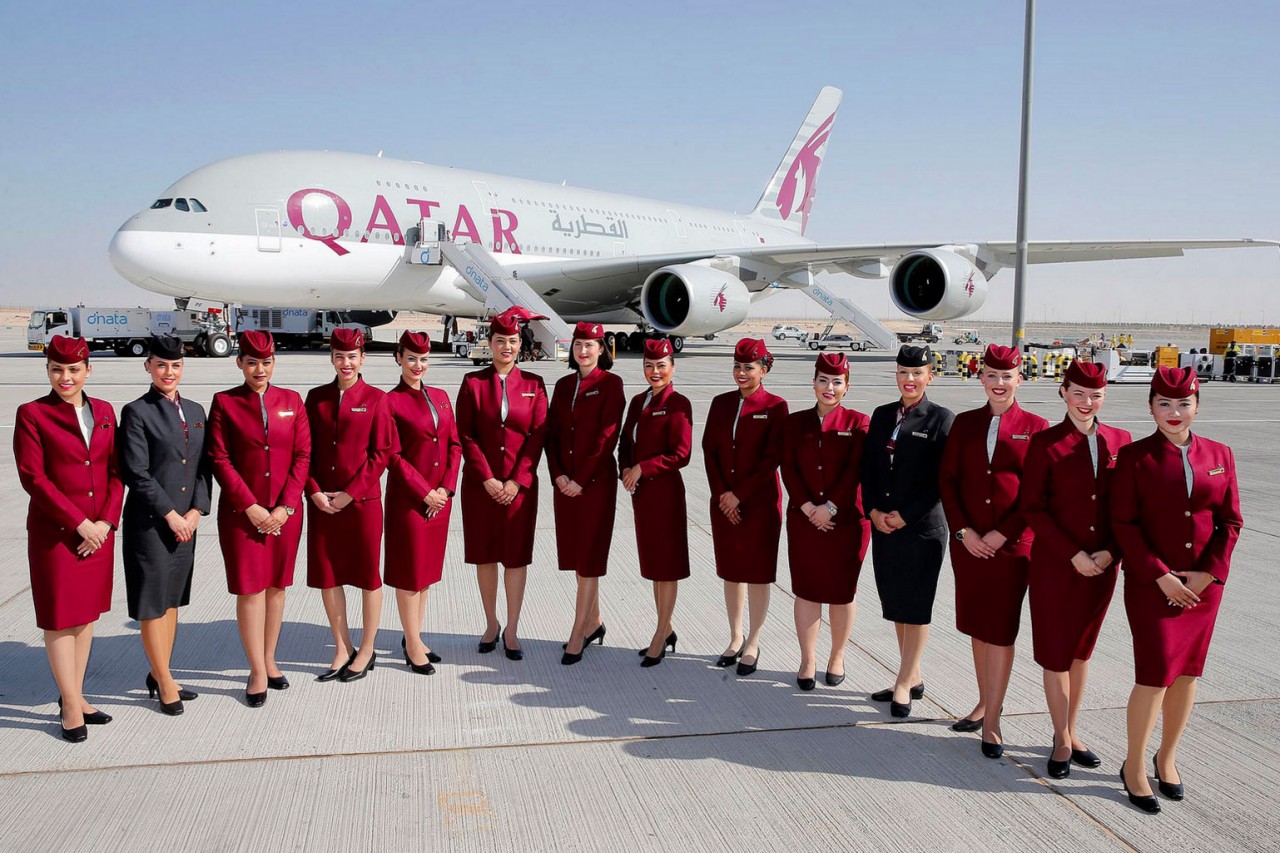 Photo: Qatar
Qatar Airways Company Q.C.S.C., operating as Qatar Airways, is the state-owned flag carrier of Qatar. Headquartered in the Qatar Airways Tower in Doha, the airline operates a hub-and-spoke network, flying to over 150 international destinations across Africa, Asia, Europe, the Americas, and Oceania from its base at Hamad International Airport, using a fleet of more than 200 aircraft. Qatar Airways Group employs more than 43,000 people. The carrier has been a member of the Oneworld alliance since October 2013, the first Persian Gulf carrier to sign with one of the three major airline alliances.
Qatar Airways has an oryx, the national animal of the State of Qatar, as its logo. The aircraft decor includes the word Qatar appearing in burgundy-coloured letters on a light grey background at both sides of the forward part of the fuselage with the word Al Qataria in Arabic titles appearing close to it in a darker grey and a smaller typeface. A burgundy oryx in a grey background adorns the tailfin. The airline unveiled this branding in 2006.
Qatar Airways Cargo, the airline's freight branch, is the world's third largest international cargo carrier. Dedicated cargo flights to Cairo International Airport were launched in June 2009 complementing the passenger services already operated.
4. Singapore Airlines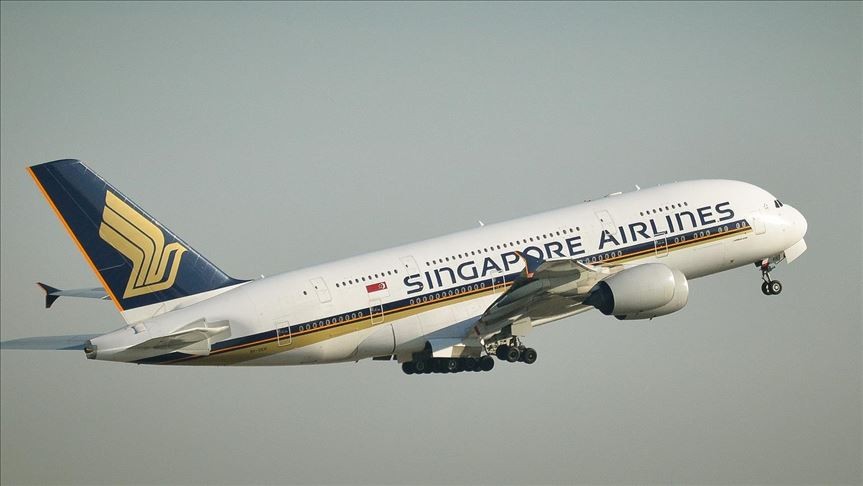 Photo: Anadolu Agency
Singapore Airlines is the flag carrier airline of Singapore with its hub at Singapore Changi Airport. The airline is notable for using the Singapore Girl as its central figure in corporate branding. It has been ranked as the world's best airline by Skytrax four times and topped Travel & Leisure's best airline rankings for more than 20 years.
Singapore Airlines Group has more than 20 subsidiaries, including many airline-related subsidiaries. SIA Engineering Company handles maintenance, repair, and overhaul (MRO) business across nine countries, with a portfolio of 27 joint ventures, including with Boeing and Rolls-Royce. Singapore Airlines Cargo operates SIA's freighter fleet and manages the cargo-hold capacity in SIA's passenger aircraft. Scoot, a wholly owned subsidiary, operates as a low-cost carrier.
Singapore Airlines was the launch customer for the Airbus A380 - the world's largest passenger aircraft - as well as the Boeing 787-10 and the ultra-long-range version of the Airbus A350-900. It ranks amongst the top 15 carriers worldwide in terms of revenue passenger kilometers, and is ranked tenth in the world for international passengers carried. Singapore Airlines was voted as the Skytrax World's Best Airline Cabin Crew 2019. The airline also won the second and fourth positions as the World's Best Airlines and World's Cleanest Airlines respectively for 2019.
5. TAP Air Portugal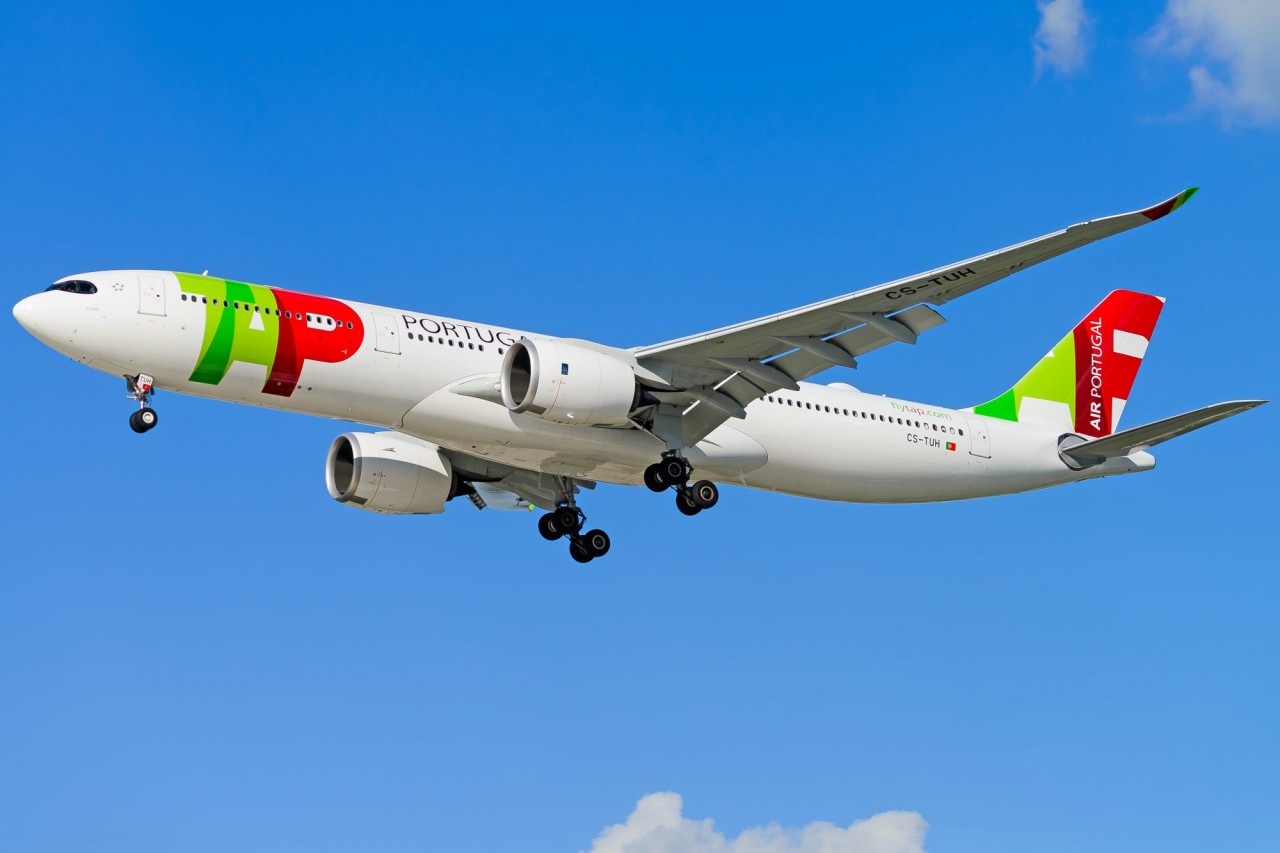 Photo: Airways Magazine
TAP Air Portugal is the state-owned flag carrier airline of Portugal, headquartered at Lisbon Airport which also serves as its hub. TAP – Transportes Aéreos Portugueses – has been a member of the Star Alliance since 2005 and operates on average 2,500 flights a week to 90 destinations in 34 countries worldwide. The company has a fleet of 100 airplanes, all of which manufactured by Airbus with the exception of 22 made by Embraer and ATR, operating on behalf of the regional airline TAP Express.
The airline was established as Transportes Aéreos Portugueses (Portuguese Air Transportations) on 14 March 1945; it began commercial services on 19 September 1946 with an inaugural flight from Lisbon to Madrid using a Douglas DC-3. Having been founded as a national institution, the airline was privatised for the first time in its history during 1953; throughout its existence, TAP would alternate between various forms of public and private ownership. During its early decades of operation, the airline expanded and launched numerous routes, including the lengthy Linha Aérea Imperial colonial service across Africa, various domestic and European services, its first transatlantic service to Rio de Janeiro, Brazil. In addition to DC-3s, TAP procured Douglas DC-4 Skymasters and Lockheed Super Constellation airliners.
In 2007, TAP Air Portugal was awarded by NATO as the Best Engine/Aircraft Source of Repair for the NATO AWACS Maintenance Program and has been distinguished with the highest maintenance and overhaul practice awards from Airbus Industries in 1996, 2000, 2003, and 2005, being certified for full aircraft, engine and component maintenance and overhaul by the FAA, EASA, and several other important certification entities and aircraft manufacturers (Airbus, Boeing, and Embraer).
In 2010, TAP Air Portugal was awarded the "World's Best Airline Award" by British Condé Nast Traveler magazine, after being rated for its excellence in previous years, and was rated as the "Best Airline to South America" by the World Travel Awards in 2009 and 2010, with nominations for "Europe's Leading Airline" and "Europe's Leading Business Class" in 2007, 2009 and 2010. TAP Air Portugal has also consistently achieved high ranks and various awards from specialized air travel publications such as Skytrax and Publituris due to the company's excellence in service and performance. In recent years, TAP Air Portugal has been consecutively elected World's Leading Airline to Africa and South America by the World Travel Awards (WTA), considered the "Oscars" of the world travel industry.
6. SAS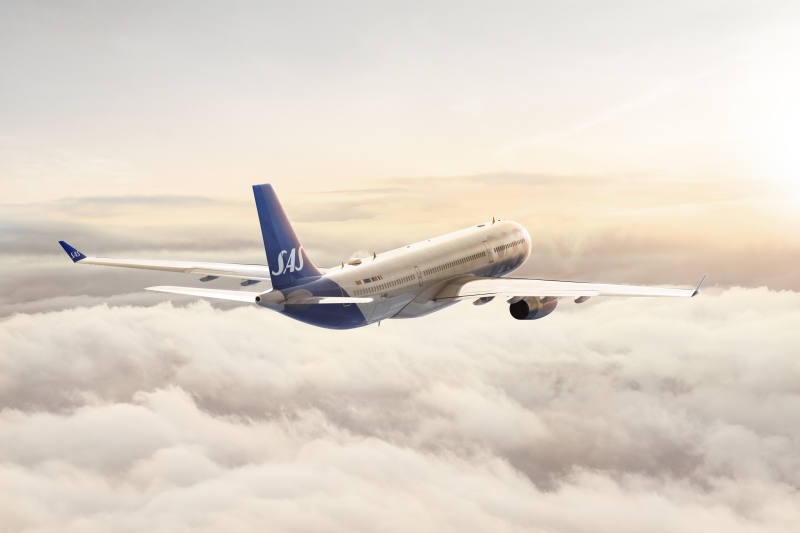 Photo: Flysas
Scandinavian Airlines, more commonly known and styled as SAS, is the flag carrier of Denmark, Norway, and Sweden. SAS is an abbreviation of the company's full name, Scandinavian Airlines System or legally Scandinavian Airlines System Denmark-Norway-Sweden. Part of the SAS Group and headquartered at the SAS Frösundavik Office Building in Solna, Sweden, the airline operates 180 aircraft to 90 destinations (as of December 2019). The airline's main hub is at Copenhagen-Kastrup Airport, with connections to 109 destinations around the world. Stockholm Arlanda Airport (with 106 destinations) is the second largest hub and Oslo Airport, Gardermoen being the third major hub of SAS. Minor hubs also exist at Bergen Airport, Flesland, Göteborg Landvetter Airport, Stavanger Airport, Sola, and Trondheim Airport, Værnes. SAS Cargo is an independent, wholly owned subsidiary of Scandinavian Airlines and its main office is at Copenhagen Airport.
In 2017, SAS carried 28.6 million passengers, achieving revenues of 40 billion Swedish kronor. This makes it the eighth-largest airline in Europe and the largest in Denmark and Sweden. The SAS fleet is composed of 180 aircraft consisting of Airbus A319, Airbus A320, Airbus A320neo, Airbus A321, Airbus A330, Airbus A350, and Boeing 737 Next Generation aircraft. SAS also wet leases Airbus A320neo, ATR 72, and Bombardier CRJ900 aircraft.
7. Qantas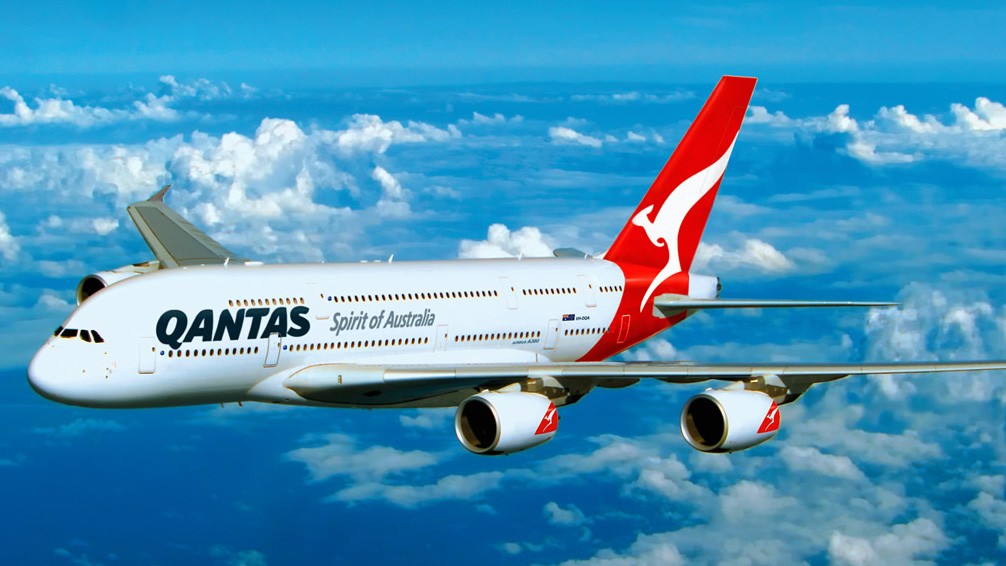 Photo: Quantas
Qantas Airways Limited is the flag carrier of Australia and its largest airline by fleet size, international flights and international destinations. It is the world's third-oldest airline still in operation, having been founded in November 1920; it began international passenger flights in May 1935. Qantas is an acronym of the airline's original name, Queensland and Northern Territory Aerial Services, as it originally served Queensland and the Northern Territory, and is popularly nicknamed "The Flying Kangaroo". Qantas is a founding member of the Oneworld airline alliance.
The airline is based in the Sydney suburb of Mascot, adjacent to its main hub at Sydney Airport. As of March 2014, Qantas had a 65 per cent share of the Australian domestic market and carried 14.9 per cent of all passengers travelling in and out of Australia. Various subsidiary airlines operate to regional centres and on some trunk routes within Australia under the QantasLink banner. Qantas also owns Jetstar, a low-cost airline that operates both international services from Australia and domestic services within Australia and New Zealand; and holds stakes in a number of other Jetstar-branded airlines.
8. Alaska Airlines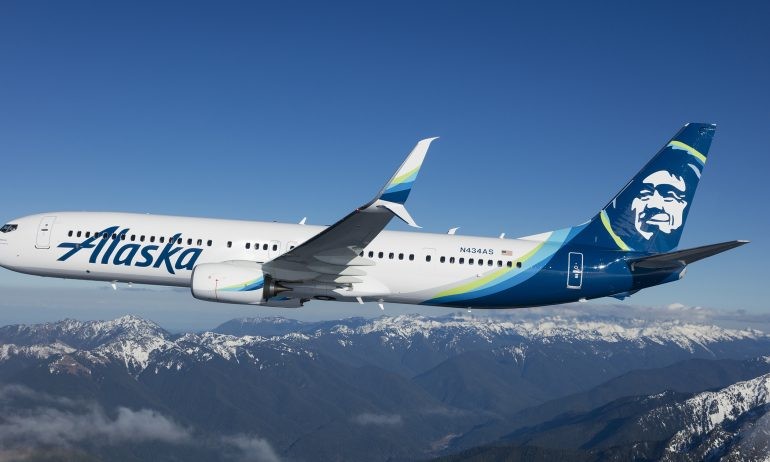 Photo: NerdWallet
Alaska Airlines is a major American airline headquartered in SeaTac, Washington, within the Seattle metropolitan area. It is the fifth largest airline in the United States when measured by fleet size, scheduled passengers carried, and the number of destinations served. Alaska, together with its regional partners Horizon Air and SkyWest Airlines, operate a large domestic route network, primarily focused on connecting from the Pacific Northwest, West Coast, and Alaska to over one hundred destinations in the contiguous United States, Hawaii, Belize, Canada, Costa Rica, and Mexico.
The airline operates out of five hubs, with its primary hub being at Seattle–Tacoma International Airport. Alaska Airlines is a member of Oneworld alliance, the third largest airline alliance in the world. As of 2020, the airline employs over 16,000 people and been ranked by J. D. Power and Associates as having the highest customer satisfaction of the traditional airlines for twelve consecutive years.
9. EVA Air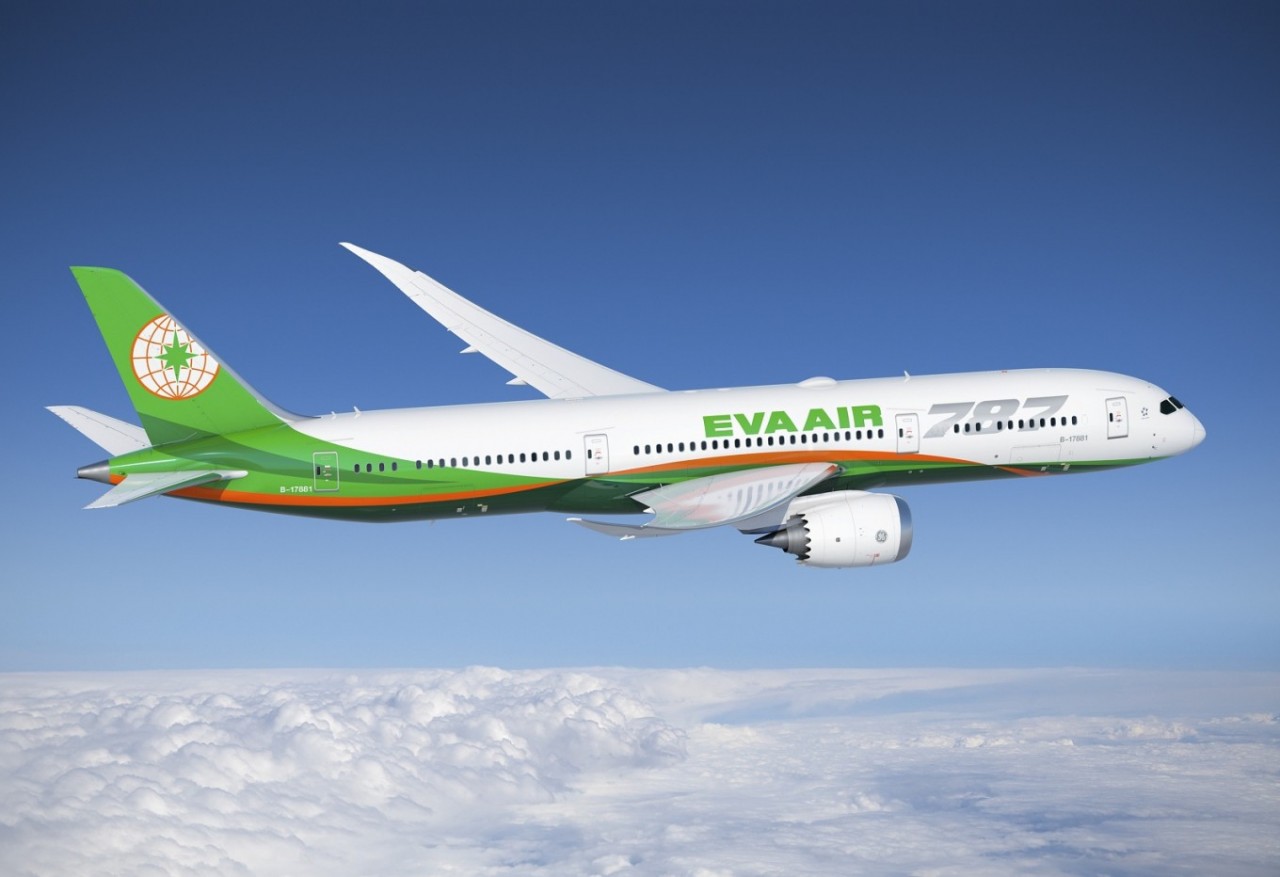 Photo: Aveair
EVA Airways Corporation, of which "EVA" stands for Evergreen Airways, is a Taiwanese international airline based at Taoyuan International Airport near Taipei, Taiwan, operating passenger and dedicated cargo services to over 40 international destinations in Asia, Australia, Europe, and North America. EVA Air is largely privately owned and flies a fully international route network. It is a 5-star airline, rated by Skytrax. It is the second largest Taiwanese airline (after China Airlines). EVA Air is headquartered in Luzhu, Taoyuan City, Taiwan. The company slogan is "Sharing the World, Flying Together" (分享世界,比翼雙飛).
Since its founding in 1989 as an affiliate of shipping conglomerate Evergreen Group, EVA Air has expanded to include air cargo, airline catering, ground handling, and aviation engineering services. Its cargo arm, EVA Air Cargo, links with the Evergreen worldwide shipping network on sea and land. Its domestic and regional subsidiary, UNI Air, operates a medium and short-haul network to destinations in Taiwan, Macau and China with its main hub in Kaohsiung, Taiwan. As of January 2018, EVA Air is the 15th safest airline in the world, with no hull losses, accidents, or fatalities since its establishment.
EVA Air operates a mixed fleet of Airbus and Boeing aircraft, with Airbus A330, Airbus A321, Boeing 777, Boeing 787, and ATR 72 (operated by UNI Air) airliners primarily used on passenger routes, along with Boeing 777 freighter aircraft used on cargo routes. The airline was one of the first carriers to introduce the Premium Economy class (previously called Elite Class by EVA Air), which it debuted in 1991.
AirlineRatings.com's safest airlines for 2022:
1. Air New Zealand
2. Etihad Airways
3. Qatar Airways
4. Singapore Airlines
5. TAP Air Portugal
6. SAS
7. Qantas
8. Alaska Airlines
9. EVA Air
10. Virgin Australia/Virgin Atlantic
11. Cathay Pacific Airways
12. Hawaiian Airlines
13. American Airlines
14. Lufthansa
15. Finnair
16. KLM
17. British Airways
18. Delta Air Lines
19. United Airlines
20. Emirates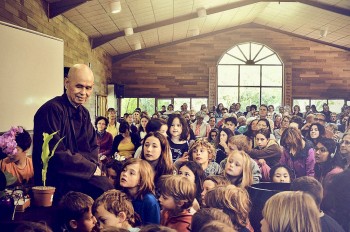 Viet's Home
The master of meditation "passed away peacefully" at the Tu Hieu Temple in Hue – where his spiritual journey began and Vietnam's Buddhist heartland, the Plum Village Community of Engaged Buddhism said.