TasteAtlas: Vietnam Among Top 20 World's Cuisines Ranking
Vietnam has been listed among the top 20 countries in the world with the best cuisines, as compiled by renowned international food magazine TasteAtlas.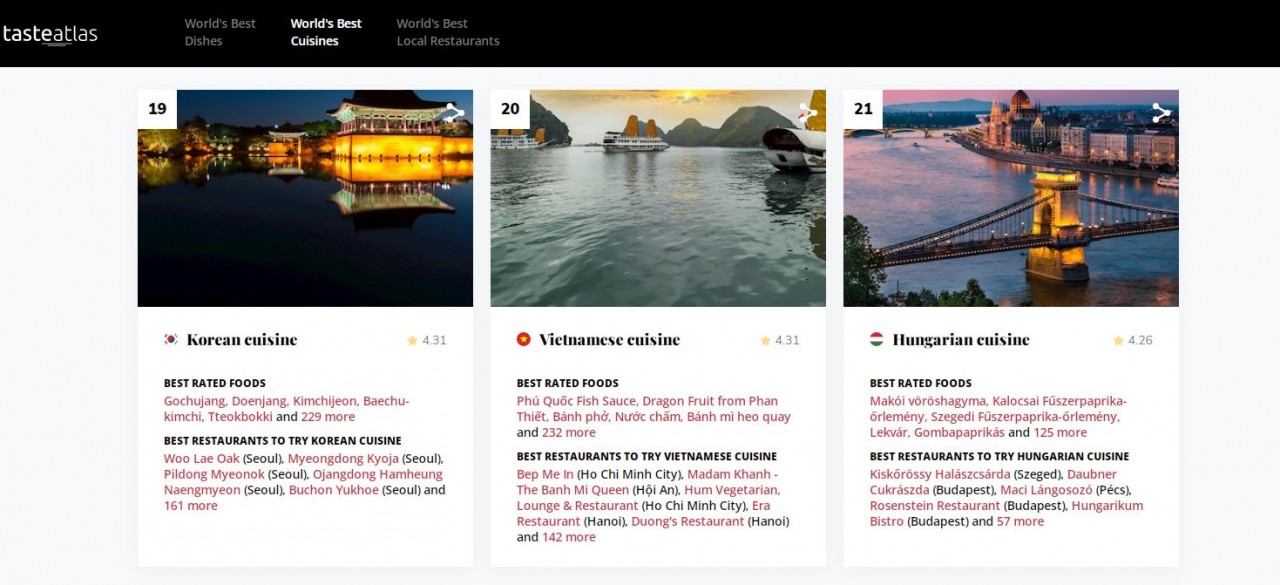 World's cuisines ranking according to audience votes for ingredients, dishes and beverages.
TasteAtlas released a collection of the top 100 world's cuisines, ranking them according to audience votes for ingredients, dishes, and beverages.
Italy topped the international list, followed by Greece, Spain, Japan, and India.
Vietnam came in a respectable 20th place. The magazine suggested that visitors to the country same some of the best rated food the nation has to offer, including Phu Quoc Fish sauce, Pho (Vietnamese noodle soup), Banh mi heo quay (Banh mi with roasted pork belly), and Bun cha (vermicelli with grilled pork and fresh herbs).
Other popular dishes include Bun bo Hue (Hue beef noodle soup) and Com tam (Broken Rice).
This comes after Pho was also ranked 34th in a list of the 100 most popular dishes by TasteAtlas.
The magazine described Pho as one of the most beloved Vietnamese dishes in the western hemisphere due to its complex, unique flavors, and elegant simplicity.
The soup is traditionally served with chicken or beef broth where the bones simmer lazily for at least three hours until the broth is perfect, it said, adding that the addition of herbs and spices accentuates the flavors, and the chewy rice noodles, juicy beef slices, and crunchy sprouts elevate the dish to another level.
Pho is also among three Vietnamese dishes – along with Banh mi and iced coffee –named in the CNN's list of "50 of the best street foods in Asia" which it calls just a "small sampling of the region's wonderful food traditions.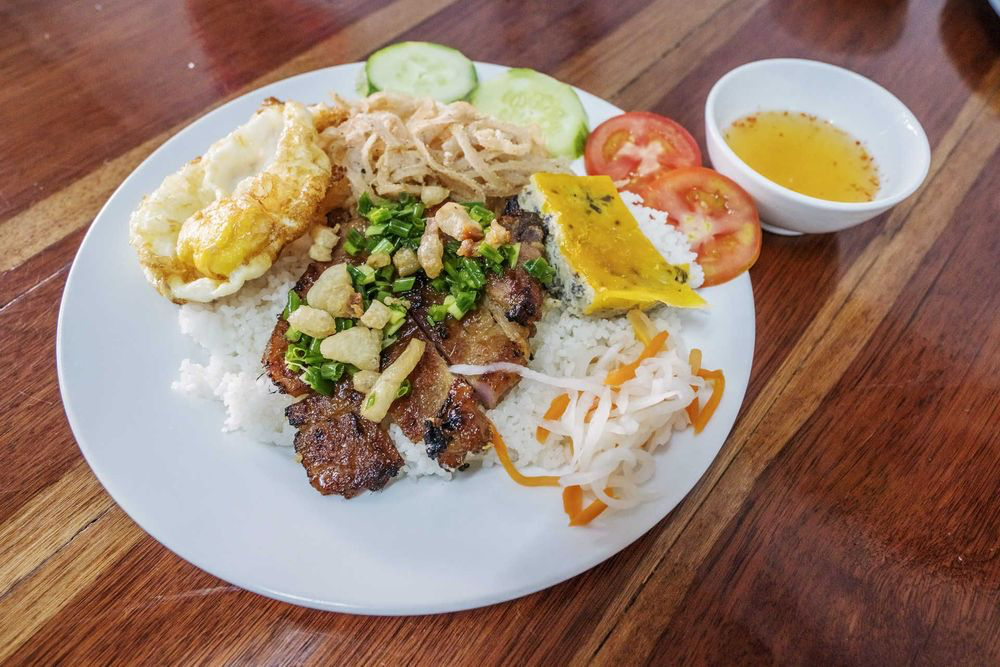 Com Tam, Vietnam food © Tonkinphotography/Shutterstock
Any trip to Ho Chi Minh City wouldn't be complete without trying some cơm tấm (broken rice), according to VNS.
The dish is now available nationwide, but the taste of a plate of broken rice with grilled pork chops, shredded pork skin and steamed egg custard is best in the south, particularly in HCM City.
As the name suggests, com tam is made from broken rice grains. According to many elderly Saigoneers, the dish used to be a popular dish among poor farmers.
In the past, broken rice was considered inferior rice, so it was cheap and used to feed pigs or chickens. However, during bad rice seasons, people had to eat broken rice.
Together with its ingredients, broken rice has become a symbolic dish of the most populated city in Vietnam and an example of the cultural interchange between eastern and western cuisine: being served in Western-style, accompanied by French-style grilled pork chops, steamed egg custard of the Chinese, northern-style shredded pork skin mixed with the sweet and sour fish sauce of the Saigoneers.
Broken rice is normally steamed so the rice seeds are cooked evenly. In some areas, chefs also add pineapple leaves to the steaming water to add a mild aroma.
The rice is then be scooped onto the plate and the grilled pork chops, steamed egg custard, shredded pork skin and oil onion (made of scallions and oil garnish) are all added. The diner will spread the sweet and sour fish sauce on top and dig in.
However, the dish varies from restaurant to restaurant, particularly the meat marinade recipe. Each restaurant also has its own way of mixing its fish sauce. A restaurant where the ribs are well marinated, the grilled meat is tender and fragrant and offers tasty fish sauce will surely attract many diners
The chefs have also enriched the dish new ingredients like grilled rolls, char siu or fried eggs.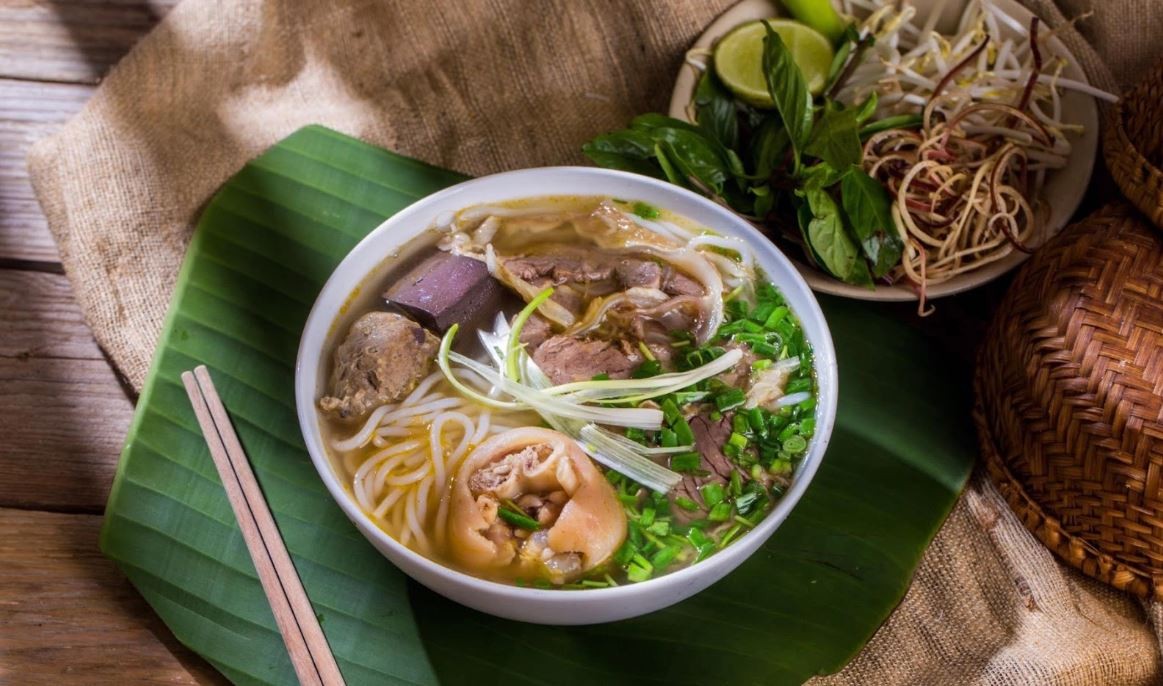 Bun Bo Hue, a special dish of this land. Photo: Zing News
Meanwhile, Bun Bo Hue (Hue beef noodle), a popular dish in Thua Thien - Hue central province has become well-known worldwide. The late US chef Anthony Bourdain calls it the world's best noodle soup in his show on CNN.
The dish mainly includes beef, rice vermicelli noodles, garlic, fresh herbs and vegetables while roasted peanuts and fried shallots are entirely optional. Its name is to recognize the original region dish but you can find that elsewhere in Vietnam in recent years because of its fame.
The noodles, vegetables, and herbs are arranged in bowls, while the beef is stir-fried and added on top.
You will have chance to eat many different meat that the cook add in broth for flavor. From fresh beef to cooked beef shank, the pork feet to pork ribs or meat, the meatball and black pudding. So interesting to see it right at places and show to choose what you want to eat.
Bun Bo Hue is the best as breakfast and dinner along many street food stall. You can see many sign with its name" Bún Bò Huế" almost every street in the morning. In the evening it will have the area for its serving and there will be many different street stall at the same street.
In May 2022, the Vietnamese spicy soup with beef in Hue style, has been put on the lunch menus of 35 Japanese elementary and secondary schools in Saijo City, of Ehime Prefecture in the northwest of Shikoku Island.
Bun bo Hue appeared on the menu at 35 elementary and junior high schools in the city in Ehime prefecture on April 26, Japanese newspaper NHK reported.
Around 500 children at the school chose the Vietnamese dish for lunch, Yahoo News reported.
"I find this dish very tasty though a bit spicy," a girl told an interviewer after the meal. "It looks like ramen to me," said another student. "I want to continue to enjoy this dish next time."
According to Newsnpr.orf, one female student described Bun Bo Hue as having noodles that were as soft and delicious as Udon noodles, except for the orange broth and "the taste is very different from Japanese dishes".
Vietnamese Cuisine Promoted in Israel

On December 12, Hanoi Coffee restaurant in Tel Aviv city (Israel) held a menu launching ceremony to introduce some homeland dishes prepared by Vietnamese chefs.