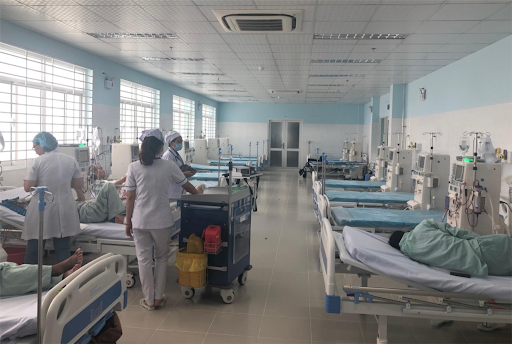 (The field hospital provided for Covid-19 patients)
In response to the Covid-19 epidemic, Hanoi Department of Health said that the second field hospital is planned to be built at the Driving licensing center, located in Thach Hoa commune, Thach That district. The field hospital will meet the needs for medical examination and treatment when the Covid-19 epidemic spreads on a large scale.
The 2nd field hospital is a facility organized, built and implemented on the situation of Covid-19 epidemic at level 4 (when there are more than 1,000 cases). This field hospital contains 600 beds with 20 functional departments that is able to collect, provide emergency treatment and isolate all Covid-19 patients in the area.
The hospital will be constructed within 10 days on the basis of the existing items but it must ensure the principle of infection control and is equipped with essential equipments such as: Breathing machine, portable X-ray machine, screening machine, biochemical test machine, hematology test machine, ambulance.
According to statistics, the maximum capacity of all hospitals in Hanoi in case an outbreak occuring is 5,000 beds. Hanoi has planned to build 2 field hospitals. The 1st hospital will be located in Xuan Son commune, Son Tay, Hanoi with 600 beds.
Covid-19 appeared in 119 countries and territories, causing nearly 119,000 people infected, more than 4,200 died, after the onset in Wuhan City, Hubei Province, China in December 2019. In Vietnam, up to the end of March 10, a total of 34 cases have been recorded, of which 16 cases recovered.
VN's second field hospital launched

A new field hospital was established in Ha Noi on Thursday, aiming to train Vietnamese military medical officers to prepare for a UN peacekeeping mission ...
Candy Lee