The Vietnamese 'little star' pianist in US
And she kept smiling until the end of the performance. 
(VNF) – At the age of six, Katherine Tran has conquered two international piano competition and was invited to perform at a world-class concert hall after only one and a half year getting to know the piano.
Katherine holds her first prize of the Crescendo International Music Competition. (photo provided by Katherine's family)
Shining at the age of six
Katherine has surpassed dozens of formidable contestants to bring home the highest prizes of the two international piano competitions in early May, which are the first place in the "Little Mozarts Competition" held by the Crescendo International Piano Competition and the gold medal at the Golden Key Music Festival.
Katherine began playing the piano at the age of five and began competing at the state and international level shortly thereafter. It took her six months to pass the Associated Board of the Royal Schools of Music grade 3 piano examination with merit.
Thanks to the outstanding achievements, many opportunities are awaiting the 6-year-old Vietnamese American pianist to maximize her potential.
The young girl wins the first place in the "Little Mozarts Competition" on May 5. (source: TAPINTO CHATHAM)
Mommy, the special teacher
However, not many people know, two years ago, the little girl was not accepted to attend the arts school of her mom's dream, and had to learn the piano at home with her mom, instead.
Quyen Nguyen, Katherine's mom, who is residing in New Jersey, still remembered clearly the first few days she and her daughter start practicing the piano together.
"Initially, we just wanted to let her pick up the piano as an extra-curriculum activity, having fun while learning. But the result turned out to be amazing. After only four days practicing in a local musical center, Katherine was already able to play a full song with two hands. More to mention, the song was considered relatively difficult for her age and the time she spent on practicing was rather short. That was the day I decided to find a teacher in a world-leading school of arts for Katherine to further develop her talent," Quyen said.
Katherine Tran astounds many for her incredible talent at the age of 6. (source: vnexpress)
Julliard School, a well-know arts institution in New York city was where Quyen wished Katherine could attend.
However, as Katherine was too young and just started picking up the piano, their request was turned down. But Quyen did not give up. She decided to become Katherine's teacher, or more exactly, her learning companion, despite at that time, she knew nothing about music.
In order to do it, the determined mom bought home lots of piano books to study by herself. Every day, mommy and daughter spent one hour with piano lesson.
Their effort has paid off. At the age of 5, Katherine had been able to read aloud a sheet music, even before she could read the alphabetical.
Katherine and her family. (photo provided by Katherine's family).
In the next 6 months, she passed the Royal Schools of Music grade 3 piano examination with merit.
Thanks to this brilliant result, the little girl was accepted to Julliard school, and became the youngest student in her class there.
Katherine only had one class with Julliard's teacher a week, and spend two hours a day on practicing at home. Although she is still very young, the girl's level of concentration is even higher than many adults, and she is already proficient in musical theory.
Thanks to this solid foundation, it only took Katherine just a few days to learn a two or three-page songs confidently.
Furthermore, the girl had a special gifted sense of hearing, which allows her to distinguish any musical note only by listening to the sound, instead of having to look at the sheet music.
Katherine is good at songs with rapid rhythm and those require complicated technique.
"Katherine has an amazing musical sense at her age, according to the teacher. In addition to that, her hands are distinctive too. The way she touches the piano keyboard is very natural, like an innate skill," Quyen said.
These aforementioned attributes are probably what help Katherine be able to brilliantly complete a 6-minute chapter of music at the age of 6 in two international contests without any pressure.
Coming up to the glamorous stage, standing in front of a huge group of audience, Katherine always showed a sweet smile before bowing down to greet the audience before immersing in her own world of music.
Katherine enjoys painting. (source: photo provided by Katherine's family)
A lot more to explore
Winning a credible competition like Crescendo is a priceless opportunity for young player like Katherine, as it serves as a platform for the Vietnamese American girl to prove her talent and be ready for new challenge and greater success in the future.
One of the special rewards for Katherine from Crescendo is the invitation to perform at the world-renowned opera house Carnegie Hall in New York city in May 5 and early June.
However, according to her mom, the family is yet to shape the future path for the little girl to become a professional pianist. Instead, they want to let their daughter's potentials be explored, expressed and developed in a natural way.
In addition to playing the piano, Katherine is keen on Maths, science and painting. She loves painting wherever and whenever she is, including on the bus.
"Katherine is living a carefree and joyful childhood. I just love my girl to be able to freely play and immerse herself in the nature and music", Quyen said./.
( Translated by Phi Yen )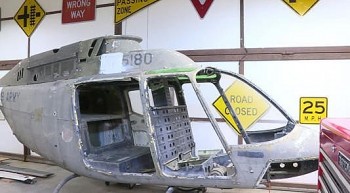 World
A piece of military history related to Vietnam is coming to life with a special project in a small Barton County townm in the US