Three Vietnam destinations among Asia's hidden gems
Phong Nha-Ke Bang, Con Dao islands and Hue in Vietnam have been ranked 18th, 12th and eighth among the 20 hidden gems of Asia, according to a list released by The Travel, a website on vacation destination.
Phong Nha-Ke Bang, Con Dao islands and Hue in Vietnam have been ranked 18th, 12th and eighth among the 20 hidden gems of Asia, according to a list released by The Travel, a website on vacation destination.
Phong Nha-Ke Bang. Photo: Thetravel.com
According to the site, Asia is a huge and mysterious part of the world which has so many incredible places that it would take us years to visit and properly feel them. It's so rich in terms of architectural, spiritual and cultural heritage that it would be a great omission to limit the encounters with Asia only to the places everyone knows.
Phong Nha - Ke Bang National Park
"Vietnam has plenty of outstanding beaches, tasty street snacks and hidden gems that are yet to be discovered by the traveling enthusiasts. Central Vietnam is especially interesting because it serves home to the cities of Hoi an and Hue and to a number of natural wonders one of which is Phong Nha-Ke Bang National Park," The Travel wrote.
The Travel advises travelers that by visiting this UNESCO World Heritage Site you can see the world's largest cave complexes which were only discovered recently, beautiful underground rivers and the oldest karst mountains in Asia.
The Phong Nha-Ke Bang National Park in the central province of Quang Binh, dubbed the "Kingdom of Caves", was recognised as a World Heritage site by UNESCO in 2003. The second UNESCO recognition of Phong Nha-Ke Bang National Park was announced in 2015.
Phong Nha-Ke Bang is noted for its cave and grotto systems as it is composed of 300 caves and grottos. It is also home to Son Doong cave, which was recognised in 2016 as the largest of its kind by three international organisations, including the UK-based Guinness World Records, Hong Kong-based World Record Association, and the U.S. and India-based World Kings.
A glimpse of tradition on a hillside in Con Dao. (Photo: leestarnes)
Con Dao islands
Con Dao islands in the southern province of Ba Ria – Vung Tau is another hidden gem of Vietnam and another secret hideout for those who are drawn by the magic of tropical beaches. This slice of paradise is quite isolated and it looks otherworldly. But it wasn't always like this. The island was used as a brutal colonial prison during the war. Now it is a peaceful, tranquil island popular with fishermen and tourists who enjoy the beauty of sparkling sea, and white sand.
"You can spend half of your day enjoying empty beaches and drinking cocktails, swimming in the clear sea and enjoying the jungles and use another part of the day to see the colonial-era prisons and learn about the lives of their former inmates," The Travel wrote.
Reachable by flight from Ho Chi Minh City or ferry from Vung Tau, Con Dao offers coral reefs, palm-shaded beaches, rainforest trails and chic beach hotels like the Six Senses Con Dao.
History buffs will revel in the island's role in the age of ocean exploration -- Marco Polo allegedly stepped ashore at Con Dao on his long return journey to Venice. To learn more about the island's past, travelers can explore the Revolutionary Museum or tour the old prisons on the main island.
Con Dao is a haven for outdoorsy types too, with plentiful scuba, snorkeling and fishing opportunities. Between May and October, visitors can watch sea turtles lay their eggs, while the infants hatch and scramble into the sea.
The best way to get around Con Dao is via motorbike, easy to hire from most hotels or a local rental outfit.
Hue Imperial city. (Photo: Internet)
Hue city
In addition, the third hidden gem of Vietnam on the list is the city of Hue in the central province of Thua Thien-Hue.
"On the one hand we're lucky that this town isn't getting the attention it should because knowing about it, we can travel there and enjoy it while it's not crowded, but on the other hand, it's a pity that so many people miss this place when traveling to Asia," The Travel wrote.
According to The Travel, it will take you only an hour to get to Hue from Hanoi by place. There are plenty of things to see, but what you should definitely pay your attention to the historic imperial ruins and the Perfume River.
Hue city was the imperial capital of Vietnam for hundreds of years. It is home to five UNESCO-recognised heritages, namely the Hue ancient citadel relic complex – a World Cultural Heritage site; Nha Nhac (Hue royal court music) - an intangible cultural heritage item; Nguyen Dynasty's wood blocks – a documentary heritage item; Nguyen Dynasty's Chau ban (royal administrative documents) – part of the Asia-Pacific Register of UNESCO's Memory of the World Programme; and literature on Hue royal architecture - a documentary heritage.
Also, Hue food is a must when you visit the ancient capital of Vietnam.
Kashmir (India) tops the list, followed by Jiuzhaigou (China), Iskanderkul Lake (Tajikistan), Coonoor (India), Cardamom Mountains (Cambodia), Koh Phayam (Thailand), Sidemen (Bali), Hue (Vietnam), etc./.
VNF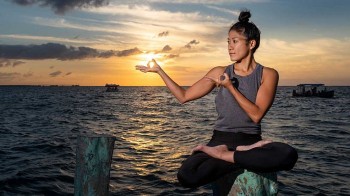 Overseas Vietnamese
With a view to inspire greater compassion, kindness, and empathy in the world, Caroline Vo left her high-paid job and came up with the idea to build an online yoga practice community.