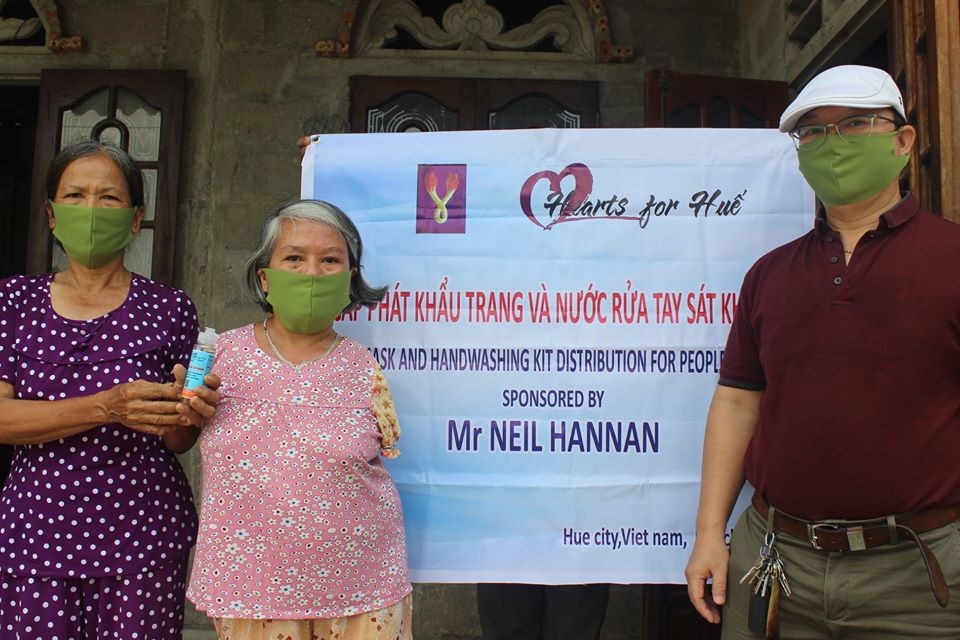 Facemasks and hand sanitizer distribution in Huong Xuan, Huong Tra Town
The program was sponsored by a foreign donor with a fund of USD 2,000.
In Vietnam, the number of cases continues to rise recently. The Ministry of Health, therefore, recommends some preventive measures focusing on wearing facemasks in public places and using hand sanitizer.
Hearts For Hue conducted a survey of need assessment of facemasks and hand sanitizer in Huong Xuan, Quang Phuoc, Quang Phu and Hue's outskirts areas. The report found that marginalized people in the outskirts have not sufficient access to the facemasks and hand sanitizers during the coronavirus outbreak. However, due to lacking the fund, the local authorities are not able to provide sufficiently facemasks and hand sanitizer for the residents.
Understanding the difficulties that they have faced, Hearts For Hue in collaboration with the local authorities, under the sponsorship of Neil Hannan, has provided 2.400 washable and reusable face masks and 1.200 hand sanitizer bottles produced by the College of Industrial.
From April 1 to 15, Vietnam imposes nationwide distancing in order to limit the spread of COVID-19 that has shown no signs of abating. Hereby, now more than ever, it is necessary to continues the distribution of facemasks and hand sanitizer for disadvantaged communities in Thua Thien Hue.
In March, Hearts For Hue in collaboration with Huong Tra Red Cross Societ and the People's Committee of Huong Van and Vy Da Wards had distributed 2.000 masks and 500 hand sanitizer bottles, funded by DOVE Fund and other donors, to the people in need of help in the areas.
According to VNA, Thua Thien-Hue province has released 360 people after quarantine.
Local donors contributed 800 gifts worth VND 160 million (USD 7,000) and eight tonnes of rice to support poor people suffering the impact of the pandemic.
Hearts for Hue (H4H) is a local NGO established in Hue city, Vietnam in 2007 with a mission to improve the lives of disadvantaged people through education, health care and livelihood support programs. It focuses on key areas of social and economic development such as microfinance, community service, health care, and the environment.
VNT