Tokyo Olympics 2020 Update: Anna Kiesenhofer Wins Shock Road Race Gold
Kiesenhofer has written her name in her nation's history books, the first Austrian to win an Olympic road race medal and the first to win an Olympic medal in cycling; Japan's Momiji Nishiya, 13, wins Olympic women's street gold.
Anna Kiesenhofer wins shock road race gold with GB's Lizzie Deignan 11th
The 30-year-old launched a remarkable solo breakaway, sustaining it - her lungs and legs screaming - to finish more than a minute ahead of 2019 world champion Annemiek van Vleuten.
A Cambridge graduate, Kiesenhofer has written her name in her nation's history books, the first Austrian to win an Olympic road race medal and the first to win an Olympic medal in any cycling discipline in 125 years.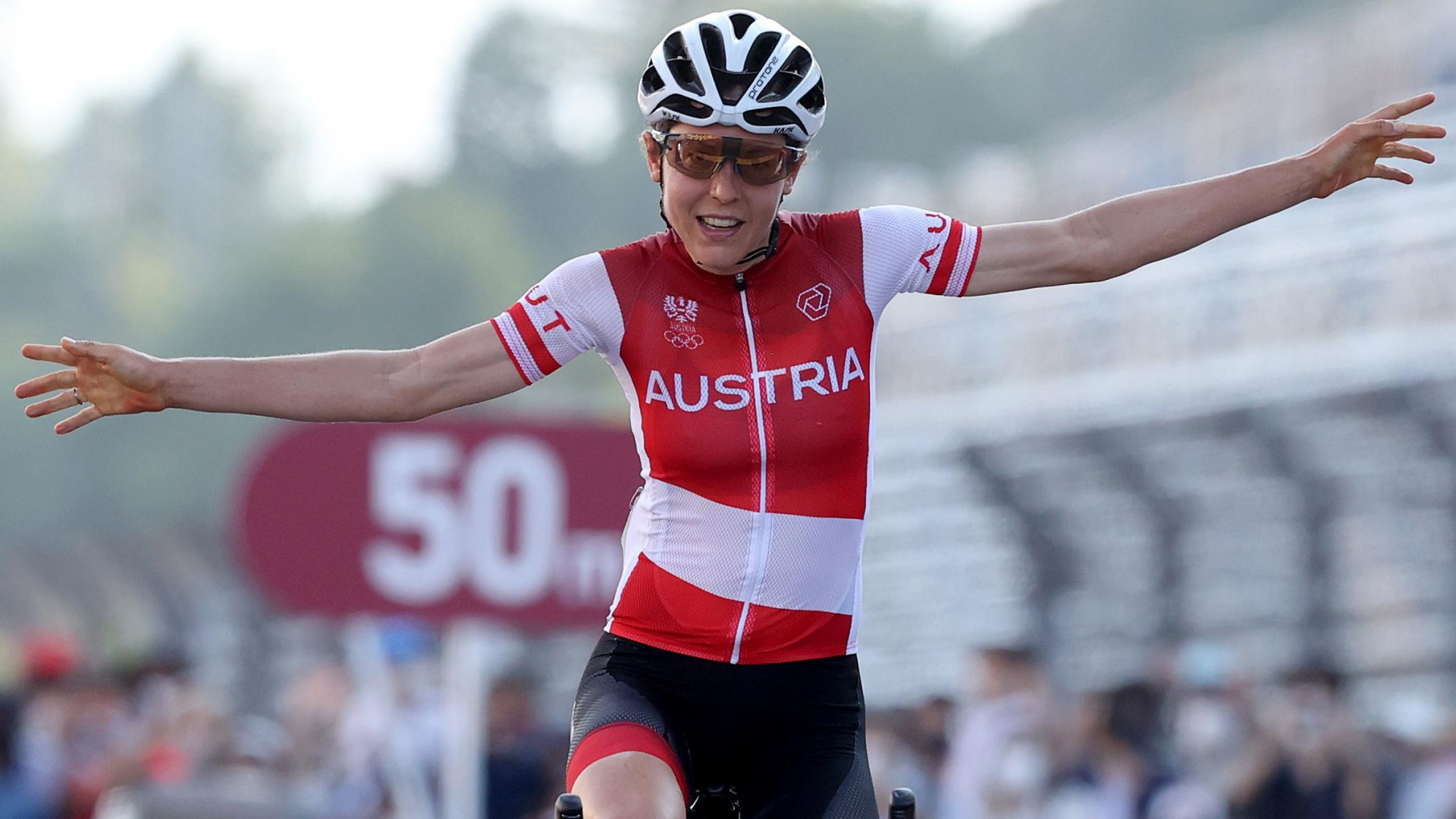 Photo: The Times
It's unlikely she will have realised the magnitude of her success yet, however, her exhaustion apparent as she collapsed to the tarmac of the Fuji International Speedway circuit, gasping for oxygen as her depleted body realised it could finally stop.
"I was just trying to get to the line. My legs were completely empty," she said.
Kiesenhofer was one of a five-rider group that escaped the rest of the field within moments of the 137km race getting under way.
That group was cut to three - Kiesenhofer, Anna Plichta of Poland and Israel's Omer Shapira - with around 70km remaining, before the Austrian time trial champion went solo on the first approach to the Speedway circuit, where the race would conclude.
Van Vleuten broke away from the peloton on a charge of her own, looking to make amends for the horror crash that ended her road race at Rio 2016 when she had looked set for the title.
Van Vleuten who had crashed earlier in the race, was reeled back in with around 25km to go, before she and her Dutch team-mates launched another chase with around 10km left, absorbing Plichta and Shapira back into the peloton.
She then attacked again in the closing stages, thinking she was breaking away for the win.
But Kiesenhofer, clearly struggling as she willed her body not to cramp, continued to power her way around the circuit up ahead, glancing over her shoulder but finding no opposition in sight.
After crossing the line, she fell to the ground in tears, stunned in the aftermath of the biggest win of her career as Van Vleuten and Elisa Longo Borghini took silver and bronze behind her.
Kiesenhofer, without a professional team since 2017, is her nation's first gold medallist at a summer Olympics since Athens 2004.
Skateboarding: Japan's Momiji Nishiya, 13, wins Olympic women's street gold
On the Olympic podium, three teenage girls 13, 13 and 16 with weighty gold, silver and bronze medals around their young necks, rewards for having landed tricks on their skateboards that most kids their age only get to see on Instagram.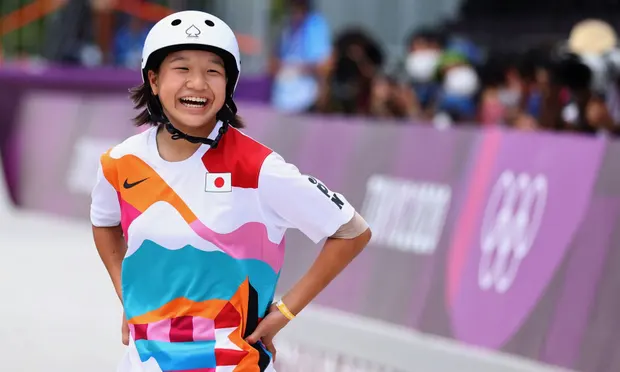 Momiji Nishiya of Japan reacts during Monday's competition at Ariake Urban Sports Park. Photograph: Lucy Nicholson/Reuters
After decades in the shadows of men's skateboarding, the future for the sport's daring, trailblazing women suddenly looked brighter than ever at the Tokyo Games on Monday at Ariake Urban Sports Park.
It's anyone's guess how many young girls tuned in to watch Momiji Nishiya of Japan win the debut Olympic skateboarding event for women, giving the host nation a sweep of golds in the street event after Yuto Horigome won the men's event.
But around the world, girls trying to convince their parents that they, too, should be allowed to skate can now point to the 13-year-old from Osaka as an Olympic-sized example of skateboarding's possibilities.
The silver went to Rayssa Leal, also 13 Brazil's second silver in skateboarding after Kelvin Hoefler finished second on Sunday in the men's event.
The women's bronze went to Funa Nakayama of Japan.
"I'm happy that a skater from the same country as me get a medal," Nishiya said. "I get nervous and lonely if there is no one from my country or no one to speak to. I was not nervous when I am with a competitor like Funa who is from my country and can talk with me. She is a friend of mine and also rival."
Alexis Sablone of the United States, in prime position for the podium with two tricks remaining, settled for fourth after falls on both attempts.
The event was celebrated as a win for women by many of the 20 competitors.
Team GB's Alex Yee wins triathlon silver; Jonny Brownlee finishes fifth
Alex Yee's rapid rise to the top of triathlon brought him a silver medal on his Olympic debut in Tokyo, and with the promise of much more to come in the future.
The 23-year-old was looking to follow in the footsteps of Alistair Brownlee by making it three successive British golds at the Games, but it was Norway's Kristian Blummenfelt who proved the strongest on the run at Odaiba Marine Park.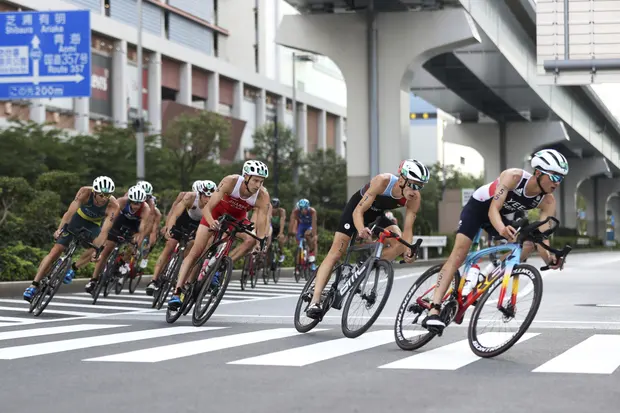 Alex Yee leads the way during the cycling phase of the race. Photograph: Cameron Spencer/AP
Jonny Brownlee, who was bidding for a medal at a third successive Olympics having won bronze in London and silver in Rio, had to settle for fifth.
Yee is the fastest pure runner in the history of triathlon but over the past couple of years, he has proved himself capable of living with the best on the swim and bike as well, making him a formidable competitor.
"It hasn't really sunk in quite yet, it doesn't feel quite real that it's me yet," Yee said, after standing on the podium to receive his medal.
The race started at 6.30am to avoid the worst of the heat and humidity but there were farcical scenes as a boat blocked half of the competitors when the gun went off and the other half had to be stopped and escorted back to the pontoon for a restart.
French double world champion Vincent Luis led the way after the 1.5 kilometres swim, with Brownlee in a nine-strong lead group on the bike and Yee heading the chasers 30 seconds down.
By the fourth lap of the 40km, the two groups were together, meaning the medals would come down to who was the stronger on the 10km run.
Burly Blummenfelt, his kit soaked in sweat and virtually transparent, made the first move on the third lap, pulling Yee, whose career was nearly ended by a serious bike crash in 2017, and Hayden Wilde of New Zealand away from the rest.
Jamaican Gymnast Danusia Francis Makes Olympic Dream Come True
The 27-year-old performed on the uneven bars Sunday with a torn ACL and scored the highest execution score of the day.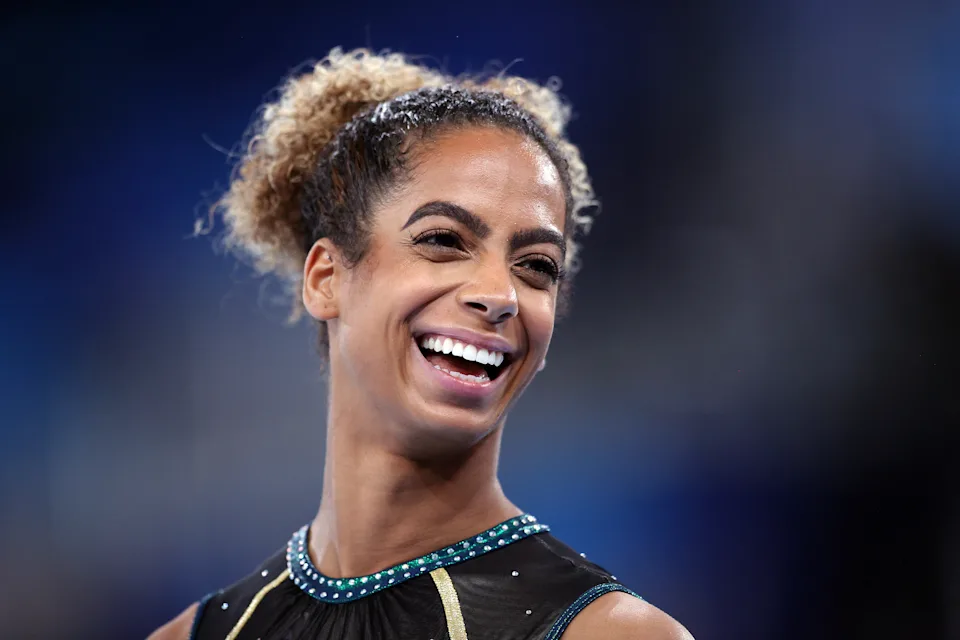 Danusia Francis couldn't compete at her best on an injured knee. But she still competed at the Olympics, which means the world to her. (Photo by Patrick Smith/Getty Images)
The English-born gymnast had been a reserve for Great Britain in the 2012 Games in London, but never got the chance to compete. She then attended UCLA, where in 2016 she was a co-national champion on balance beam.
The Olympics still hung out there, though, as the ultimate goal.
When the opportunity presented itself to compete for Jamaica, where she has family ties, here at the 2020 Tokyo Games, she took it. At age 27, she qualified to be here, only the second Jamaican female to ever reach the Games.
In the run-up to the Olympics, however, she injured her knee. Undeterred, she arrived and took part in podium training late last week before revealing that her left knee was significantly injured, possibly a torn ACL. There was no way she could perform as she hoped.
"Unfortunately, I do have a knee injury," Francis wrote on Instagram.
Rather than just quit, Francis showed up for qualifying here Sunday and decided that if nothing else, she was going to compete in these Olympics.
"Despite the setback, I am only too proud to represent Jamaica," Francis said.
With her left knee heavily wrapped, she took to the uneven bars, where she performed two simple toe-ons before softly dismounting onto her right leg.
That was it. Her entire routine took less than 10 seconds. She hobbled off with her head high and her face beaming.
The judges clearly appreciated the effort. While her degree of difficulty was a comically low 0.5, she was awarded a 9.033 for execution, although they were forced to deduct 6.5 points in various penalties.
In the end, Danusia Francis finished with a score of 3.033.
Iranian defector from Olympic Refugee Team stuns two-time Olympic taekwondo champion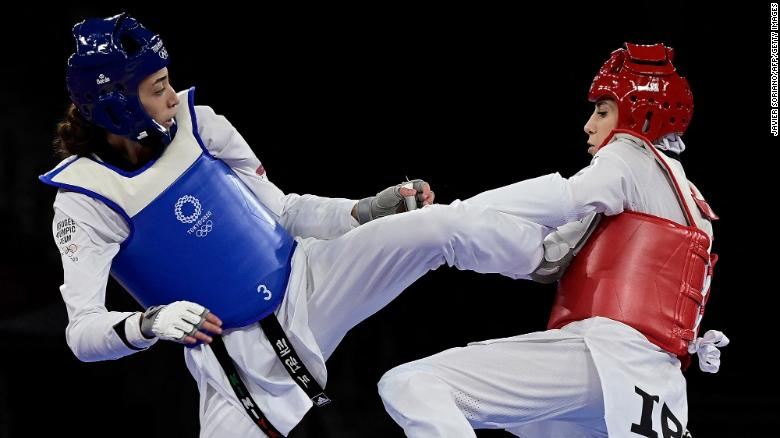 Refugee Olympic Team's Kimia Alizadeh (Blue) and Iran's Nahid Kiyani Chandeh (Red) compete in the taekwondo women's -57kg elimination round bout during the Tokyo 2020 Olympic Games at the Makuhari Messe Hall in Tokyo on July 25, 2021. Photo: CNN
An Iranian taekwondo athlete competing for the Refugee Olympic Team made her mark at Tokyo 2020 after she defeated two-time Olympic gold medalist Jade Jones.
Kimia Alizadeh beat Team Great Britain's Jones 16-12 on Sunday in the women's -57kg taekwondo round of 16.
She then overcame China's Lijun Zhou in the quarterfinals before losing to Turkey's Hatice Kubra Ilgun in the bronze medal match.
Had Alizadeh won that match she'd have secured the Refugee Olympic Team's first ever medal since its creation in 2016.
Earlier on Sunday, Alizadeh beat an athlete representing Iran -- Nahid Kiyani Chandeh -- in a qualifying round.
Five years ago Alizadeh became the first Iranian woman to win an Olympic medal competing for Iran after claiming bronze in taekwondo at the 2016 Rio Olympics.
Affectionately known in Iran as "The Tsunami," Alizadeh announced in 2020 she'd permanently left her birth country for Europe amid searing criticism of the Iranian regime.
Tom Daley and Matty Lee win gold in men's synchronised 10m platform
Tom Daley ended his long wait for an Olympic gold medal with a sublime display alongside Matty Lee in a nerve-filled men's synchronised 10m platform event at Tokyo 2020.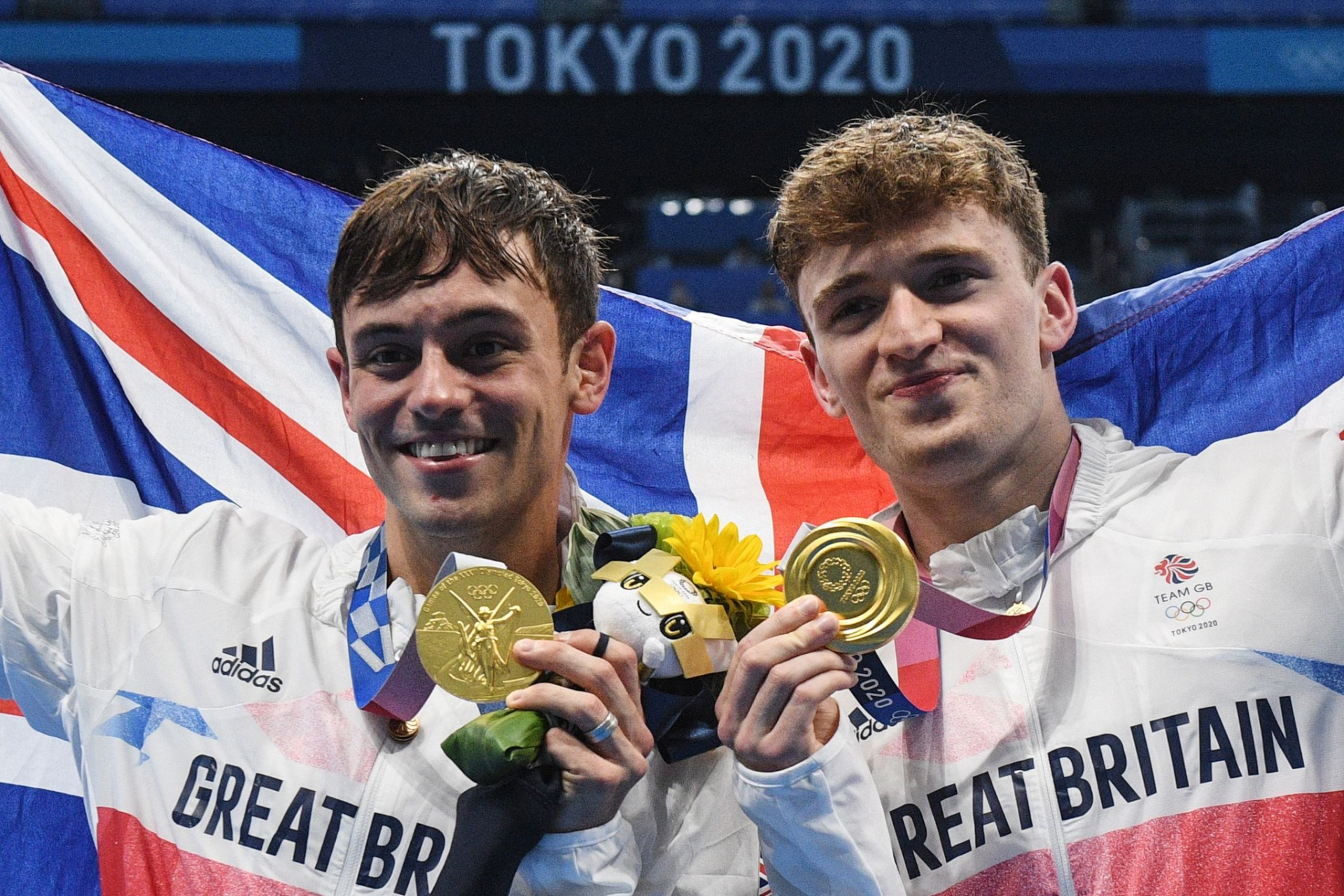 Photo: Getty Images
In a nail-biting finale, the British pair watched on as Cao Yuan and Chen Aisen conducted their final dive and broke into wild celebrations when it became clear they had ended China's golden grip on the event, dating back to 2000.
For Daley - now 27 - it marks a first gold medal at his fourth Olympic Games and he wept with joy on the podium, while Lee - four years his junior - can contemplate gold at the first time of asking.
"I still can't honestly believe what is happening," Daley told BBC Sport. "That moment, being about to be announced as Olympic champions, I was gone. I was blubbering."
The pair dived impeccably throughout, moving top of the leaderboard after four dives, before going on to expertly handle nerves and pressure in their final two routines.
The British duo's total score of 471.81 left China's Cao and Chen with too much to do and when their tally of 470.58 appeared on the giant screen, Daley, Lee, their coaches and a score of team-mates could not hide their emotions.
In boxing at the Kokugikan Arena, Charley Davison clinched a 5-0 points win over Rabab Cheddar in the women's flyweight contest while Benjamin Whittaker was victorious in his first-round bout against Jorge Luis Vivas in the men's light-heavyweight competition. Luke McCormack progressed in the men's lightweight division. Davison will next take on China's Chang Yuan while Whittaker goes up against Egypt's Abdelrahman Salah. McCormack, whose twin brother Pat is competing at welterweight, now faces a last-16 bout against the dangerous Cuban Andy Cruz.
In rowing, John Collins and Graeme Thomas battled through to the final of the men's double sculls while Victoria Thornley made it into the semi-finals of the women's single sculls. The men's quad sculls and women's four also won their repechages, to reach their respective finals.
Team GB have clinched qualification for the artistic gymnastics team finals after finishing in sixth place, with Jessica and Jennifer Gadirova both qualifying for the all-around individual finals. In badminton, Marcus Ellis and Lauren Smith beat Joshua Hurlburt-Yu and Josephine Wu 2-0 in the mixed doubles.
In table tennis, Paul Drinkhall has advanced to the third round of the men's singles following a 4-1 win over Austria's Robert Gardos.