Tokyo Olympics 2020 Update: Adam Peaty Wins GB's First Tokyo 2020 Gold Making the Olympics History
Adam Peaty stopped the clock at 57.37 seconds to become a double Olympic champion in the 100-meter breaststroke, making the Olympics history.
Adam Peaty wins GB's first Tokyo 2020 gold and makes Olympic history
Adam Peaty fulfilled his destiny at the Tokyo Aquatics Centre on Monday, when he won Team GB's first gold medal of the Games in the 100m breaststroke. It made him the first British swimmer ever to defend an Olympic title, yet another extraordinary achievement in a list of records, deeds, and titles which at this point takes about as long to read as he does to swim the distance. Five-time world record breaker, three-time world champion, two-time Olympic champion, and the greatest breaststroke swimmer in history.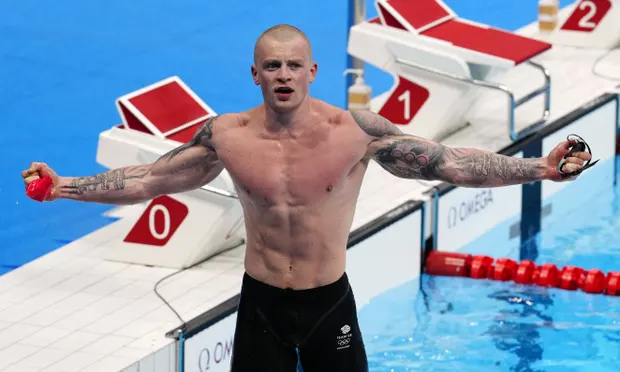 Adam Peaty is now a double Olympic champion after his victory in the 100m breaststroke at Tokyo 2020. Photograph: Dave Shopland/REX/Shutterstock
Peaty took the lead at 25m, held it at the turn, and by the last 25m the only question was whether he could catch his own world and Olympics records. He couldn't, quite. His final time was 57.37sec, which was the fifth-fastest time in history. Overcome with emotion and exhaustion, he celebrated with a silent prayer. Nothing about this is as easy as he makes it look. It has been seven years since he lost a race over this distance now, a run that's only been bettered by a handful of swimmers in history, men like Johnny Weissmuller, Tamas Darnyi, Vladimir Salnikov, and Michael Phelps.
At this point Peaty is also one of the greatest Olympic athletes Britain has ever had in any sport, a man who is so dominant in his event that he has essentially made it a futile pursuit for everyone else in the world. Second is the best they can get. This time it went to Arno Kamminga from the Netherlands, who finished in 58sec flat, faster than any man in history except the one who was in front of him. Bronze went to Italy's Nicolo Martenghi, while Peaty's teammates James Wilby was fifth.
Peaty posed in front of photographers after his gold medal-winning swim. Photo: Getty Images
There's the promise of more to come. Peaty's British team-mate Duncan Scott and Tom Dean both made it to through to the final of the men's 200m freestyle on Tuesday, Scott was the fastest qualifier, too, after he won his semi-final in 1min 44.6sec.
More history made, sporting immortality next?
Rewriting history is nothing new for Peaty, and from his perspective this latest success will simply be another step on the path towards sporting immortality.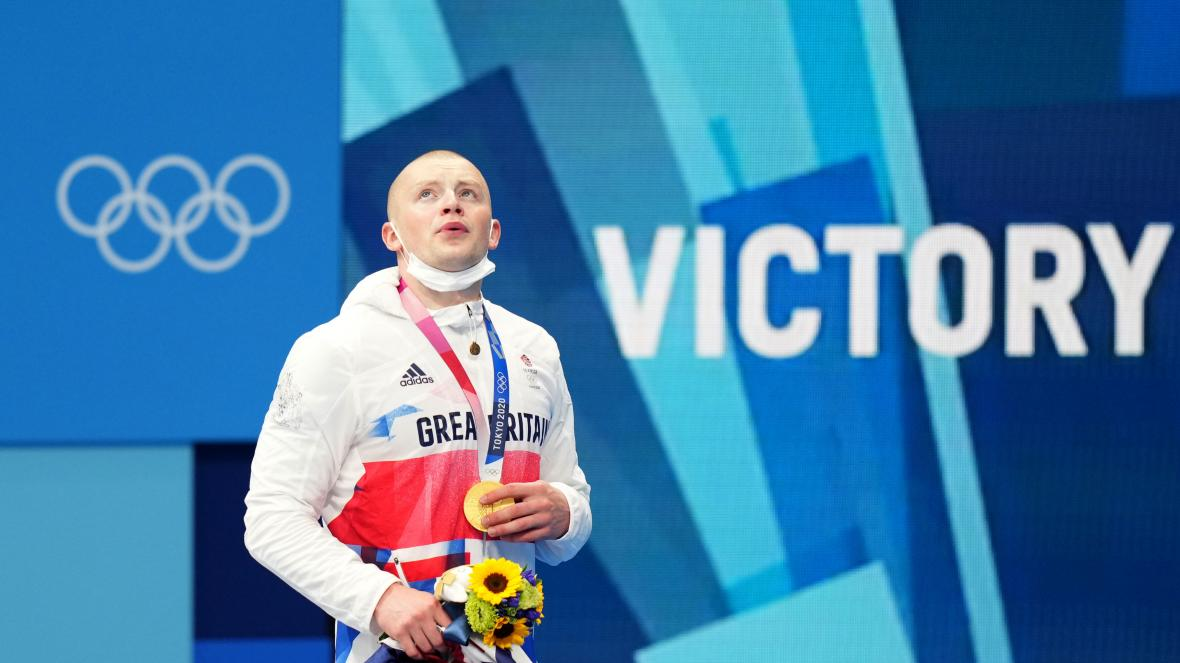 Photo: The Times
In December last year, Peaty spoke about his ambition of achieving Project Immortal - a theoretical swim he described so good as to be almost inhuman and one that will never be beaten.
This was not that swim. Despite his dominance, it was not the fastest time he has managed before, but everything points towards that being achieved one day, especially given that Peaty appears to have got stronger despite life changing for him away from the pool.
There has, of course, been the coronavirus pandemic that resulted in this Olympics being delayed a year, but rather than viewing a year of lockdowns as a wasted year in his career, Peaty instead believes it has only helped him to find a new level.
"The lockdown last year gave me that kind of a second wind," he said in a recent interview. "I always felt like I was charging, charging, charging, but now I can switch off very easily."
Peaty also became a dad in 2020, something he believes has made him more mature and given him a new perspective on life.
"It has given him more motivation - not that he needed it anyway," double Olympic gold-medal winning swimmer Rebecca Adlington told BBC Sport. "He seems in a happy place and more relaxed and confident.
"He is just phenomenal. We aren't going to see many Adam Peatys in my lifetime."
Scott and Dean into the final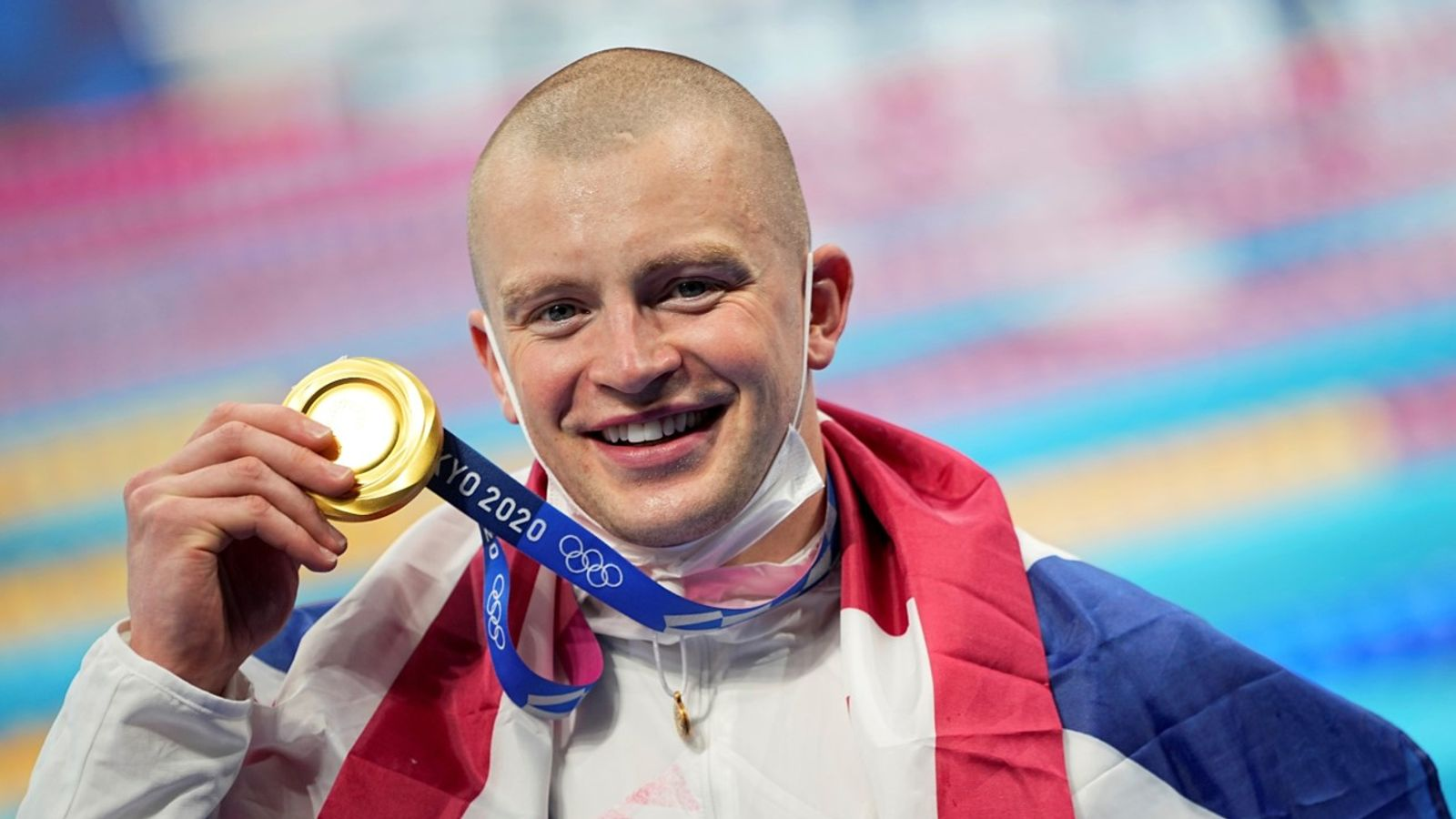 Photo: Sky Sports
Peaty was not the only Briton in the pool on Monday as compatriots Duncan Scott and Tom Dean both progressed to the men's 200m freestyle final. Scott finished fastest in the semi-final with a time of 1:44.60, while Dean was fourth.
Kathleen Dawson produced a strong swim to finish third in her 100m backstroke semi-final and progress to the final as fifth fastest but Cassie Wild finished 14th. Sarah Vasey just missed out on a place in the women's 100m breaststroke final.
Elsewhere, there was medal success for Australia's Ariarne Titmus, who won gold in the highly anticipated women's 400m freestyle, with USA's Katie Ledecky taking silver and Li Bingjie of China winning bronze.
World record holder Ledecky went out quickest but world champion Titmus paced her race better to win by more than half a second.
Canada's Margaret MacNeil won Canada's first gold medal of the Games in the women's 100m butterfly, finishing in a time of 55.59 secs.
China's Zhang Yufei took the silver medal while Australia's Emma McKeon took the bronze.
In the men's 4x100m freestyle relay final, the USA won gold ahead of Italy, with Australia third.