Vietnamese Athletes Arrive In Japan, Ready For Olympics Games
The Vietnam Olympics team landed at Narita international airport on Monday morning to compete at the 2020 Tokyo Olympics Games, which will kick off on July 23.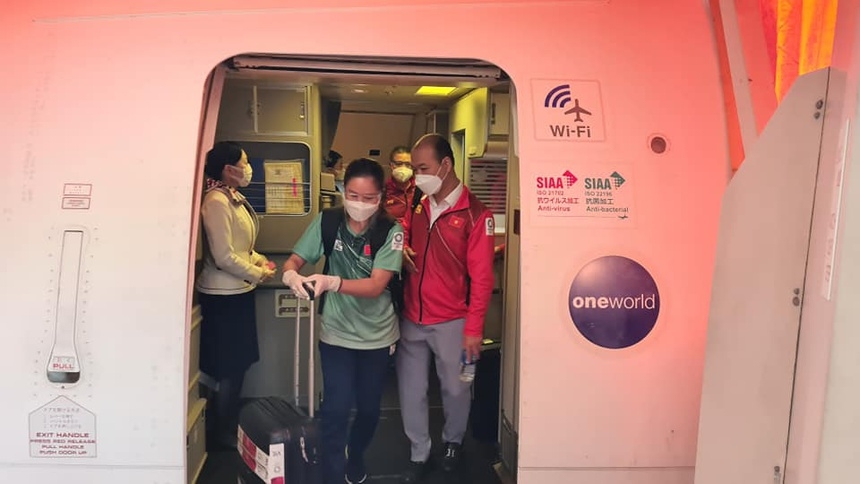 Photo Zing News
A flight of Japan Airlines carrying 43-member contigent including Vietnamese officials, coaches, experts, and 18 athletes took off from Hanoi on Sunday night and arrived in Narita on Monday morning, which is 80km from Tokyo.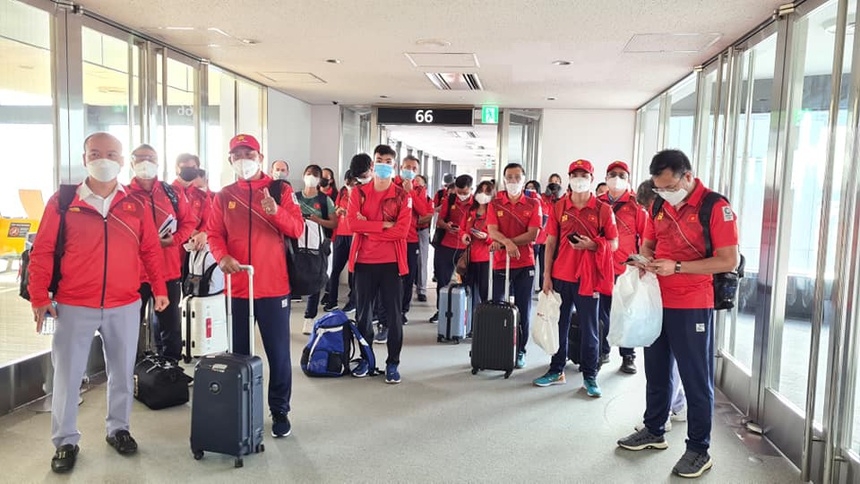 The team members did not feel tired despite a long flight. Photo Zing News
After arriving in Japan, the Vietnamese sports delegation received enthusiastic support from Japanese volunteers. The first procedure that the host country organizers required is to submit the installation of OCHA, a smartphone application that supports Olympic and Paralympic Games Tokyo 2020 athletes and staff, manages procedures on entering Japan and registers health conditions during athlete's stay in Japan.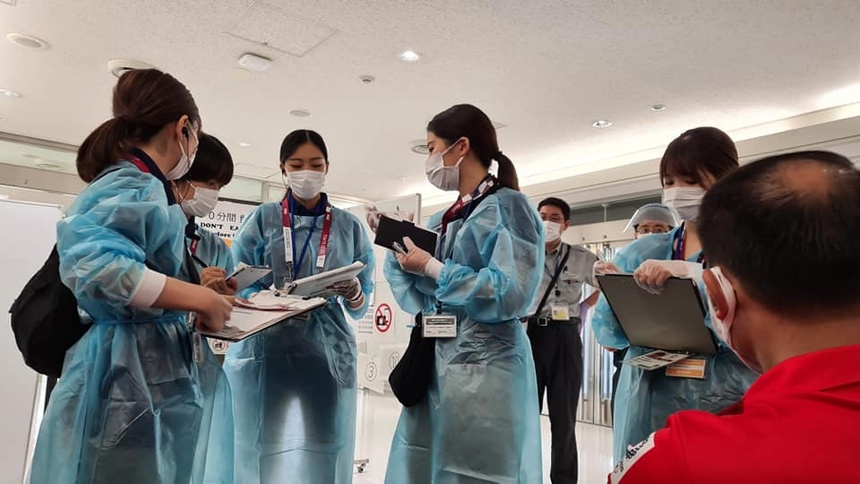 Japanese volunteers assist Vietnamese athletes with immigration procedures. Photo Zing News
Athletes were given priority to check-in first to ensure health and fitness for competitions at the Games.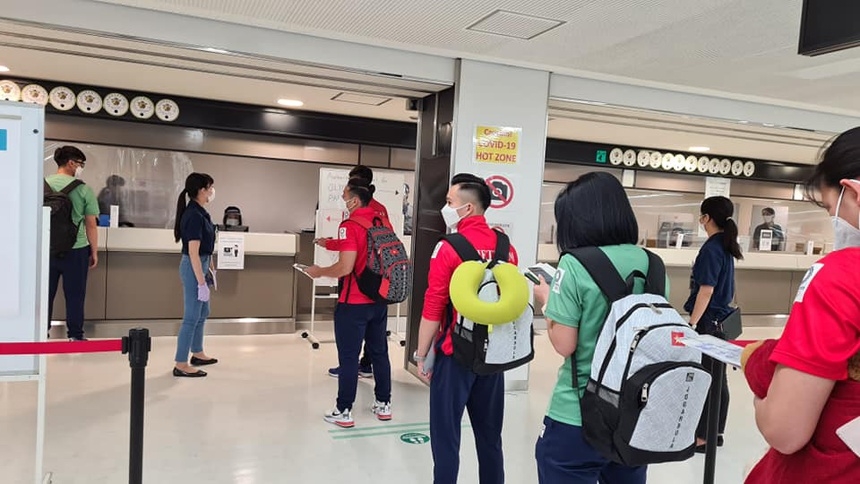 Photo Zing News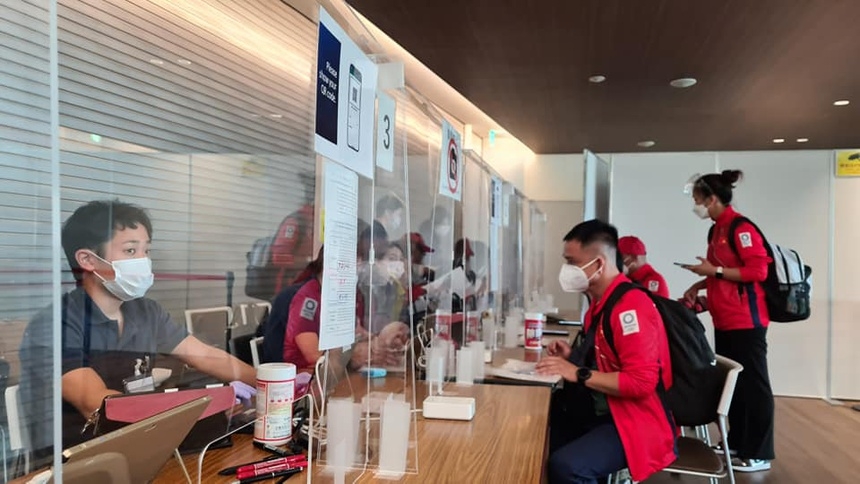 Photo Zing News
They had to upload three certificates on the app showing negative tests for SARS-CoV-2 within 72 hours before their departure and answer questions on the app.
The Vietnamese delegation tested for Covid-19 once again before following immigration procedures.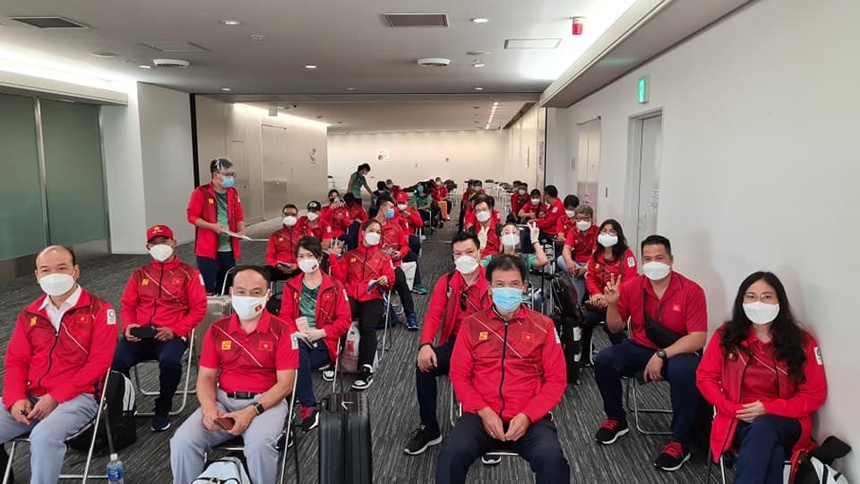 Photo Zing News
Earlier, all team members tested for the coronavirus in Vietnam before the departure as requried by the Olympics Games organizers. They also have been injected with the required two doses of Covid-19 vaccine.
The Vietnamese sports delegation to the Tokyo Olympics has 43 members, including 18 athletes competing in 11 sports and is led by Deputy General Director of the Vietnam Sports Administration Tran Duc Phan.
Before the departure, Phan said the whole team would turn difficulties into motivation and try their best to bring glory to the country.
The team will quarantine for three days after arriving in Japan.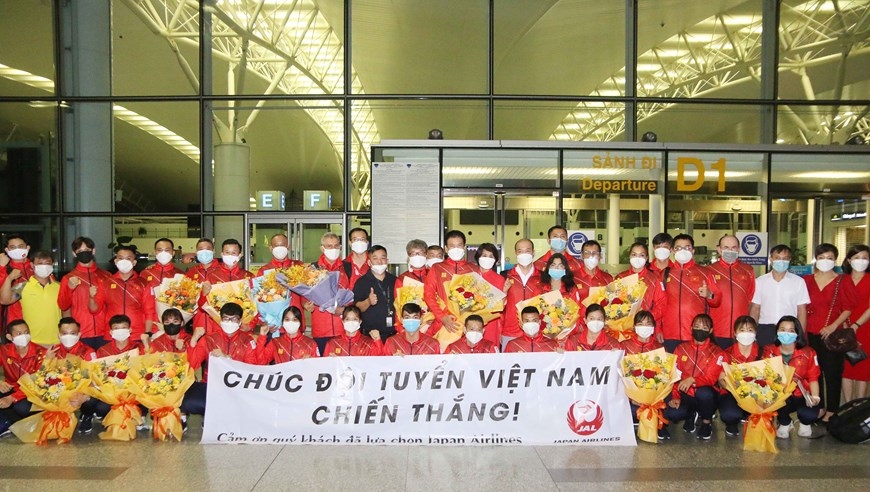 A group photo of Vietnamese sports delegation before their departure to Japan on Sunday night. Photo Vietnamplus
Badminton player Nguyen Tien Minh is among 18 Vietnamese atheletes competing at the Olympics. This is his fourth trip to the Olympics, making him the most experienced Vietnamese athlete at the Olympics.
At the age of 38 Minh is the oldest player in the men's singles category but he still has high hopes.
"I feel positive ahead of my fourth Games. I think my physique and spirit are good for tough matches. It is obvious that my experience through previous games will be to my advantage and give me an edge against strong rivals in Tokyo," said Minh, who once was ranked the world No 5.
"I will give 100% to ensure I get the best results I can. I hope that the Tokyo Games will be my most successful and Vietnam's too," Minh told Viet Nam News.
Swimmer Nguyen Thi Anh Vien is also attending her third Olympics. She was invited to compete in the women's 200m and 800m freestyle. Vien is the most successful swimmer in Vietnam to date winning a number of gold medals at the SEA Games.
Nguyen Thi Anh Vien has a meal with her teammates while waiting for the flight departure in Hanoi on Sunday night. Photo Zing News
Tokyo is alarmed by the increasing number of new Covid cases. The Olympics organizers planned to allow a maximum of 10,000 spectators at a competition venue or 50% of the capacity of the stadium. However, after the new wave of the pandemic, Tokyo is considering holding the competitions without spectators.
To minimize risk, the Tokyo Olympics organizers have applied a series of strict measures. The principle of a "closed bubble," which has been effective in the World Cup and Euro qualifiers, will also be applied at the Olympics.
All activities of atheletes, International Olympic Committee officials, referees, supervisors when they arrive at the airport, go to the hotel, to the competition venues and return will be closely monitored.
Those in contact with a positive Covid-19 case will stay in a separate room and have meals in it.
Athletes who had direct contact with Covid patients will not be allowed to leave their rooms except for training and competition sessions.
They will be transported to the venues for training and competition on separate vehicles.
Three test positive at Olympic Village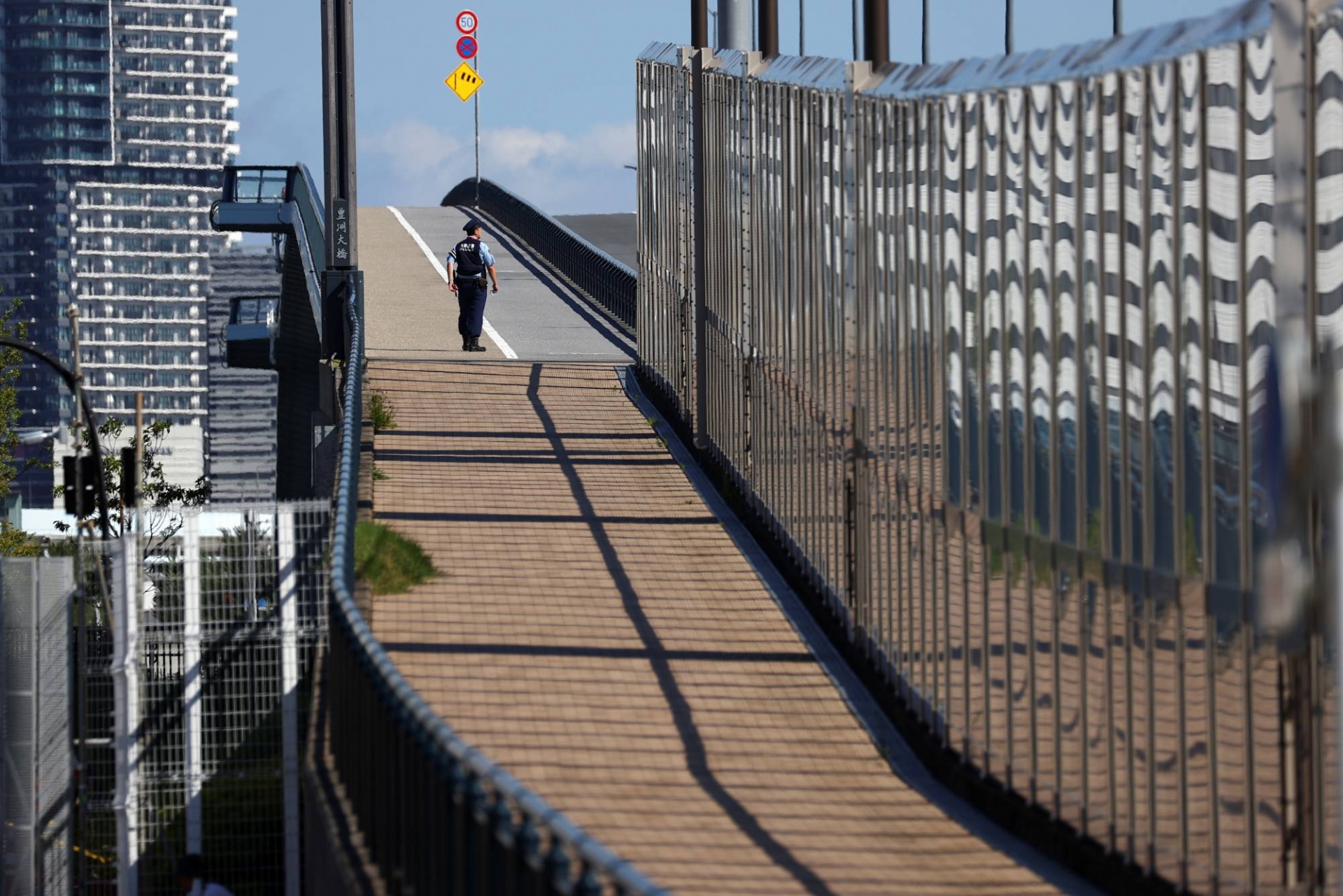 A police officer patrols the area outside the Athletes Village, where two athletes tested positive for Covid-19, ahead of Tokyo 2020 Olympic Games, on Saturday. Photo REUTERS
Two South African footballers and a video analyst have tested positive for the coronavirus in the Tokyo Olympic Village, officials said Sunday, raising fears of a cluster just days before the opening ceremony, Japan Times reported.
The cases further darkened a gloomy atmosphere around the 2020 Games, which will finally open after a year's delay on Friday but remain widely opposed by the Japanese public.
Players Thabiso Monyane and Kamohelo Mahlatsi and analyst Mario Masha are in isolation after testing positive. Team South Africa said that the whole delegation had been following anti-coronavirus rules.
"They have been tested on arrival, daily at the Olympic Village and complied with all the mandatory measures," a statement said.
South Africa's rugby sevens coach Neil Powell also tested positive and is in isolation in the Japanese town where the squad are training.