Top 10 Best Cities For Enjoying The Nightlife In The World
Nightlife is when everything comes alive, and in some big cities in the world, this is the best time for a long night of drinking, dancing and enjoying all the best activities till dawn.
When the clock strikes and the lights go out, some of the world's most iconic cities come alive. Gin bars, jazz clubs, and spectacular cabarets are only a few of the main attractions, and visitors will have no trouble finding after-hours entertainment. From the City of Lights to the City that Never Sleeps, here are Timeout Index's picks for the world's best cities for night owls.
Top of the list was Manchester, where the combination of sticky-floored, student dives and iconic LGBTQ+ venues meant 89 percent of locals said it was a great place for a night out. In at number two was Buenos Aires, while Miami came third.
1. Manchester
Photo: Timeout
You'll be completely spoilt for choice when it comes to Manchester's nightlife. It has one of the strongest scenes in the country, boasting major club establishments and live music hot spots both big and small.
The city has a pretty impressive live music heritage, and the talent that flocks to Manchester on a regular basis cements it as one of the most relevant locations in the world of rock, indie and alternative. It's also a major stop off on the touring schedules of most bands.
If you prefer a quieter night out, then Manchester's bars range from cosy and unique through to downright outlandish. For a more cultural outlook, then there is a vast selection of theatres and picture houses to keep everyone entertained. One thing's for sure, you won't be stuck for stuff to do when the sun goes down in this town.
From the cavernous Manchester Arena to the dark, intimate vibes of Night and Day Cafe, Manchester is overflowing with live music venues to suit all tastes. Check out an unsigned band in a local bar, or go for something totally unique at a historic venue like the Albert Hall.
In town you'll find gigs at Soup Kitchen, Band on the Wall, The Ruby Lounge and The Castle Hotel - you're sure to get your live music fix. Fans of new music should check out Now Wave, local promoters renowned for bringing the best cutting edge, alternative artists to the city.
2. Buenos Aires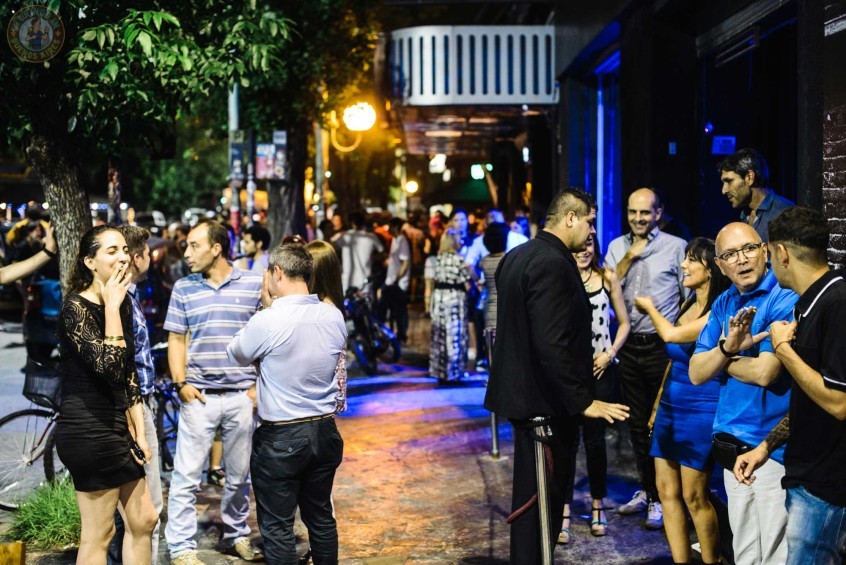 Photo: Gringo in Buenos Aires
Buenos Aires' nightlife is legendary. What else could you expect from a country where dinner rarely starts before 10pm? In some neighborhoods, finding a good sports bar, classy cocktail lounge, atmospheric old cafe or upscale wine bar is as easy as walking down the street. And dancers will be in heaven, as BA boasts spectacular nightclubs showcasing top-drawer DJs.
Bars abound in every neighborhood of Buenos Aires, and they come in all shapes, sizes and styles. You can choose from sports bars, cocktail lounges, Irish pubs, microbreweries, local holes-in-the-wall and more. Many of the city's upscale restaurants and hotels also have lively bars worth a visit.
Buenos Aires is famous for its boliches (nightclubs). Every weekend – and even on some weeknights – the city's clubs come alive with beautiful people moving to electronic and house music. Some of the most impressive nightlife hot spots are located in grandiose restored theaters, warehouses or factories – or perched on the banks of the Río de la Plata where party-goers can watch the sun rise over the water as the festivities wind down. Clubs are spread out over the city, with main clusters in Palermo and on the Costanera Norte.
Buenos Aires might be known for its tango, but there is something else to keep you dancing until dawn in this late-night city that generally looks to Europe for its trends. Since 1990 the electronic-music scene of BA has grown to become a major force in the music world. Touting some of the world's best venues and biggest crowds, Buenos Aires is listed by many DJs as a favorite place to play.
3. Miami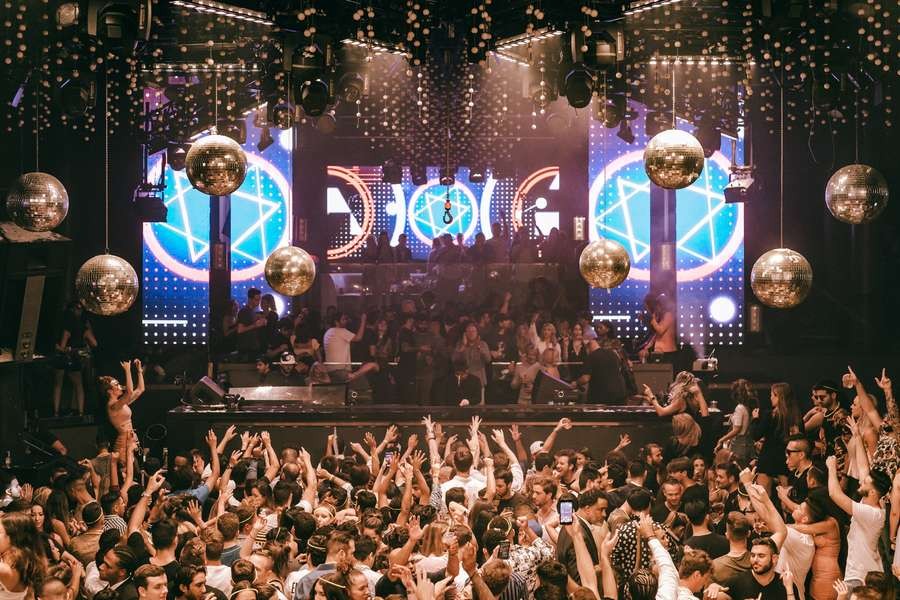 Photo: Thrillist
Greater Miami & Miami Beach is a world-class nightlife destination with something to suit every style. Whether you want to check out nightclubs in South Beach, go salsa dancing in Little Havana or relax in an artsy cocktail bar, you'll find it under the moonlight here.
Greater Miami & Miami Beach ranks among the world's best places to enjoy exciting nightlife. When the sun sets and the stars come out, a whole new world reveals itself.
Tap into the late-night energy that's distinctly Miami, and find an amazing diversity of nightlife options, styles and vibes. Picture yourself dancing salsa in Little Havana or at Mango's Tropical Cafe in South Beach. Sip a cocktail surrounded by street murals in Wynwood. See the skyline from a rooftop bar in Downtown Miami.
Miami Beach made the nightlife scene here famous. Late-night clubs such as LIV at the Fontainebleau in Mid Beach, pulsing with music from local and international DJs, are prime destinations for nightlife lovers. For more than 25 years, Twist South Beach has been a must-visit LGBTQ+ nightlife spot. The bar at Hotel Gaythering, on Lincoln Road, is known for its nightly themes.
Downtown Miami is another popular nightlife area. It's home to the extravagant E11EVEN Miami, an ultraclub that's open 24/7, as well as many more clubs, hip bars and entertainment venues such as the FTX Arena and the Adrienne Arsht Center for the Performing Arts.
The artsy Wynwood neighborhood has become a popular nightlife destination over the past decade. It's anchored by the Wynwood Walls and is home to cool spots such as the trendy dive bar, Gramps. Check out the rooftop at No. 3 Social, with chef-driven bites to fuel your partying, and then head to SHOTS Miami or Racket to go dancing.
4. Bangkok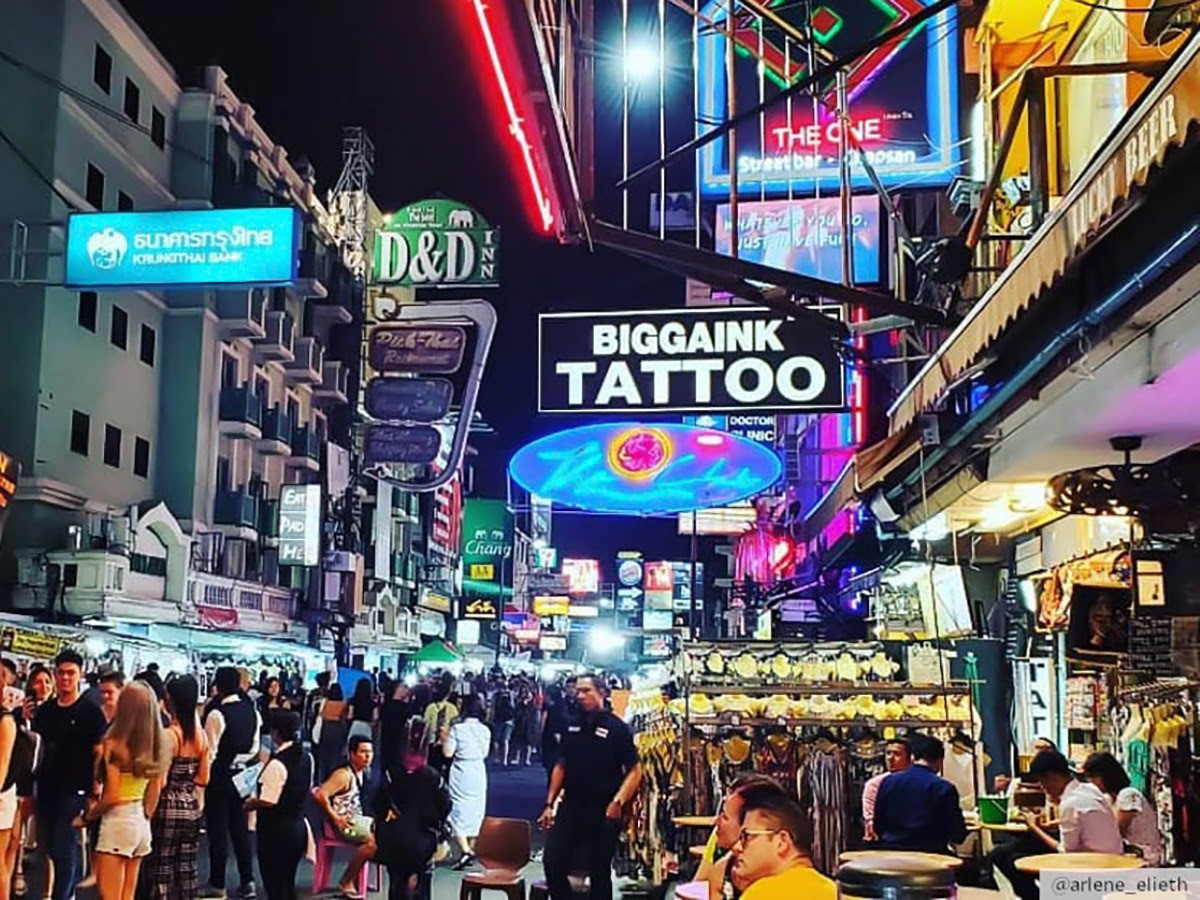 Photo: Agoda
Bangkok's nightlife experiences are some of the main reasons why so many people make the trip to this steamy metropolis year after year. From sky-high cocktails with sweeping views to basement clubbing and even high-kicking, gender-defying theatrical shows, nightlife in Bangkok is as varied as it is unforgettable.
Fancy touching the clouds while sipping a cocktail? The city's handful of rooftop venues has elevated the Bangkok night-out to stratospheric heights. Breathtaking vistas merge with stunning crowds at this higher breed of open-air bars.
Thai history, culture and cuisine converge with a journey along Bangkok's River of Kings. Aboard a luxury cruiser or teakwood rice barge, admire sparkling temples and the bustle of river life while enjoying a sumptuous meal. The sights and sensations along the riverbanks are spellbinding at night.
If you're not ready to hit the bars and clubs, scratch your shopping itch with some after-dark shopping at Bangkok's night markets. Khao San Road, with its carefree traveller attire, and the bootleg heaven that is Patpong Market, offer a wide range of inexpensive goods with prices that can go even lower if you know how to bargain.
At Bangkok's best nightclubs, find dancefloors packed with cute girls, whisky-sipping adolescents, and boozy expats. The soundtrack is usually a storm of dark, twisted beats, from EDM and hip hop to techno and house.
5. Shanghai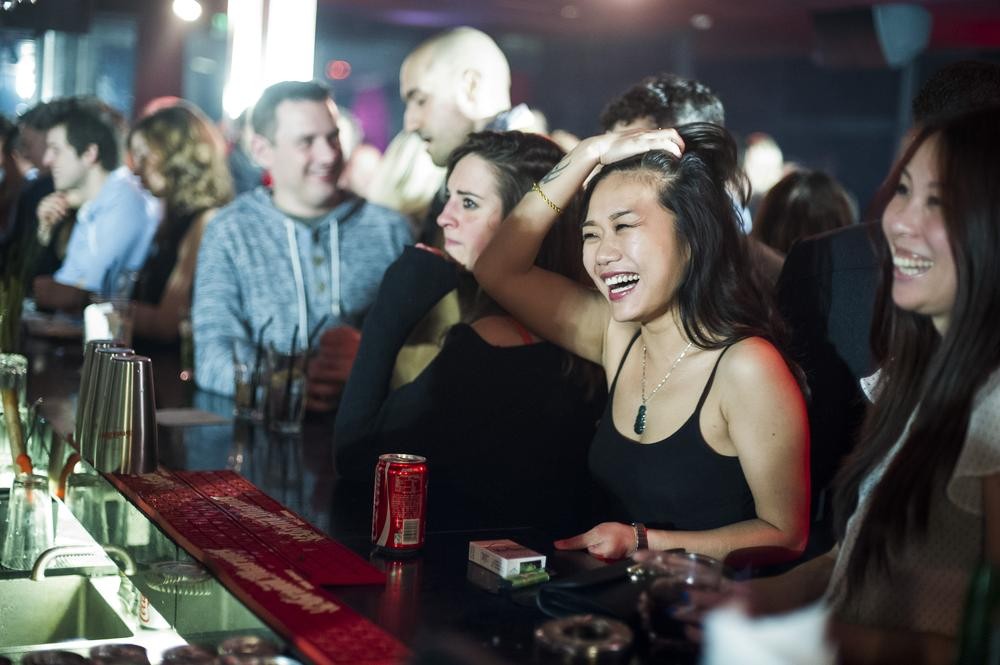 Photo: Al Jazeera
Unlike Beijing (北京;Běijīng), there are no real bar streets in Shanghai (Shànghǎi; 上海). So be prepared to take a taxi if you want to go out to a bar or club. Even better, share a cab with some friends, so you can split the bill.
The Bund (外滩; wàitān) is the most popular but often the most expensive area to go clubbing. What makes it so pricey is that most clubs have an amazing view of Pudong and the Huangpu River. One of the most exclusive bars in Shanghai is Bar Rouge, a lounge with a French-Shanghai atmosphere. Another famous bar with a view is Mint, famous for its shark tank at the entrance.
In general, clubbing in Shanghai is more expensive than in Beijing. But luckily, at some places you won't have to spend that much money. Many students go to Perry's Café for the cheap drinks and food. Customers are allowed to scribble on the walls, so don't forget to bring a marker to sign your name! Another reasonably priced bar and restaurant is Windows, where locals and expats come together to play darts, pool or just relax after a long day. If you want to go clubbing afterwards, there are two clubs located in a basement, to have a real underground experience: C's and Shelter.
Shanghai also has a large number of bars where you can enjoy listening to live music. If you like jazz music, you can go to JZ Club, Brown Sugar or Cotton Club. MAO Livehouse is an excellent choice for those who prefer rock music. If you're looking for more variety, Brix has live bands playing a variety of different styles of music, depending on the day. On Thursdays there are performances from Latin bands and on Fridays and Saturdays their live band Common Culture performs hip hop, R&B and reggae hits. Another bar where they play nearly every music style is the Melting Pot.
6. São Paulo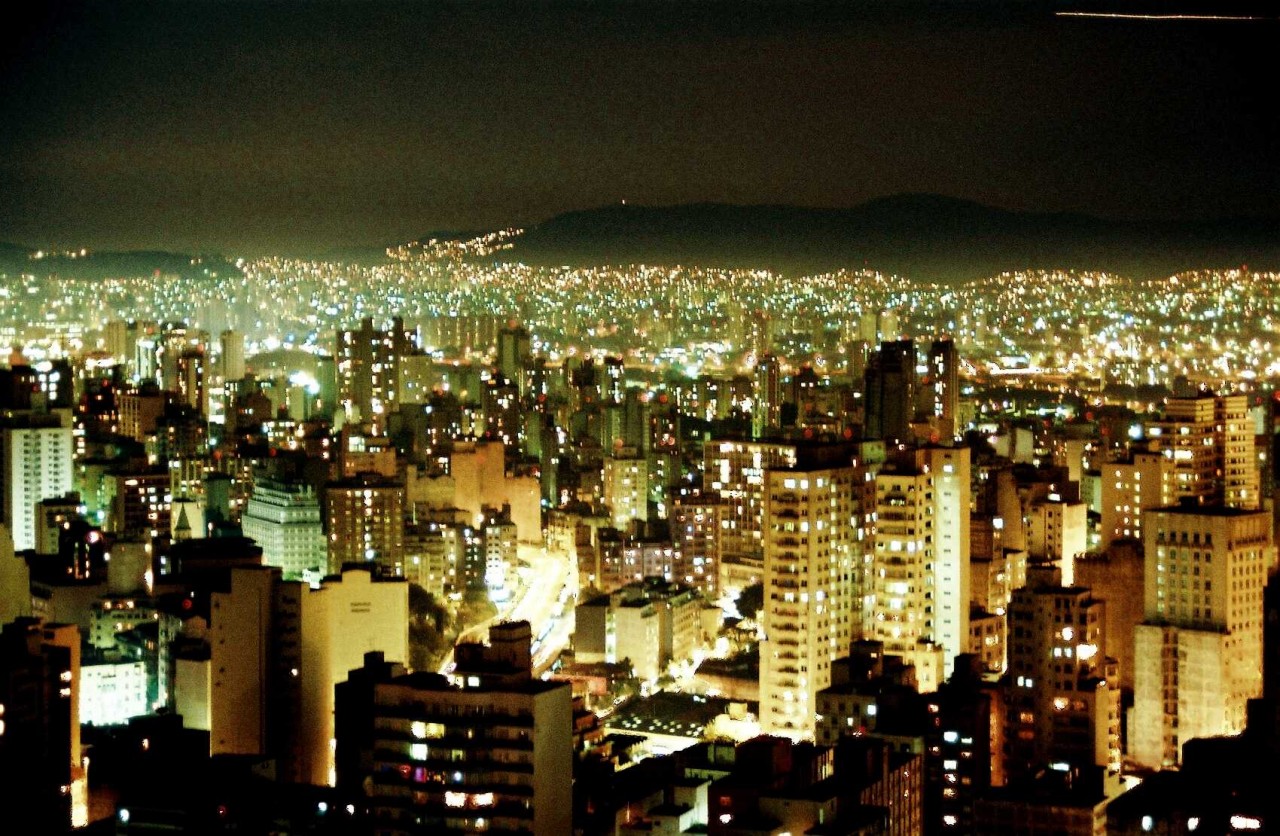 Photo: Wikimedia Commons
Sao Paulo is one of the few cities on the planet where you can wake up at 4 in the morning, call your crew and head to a nightspot where the party doesn't stop until 4 in the afternoon. The nightlife runs 24 hours here -- a schedule not even Rio de Janeiro can keep up with -- and you can find something to get into every day of the week, as long as you know where to look.
São Paulo contains several entertainment districts that see action all week long, each packed with bars, live music venues and nightclubs. In the center of town, gritty Centro and bustling Bela Vista are studded with happening nightspots, and Rua Augusta -- a funky but gentrifying thoroughfare linking Bela Vista and Jardins -- is nightlife central, especially along the stretch dubbed Baixo Augusta, with wall-to-wall bars, restaurants, sex shops, strip clubs and several small nightclubs called bar-baladas.
Bohemian enclave Vila Madalena, a hilly neighborhood on the west side of town with a suburban feel, houses a gaggle of traditional Brazilian gastropubs -- botecos -- featuring live samba bands. Upscale nightclubs proliferate in Itaim Bibi and neighboring Vila Olímpia, a pair of affluent districts toward the south end of the city. Aside from these areas, however, nightspots can and do spring up all over town.
For the most danceable Brazilian rhythms -- samba, axé, forró and MPB (Brazilian pop) -- Bar Brahma in Centro serves up great music every night, despite its airport-bar-and-movie-theater-priced drinks. Bar Mangueira in the "new downtown" district of Pinheiros packs 'em in with a steamy, Rio-style atmosphere, while neighboring Carioca Club adds Brazilian hip-hop acts to the lineup. Grazie a Dio! in Vila Madalena has ample space to cool off after a spin on the dance floor, and nearby Ó do Borogodó, tiny and unpretentious, is simply one of the best samba spots in town.
7. Madrid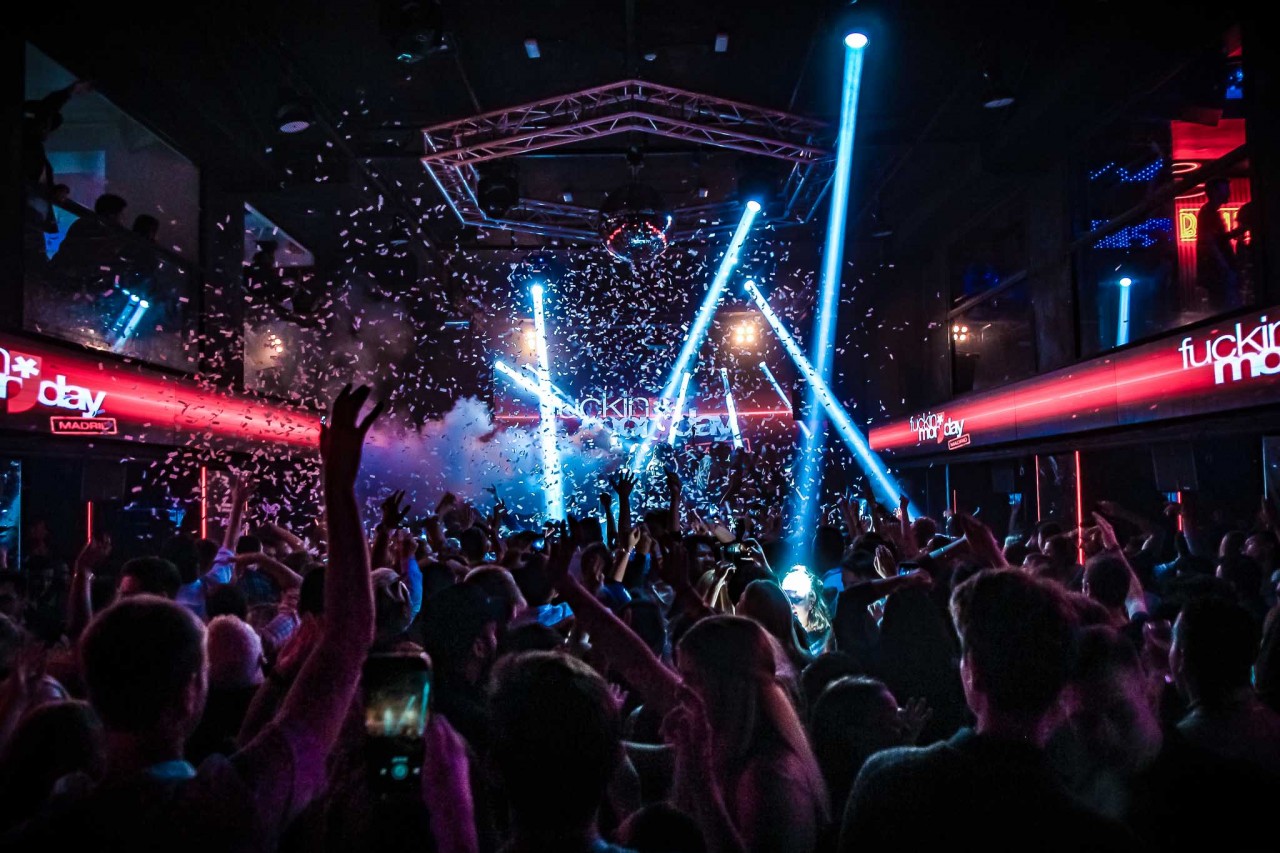 Photo: Nightlife Madrid
Spain is famous the world over for its nightlife and party culture.
With trendy bars, happening nightclubs and so much more, Madrid is the place to be for the ultimate night on the town. And of course, it's worth keeping in mind that nights go late here. Madrileños will often head out to the clubs around the same time that people in other countries would be calling it a night and heading home! If you can keep up, nightlife in Madrid can be one of the most memorable parts of your trip. Here are our favorite late-night hotspots.
Going to Teatro Kapital is practically a rite of passage when it comes to nightlife in Madrid. With seven floors spanning all kinds of musical styles from Latin to funk to R&B and so many more, the mythical nightclub has made a name for itself as one of the most iconic nighttime hotspots in the city. As the largest club in Madrid and one of the largest in Europe, it draws eager visitors from all corners of the globe. It features dozens of bars (including one on the roof), a cozy area for couples complete with a movie screen, a karaoke stage and so much more. It's a one-stop wonder for the most complete nightlife experience in the city!
Another legendary destination in the heart of Madrid, Joy Eslava stands out due to the fact that it's open 365 days a year (unlike many clubs which only open on the weekends). The four-story venue opened 150 years ago as a theater, and details of its old-world past can still be seen. It was renovated and inaugurated as a nightclub in the 1980s and the party hasn't stopped since. Partygoers can enjoy a different theme each night of the week, which keeps things fresh. The club enjoys international renown as a reference point for some of the best nightlife in Madrid.
For more than 35 years, Cafe Central has been a reference for excellent jazz music in Madrid. If you're looking to spend a more relaxed evening enjoying smooth sounds in good company, this is the place for you. The building which houses the club dates back to 1908 and has continually been used as a live music venue. Today, Cafe Central enjoys a status as one of the world's top jazz clubs according to respected jazz publication Down Beat. Despite its renown, it stays true to its humble roots as a place where people from all walks of life can come and enjoy a fantastic show.
8. Tel Aviv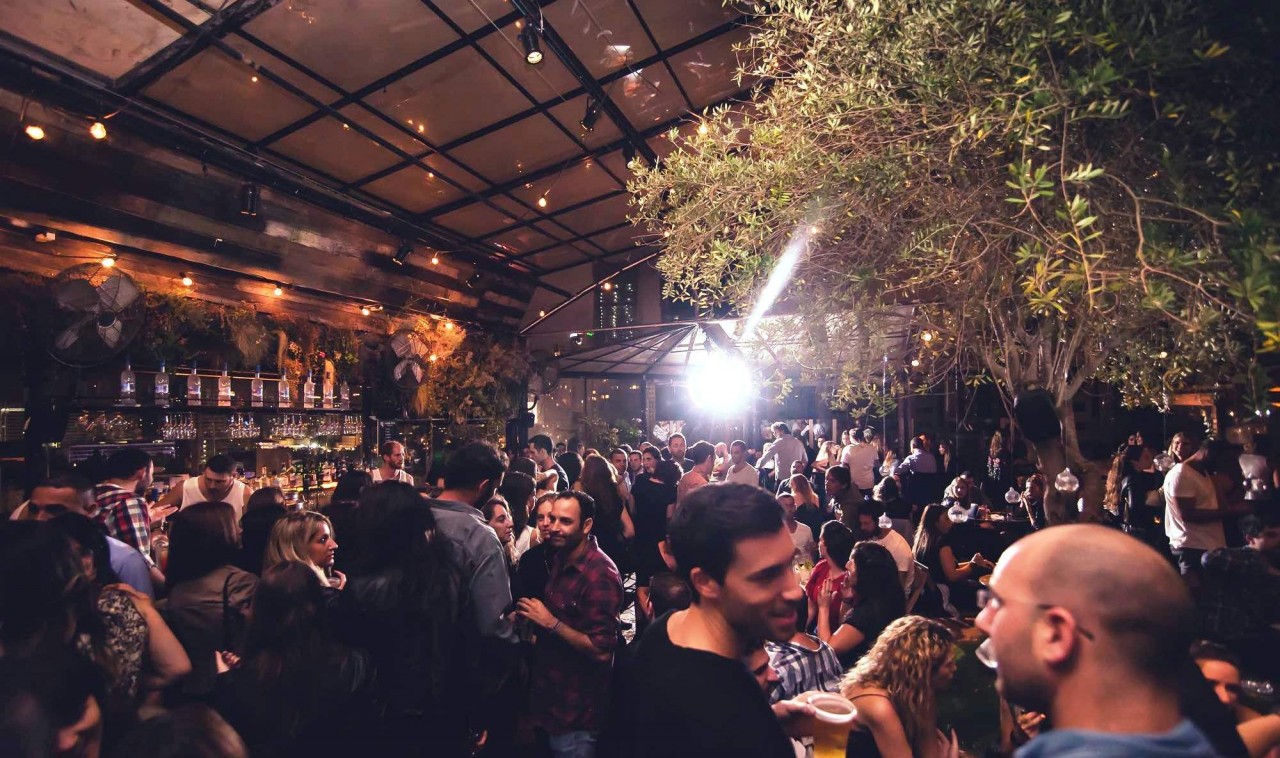 Photo: Timeout
The Tel Aviv Nightlife scene is world renowned. It gains greater international fame every year. The city is now widely considered to be one of the best nightlife destinations in Europe. The Tel Aviv nightlife scene is incredibly diverse. There are bars and clubs to appeal to any and every possible taste and interest. From mega-clubs which attract top DJ's from around the world to smaller neighborhood bars, hipster bars, underground bars, and beach bars, the Tel Aviv nightlife is certainly one of the greatest attractions of the city.
The main difference between the nightlife of Tel Aviv and many Western cities is timing! In Tel Aviv, things don't tend to get going, especially in clubs, until late! Israelis don't generally leave the house before 10pm. Bars generally get busy only at midnight, with some clubs filling up only at 2am.
Most bars in Tel Aviv stay open often until dawn, whilst some clubs continue into the morning daylight hours. Whilst the drinking age in Israel is 18, many clubs and bars in Tel Aviv won't serve or allow entry to people this young.
Tel Aviv is a true 24 hour city, and bars and clubs can be found in most of the city. Having said that, there are certain clusters of nightlife activity which can give a good introduction to the scene.
9. Dubai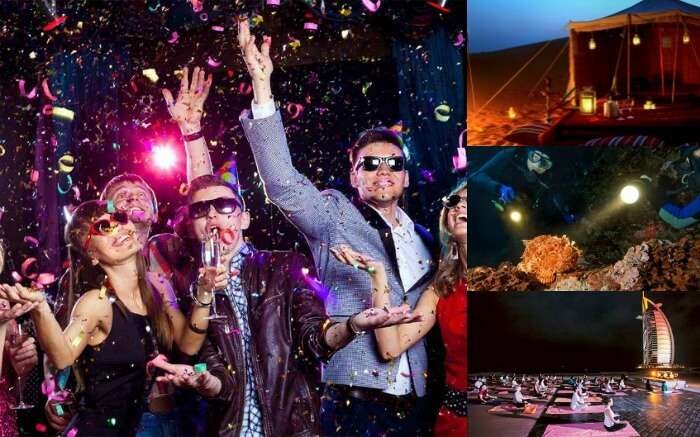 Photo: TravelTriangle
Dubai's diverse and varied nightlife has much to offer in the late-night entertainment stakes and the Emirate regularly hosts some of the most in-demand artists in the world including Solomun, David Guetta, Carl Cox or 50 Cent as well as the more underground artists that visit Dubai on a weekly basis.
There is a wide range of bars and nightclubs in Dubai, but due to the various licencing laws in the UAE most of these are located inside or are connected to hotels. The legal drinking age in Dubai is 21 years of age and night clubs always adhere to this rule.
As the regular working week starts on a Sunday and ends on a Thursday, the majority of clubs such as White Dubai, Industrial Avenue, Cavalli Club, Stereo Arcade and Blue Marlin Ibiza are at their busiest on Thursdays and Fridays. This is the case apart from the many popular hotspots that host a ladies' night, this usually takes place on either Tuesday or Wednesday and this will see ladies entering for free and are even offered free drinks and food.
While most clubs open at around 9/10pm and typically close by 3:00am, there are certain clubs such as BASE Dubai and White Dubai that remain open until 4AM, this is usually as a result of a special license being granted. So, whether you're looking to dress up for a night out at one of Dubai's best night clubs or just a casual night out with some friends, there are plenty of party spots to pick from.
10. Mexico City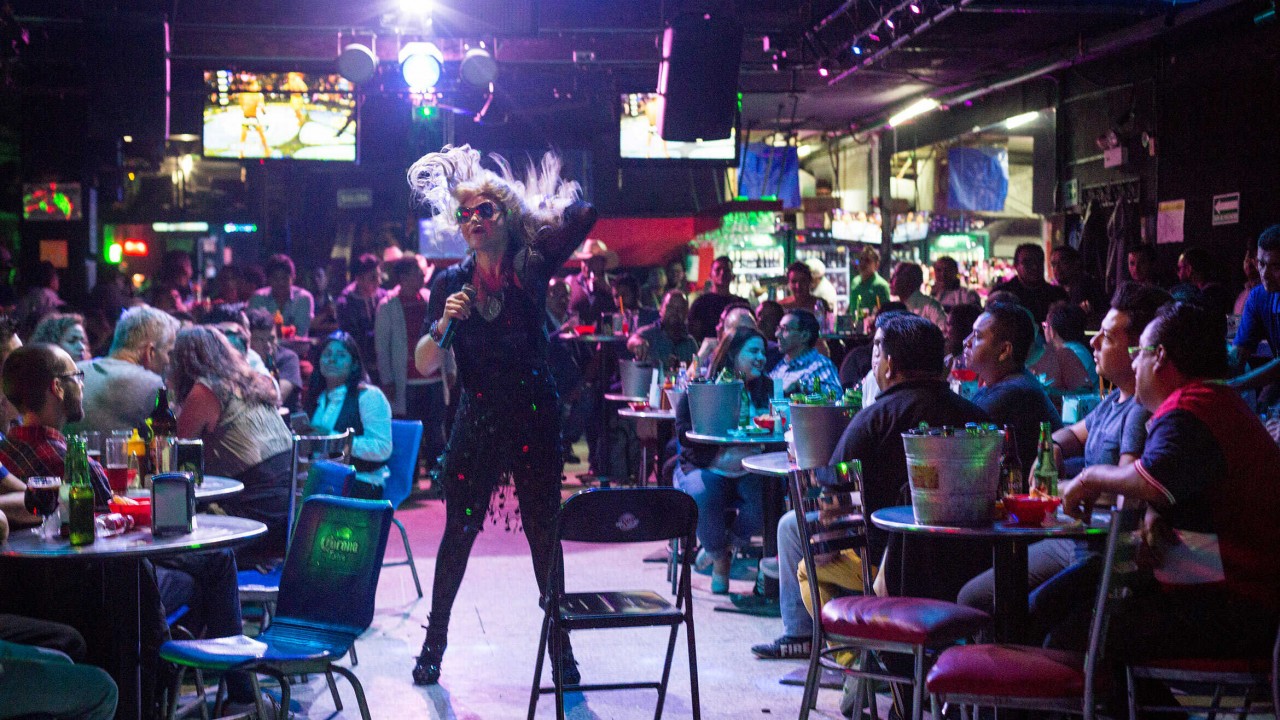 Photo: Punch Drink
Mexico City is a huge place, so it comes as no surprise that its nightlife is as vibrant and diverse as the city itself. Whether its lounging with a cocktail at an upscale bar or drinking with fashionable youths at mezcalerías and cantinas, Mexico City has a little bit of everything for every type of partygoer.
Downtown Mexico City, also known as Centro Histórico, is often seen as the heart of the city. Bustling with life, this part of town boasts some of the nicest bars, many of which have gorgeous views of the city. Although these streets are well-trodden, many bars found here still manage to retain their authenticity.
If you're looking for a swanky setting with gorgeous city vistas, head to Miralto, which is found in the Torre Latinoamericana. Another great rooftop bar is Restaurante Bar Terazza, which looks out on the Zócalo. For one of the best mezcalerías in the city, head to Bósforo. Other bars worth checking out are Cultubar Hostería La Bota and the Brooklyn-esque Al Andar.
Polanco is the affluent neighbourhood of Mexico City. Located north of Chapultepec Park, you can easily spend the night bar-hopping along the trendy Avenida Presidente Masaryk. There are lots of small underground clubs found on streets just off the main Avenida – Virgilio being a notorious hotspot. The clubs are quite exclusive and the drinks are quite pricy. However, the lavishness of the bars makes it all the more enticing.
Roma is the epicentre of the city's hipster culture, with quirky residents and trendy bars and clubs to follow suit. The best place to start your night would be at Avenida Álvaro Obregón – a stretch of road littered with energetic bars and crowds of well-dressed youths. One thing about Roma is that there is always something going on, even if it is underground and hidden.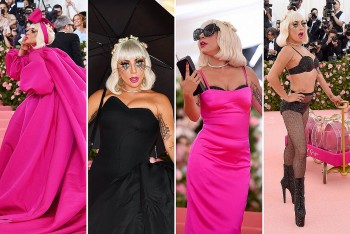 Handbook
From gowns to jumpsuits, these are the best outfits ensemble from the fashion world's most buzzed-about event.
Multimedia
Nha Trang is packed with beautiful and amazing places to see and visit in your holiday, and many exciting things to do. Here is 10 best activities to enjoy in the region.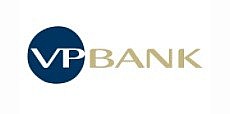 Economy
SINGAPORE - Media OutReach - 20 September 2021 - VP Bank has today announced the appointments of Alexander Tsikouras as Chief Financial Officer & Chief Operating Officer Asia and Will Wang as Head of Client Solutions & Strategic Partnerships Asia in two newly-created roles which form part of the Asia Management Committee (Asia Manco) as of 24 September 2021.